Vegan Weight Watchers recipes with Freestyle Smartpoints that work great for a vegan lifestyle and Weight Watchers.
Being a vegan and on Weight Watchers can be hard without lots of good recipes at your disposal. Try these tasty recipes to keep you full and on track.
I have gathered the best vegan recipes that are all Weight Watchers approved. If you are new to the Weight Watchers plan or a vet looking for new recipes, these recipes will knock your socks off on flavor.
Sometimes it is hard to find vegan friendly meals that follow the Weight Watchers plan. I share how many Freestyle Points per serving, to make it easy on you. From dips, sides, and main dishes, you will find new recipes for any time of the day.
All of these dishes are super simple to make and will keep you right on track with your diet. Grab those pots and pans and let's get to work on cooking up some satisfying meals the whole family will enjoy.
Weight Watchers Vegan Snacks and Dips

Vegan
Simple Vegan Artichoke Dip is only 1 Freestyle SmartPoints and is made with using five ingredients and can be thrown together in around ten minutes! You are going to be shocked by how effortless this dip is to make. Serve with fresh carrot sticks, celery or pita chips.
Black Bean Hummus is the perfect snack and only has 1 Freestyle SmartPoints so you don't have to feel guilty when you indulge a little. This recipe is fantastic if you pack your lunch and needs some yummy protein.
Microwave Veggie Chips are little bites of goodness that go wonderfully with any of your favorite dips! The best part is that they are 0 Freestyle SmartPoints so you don't have to feel guilty at all!
Spring Rolls are a delicious Vietnamese dish that makes a fantastic snack! Each spring roll is only 2 Freestyle SmartPoints and it tastes so amazing! You can adjust the ingredients to fit your personal preferences. No matter how you serve them, you will be impressed with how filling and tasty they are.
Vegan hot Cheesy Corn Dip is only 2 Freestyle SmartPoints and is loaded with tomatoes, green chilis, corn, garlic, vegan shredded cheese, and spices. Serve with tortilla or veggie chips and you will enjoy every drop of this scrumptious dip.
Weight Watchers Side Dishes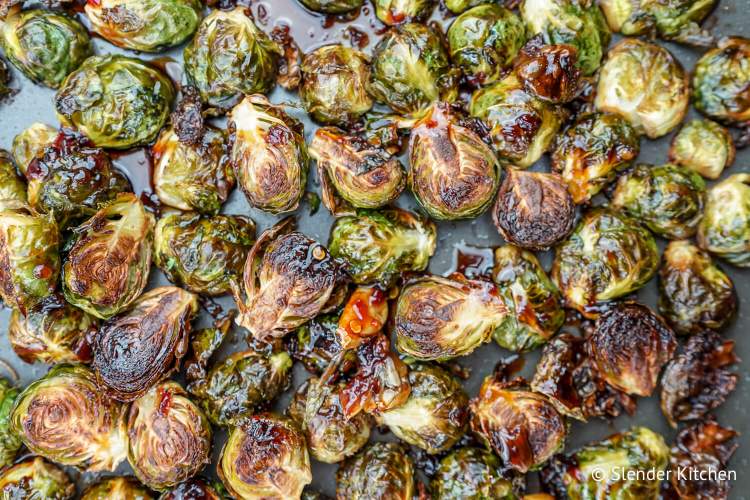 Cauliflower Potato Curry is made with potatoes, cauliflower, fresh ginger, red pepper flakes and spices that your taste buds will go crazy for! Each helping is 4 Freestyle SmartPoints and it is incredible.
Roasted Delicata Squash is a versatile dish that can be prepared three different ways to add new flavors. You can choose between brown sugar cinnamon, rosemary maple, and coconut curry. No matter which one you make, you are going to be thrilled with the results. This is only 1 Freestyle SmartPoint a serving!
Crispy Asian Brussel Sprouts are made in a sauce that is sweet and spicy that you won't be able to get enough of. They taste so good that you almost feel like you are eating something sinful, but they only have 3 Freestyle SmartPoints!
Apple Sage Vegan Sausage with Vegetables is a healthy dish that will keep you full while giving you fabulous flavors that you will want more of. Each bite is yummy and 7 Freestyle SmartPoints per serving.
Spicy Cabbage and Corn Slaw is 1 Freestyle SmartPoint and the perfect amount of spice! The presentation of this dish is beautiful and looks like it was made in a restaurant! Grab a fork and dig into this yummy slaw.
Weight Watchers Vegan Main Dishes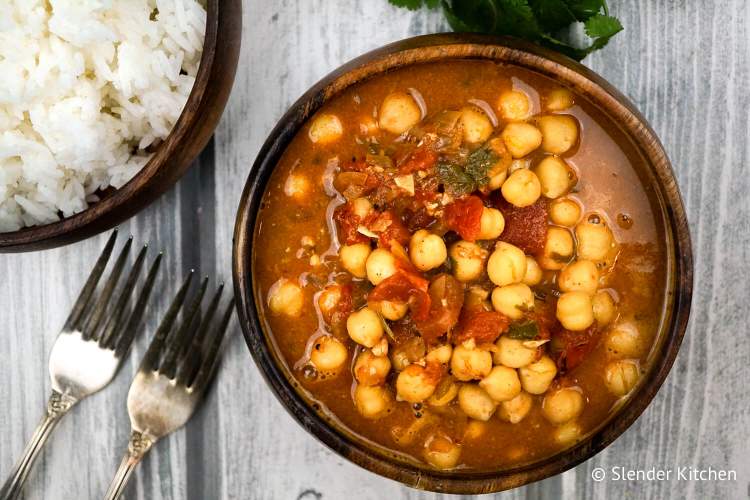 Quick and Easy Chana Masala is an Indian recipe that is full of spices, minced onion and garlic, ginger, jalapeno, tomatoes, chickpeas, and a few other ingredients. This is a crowd-pleasing meal that everyone will want more of. The best part is that it is only 1 Freestyle SmartPoints per serving.
Slow Cooker Italian White Beans with Mushrooms is a savory dish that is only 2 Freestyle SmartPoints, beyond easy to make and has loads of flavor! My favorite part is that you can make this ahead of time and freeze to serve later. Perfect for those hectic nights!
Slow Cooker Curry Chickpeas and Vegetables is the meatless meal of your dreams! It is 3 Freestyle SmartPoints and you will be delighted by how great it tastes. This makes a terrific lunch, dinner or even a side dish.
Spinach and Mushroom Lo Mein is so good that once you sink your teeth into it you will be hooked for life! It is 8 Freestyle SmartPoints per serving, but completely worth every morsel.
Salsa Verde Pinto Bean Tacos is the perfect way to spice up your Taco Tuesday! At 3 Freestyle SmartPoints per serving, you can enjoy every last bite of these amazing tacos. This is kid and spouse approved too!
What are the best zero point vegan foods?
There are lots of options for vegan-friendly zero point foods. The most popular will be fruit, vegetables, corn, beans, lentils, and tofu. Most vegans will build their meals or side dishes around these foods to help stay in their daily points allowance.
For example, they may have a tofu scramble with vegetables, fruit, and toast for breakfast. For lunch, they may have a bean and corn burrito with vegan cheese and salsa. Dinner might be an Indian chickpea dish with brown rice and roasted veggies. Snacks may include fruit, nuts, veggies and hummus, and vegan yogurt.
Source link
Amazon Products