Thanksgiving is just around the corner which means it's time to start planning! We've got a great list of our best Gluten Free Thanksgiving Recipes starting with brunch and ending with dessert. These healthy but super delicious recipes will be loved by all!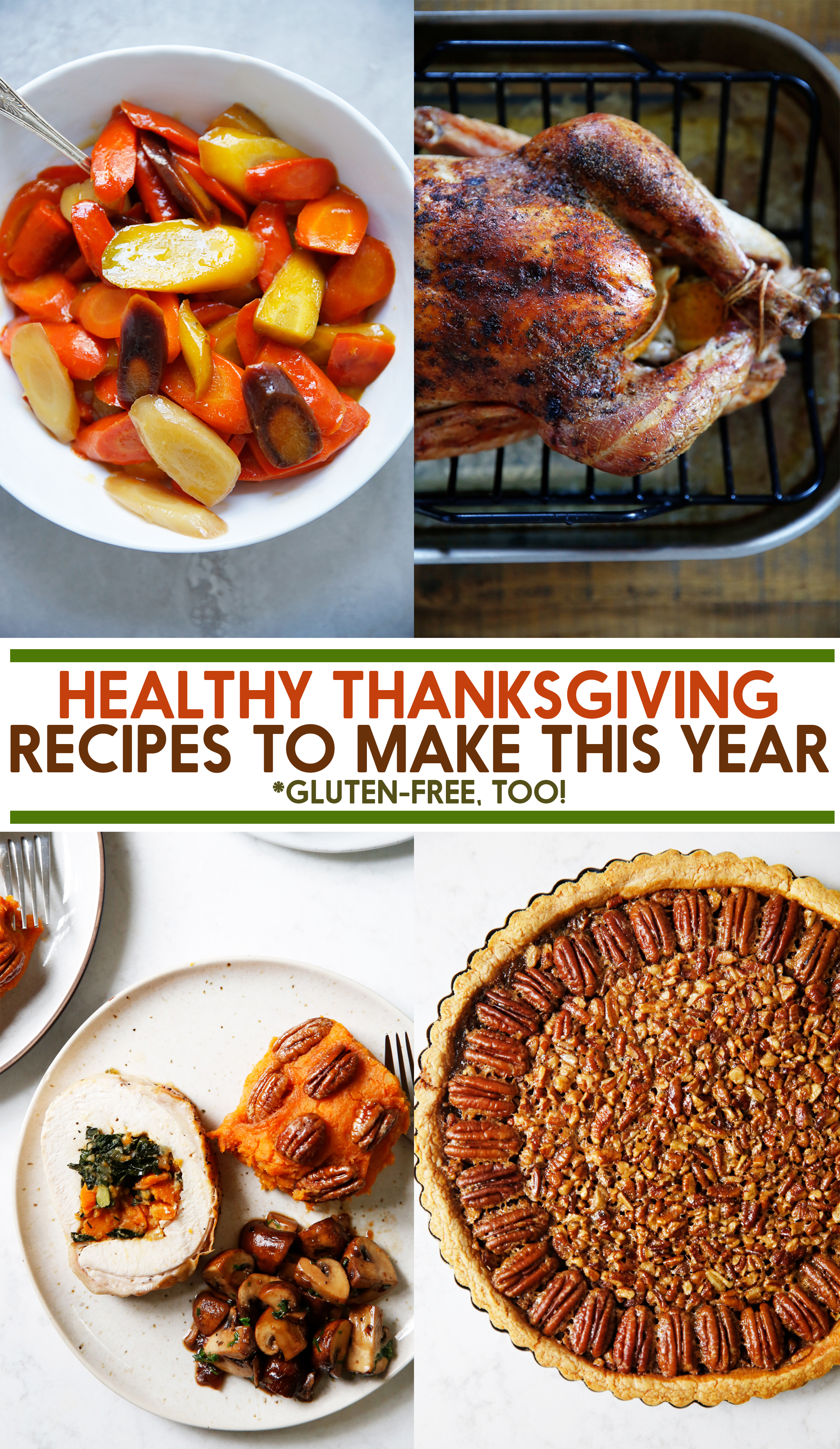 Gluten Free Thanksgiving Recipes
We've compiled a list of our BEST recipes for Thanskging. Some are traditional (like roasting a turkey) while others are just plain delicious (I'm looking at you Ultimate Mushrooms). Scroll through to see our favorite LCK Thanksgiving Recipes that everyone is going to love!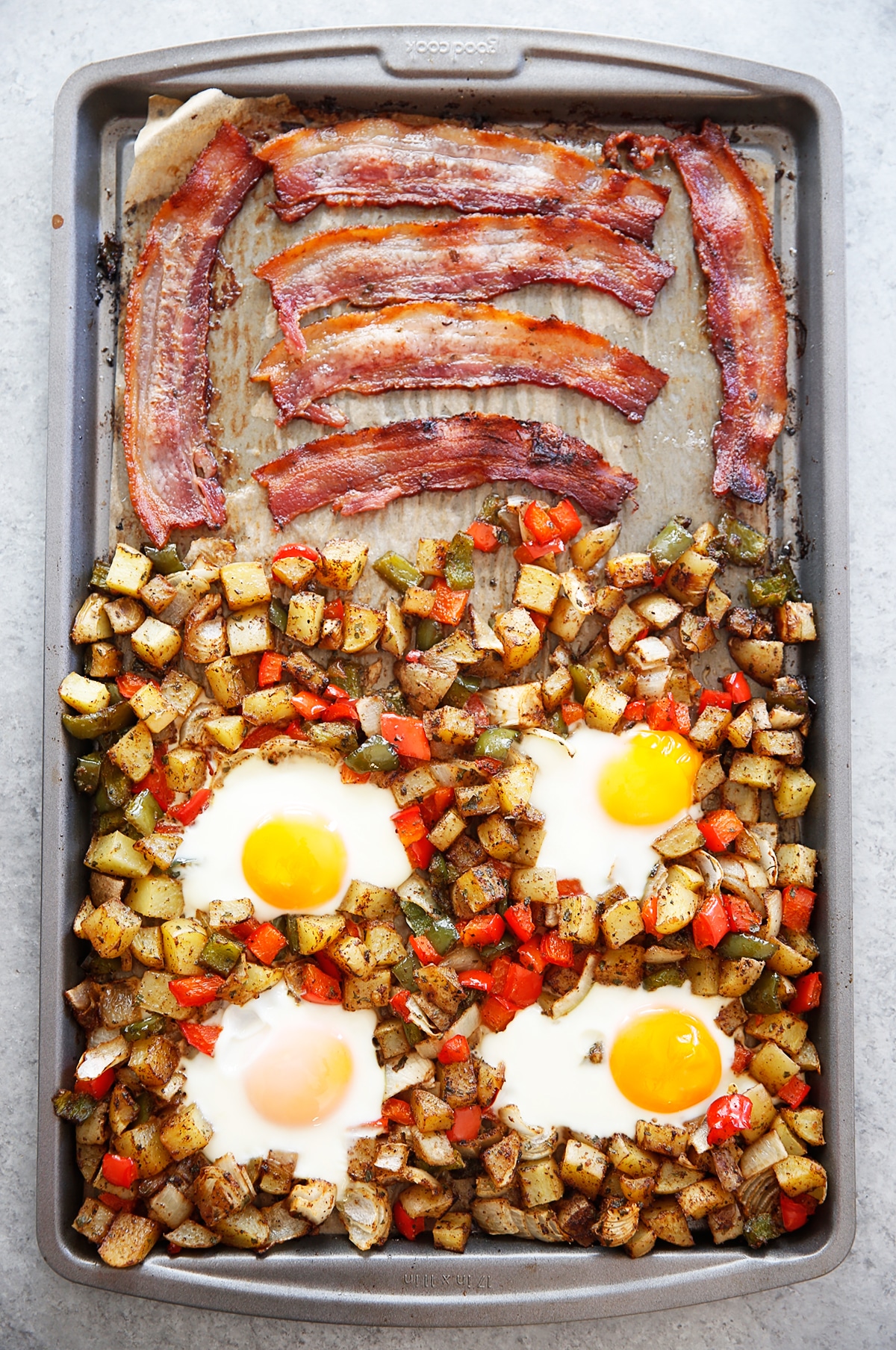 Thanksgiving Brunch Recipes
If you are hosting family from out of town for the holiday, sometimes it isn't just the big meal you have to think about. However, not everyone has the (space) or time to create a massive brunch. We've compiled a list of some easy breakfast recipes to feed a crowd!
Sheet Pan Classic Breakfast Bake  This Sheet Pan Classic Breakfast is made up of Eggs, Bacon, & Home Fries and comes together in a pinch and made using only ONE PAN. It's a great one pan breakfast bake that is perfect for a brunch to feed a crowd with little to no mess!
Orange Cranberry Overnight Oats This Orange Cranberry Overnight Oats recipe is the best make-ahead breakfast, and you can make a big batch of it, if you need. It's creamy (without any dairy) and bursting with seasonal orange, cranberry and pecan flavor. It's vegan-friendly and gluten-free.
Breakfast Prep Baked Egg Cups These healthy baked egg cups make the perfect breakfast meal prep. Make the night before, and heat up as needed throughout the morning.
Pumpkin Oatmeal Bake This oatmeal bake is a perfect make-ahead breakfast to feed a brunch crowd, and it's easy to make. It's dairy-free, gluten-free and made without any refined sugars. Keep it all about the pumpkin flavor as-is, or add in chocolate chips, nuts or dried cranberries for a twist.
Everything Bagel Hummus Breakfast Toast Try this non-recipe recipe for an easy breakfast idea! It's an easy way to to get a quick breakfast on the table that is full of protein and fiber and tastes SO GOOD.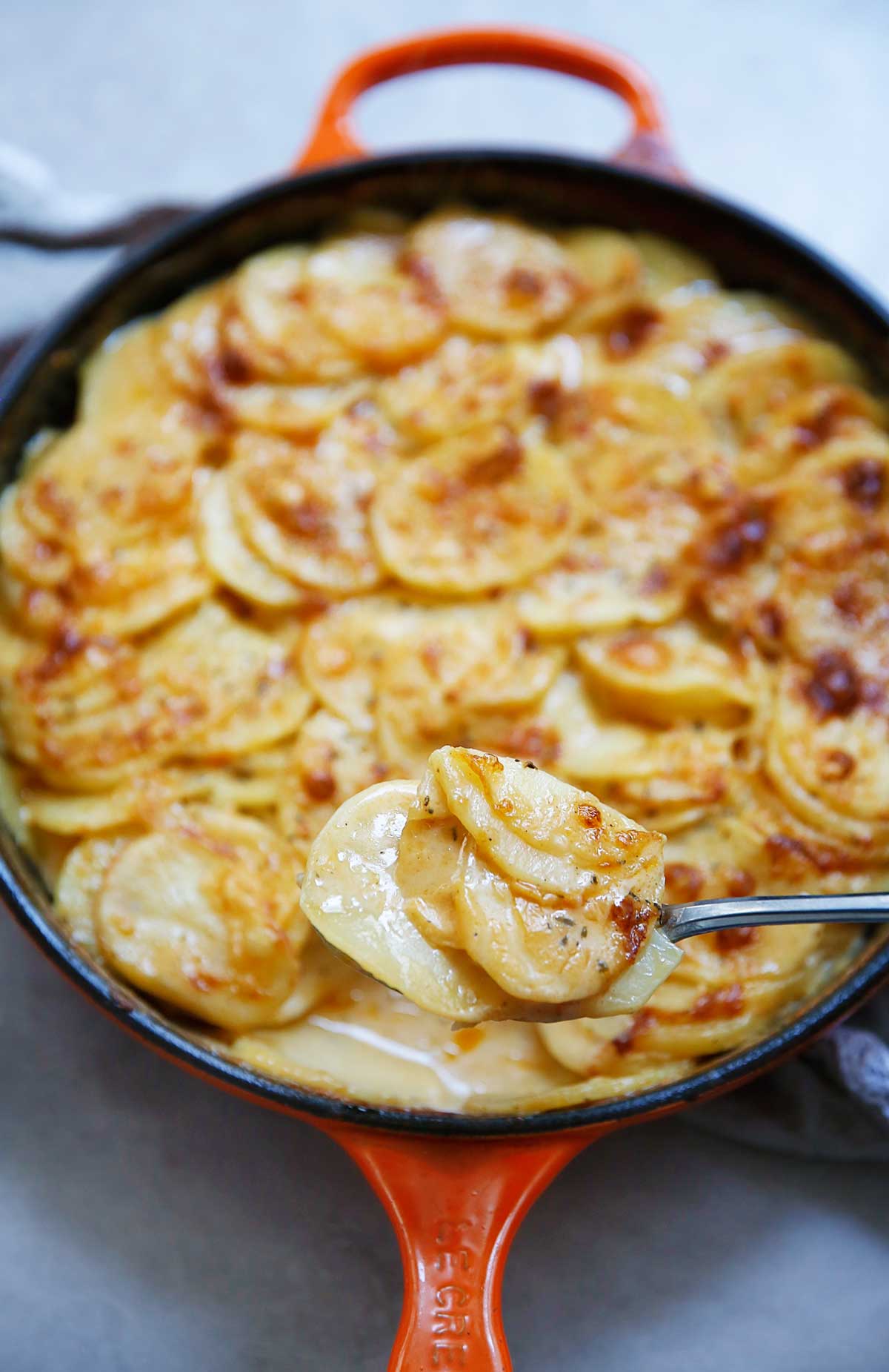 Gluten Free Thanksgiving Recipes for Side Dishes
Side dishes are for some the BEST part about a Thanksgiving dinner, and we've got quite the list for you!
Slow Cooker Cranberry Sauce: This recipe is made right in the slow cooker which means hands-off cooking so you can focus on other aspects of your holiday meal! It contains no refined sugars and is bound to be a new family favorite!
Healthy Sweet Potato Casserole: This classic casserole makes the absolute perfect side dish at your Thanksgiving dinner or at your December holiday party. Do you want to know the best part? It's lighter than your typical sweet potato casserole and free of refined sugar! Plus it's easy to make-ahead of time and the perfect side to bring along
Easy Gluten-Free Cornbread This sweet, moist and tender cornbread is super simple to put together! This cornbread is, of course, gluten-free and also with some easy swaps can be made dairy-free as well!
Gluten-Free Cornbread Stuffing This sweet and savory stuffing is packed with herbs and cranberries and the best gluten-free cornbread! This vegetarian stuffing is easy to prepare and will definitely be a winner on your holiday table.
Honey Glazed Carrots by These are the perfect fuss-free side dish. They're cooked in one pan and result in the most tender, slightly sweet glazed carrots. They are so good they are borderline addictive and both kids and adults will love them! They're paleo friendly and easily made dairy-free.
Maple Roasted Brussels Sprouts with Bacon These addictive brussels sprouts with bacon and maple syrup is sure to make this side dish a fan favorite for everybody! This paleo-friendly recipe is sweet and savory and definitely going to be in your winter meal plan rotation!
Healthy Creamed Spinach (Made Without Cream!) This Creamed Spinach is a lightened up version of your favorite holiday classic and is made without cream for the perfect healthy and veggie-packed side for Thanksgiving! Creamy, flavorful and so simple to make!
Cinnamon Roasted Sweet Potatoes Using only three-ingredients, these Roasted Sweet Potato Home Fries make for the perfect combination of cinnamon + sweet potatoes yet. So simple, yet so full of flavor!
Easy Pumpkin Soup This soup is creamy, flavorful, smooth, and garnished just right with Chili Garlic Oil and roasted pumpkin seeds! It's perfect for the fall season, and for any holiday gathering! This soup comes together quickly and is paleo-friendly!
Gluten Free Biscuits: These light and fluffy biscuits come together quickly and are made using a mix of almond flour and coconut flour. They can be made in under 30 minutes, and are perfect on their own or in any recipe that require biscuits!
Gluten-Free Stuffing On the lookout for the best gluten free stuffing to add to your Thanksgiving table? We have got you covered! This Easy Gluten-Free Thanksgiving Stuffing is packed with fresh herbs, hearty, easy & delicious! 
Green Bean Casserole This lightened up, healthier version of a Green Bean Casserole is sure to be a crowd pleaser. It's dairy-free, made without any soup mix, and EASY to make. 
Scalloped Potatoes Creamy with just the right amount of cheese, lightened up, and baked to perfection, this au gratin scalloped potato recipe will be a favorite.
Harvest Salad with Maple Balsamic Dressing This salad is packed with chopped kale, roasted squash, pomegranate seeds, toasted pecans and topped with a super easy & delicious Maple Balsamic Dressing.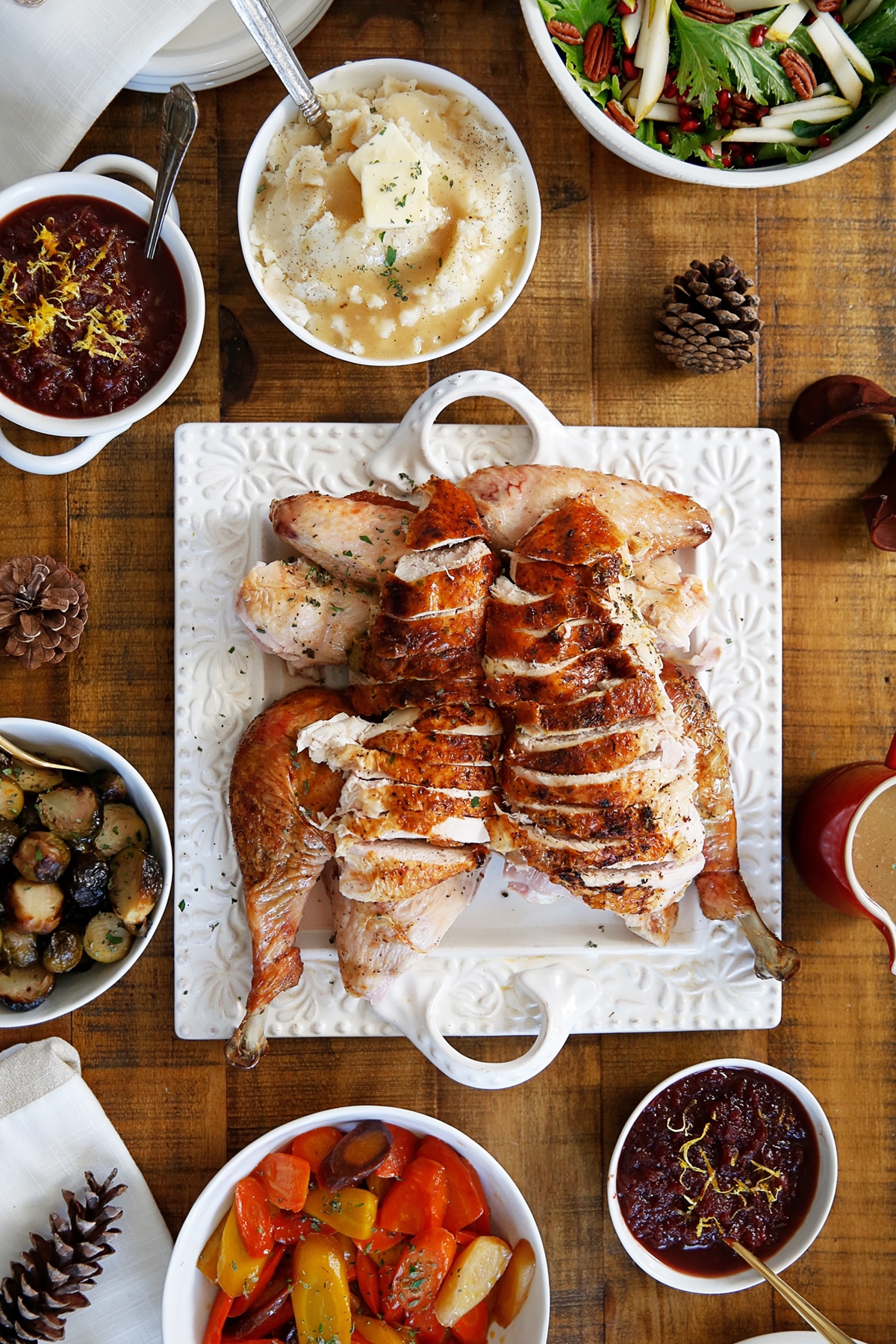 Gluten Free Thanksgiving Main Dishes
Let's get down to it with nitty gritty of Thanksgiving: the main course! We've got a few options ranging from the classic turkey, to the vegetarian main, or even an additional protein alternative to turkey!
How to Roast a Turkey:  If you've never roasted a turkey before, this for a Citrus Herb Turkey explains it all!
Kale and Sweet Potato Stuffed Turkey Breast: This is perfect for a dinner party or small Thanksgiving feast. A boneless turkey breast is stuffed with quick caramelized onions, kale, sweet potato and herbs, then baked in the oven in just about an hour. Double the recipe to feed a crowd! It's also gluten-free, Paleo and Whole30 friendly.
Turkey Roast with Pear Chutney: This turkey breast roast is perfect for smaller holiday gatherings and was a staple at my family holiday dinners! 
Creamy Pumpkin Casserole This dairy-free casserole is healthy and delicious, made with spaghetti squash, pumpkin, spinach, and chicken and is topped with a delicious sauce and baked to perfection. It's Paleo and Whole30, too.
Spinach Artichoke Stuffed Spaghetti Squash: Looking for a great vegetarian main that doesn't involve tofu? This is it! All the classic flavors of spinach and artichoke dip made healthy and stuffed into a low-carb and nutrient-rich spaghetti squash! You can optionally add-in chicken to make it heartier, or leave it as a vegetarian main dish. Make it dairy-free using cashew cream, or not.
Maple Glazed Ham: Looking for a turkey alternative, or an extra protein to pair with the turkey for a large crowd? This sweet and salty Maple Glazed Hame would be perfect.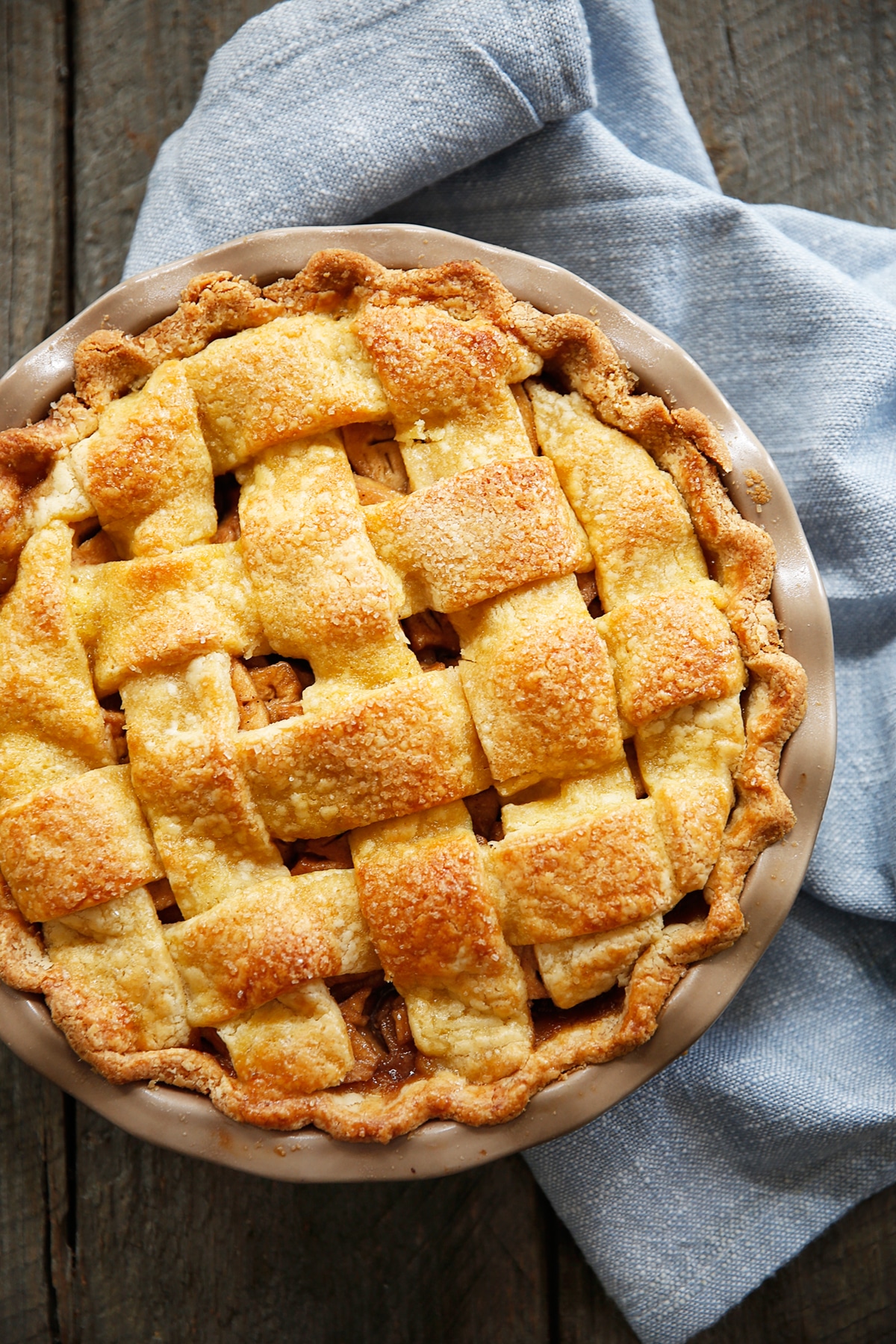 Gluten Free Thanksgiving Dessert Recipes
Classic Apple Pie This classic pie has  a buttery crust with thinly sliced juicy apples laced with cinnamon and nutmeg. It's made using unrefined sweeteners and uses the best gluten-free crust.
Pecan Pie: This Pecan Pie made in a tart pan is absolutely stunning, yet simple to put together. And the best part? It's made without any refined sugar or corn syrup!
Nut-Free Pumpkin Pie This Gluten Free Pumpkin Pie is smooth and creamy (without any cream) with just the right note of spice. It's made using our nut-free and gluten-free crust that is so simple to put together! 
Grain-free Cranberry Apple Crisp This healthy apple crisp is made without oats, with a pop of color and tartness thanks to added cranberries and is sweetened just right! 
S'mores Pie: Made with a rich chocolate pudding-like filling, made totally gluten-free using my homemade graham crackers or gluten-free graham crackers, and is topped with good quality marshmallows for the ultimate Summer dessert you can feel good about serving!
Easy Slow Cooker Baked Apples These easy-to-make "baked" apples have just the right amount of sweet, they swarm your home with the most delicious fall scent, and they are super EASY to throw together.
How to Make Creme Brûlée (Dairy-Free) This dairy-free and refined-sugar free version is just as decadent as the classic version but lightened up with a secret healthy ingredient! It's perfectly sweetened with a blend of honey and maple sugar and despite it feeling fancy it is really easy to make.
Apple Galette This is similar to an apple pie with a buttery crust with thinly sliced juicy apple, but easier to put together! It's the perfect dessert to serve during the holidays or a fun weekend baking project to celebrate the fall season! It's made using unrefined sweeteners and uses the BEST gluten-free crust.
Gluten Free Thanksgiving Recipes for Leftovers
Have a lot leftover? Repurpose that food to create meals to feed yourself over the weekend!
Thanksgiving Stuffed Acorn Squash This delicious stuffed squash is loaded with cranberry relish, stuffing, turkey, and all your veggies; and it is SO good.
Turkey Wild Rice Soup This recipe is the perfect lunch or dinner to whip up after a great Thanksgiving meal. This easy to prepare soup is full of veggies, it's warm and hearty and so delicious!
The Ultimate Thanksgiving Sandwich Looking for a way to use leftovers this Thanksgiving?! This Ultimate Thanksgiving Leftover Sandwich is made with my go-to paleo-friendly sandwich bread and is seriously one of my favorite things to make over Thanksgiving! Turkey, cranberry sauce, roasted veggies… need I say more?!
Feel Good Veggie Soup Go ahead and make this soup with added turkey!
---
Pin it For Later:

Source link
Amazon Products