This post is brought to you by our friends at Crispy Green but all opinions are 100% mine.
I don't know about you, but I love a good bistro box. Not only are they convenient, but there are some pretty healthy options out there that are packed with protein, fruit, and veggies. The only problem? Shelling out almost $7 for a hard boiled egg, peanut butter, grapes, and some cheese feels a little excessive, plus it can get boring pretty quickly.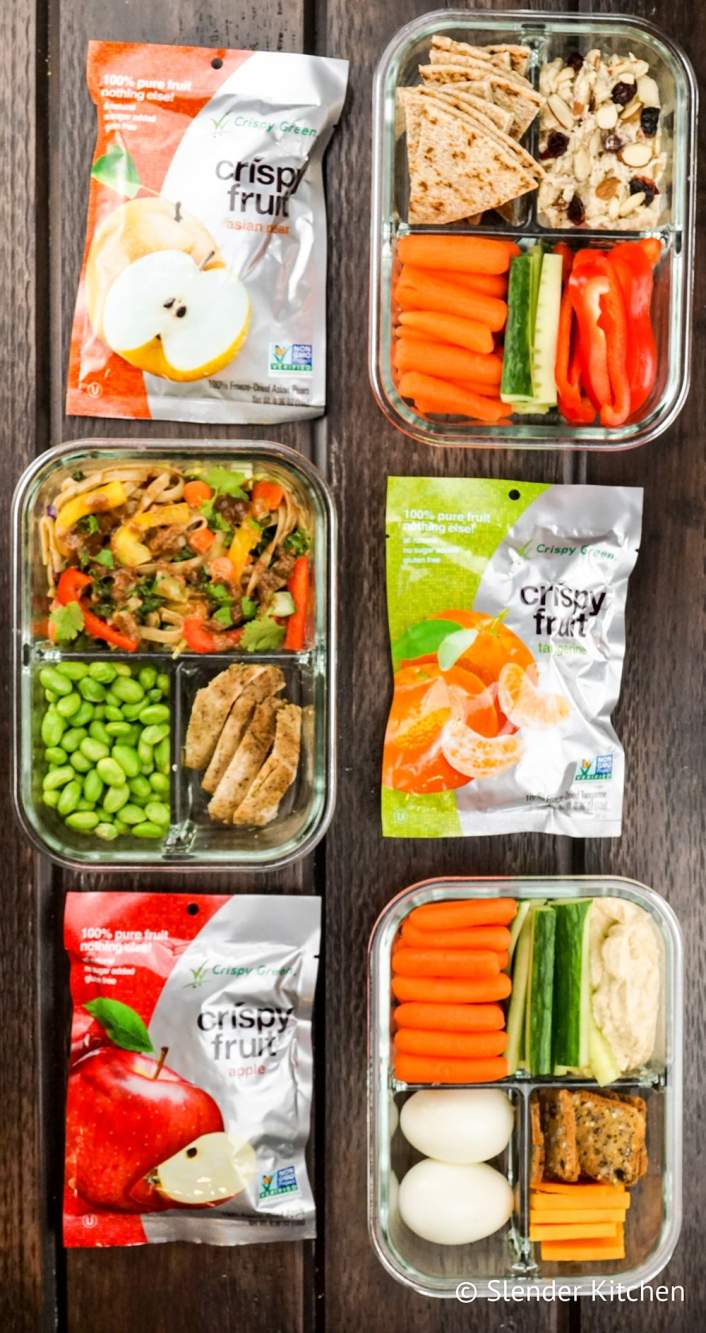 That's why today, I am teaming up with my friends at Crispy Green to bring you three delicious and healthy Bistro Boxes that you can pack ahead for a quick meal. Each one is packed with protein, veggies, whole grains and the most delicious freeze dried Crispy Fruit
For these tasty, make-ahead meals, I decided to use Crispy Fruit because I absolutely love their sweet flavor and crunchy texture. It's the perfect, guilt-free addition to your meal since they have no added sugar and contain 100% real fruit. Plus, you never have to worry about the fruit spoiling or turning brown.
Each bag contains about a half cup of fruit and just 40-60 calories and 0 SmartPoints! But with their crispy texture and sweet flavor, it feels like you are eating something more indulgent. Truth be told, I have replaced my daily post meal candy fix with a bag of these tasty snacks and am particularly obsessed with the mango and pineapple flavors. So good.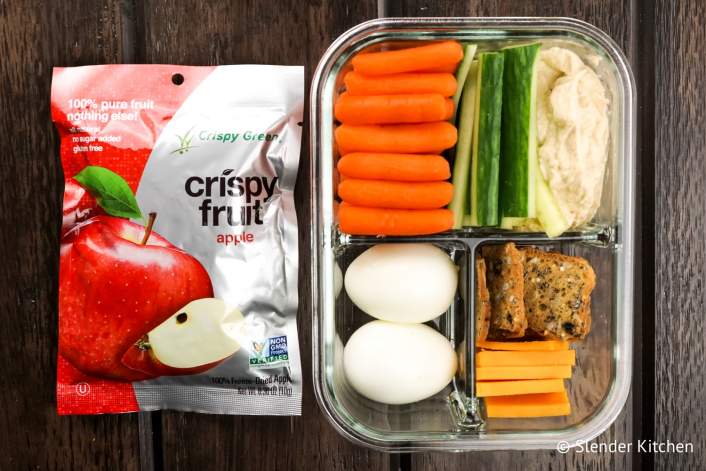 Bistro Box #1: Protein Box
2 boiled eggs
1 oz. sliced cheese
Baby carrots
Cucumber slices
2 tbsp. hummus
1 oz. whole grain crackers
1 bag Crispy Fruit (any flavor, but I usually reach for Apples, Bananas, or Cantaloupe)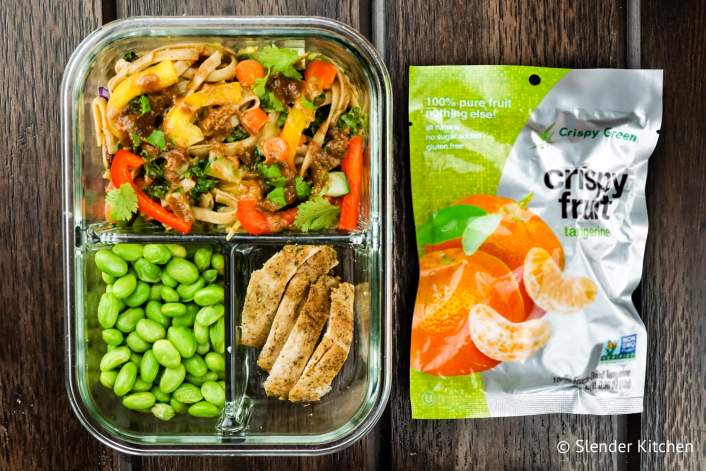 Bistro Box #2: Asian Pasta Salad
1 cup Asian Pasta Salad
1/2 cup Edamame
4 oz. cooked chicken breast
1 bag Crispy Fruit (Pineapple, Asian Pear, Mango, or Tangerine pair really well with the salad)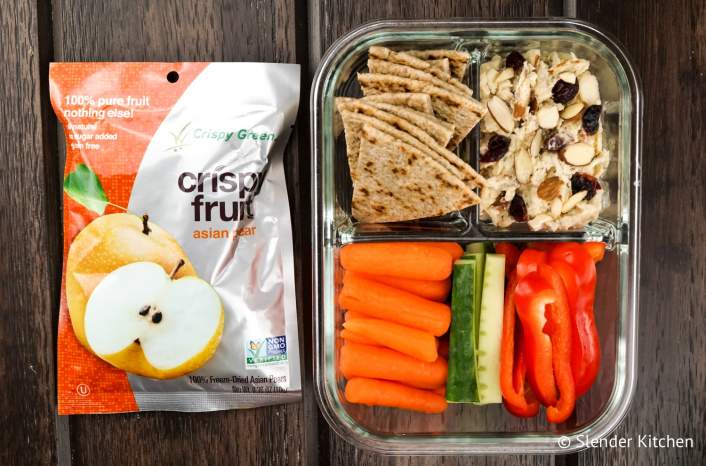 Bistro Box #3: Cranberry Almond Chicken Salad
1/2 cup Cranberry Almond Chicken Salad
Sliced veggies (carrots, cucumbers, red peppers)
Whole grain pita or flatbread
1 bag Crispy Fruit (Adding some freeze dried apples or Asian pairs to the chicken salad is delish!)
Tips for Making Your Own Bistro Boxes At Home with Crispy Green
Make sure your bistro box contains protein, whole grains, fiber, veggies and fruit (Crispy Green freeze dried fruit is a great option). This way you know you are getting a nutritious, balanced meal packed with vitamins and minerals that will keep you full.
For quick weekday meals, pack the majority of your bistro box on the weekend. Then add anything that doesn't keep well in the fridge that day. Things like crackers will get soft if packed ahead of time.
Depending on your storage containers, pack dressings and dips in separate containers to keep things from getting soggy. If you don't want to use another container, consider using cupcake/muffin liners.
When it comes to containers, I love this option from Amazon since it even has a built in compartment for silverware and is glass.
Leftovers can easily become a delicious bistro box. Things like grilled or roasted meats, veggies, pasta, and rice can quickly become a delicious, make-ahead lunch.
For a sweet, crunchy treat at the end of your meal, add a bag of Crispy Fruit. They taste amazing and have no added sugar.
Looking for Crispy Fruit? Use their store locator to find out where you can buy them near you and take advantage of a coupon for $1.50 off!
(function(d, s, id) {
var js, fjs = d.getElementsByTagName(s)[0];
if (d.getElementById(id)) return;
js = d.createElement(s); js.id = id;
js.src = "http://connect.facebook.net/en_US/sdk.js#xfbml=1&version=v2.4&appId=125505754455470";
fjs.parentNode.insertBefore(js, fjs);
}(document, 'script', 'facebook-jssdk'));