30 Calorie Mini Pumpkin Pies need to be on your holiday menu! These adorable, bite sized treats come together in 30 minutes and have all the flavor of pumpkin pie without the guilt.
I don't know about you but I love any kind of pre-portioned, bite size dessert. It rescues me from accidentally eating a huge slice of pie or mountain of dessert. In fact, recently while we were traveling in North Carolina, I was served the largest piece of key lime pie I have even seen. And don't get me started about the cheesecake, we ordered. It was enough to feed an army. Portion sizes have defintiely gotten out of control, which makes me love desserts like these Mini Pumpkin Pies even more. With just 30 calories per pie, you can enjoy all the amazing fall flavors without worrying.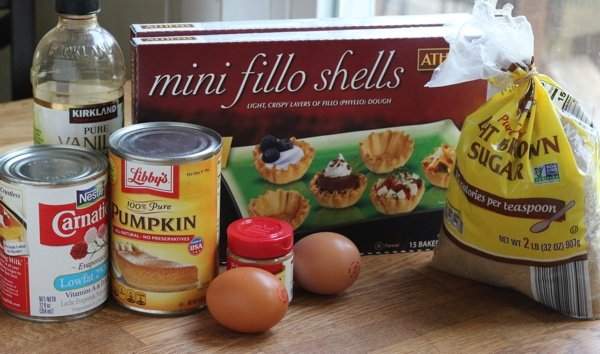 In addition to have built in portion control, these mini pumpkin pies utilize a few other tricks to make them light while maintaining all the pumpkin pie flavor you are looking for. The main difference is substituting canned evaporated milk for the cream usually used in pumpkin pie filling. Evaporated milk has the same rich flavor but is lighter than heavy cream. Then all it takes is mixing together all the traditional ingredients, filling up the fillo cups, and popping them in the oven for 15 minutes. It's shockingly easy.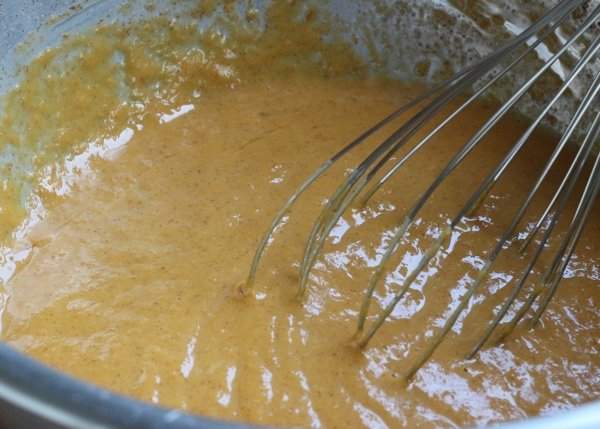 One important thing to note is that you will have some extra pumpkin pie filling when you make this recipe. Instead of using half a canned of pumpkin and evaporated milk and then needing to throw out the rest, instead I just cook up the remaining pumpkin in a ramekin or two. It makes a delicious pumpkin custard. If you don't think you would eat the extra, you can always use the pumpkin puree in a smoothie or oatmeal.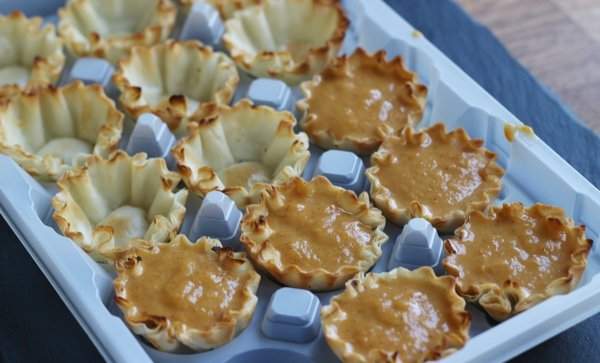 Tips for Making these 30 Calorie Mini Pumpkin Pies:
Toppings: Since I usually make these for holiday gatherings, I love serving them with a variety of toppings so people can choose what they like best. Some with get traditional whipped cream and a sprinkling of pumpkin spice. Others get walnuts of pecans. I drizzle a few with melted chocolate and then top a few mini pies with cranberry sauce or chutney.
These mini pies don't keep well since the fillo dough loses it's crisp after about one day. If you want to make just a few at a time, make the filling in advance and store it in the fridge. Then just pull out the number of fillo shells you need for that day. You can also freeze the filling in an ice cube tray and then quickly defrost it in the microwave before baking a couple. I love this trick for a quick sweet treat after dinner.
In my grocery store, you can find the mini fillo shell cups next to the freezer pie crusts. Usually they come in a box of 15.
Looking for more healthy pumpkin recipes?
Here are some of the products I used in this recipe:
If you are looking at this recipe and it's a time of year it's hard to find pumpkin puree, look online, where you can purchase it year round and usually at a very competitive price.
(function(d, s, id) {
var js, fjs = d.getElementsByTagName(s)[0];
if (d.getElementById(id)) return;
js = d.createElement(s); js.id = id;
js.src = "http://connect.facebook.net/en_US/sdk.js#xfbml=1&version=v2.4&appId=125505754455470";
fjs.parentNode.insertBefore(js, fjs);
}(document, 'script', 'facebook-jssdk'));