These simple Ancho Fish Taco Bowls are perfectly spicy with a delicious lime cabbage slaw and creamy avocado for a low carb alternative to fish tacos.
Jump to Recipe keyboard_arrow_down
282 CALORIES

12g CARBS

13g FAT

33g PROTEIN
4
Freestyle™ SmartPoints™ New!
(5 Old SmartPoints™)
(7 PointsPlus®)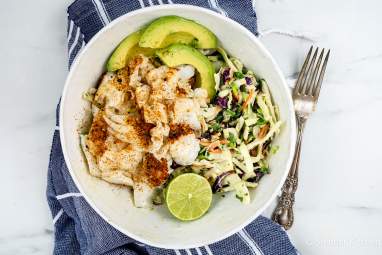 Ancho Fish Taco Bowls with Lime Slaw and Avocado Recipe
Looking for low carb fish tacos? You have come to the right place. These Fish Taco Bowls with Coleslaw and Avocado are basically the best fish tacos without the tortilla. They are full of flavor and it's one of our favorite low carb Mexican options along with this Slow Cooker Beef Machaca and Easy Healthy Carnitas.
Hi. My name is Kristen, and I'm a taco addict. There, I said it. Although, I think you probably already know it. But, from time to time, I find myself needing to modify the taco to suit my dietary needs, and that's just what I did for this Ancho Fish Taco Bowl recipe. I need a low carb option and this was the perfect solution.
I like to refer to this recipe as being just like a fish taco without the "taco" part. Many times when I am out to eat and looking for a lower-calorie option, I look for tacos. Then to cut back on calories, I'll skip the tortillas and simply eat all the yummy fillings. Today's recipe is my own homemade version of exactly that with deliciously spiced fish, slaw, and some creamy avocado. It's a perfect dish to cook on the grill or can just as easily be made in the broiler.
Now, just because I took out the tortilla doesn't mean you have to do the same. By all means, make this recipe as-is and add in your favorite carb. Or add two tortillas to create a quesadilla. Wrap a soft taco around a hard taco and create your own fast-food-chain, copycat gordita.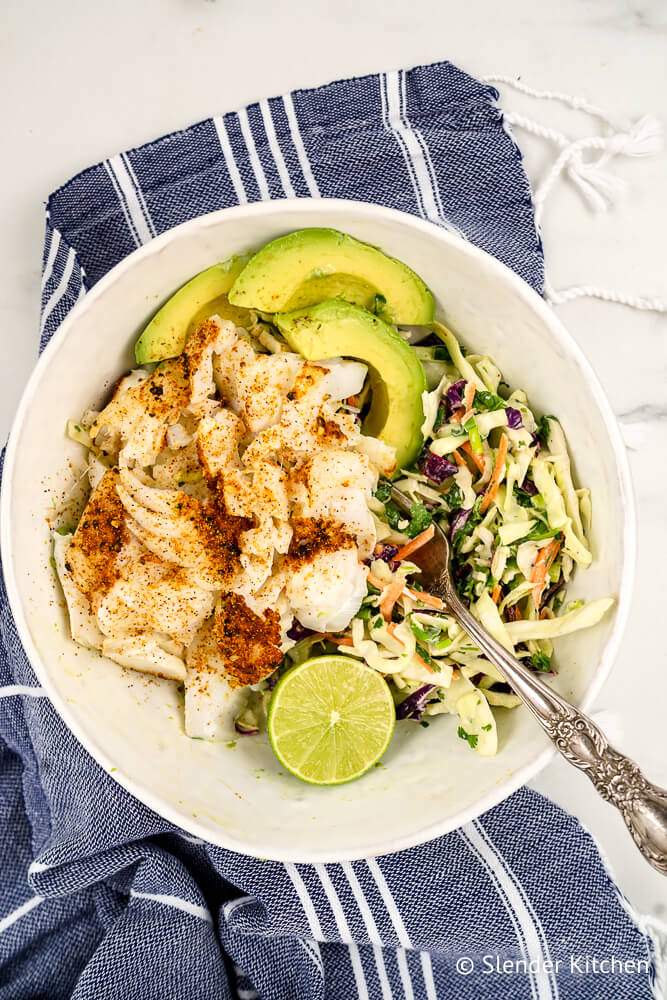 Side Dishes Serve with Ancho Fish Taco Bowls
Since I skipped the carbs in this dish, my suggestions for side dishes will also be low-carb in sticking with the theme. Try one (or more) of the following as a side dish for your tacos and enjoy eating all the food with none of the guilt.  
Ways to Serve Fish Taco Bowls
If you're not feeling the no-carb thing, don't worry, there are PLENTY of ways to add in your favorite breads or wraps. In addition to using a typical taco shell or tortilla, you could also try: 
Turning the fish dish into quesadillas.
Adding the fish to lettuce for a low-carb taco "shell" that still feels like a taco.
Make yummy Mexican-themed rice bowls with the fish, plus salsa, beans, cheese, jalapenos, corn — any of your favorite ingredients will work. 
Place the fish right inside a nice, toasty roll or bun and top it with some hot sauce and your favorite slaw. 
Make fish taco mini "bites" by using tortilla chips that are bowl- or shell-shaped. 
How Can I Use Leftovers?
I'm going to be perfectly honest with you — I never have any leftovers. No, that's not entirely true. I do sometimes have some food left over. I don't think leftover fish keeps for all that long, so my suggestion is to plan on eating it the very next day. The same advice goes for the slaw and avocado. Actually, when using avocados, I tend to only slice up as much as I'm going to eat for that meal because leftover avocado doesn't keep well. 
If it were me, though, I'd simply use any of the ideas above for leftovers the following day. Cold fish isn't bad either — try it in a sandwich or on a salad! 
How Much Fish Do You Need for Fish Tacos? 
This recipe calls for 1.33 pounds of cod for four servings. If you're skipping the shell, then I think you're entitled to a little more fish per serving, don't you? Take out the carbs, add some extra protein. Pile high with all the "extras." This serving size allows for about a third of a pound of fish per person. If you were to add the tortillas, I'd cut it down to about a quarter pound of fish per person (keeping in mind I usually consider two tacos a serving).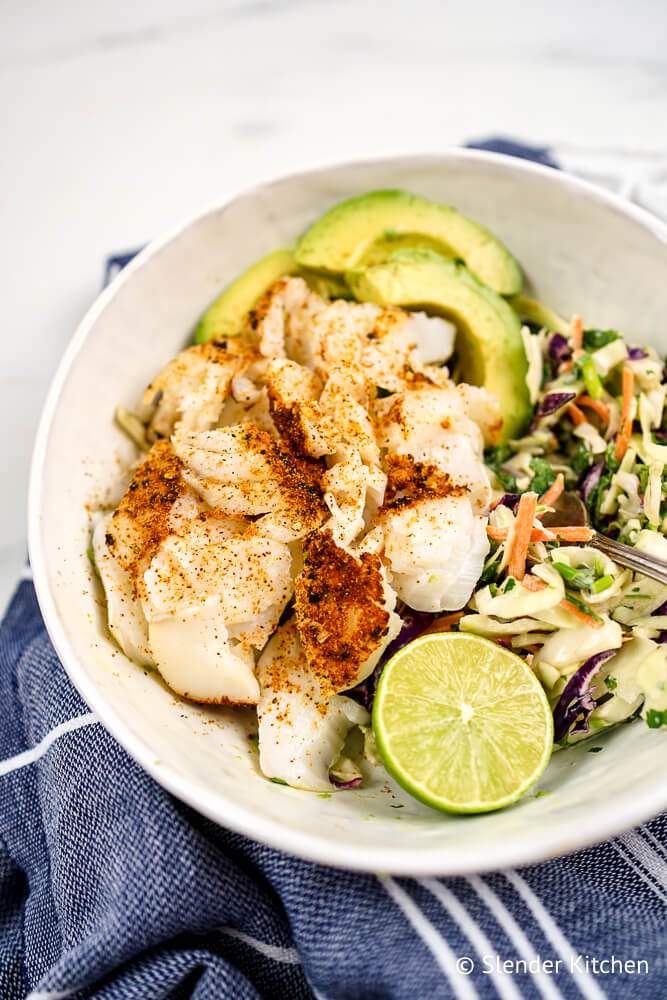 Recipe Ideas
If you're not a fan of cod, you can substitute mahi mahi, snapper, salmon, tuna, or just about any meatier fish you like eating. 
If you aren't a fish lover at all, you can most definitely use chicken or lean beef with the same spices and toppings as well. 
You can also use lettuce wraps or low-carb tortillas if you're watching your carb consumption. 
Put your toppings in a bowl, then add the fish right on top for a "deconstructed" taco. Instead of a taco, you have a delicious, ancho fish taco salad! 
Greek yogurt will work just fine as a substitute for mayo. 
Skip the red cabbage and swap it out for the green kind or try some broccoli slaw. 
Spicy foods aren't for everyone. You can always change out the jalapeno for another garnish or add milder Mexican seasonings instead of ancho chili. 
Really, this recipe is yours to make and enjoy! So feel no guilt if the thought of cilantro makes you turn green — add whatever herbs you like! 
Source link
Amazon Products