Slow Cooker Sausage Balls are cheesy, easy to make, and super delicious. Serve them as a party appetizer, spoon over pasta, or make a meatball sub! You choose.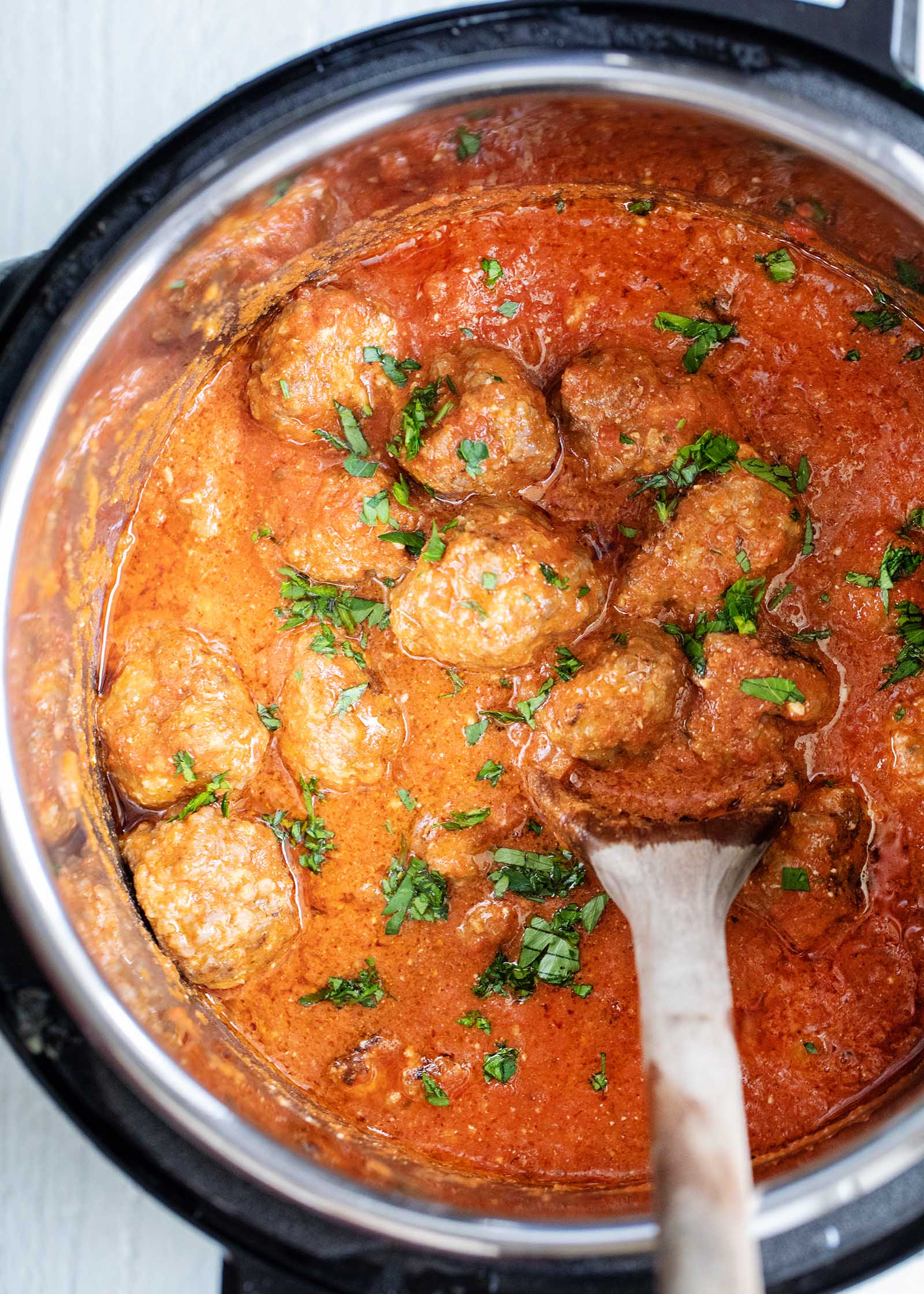 Photography Credit:
Nick Evans
These slow cooker sausage balls are all kinds of magical. They are somehow better than your standard Italian meatball, but also easier – just brown the meatballs in a skillet, toss in a slow cooker for a few hours, then serve as a party appetizer or family meal. You can't go wrong!
THE SECRET INGREDIENT: CHEESE!
These sausage balls are basically meatballs, but less finicky; the recipe doesn't call for breadcrumbs, eggs, or a bunch of other add-ins. What it does call for is cheese (two kinds, in fact): cream cheese and cheddar cheese. Stir these together with Italian sausage and you are in business!

DON'T SKIP THE BROWNING STEP
I was worried that the meatballs would fall apart in the slow cooker or while browning but they firmed up nicely and held their shape. Browning helped with this and also gives the sausage balls great flavor, so don't skip this step!
Make sure to give yourself enough time to brown the sausage balls in a skillet with a drizzle of olive oil before transferring them to a slow cooker so they develop flavor and keep their shape while they simmer.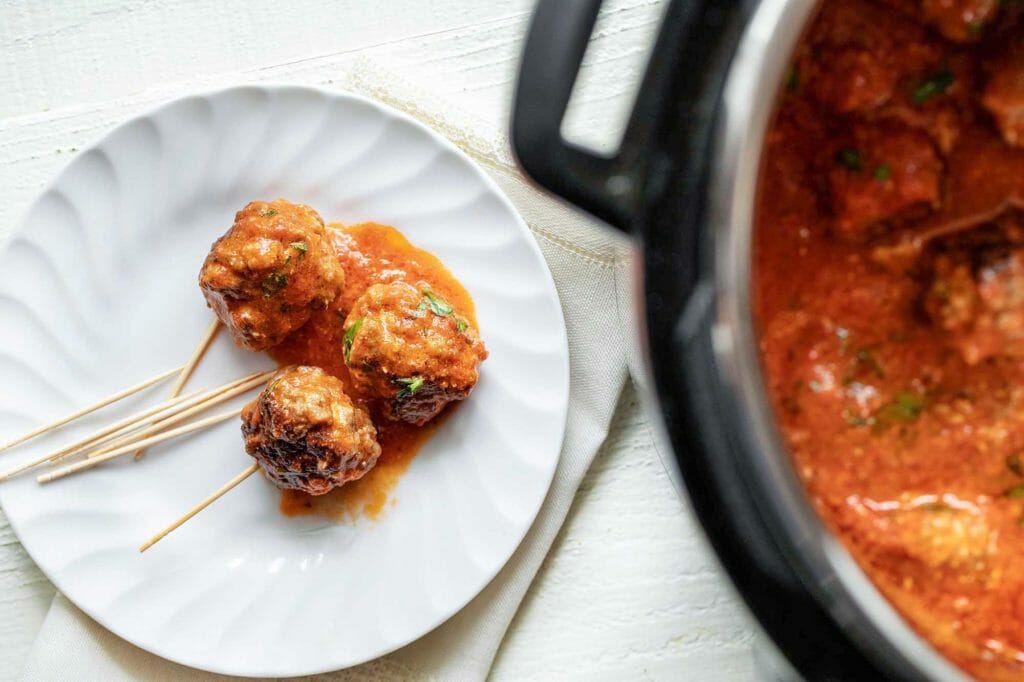 MAKE-AHEAD TIPS FOR STUFFED SAUSAGE BALLS
These sausage balls can be made up to a few hours in advance of serving. If you need to make them further in advance, that's just fine. Assemble the sausage balls and store them in the fridge for 2-3 days until you are ready to make them.
Also, in terms of how flexible you can be with the the slow-cooking time, I left a batch of these in a slow cooker for two hours on high and up to eight hours on low and both were excellent.
IDEAS FOR SERVING SAUSAGE BALLS
So. Many. Serving. Ideas! Here are a few favorite serving ideas for these stuffed sausage balls:
Serve them as appetizers: Toss some toothpicks next to a big platter of the meatballs and appetizers are done.
Make a dinner out of them: Cook some spaghetti, stir in a few spoonfuls of marinara sauce from the slow cooker after the pasta is cooked, then serve the spaghetti with sausage balls and fresh parsley.
Go for a hearty weekend lunch: Toss some of these sausage balls in a hoagie with provolone cheese for the best meatball sub!
Other ideas for these? Leave a comment!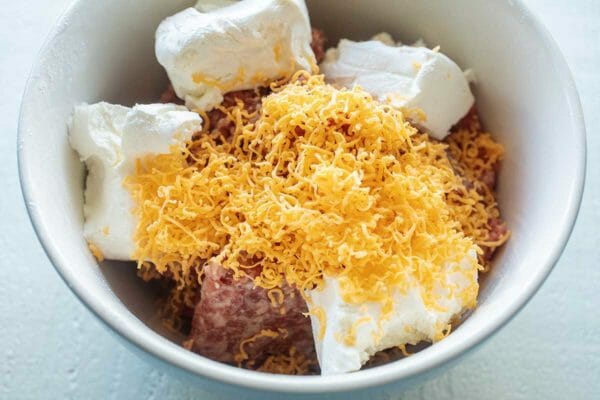 STORING AND REHEATING STUFFED SAUSAGE BALLS
These sausage balls keep perfectly in the fridge for five days or so. You can also freeze them in a freezer safe container for up to three months. Reheating them is best in a pot on the stove with a splash of water, or you can toss them back in the slow cooker on low. They will be just as good as on day one.
MORE WAYS TO EAT ITALIAN SAUSAGE
Cheesy Slow Cooker Sausage Balls Recipe
Ingredients
2 pounds Italian sausage, either bulk or removed from the casing
4 ounces (1 cup) sharp cheddar cheese, grated
8 ounces cream cheese
1 teaspoon kosher salt
Olive oil, for browning
3 cups marinara sauce, store-bought or homemade
Fresh parsley, garnish
Pasta, for serving (optional)
Method
1 Make the sausage balls: In a medium bowl, mix together Italian sausage, cheddar cheese, cream cheese, and kosher salt. Use your hands to mix the mixture really well so there are no huge chunks of cream cheese.
Shape the mixture into tablespoon-sized balls. (Tip: it's easier to make the balls if your hands are cold and wet!) Alternatively, use a small cookie scoop to create the meatballs. You should get around 30 balls out of the mixture. Put the meatballs on a plate.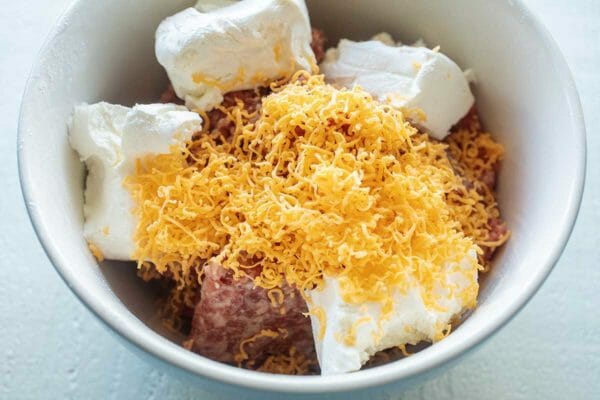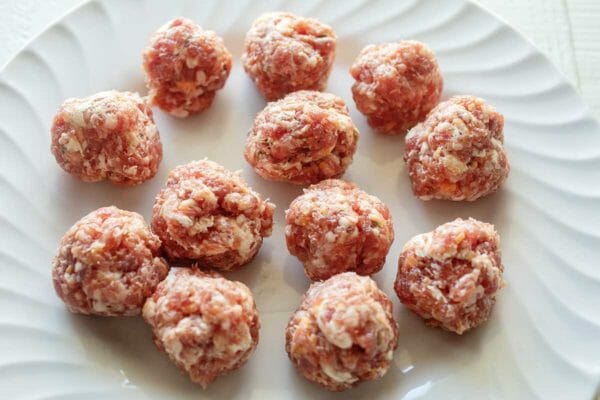 2 Brown the sausage balls: Add a small drizzle of oil to a medium skillet over medium-high heat. Add a batch of sausage balls (about 12-14 balls, or as many as will fit in your skillet without crowding). Cook for 2-3 minutes, flipping once to get some browning on at least two sides. The sausage balls do not need to be completely cooked through.
Repeat with the remaining sausage balls until all the balls have been browned. (It will probably take three batches to brown them all.) When finished, add the sausage balls to a slow cooker pot.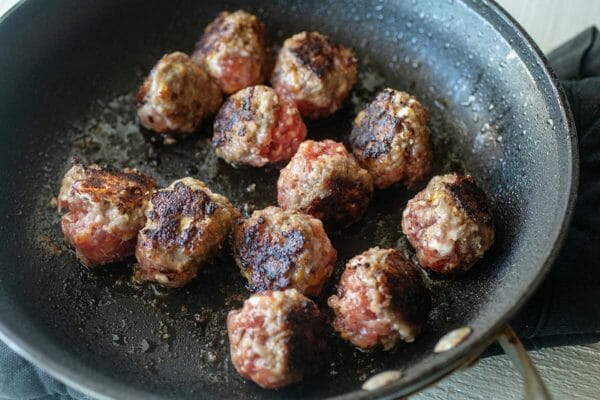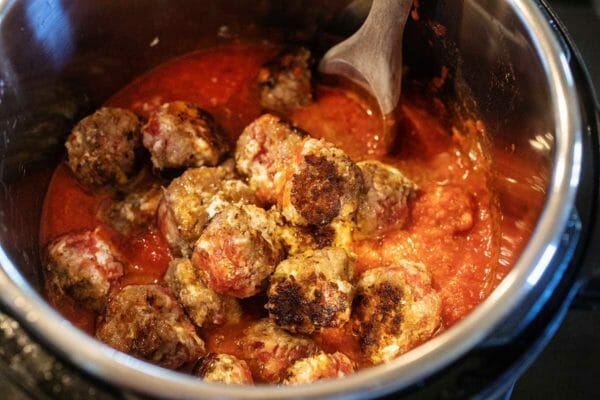 3 Cook the sausage balls: When all the sausage balls are browned and in the slow cooker, gently stir in the marinara sauce (the sausage balls may be fragile) and cook on high heat for 2 hours or low heat for up to 8 hours.
Serve finished sausage balls garnished with parsley and served with toothpicks as an appetizer or over pasta for a full meal.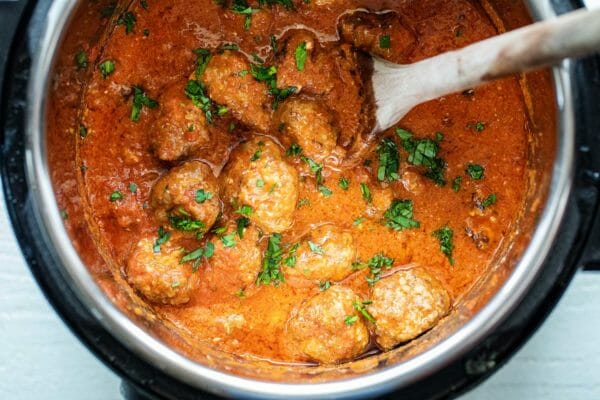 Leftovers keep fantastically in the fridge for 5-6 days. Reheat in a pot over low heat with a splash of water. You can also freeze the sausage balls in a freezer-safe container for up to 3 months.
Hello! All photos and content are copyright protected. Please do not use our photos without prior written permission. Thank you!
Products We Love
This post may contain links to Amazon or other partners; your purchases via these links can benefit Simply Recipes.
Read more about our affiliate linking policy.
Source link