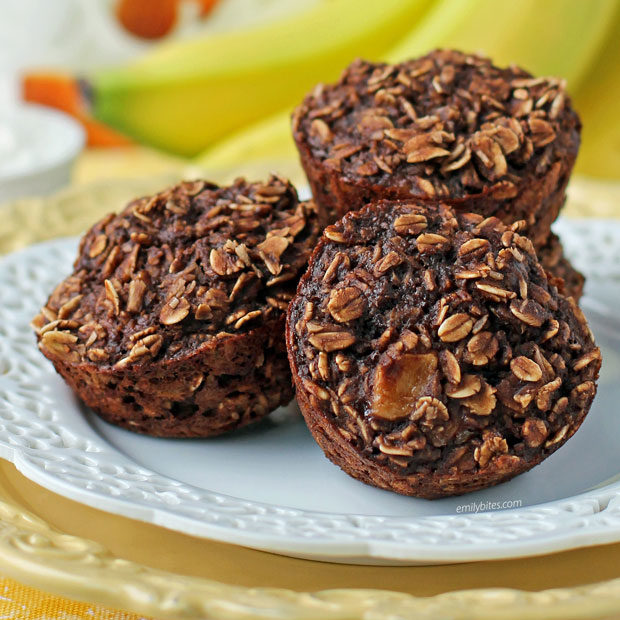 These Chocolate Coconut Banana Baked Oatmeal Singles are a sweet and easy breakfast option your whole family will request again and again! I love making baked oatmeal singles because they're simple, satisfying and easy to pack or eat on-the-go. I've made a lot of different varieties, but my husband told me these ones are his favorite! These singles are bursting with flavor and the tastes of chocolate, banana and coconut blend together beautifully. It's kind of like getting to eat a healthy dessert for breakfast! Each of these Chocolate Coconut Banana Baked Oatmeal Singles are a sweet treat bargain at just 108 calories or 3 WW Freestyle SmartPoints. I like to pair one of these singles with eggs, bacon, or fruit in the morning for a complete and filling meal.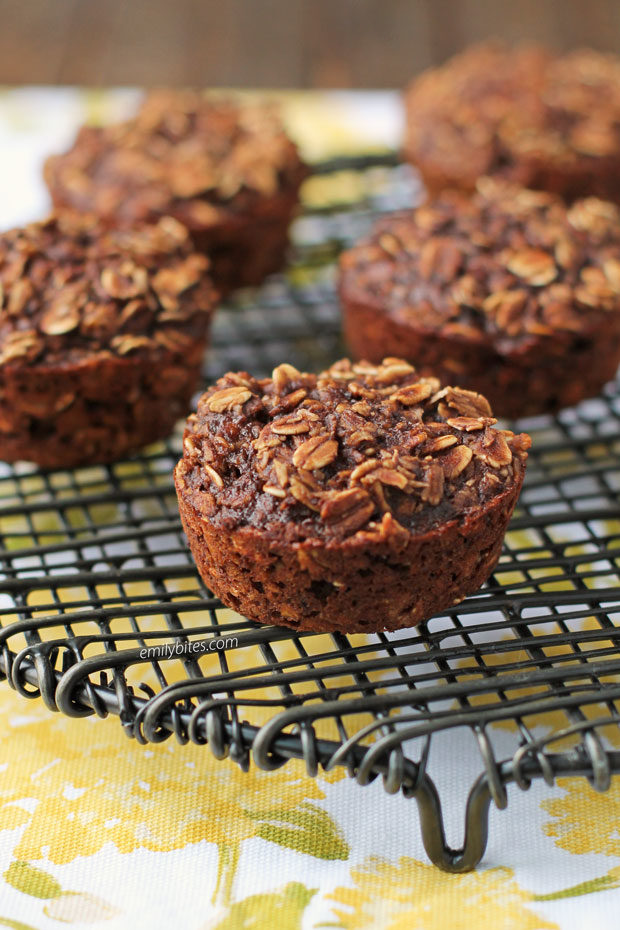 Looking for more tasty varieties of baked oatmeal singles? Check out my Raspberry Peach, Oatmeal Raisin, Orange Cranberry, Peanut Butter Banana, Carrot Cake, Pear Gingerbread, Strawberry Banana, Blueberry, Pumpkin Chocolate, Apple Cinnamon, Chocolate Cherry, or Banana Chocolate Chip flavors or view more in the Oats ingredients category in my recipe index!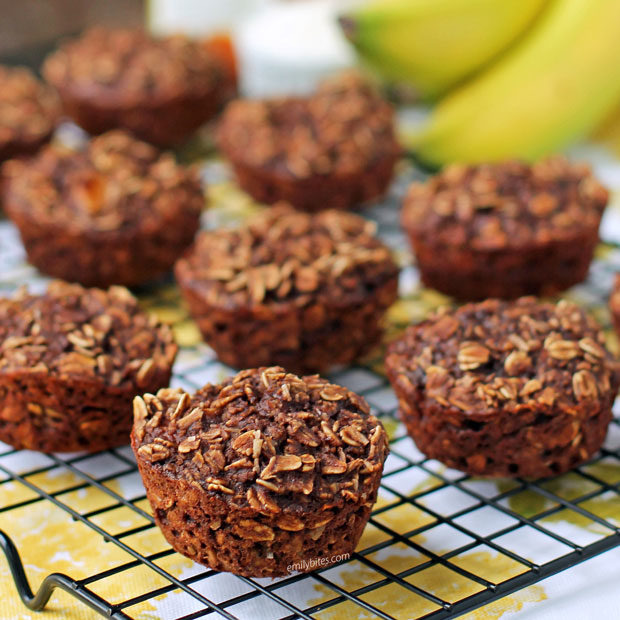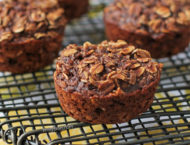 Chocolate Coconut Banana Baked Oatmeal Singles
Ingredients:
2 cups old fashioned oats
¼ cup packed brown sugar
3 tablespoons unsweetened cocoa powder
1 ½ teaspoons baking powder
¼ teaspoon salt
1 egg white
1 egg
2/3 cup skim milk
2/3 cup mashed banana
½ cup chopped banana
3 tablespoons shredded unsweetened coconut
Directions:
Preheat the oven to 350. Lightly mist 12 cups in a muffin tin with cooking spray.
Combine the oats, brown sugar, cocoa powder, baking powder and salt in a large bowl and stir until thoroughly mixed.
In a separate bowl, whisk together the egg white, egg, milk, and mashed banana until smooth. Add the wet ingredients to the dry ingredients and stir until blended together. Add in the chopped bananas and shredded coconut and stir to combine.
Spoon the oatmeal mixture evenly amongst the prepared muffin cups. Bake uncovered for 20-24 minutes or until the oatmeal is lightly browned and a toothpick inserted into the middle comes out clean.
WW Freestyle SmartPoints:
3 per single (SP calculated using the recipe builder on weightwatchers.com)
Weight Watchers PointsPlus:
3 per single (PP calculated using the recipe builder on weightwatchers.com)
Nutrition Information per single:
108 calories, 20 g carbs, 7 g sugars, 2 g fat, 1 g saturated fat, 3 g protein, 3 g fiber (from myfitnesspal.com)
Source link