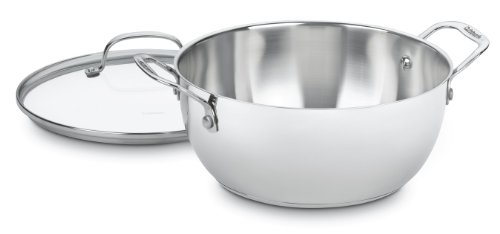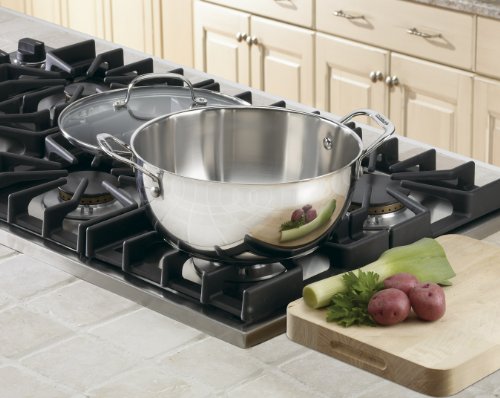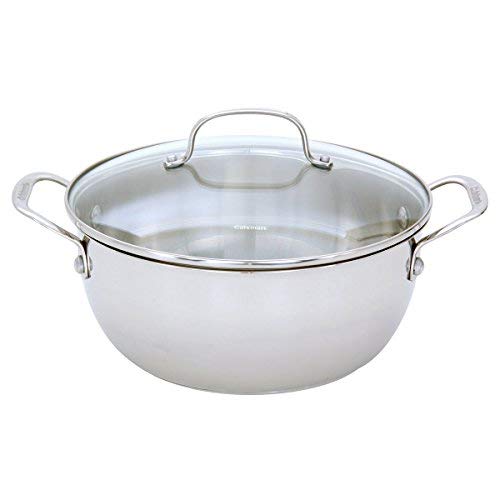 Price: $17.60
(as of Feb 20,2020 09:00:07 UTC – Details)
Classic Looks and Professional Performance
Cuisinart is pleased to offer an exciting new variety of specialty pieces of Chef's Classic Stainless Cookware that make everyday cooking tasks a pleasure. A multitude of cooking tasks are consolidated into this one versatile pot, maximizing productivity and saving storage space.
Cuisinart Chef's Classic 5.5-Quart Multi-Purpose Pot with Glass Cover:
Stainless steel
Cooking surface does not discolor, react with food or alter flavors
Solid stainless steel riveted handles stay cool on the stovetop for safe and comfortable handling
Aluminum encapsulated base heats quickly and spreads heat evenly, which eliminates hot spots.
Dimensions: Measures 10.5 in. x 17.8 in. x 6 in.
A Closer Look: Tight-fitting stainless covers seal in moisture and nutrients for healthier, more flavorful results. Also eliminates drips and spills while pouring. Oven-safe to 550 degrees F. Cook on stovetop, in oven or under broiler. Freezer safe for easy storage.
Take Care: Dishwasher safe.
About the Brand: When the food processor was introduced in 1973, it wasn't known as a food processor; it was commonly referred to as a Cuisinart. The rest is culinary history.
in.Stainless steel, classic looks and professional performance
Cooking surface does not discolor, react with food, or alter flavors
Solid stainless steel riveted handles stay cool on the stove top
Aluminum encapsulated base heats quickly and spreads heat evenly, eliminating hot spots.
Oven safe to 550 degrees F, perfect on stove top, in oven or under broiler; freezer safe for easy storage
Amazon Products