This EASY bean soup is the answer to the "What's for dinner?" dilemma. You probably have most of the ingredients in your pantry already, and turning them into a satisfying vegetarian soup is easy-peasy.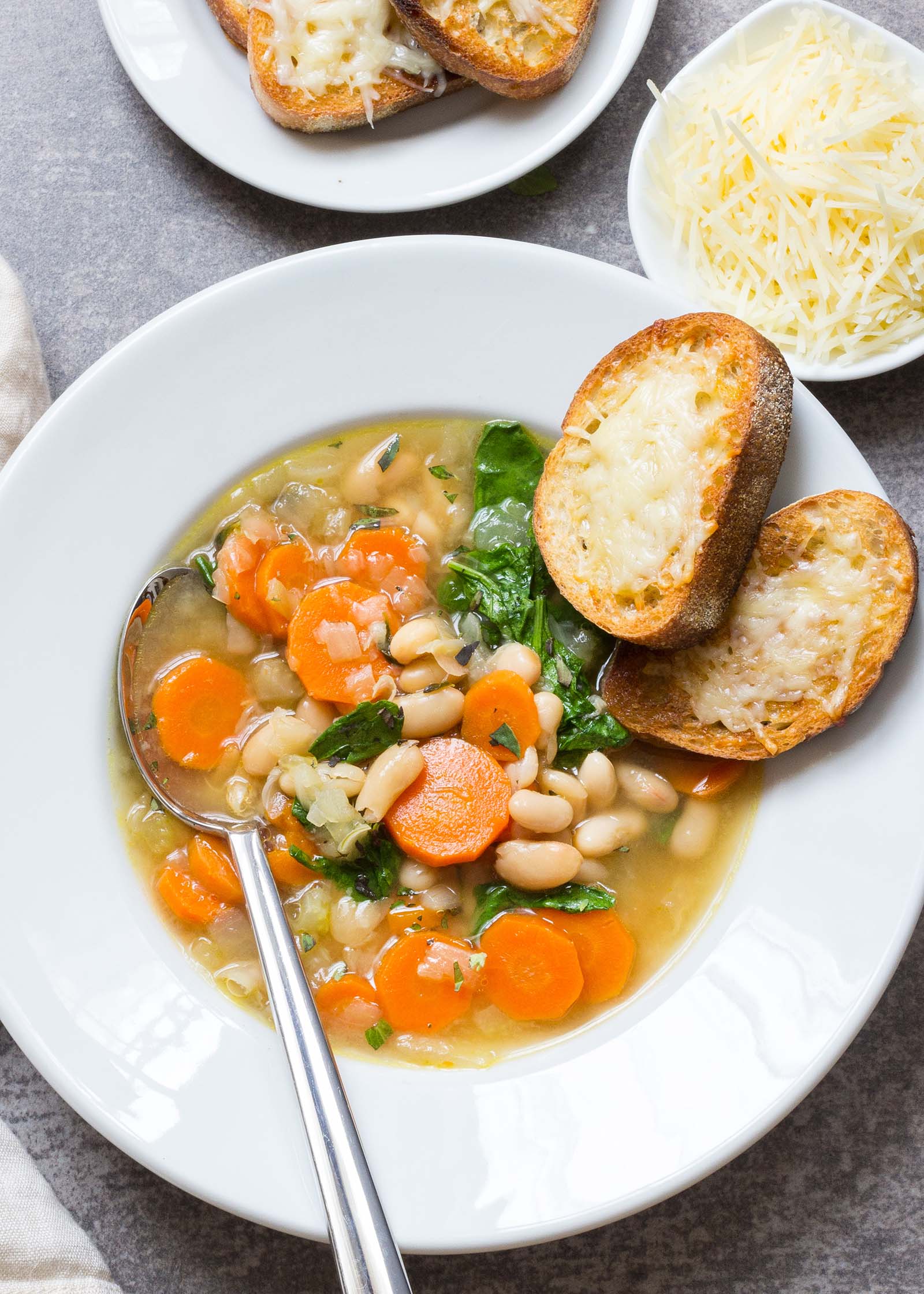 Photography Credit:
Sheryl Julian
The best bean soups have a lived-in quality, as if they have been simmering on the back burner for hours, just waiting for you.
You can achieve this by cooking the dried beans from scratch, or course. Or you can skip the long simmer and cook them in the pressure cooker, or just pop open a can!
Bean soups have the distinct advantage of tasting terrific either way. This Tuscan White Bean soup uses canned beans to make a 30-minute meal that tastes like it took all day.
What is Tuscan Bean Soup?
Long-simmered pots of bean soup are traditional all over Italy. This one takes a few short-cuts by using canned beans, but in the end the taste will be quite close to soups that simmered for hours.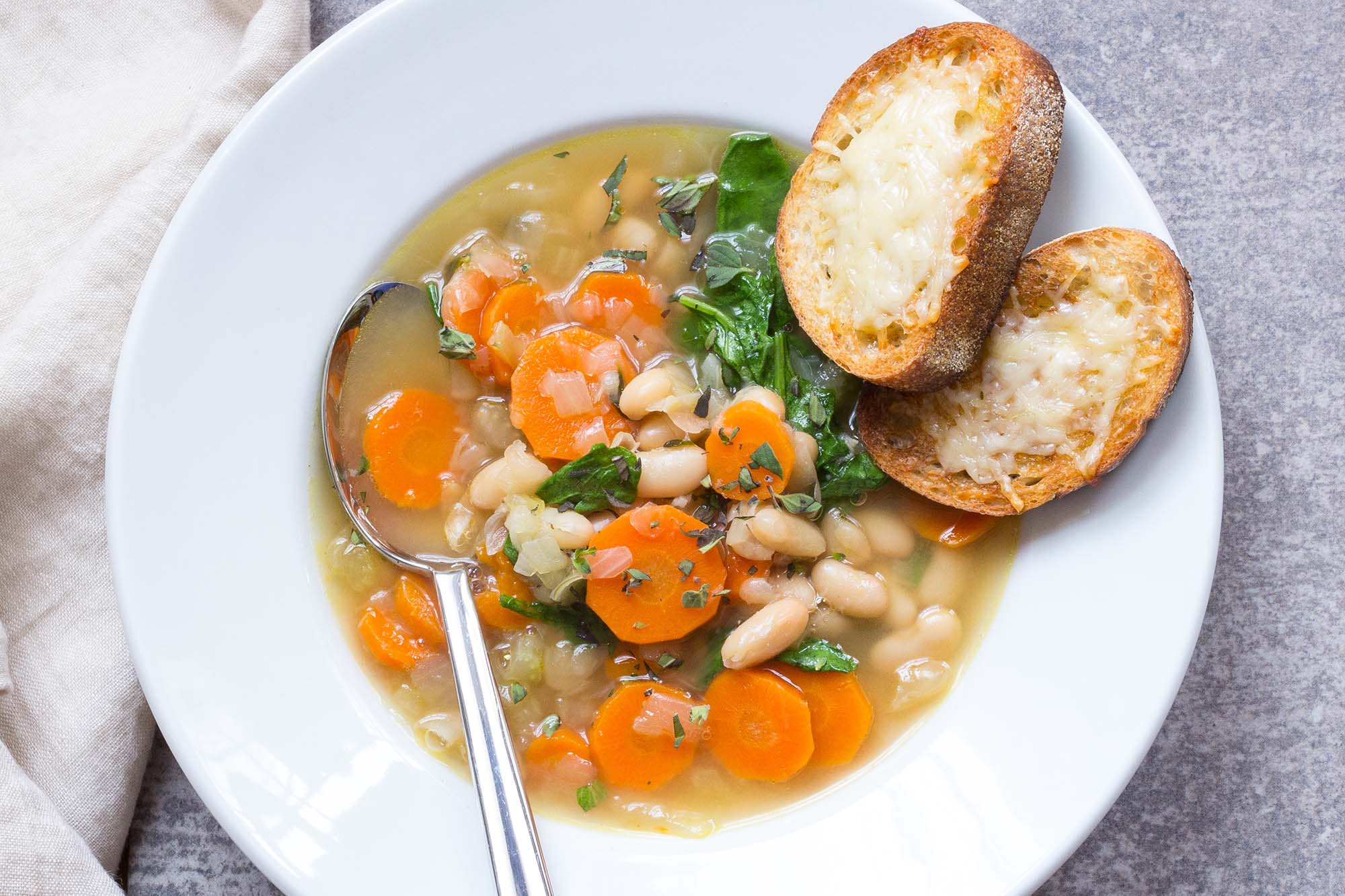 How to Make Tuscan Bean Soup
When you start this soup, sauté vegetables first to give the soup lots of flavor. Let carrots, onion, and celery cook with sprigs of oregano, then stir in the beans and chicken stock.
To make sure your soup has that appealing "simmered all day" quality when using canned beans, just mash some of the beans before they go into the pot. This will give your soup the slightly distressed texture that a good bean soup should have.
Simmer the soup briefly, then add baby kale or spinach for their pretty green color and texture. Sprinkle the bowls with olive oil and more Parmesan. You're done in less than half an hour, but your soup will taste like an afternoon's effort.
What to Serve with Tuscan Bean Soup
Parmesan toasts are an easy side dish to make while the soup is simmering. You only need baguette slices, olive oil, and grated Parmesan. Toast the bread sprinkle with olive oil and cheese, and let it melt in a toaster oven for a minute. They give your dinner plenty of crunch.
You could also serve the soup with garlic bread or Homemade Light Rye Bread. 
Can You Freeze Tuscan Bean Soup?
Yes, you can freeze this soup. Just make sure you take care to submerge the greens in the liquid before you do, so they don't dry out in the freezer (this applies to all vegetable soups). Let the soup thaw completely in the refrigerator for one day.
ITALIAN SOUPS ARE SUCH CLASSICS! TRY THESE!
Updated October 23, 2019 : We spiffed up this post to make it sparkle. No changes to the original recipe.
Easy Tuscan Bean Soup Recipe
If eating gluten-free, use gluten-free bread for the Parmesan toasts, or replace the toasts with another gluten-free side dish.
Ingredients
For the soup:
3 tablespoons olive oil
2 medium carrots, thickly sliced
1 large onion, coarsely chopped
1 stalk celery, coarsely chopped
1 clove garlic, finely chopped
3 sprigs fresh oregano
1/4 teaspoon salt
Black pepper, to taste
2 (15 -ounce) cans cannellini beans or other small white beans, drained and rinsed
5 cups chicken stock or vegetable stock
4 cups baby kale or baby spinach, stems removed if tough
1 tablespoon chopped fresh oregano, for garnish
Olive oil, to serve
Extra grated Parmesan, to serve
For the parmesan toasts:
1/2 baguette, thinly sliced
Olive oil
1/2 cup grated Parmesan
Method
1 Cook the vegetables: In a soup pot, heat the olive oil. When it is hot, add the carrots, onion, celery, garlic, fresh oregano sprigs, salt, and pepper. Cook, stirring often, for 10 minutes until the vegetables look softened and the onions turn translucent.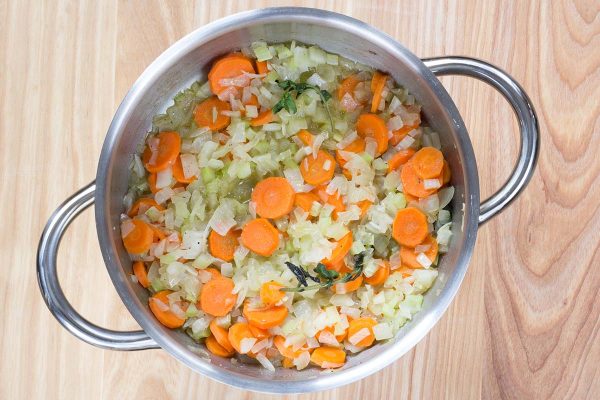 2 Prepare the beans: On a plate, mash 1/2 cup of the beans with a fork or potato masher. Add them to the vegetables in the pot. Cook, stirring, for 2 minutes.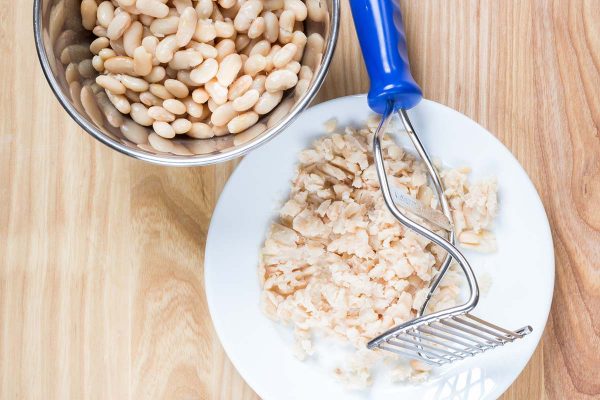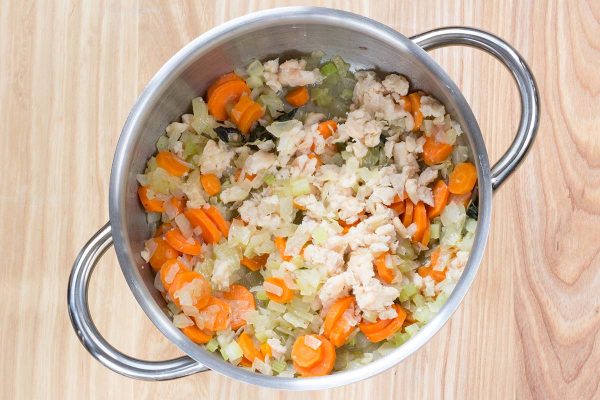 3 Simmer the soup: Add the remaining beans to the pot and stir well. Stir in the chicken stock and bring to a boil. Lower the heat, partially cover with the lid placed askew, and simmer for 20 minutes, or until the carrots are tender and the liquid is flavorful.
Discard the oregano sprigs; the leaves will have fallen into the soup. Add additional salt and pepper to taste.
4 While the soup simmers, make the Parmesan toasts: Toast the bread until lightly golden on both sides. While the toast is sill are hot from the toaster, sprinkle with olive oil and cheese. If you have a toaster oven, return them to the toaster for 1 minute to melt the cheese; otherwise, arrange the toasts in a skillet over medium heat, cover, and warm for about 1 minute or until the cheese has melted.
5 Add the greens to the soup: Add the kale or spinach to the pot and simmering for another 2 minutes, or just until the greens wilt.
 6 Serve the soup: Ladle the soup into bowls, sprinkle with oregano and more olive oil, if you like. Serve with Parmesan toasts and extra Parmesan for sprinkling.
Hello! All photos and content are copyright protected. Please do not use our photos without prior written permission. Thank you!
This post may contain links to Amazon or other partners; your purchases via these links can benefit Simply Recipes.
Read more about our affiliate linking policy.
Amazon Products