This French Onion Chicken recipe is a keeper! Onions are quickly caramelized on the stove top, before nestling in some chicken, veggies and baked with some optional cheese for an amazing weeknight dinner. It's gluten-free and only needs about 25 minutes of hands-on cooking.
French Onion Chicken Recipe
We are big fans of French Onion Soup, but we've never been big fans of how labor intensive the dish is or how long it takes (which is why we have a recipe for a slow cooker version). But this French Onion Chicken Bake? It's like the best of both worlds; all that French Onion Soup flavor in a a heartier convenient weeknight dinner format. We also skipped the bread on this one and rely on perfectly cooked juicy chicken breasts to eat up all that caramelized onion flavor. The cheese is optional here, but highly encouraged. To make it a complete meal you can add in either diced potatoes to the bake, or keep it low-carb and use cauliflower florets instead.
Let's Talk Caramelized Onions
Traditionally, caramelized onions are cooked over a low flame for a long period of time. The water is slowly cooked out of the onions and you are left with a sweet, jam-like consistency. Because we wanted this to be a weeknight dinner that still has all that caramelized onion goodness we're making "quick" caramelized onions.
To make quick caramelized onions, begin by slicing the onions thin and giving them a 5-minute undisturbed sear at medium-high. The onions will be brown in spots and will start to sweat. You then lower the heat to medium low and cook down for 10-15 minutes, stirring occasionally. The onions should be light brown and be fully softened. This is the stage where you want to deglaze the pan with beef broth and dijon mustard and scrape up any of those browned bits from the onions to help give the dish that characteristic dark look. At this point you'll add in the remaining ingredients and then place the whole dish into the oven to bake for another 20 minutes. The onions will continue to cook and become sweet and jammy.
French Onion Chicken Ingredients
Onions

Chicken Breasts
Beef Stock
Baby Potatoes (or Cauliflower)
Thyme

Butter (replace with oil if dairy-free)

Oil

Salt

Garlic
Dijon Mustard

Mozzarella or Gruyere Cheese (omit for dairy-free)
Added Vegetable Options
To make this a complete meal we added in the option to include either potatoes or to keep it low-carb cauliflower florets. They are mixed together with the onions before being added to the oven to bake. Other vegetables could work too here, so long as they cook in about the 20 minutes it takes for the chicken to cook through.
What temperature should chicken be cooked in the oven?
The safe temperature for chicken to be cooked to is 165ºF. However chicken will continue to cook for a few minutes after it has been pulled out of the oven so it's a safe bet to pull out the chicken a few degrees before it hits that temperature. The surest way to know if a chicken breast is cooked through is to use an instant read thermometer. Insert it into the thickest part of the chicken breast and wait about 3 seconds for it to read the degree. We pull our chicken breasts out at 160º and then let the dish sit, lightly covered with tinfoil for 5-10 minutes so the chicken can rest.
If you like this chicken recipe, check out these others: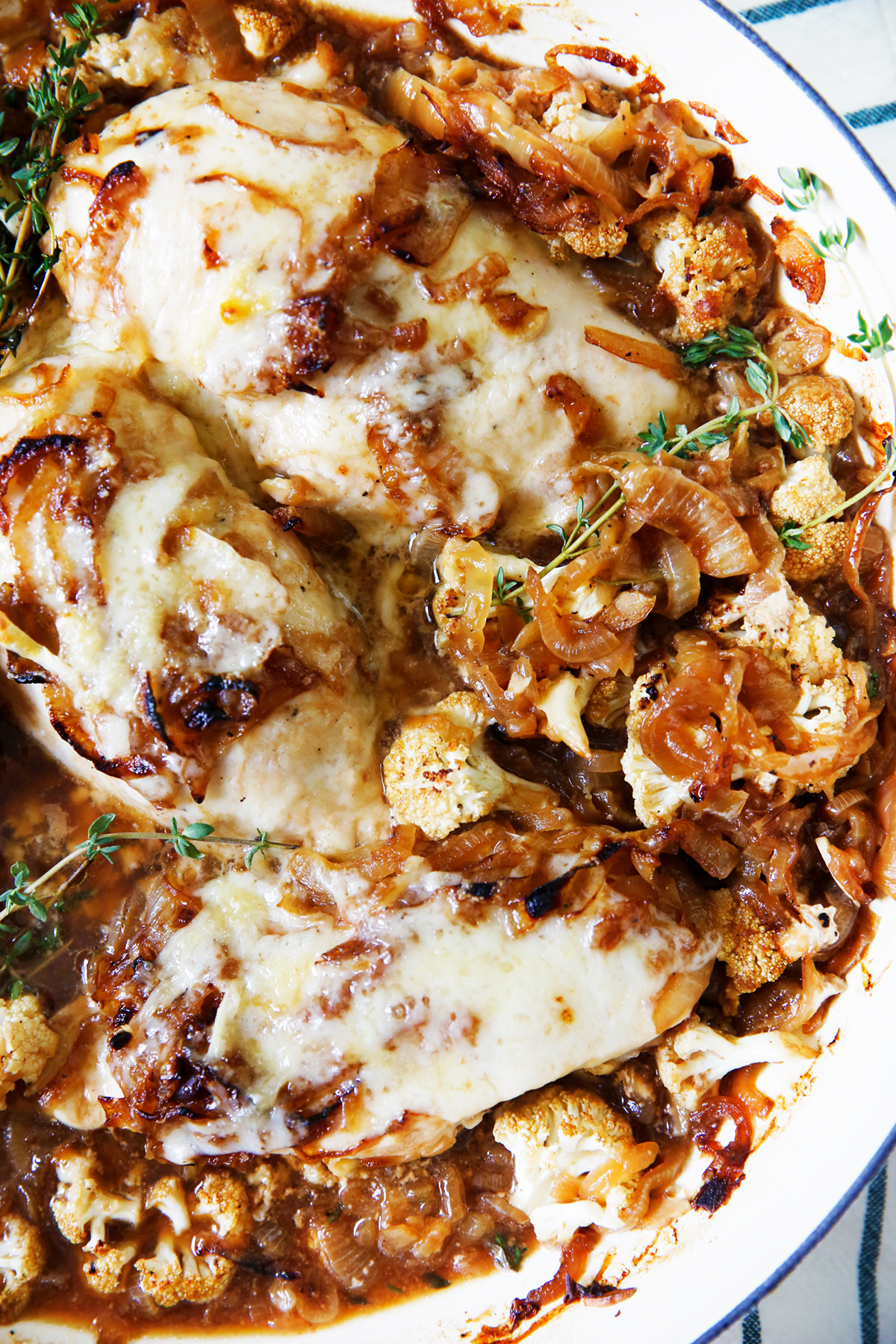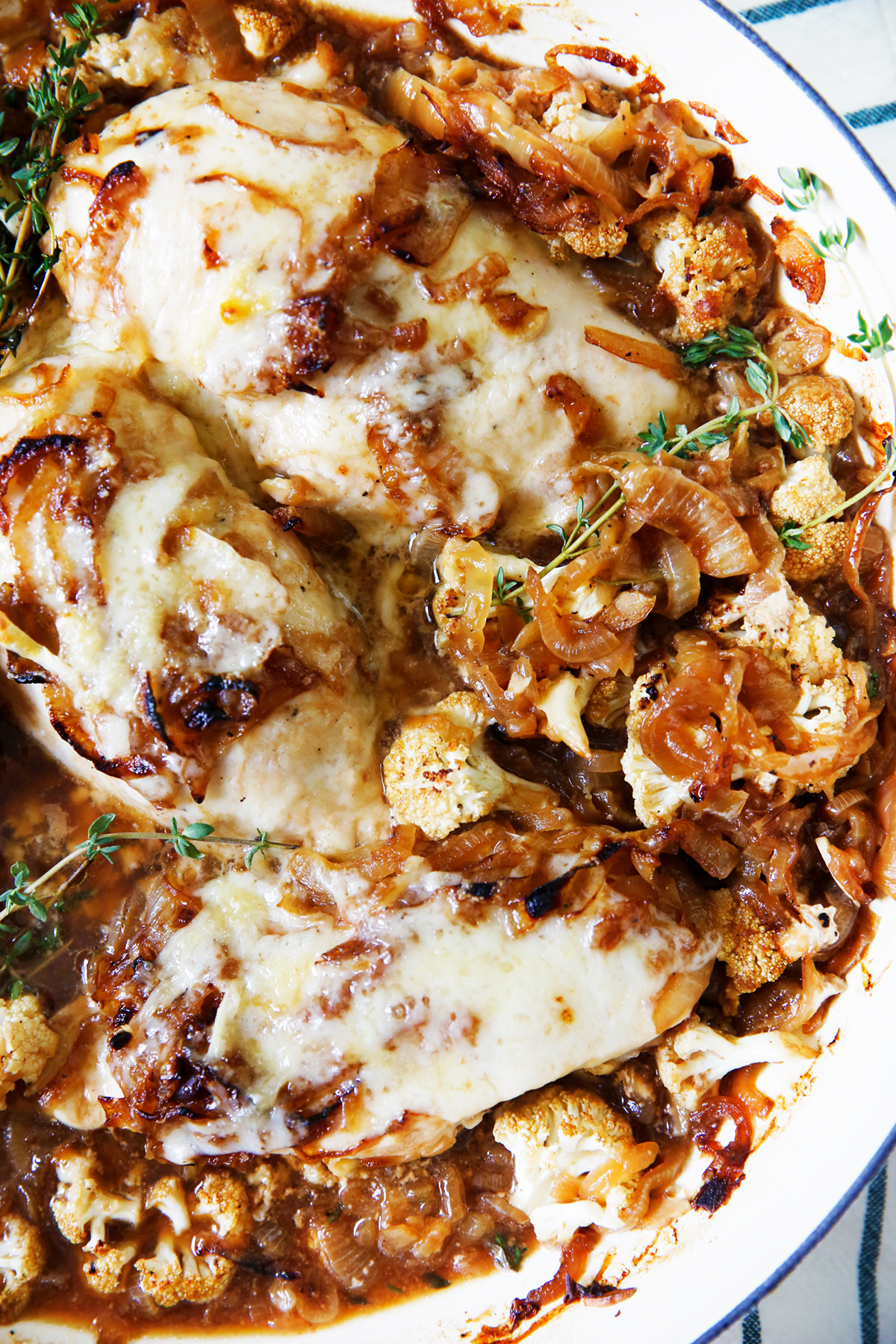 French Onion Chicken Bake
Directions
Preheat oven to 400ºF.

Heat butter and oil over medium high heat in a large oven safe skillet (12 inches or more, see note). Add onions and cook undisturbed for 5 minutes, until onions start to sweat and have browned in places. Reduce heat to medium low, add salt and and cook for an additional 10-15 minutes, stirring occasionally, until the onions have softened. Add garlic and thyme and cook for an additional 2 minutes. Add in beef stock and mustard and scrape up any browned bits and continue to cook until the liquid has reduced by about half, about 2 minutes.

Set aside ½ cup of the onion mixture. Add the cauliflower to the skillet and mix together with the onions.

Season the chicken with salt and pepper then nestle the chicken in the skillet. Divide the set aside onions on top of the chicken.

Place in the preheated oven and bake until chicken is cooked through, about 20 minutes.

Preheat the broiler. Sprinkle the shredded cheese on top of the chicken and place under the broiler until the cheese is melty, about 1 minute.

Remove thyme sprigs and serve.
Recipe Notes
We kept this low carb by using cauliflower, but if desired you can use halved baby potatoes (about 1") in place of the cauliflower. Or, if you wanted to make this dish as just the chicken bake, omit the cauliflower all together.

If you do not have a big enough oven safe skillet, you can bake this in a 9×13" oven safe dish.
Loading nutrition data…
There may be affiliate links in this post! By clicking on them, or purchasing recommended items I may receive a small compensation, at no cost to you! However, I only recommend products I absolutely love and use in my own home! Thank you for supporting Lexi's Clean Kitchen when you shop! See my privacy policy for more information about this, the information we save, and more!