These Gluten Free Peanut Butter Blossoms have all the flavor of the traditional, but using better-for-you ingredients! These peanut butter cookies cookies are easy-to-prepare and perfect for the holidays, or year round. The dough is made in 1-bowl and they are free from gluten, grains and refined sugar but still perfectly delicious.
Gluten Free Peanut Butter Blossoms
A few months ago, somebody wrote to us asking if we could develop a few gluten-free cookie recipes, and specifically a recipe for Peanut Butter Blossoms. Ask, and you shall receive! We worked really hard and developed a few new cookie recipes (and by that I mean we ATE a lot of cookies!) that have been going live each Monday this month. And this healthy peanut butter cookie recipe is definitely a winner! Our take on a peanut butter blossoms is a bit crisp on the outside, with a dense chewy peanut butter middle. Despite this being lightened up, we still want to have a nice bit of chocolate right in the middle. We couldn't find any high quality chocolate "kisses" that are traditionally used in the center, so we turned to melted chocolate instead. You could go the more traditional route, but we felt better using chocolate that had only a few ingredients as opposed to what the "kisses" have in them.
What we really love about this recipe is that it is truly easy to make. We simplified the steps needed to make this cookie by using just 1 bowl and a sturdy spoon to mix the dough all together. Which means you can have fresh, hot cookies on your table quickly. They don't need to be chilled (but can be if you want to make the dough ahead of time) and don't dirty up a lot of dishes. This is also a great recipe to make with the kids for the holiday baking season.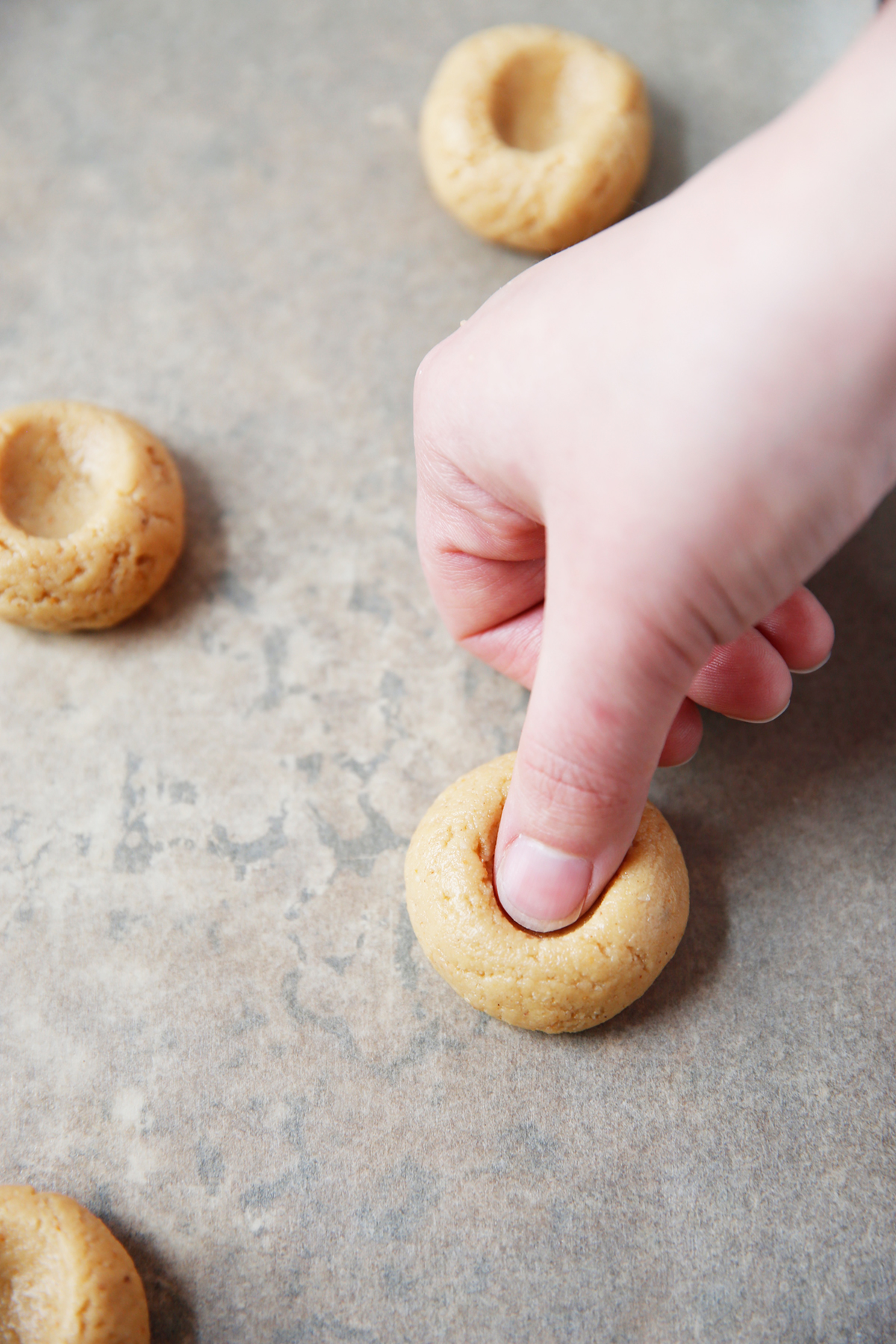 Healthy Peanut Butter Cookie Ingredients
Natural Peanut Butter

Almond Flour

Tapioca Flour

Baking powder

Butter

Honey or Maple syrup

Vanilla Extract

Chocolate
Tips for Making Gluten Free Peanut Butter Blossoms
Make sure your butter is fully softened

. This recipe requires the butter to be room temperature because it is mixed in with the dough as is, as opposed to creaming it or melting it. Room temperature butter can easily be mixed into this almond flour dough, with no chunks of butter remaining.

Use a study spoon and a bit of muscle.

We use a bit of an unusual method of making this dough: all the ingredients are simply mixed together in a bowl until the dough has come together. It's easiest to achieve smooth dough if you use a sturdy spoon, such as metal or wooden, and really mix up the dough well. At some point while you are making the dough you are going to feel like it won't ever come together–but keep mixing: it will.

Double indents! If you are filling this chocolate with melted chocolate like we did, you'll need to make an indent before the cookie is baked, and after. The cookies puff and spread slightly when baking, so when they come out of the oven, carefully use a teaspoon sized measuring spoon and press gently in the well to reform it. If you are using a traditional chocolate kiss, you won't need to do that.
Our preferred method of melting chocolate: We melt chocolate over a double-boiler because it's the most gentle way to melt it. Most people don't have a double boiler at home, so make up your own by placing a heat proof bowl over a simmering pot of water. Just make sure that the bowl is not touching the water. Alternatively you could melt the chocolate in the microwave at 20 second intervals, whisking in between until it's fully melted.
Type of chocolate: You can use a chopped bar of chocolate, or you can use chocolate chips. If using chocolate chips, try to buy a medium to high quality brand with as few ingredients added as possible. Chocolate chips with a lot of added ingredients don't melt as easily since they are manufactured to hold their shape.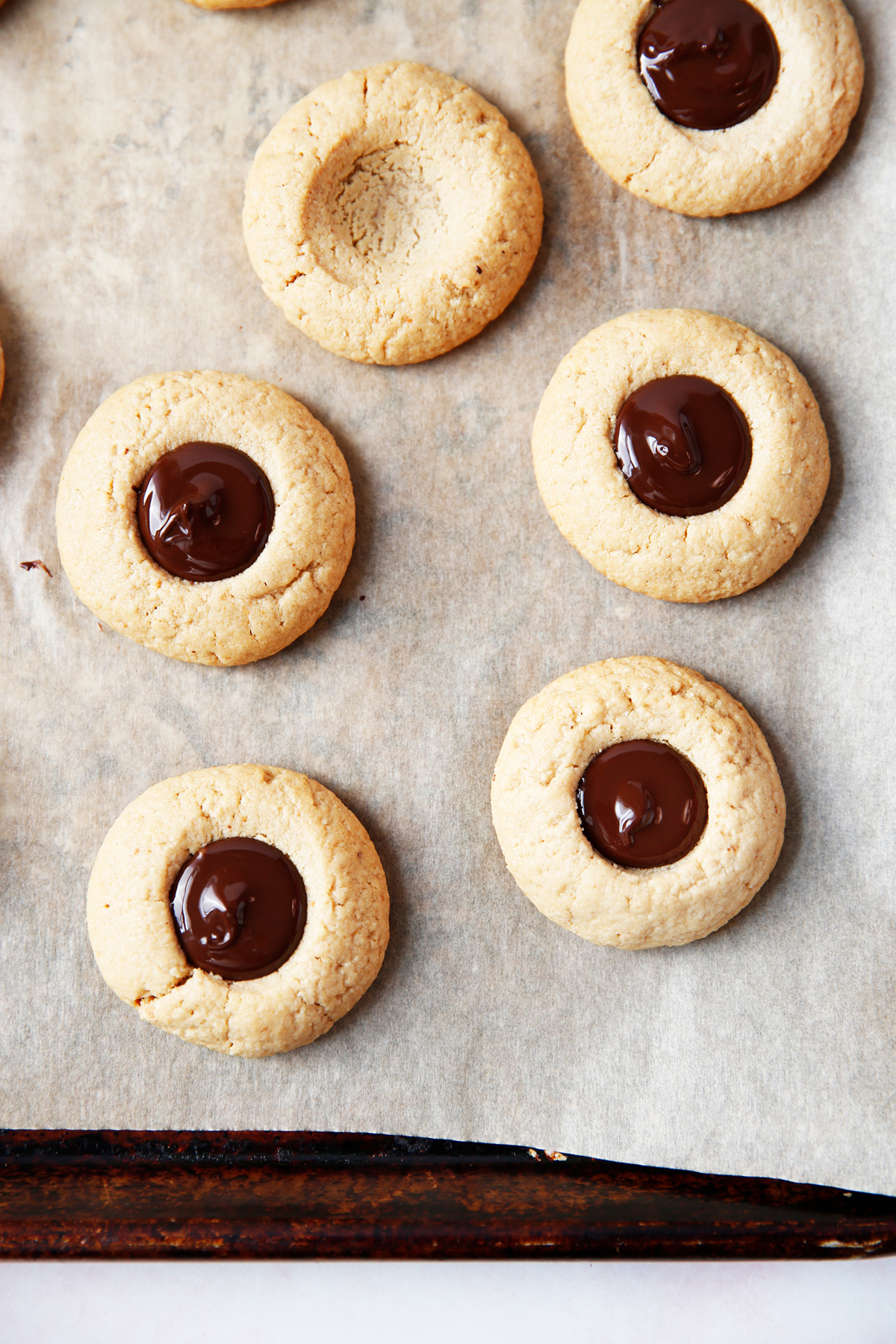 Storing Gluten Free Dough and Baked Cookies
The cookie dough can be made up to 3 days ahead of time. The dough can be frozen if desired, but portion them out and make the indentation before freezing.
As with any of our gluten-free cookie recipes, these are best eaten on the first or second day they are made. On day 1, the outside is crisp in the middle is soft and chewy. The cookies can be stored in a bag or container at room temperature for up to 2 days, but they soften as time goes on.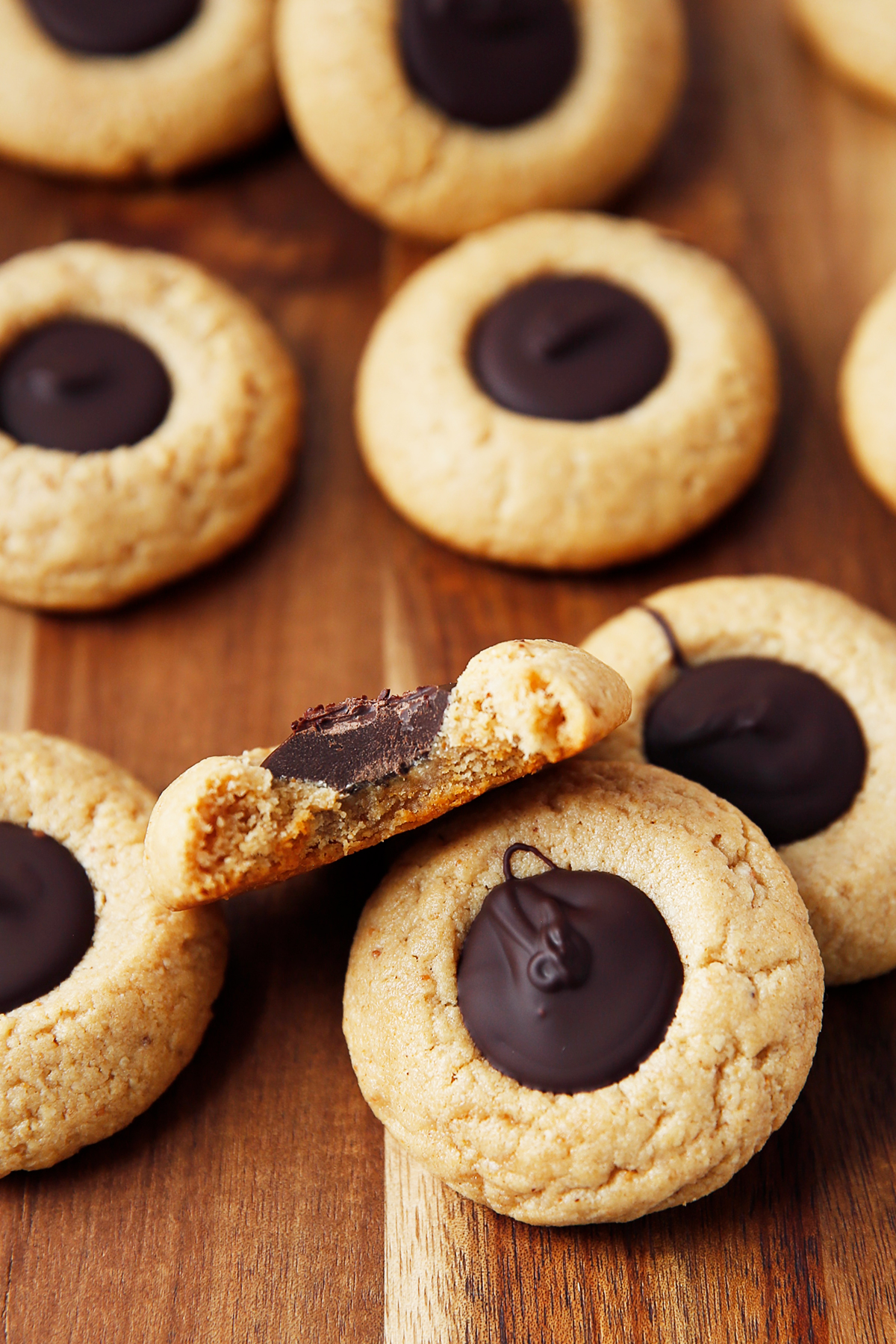 If you like this gluten free cookie recipe, check out these others:
Healthier Peanut Butter Blossoms
Directions
Preheat the oven to 350º and line a baking sheet with parchment parchment paper.

Whisk together almond flour, tapioca flour, and baking powder in a bowl.

Add in peanut butter, butter, sweetener and vanilla extract. Mix the dough all together, using a sturdy spoon, until fully combined with no visible butter remaining.

Roll dough into balls about 1 tablespoons in size and place on baking sheet about 1-½" apart. Make an indentation with your thumb in the middle. If any cracks appear you can smooth them over with your finger.

Bake for 12 minutes. Remove from oven and using a teaspoon measuring spoon press down into the indentations to re-form the well. Let cool.

Meanwhile, melt chocolate using your desired method. Spoon the melted chocolate into the wells of the cookies. Let chocolate set up before serving.
Recipe Notes
This dough could also be made in an electric stand mixer, following the same process as mixing it by hand.

If you find the dough difficult to work with, place in the refrigerator for 15-20 minutes before rolling cookie dough balls.

Cookie dough can be made up to 3 days ahead. Fully baked cookies can be made up to 2 days ahead and stored at room temperature.
Loading nutrition data…
There may be affiliate links in this post! By clicking on them, or purchasing recommended items I may receive a small compensation, at no cost to you! However, I only recommend products I absolutely love and use in my own home! Thank you for supporting Lexi's Clean Kitchen when you shop! See my privacy policy for more information about this, the information we save, and more!
Source link