Grilled Brussels Sprouts that are tender on the outside and crispy and browned on the outside. These are seriously delicious and will change your mind about Brussels sprouts.
Jump to Recipe keyboard_arrow_down
84 CALORIES

12g CARBS

4g FAT

4g PROTEIN
1
Freestyle™ SmartPoints™ New!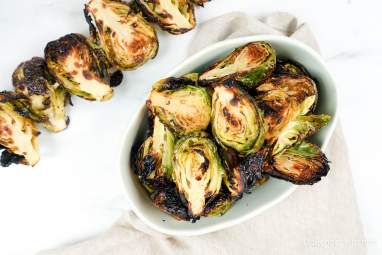 Grilled Brussels Sprouts Recipe
Learn how to grill Brussels sprouts so that they come out caramelized, crispy, and delicious every time. These tasty sprouts go with any grilled main dish and can be seasoned up any way you like. For those who love grilling vegetables, don't miss this Grilled Zucchini, Cauliflower, or Peppers.
If you think you don't like Brussels sprouts, then I dare you to get out and cook them on the grill. These once hated vegetables, turn into something crispy and delicious and addictive. I swear you will be fighting for the last one. It's one of our all-time favorite summer side dishes.
Two amazing things happen when you cook Brussels sprouts on the grill. First, they get all that amazing grill flavor. Smokiness and some char and that delicious flavor you get when you put anything on the grill. Plus you get caramelized, crispy, super browned edges on the sprouts. Don't worry they aren't burned. These brown, crispy edges are the best part.
The other awesome thing about grilling Brussels sprouts is that they are a blank canvas for flavors. You can cover them in balsamic vinegar and honey for something sweet and savory, you can go Asian to pair with  Asian inspired skewers, you can take them in an Italian direction and add Italian seasoning and Parmesan cheese. The options are endless, which is great since you will want to make these every night.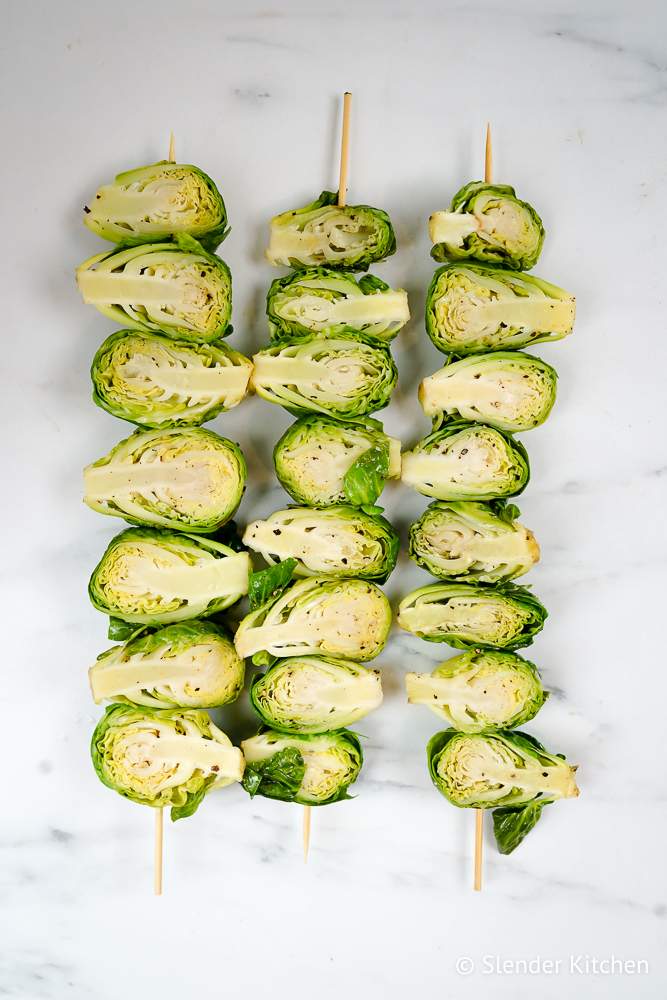 How to Grill Brussels Sprouts: Three Methods
Prep the sprouts: Start by removing any loose or browned leaves from the Brussels sprouts. These will burn on the grill. Then decide if you want to keep the sprouts whole or cut them in half. Personally, I prefer them cut in half to get more browned, crispy edges.
Blanch or steam: It can be tough to get the sprouts cooked on the inside before they burn on the outside when cooking them on the grill. That's why you want to precook them. Black or steam them for 5 minutes before grilling them. For an easier option, add them to a microwave safe bowl with a couple of tablespoons of water. Microwave on high for 3 minutes and let rest until they cool.
Toss: Toss the sprouts with olive oil (or another fat) and any seasoning you are using. You can also add an acid here like lemon juice or vinegar.
Option 1 – Skewers: Thread the Brussels sprouts onto a skewer, usually 5-7 per skewers. Place directly on the grill and cook for 5 minutes on each side. 
Option 2 – Grill Basket: Add the Brussels sprouts to a preheated grill basket. Cook for 8-10 minutes, shaking the basket 1-2 times during cooking so that get browned on all sides.
Option 3 – Foil: Grab a piece of heavy-duty foil and create a small basket for the Brussels sprouts, keeping the top open so they don't steam. Place directly on the grill and cook for 8-10 minutes, carefully shaking or flipping the sprouts halfway through cooking.
Flavor Ideas for Grilled Brussels Sprouts
Balsamic: Brussels sprouts and balsamic are a classic pairing for a reason. Toss the Brussels sprouts with balsamic before grilling and then drizzle some extra on before serving. You can also drizzle with balsamic glaze to really kick up the flavor.
Parmesan garlic: While the sprouts are grilling, microwave one clove of minced garlic with 1-2 tablespoons of butter or olive oil for one minute. Then as soon as the sprouts come off the grill, drizzle them with the garlic butter and top with Parmesan cheese.
Asian inspired: For something with an Asian spin, brush the Brussels sprouts with sesame oil before grilling. Then when they come off the grill, toss them with 1-2 tablespoons of honey and Sriracha. It's magic.
Maple and mustard: When the sprouts come off the grill, toss them with 1 tablespoon of pure maple syrup and 1 tablespoon of whole grain or Dijon mustard. It's sweet, savory, and delicious.
Balsamic honey: Another balsamic option is to use balsamic vinegar and honey. Toss with a tablespoon of each when they come off the grill.
With mushrooms: Add your favorite mushrooms to the skewers or grill basket when grilling. The earthy flavor of the mushrooms and sprouts works well together.
With onions: Add some red onions to the skewers or grill basket. 
Seasoned: There is something delicious about charred Brussels sprouts with lots of seasoning. Consider tossing them with your favorite steak seasoning, Montreal seasoning, or seasoned salt.
With bacon: It's hard to think about Brussels sprouts without thinking about bacon. Thread some bacon right onto your skewers for a super tasty treat. The bacon will get nice and crispy, while also adding all that bacon goodness to the sprouts.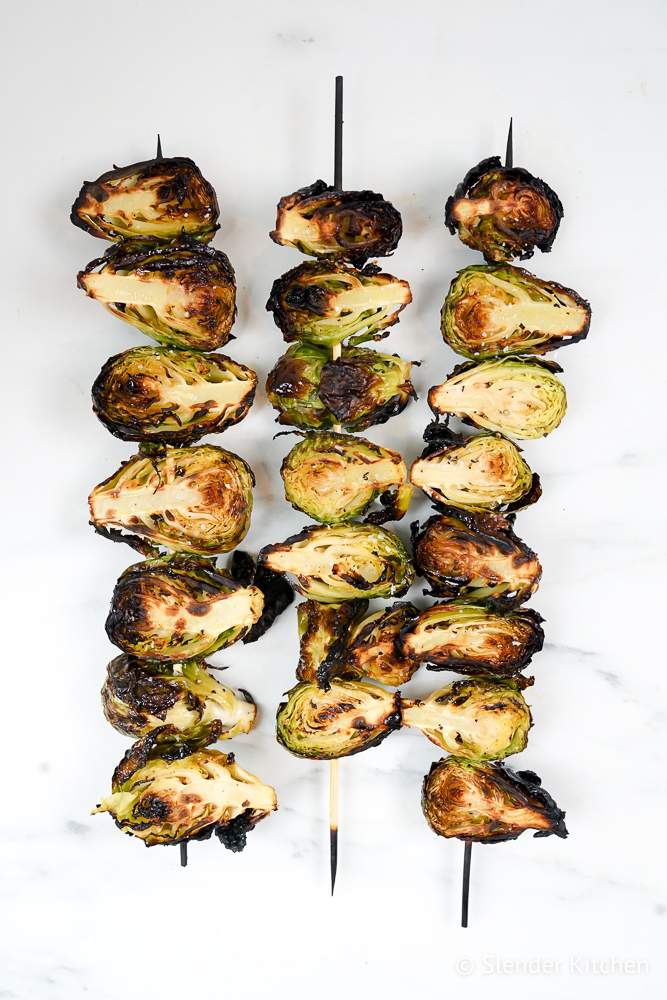 Do you need to precook Brussels sprouts before grilling?
To ensure that the Brussels sprouts aren't raw or hard in the center, it is best to quickly precook them before throwing them on the grill. You can do this by blanching them in boiling water for 5 minutes, steaming them, or microwaving them. To microwave, place in a bowl with a couple of tablespoons of water. Then microwave for 3 minutes on high. They shouldn't be cooked when you finish this process, just softened.
Can I grill Brussels sprouts in a foil packet?
You can grill Brussels sprouts wrapped in a foil packet, but they will turn out more steamed than crispy. When they are wrapped in the foil, the moisture from the sprouts creates a steamer. The sprouts will have some char and smoky flavor but will be closer to the steamed version. This method usually takes 15-20 minutes if you don't precook the sprouts.
Can I make grilled Brussels sprouts in the oven?
Although you can't really make grilled Brussels sprouts in the oven, you can make really delicious roasted sprouts. Start by halving the Brussels sprouts and tossing them with oil and any seasonings You like. Lay them flat on a baking sheet, making sure the pan isn't overcrowded. Roast them for 20-25 minutes at 450 degrees, shaking the pan a few times during cooking. Here's my favorite Roasted Balsamic Brussels Sprouts recipe.
Source link