Grilled Pork Chops topped with a peach salsa come together in less than 20 minutes from start to finish. Healthy, light, and full of flavor.
Jump to Recipe keyboard_arrow_down
287 CALORIES

9g CARBS

12g FAT

35g PROTEIN
7
Freestyle™ SmartPoints™ New!
(7 Old SmartPoints™)
(7 PointsPlus®)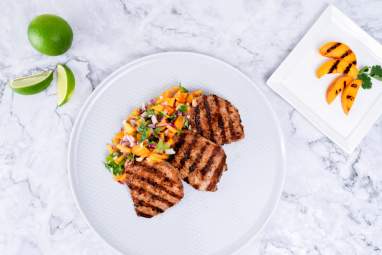 Grilled Pork Chops with Peach Salsa Recipe
These juicy Grilled Pork Chops topped with an amazing peach salsa will be your new favorite warm weather meal. Serve them with some Grilled Broccoli or Grilled Potatoes for the perfect meal.
Summer is right around the corner! I just know it! I feel it in my bones! And what better way to welcome the coming of summer than with fresh summer fruit? Peaches are one of my most favorite fruits. I know that you have to wait nearly all year to get to eat a nice, ripe peach but it is worth it!
When they are in season, I like to add them to all sorts of meals, any which way that I can. In smoothies, in oatmeal, sliced on top of salads, and especially my favorite way — in fruit salsas! Nothing can take the place of that sweet peach taste when mixed with other "typical" salsa ingredients. The sweet and the spicy or the sweet and the savory mixed together…the thought of it makes me salivate. I'm telling ya. If you haven't tried making fruit salsa yet you don't know what you're missing!
All that being said, I think as far as meat and fruit pairings go, pork chops and peaches are up there as far as going perfectly together. You just can't beat it. So, when peaches start to pop up at the farmer's market, I can't think of a better way to celebrate than by getting outside, grilling some pork chops, and making a big batch of this delicious peach salsa. The sweet peach salsa is a great complement to the slightly spicy pork chops and for me it's the perfect spring or summer meal.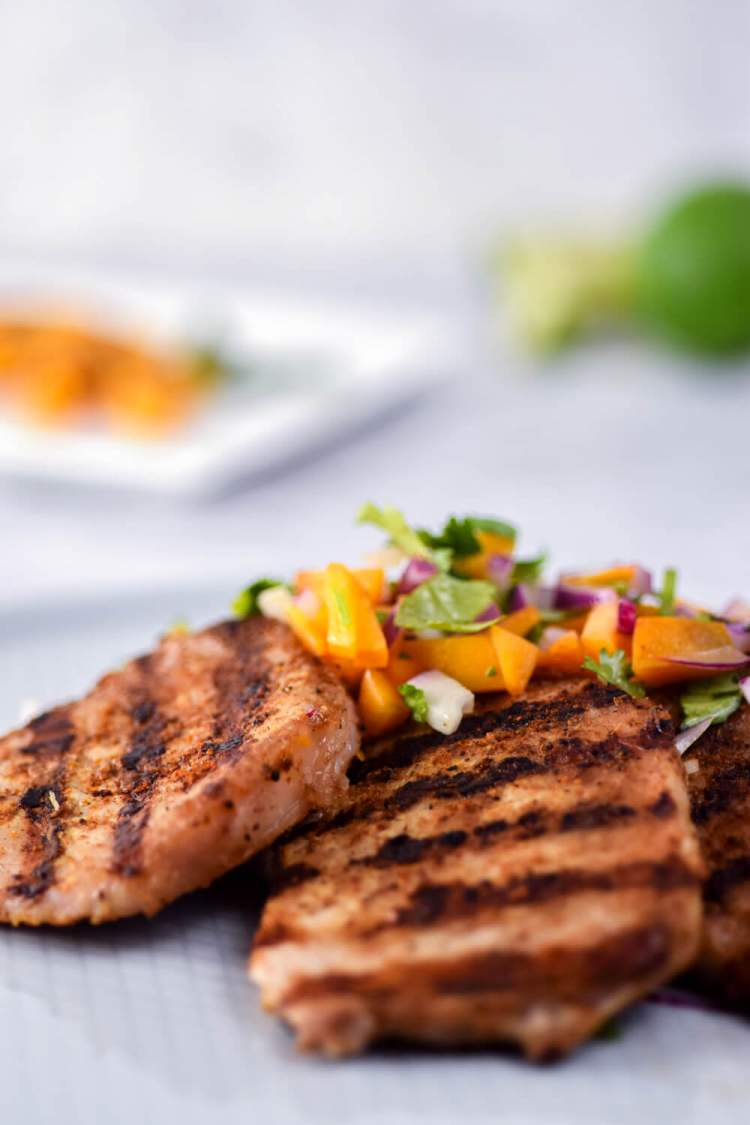 What Other Fruit Goes With Grilled Pork Chops?
If peaches aren't your thing, or you can't find them in season yet in your part of the world, then you can use what you have. Other fruits that go well in salsas and on pork chops include:
Pineapples
Mango
Nectarines
Papaya
Pomegranate
If you'd rather not use fruit at all, try substituting more savory produce like tomatoes, avocado, or corn.
Side Dishes to Serve with Grilled Pork Chops
Bring me all the sides…is what I want to say at every meal. But, I do try to have some restraint, after all. The good news is, there are plenty of filling sides that are healthy and nutritious and work well with this dish.
While you're grilling, might as well add some veggies on the old barbecue. This recipe for simple grilled vegetables is a winner every time.
Balsamic Grilled Vegetables are another great way to round out your dinner with easy clean-up.
If you want to try something a little out of the ordinary, try roasting some root vegetables up while your pork chops cook.
Salads are always a simple, filling, and nutritious side. Use healthy ingredients and skip the heavy nuts, cheeses, and dressings that can make healthy foods not-so-healthy anymore.
Asparagus is a great veggie that's easy to grill, roast, or steam.
How Do I Make Fruit Salsa?
Fruit salsa is easier to make than you might think. If you can dice veggies and fruit, then you can make salsa.
When I make a fruit salsa, I like to dice the fruit I'm using very small. I then add the fruit to a bowl, and top with an acid, like lemon or lime juice or a light vinegar such as red wine. Add in salt if you like, plus some fresh herbs, like cilantro, basil, rosemary, mint, or thyme. You can also add olive oil, salt, pepper, ginger, vanilla, or nuts like slivered almonds or pine nuts.
Toss all of this together in a bowl and let it rest while you make the rest of your food. You can also make this the night before and let it rest in the fridge for up to four hours or overnight to let all the flavors meld together.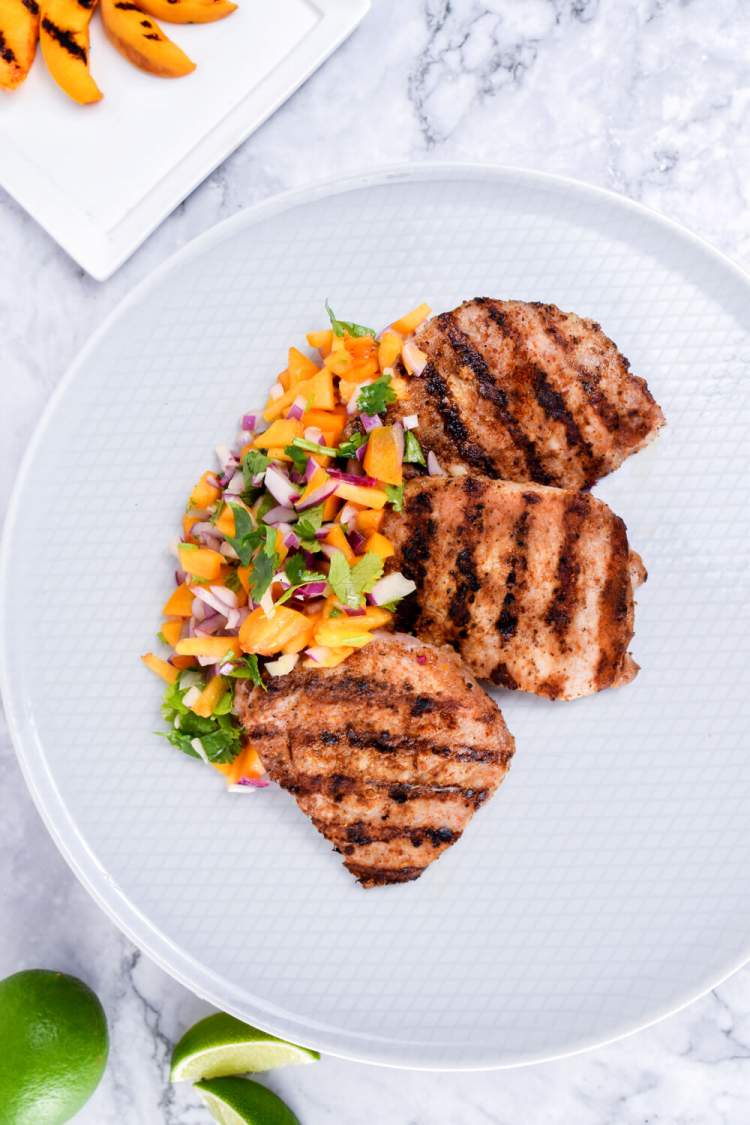 What Makes These Pork Chops with Peach Salsa Healthy?
Pork chops can be a more healthy cut of meat if you buy the right ones. Look for a top loin or sirloin cut of meat. Also, remember how you prepare the meat is just as important. Frying = bad; Grilling = good. The same can be said for marinades — go light with a heart-healthy oil like olive oil and skip the heavy butter and creams.
Olive oil is a great source of heart-healthy fat and monounsaturated fats at that. The kind of fat found in olive oil can reduce your body's natural inflammation and help keep your risk of certain kinds of cancer lower.
Using spices such as chili powder, salt, and pepper is a great way to add tons of flavor without extra calories and fat.
Peaches are a low-calorie, low-fat fruit. They are also high in many vitamins and minerals and are low-carb and high fiber.
Cilantro is an herb that, while polarizing for its taste and smell is actually quite good for you. It has been linked to lowering your risk of weight gain, diabetes, and heart disease, and has anti-cancer effects when used on grilled meat, and it can help with pain and inflammation.
Lime juice is a great citric acid that contains many kinds of antioxidants. Those, in turn, help your body fight against free radicals and can help lower your risk of heart disease and cancer.
Source link
Amazon Products