These Ranch Turkey Burgers will knock your socks off! They are seriously the easiest burger ever and have so much yummy ranch flavor. Plus they are good for you, packed with protein, and have just 3 ingredients.
This simple turkey burgers are the perfect way to liven up a traditional turkey burger without reaching for tons of ingredients. In fact, you just need two other ingredients to make a flavor packed burger that your whole family will love. They are easy, filled with so much yummy ranch flavor, and always a crowd pleaser. No bland, boring turkey burgers here.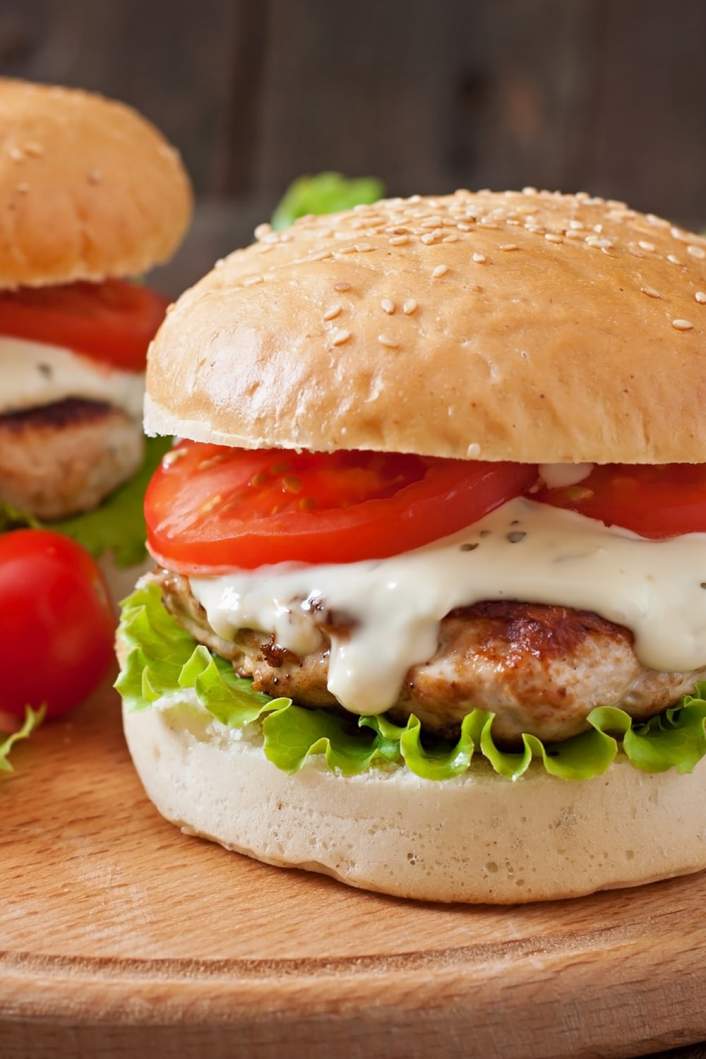 Now before we go further, let's talk about using store bought ranch seasoning. It isn't the healthiest option around, but it is quick, convenient, and affordable. Unfortunately store bought ranch seasoning usually has lots of sodium and normally contains both MSG and maltodextrin. It also contains some other preservatives and hard to pronounce ingredients. Depending on your diet and health needs, this may be a deal breaker for you or you may not mind. No judgment, just choose the option that is best for you. For a healthier option, you can make your own ranch seasoning at home. It tastes just as good and is made with natural ingredients, many of which you may already have. It just takes a little longer.
Variations of this Ranch Turkey Burger
Cheddar Turkey Ranch Burger: Add 1/2 cup shredded cheddar cheese to the mixture. Add 57 calories and 2 points per burger.
Bacon Turkey Ranch Burgers: Cook 4 slices of center cut bacon. Then chop and add them to the burgers. Add 25 calories and 1 point per burger.
Garlic and Ranch Turkey Burgers: Add 1-2 minced garlic cloves to the burger mix. This really kicks up the garlic flavor if that's your thing.
Beef Ranch Burgers: Substitute lean ground beef for the turkey for a beef version of this recipe. This adds 32 calories and the recipe is 4 Weight Watchers Freestyle points per patty.
Chicken Ranch Burgers: Swap out the turkey for lean ground chicken. If it is 99% lean of ground chicken breast, the calories and points stay the same." 
Vegetarian Ranch Burgers: Here is a yummy version using chickpeas instead of turkey.
Buffalo Ranch Burgers: Since buffalo and ranch go together like peanut butter and jelly, you may have the awesome idea to add some buffalo sauce to this recipe. Personally I like adding it after the burger has cooked directly on the bun itself. If you add it to the burger mixture, you may need to add some breadcrumbs so that the burger stays together.
Side dish ideas! Need some ideas for side dishes. Consider serving your turkey ranch burgers with Parmesan Onion Straws, Skinny Fries, Spicy Sweet Potato Fries, or Celery Ranch Slaw.

Tips for Making the Perfect Turkey Burger
If you are worried about your turkey burger being dry, there are a few ways you can add moisture. One of my favorite ways is to add 1/2 cup grated onion or zucchini. This adds flavor, veggies, and moisture to the burger. You could also use a higher fat ground turkey.
Serve this as a traditional burger in some low calorie or whole wheat buns. You could also wrap it up in lettuce, serve it on portobello or sweet potato buns, or chop it up and toss it in a salad.
Make a small indent with your thumb in the center of each burger before cooking. This helps to keep the burger from getting round like a hockey puck.
(function(d, s, id) {
var js, fjs = d.getElementsByTagName(s)[0];
if (d.getElementById(id)) return;
js = d.createElement(s); js.id = id;
js.src = "http://connect.facebook.net/en_US/sdk.js#xfbml=1&version=v2.4&appId=125505754455470";
fjs.parentNode.insertBefore(js, fjs);
}(document, 'script', 'facebook-jssdk'));