This easy-to-make Instant Pot Teriyaki Chicken is made with only 8 ingredients and no refined sweeteners. It is simple, flavorful and perfect for a weeknight dinner. It'll be loved by both kids and adults alike and it just so happens to be gluten-free, dairy-free and paleo!
Instant Pot Teriyaki Chicken Recipe
This Instant Pot Teriyaki Chicken recipe is not only healthy, but also super delicious. It's made easy in the Instant Pot with just 8 ingredients. Serve it with your favorite side, but we suggest white rice, cauliflower rice and if you're feeling like you need some extra veggies in your life some green beans or broccoli would fit right in here. We love this chicken teriyaki recipe because it's one of those magical recipes that is so easily made paleo and with other dietary restrictions in mind by simply using real whole ingredients. A combination of honey and coconut sugar give it that characteristic sweetness and color. Then ginger and garlic give it that bright, bold flavor. And finally, the sauce is thickened with a slurry made from arrowroot.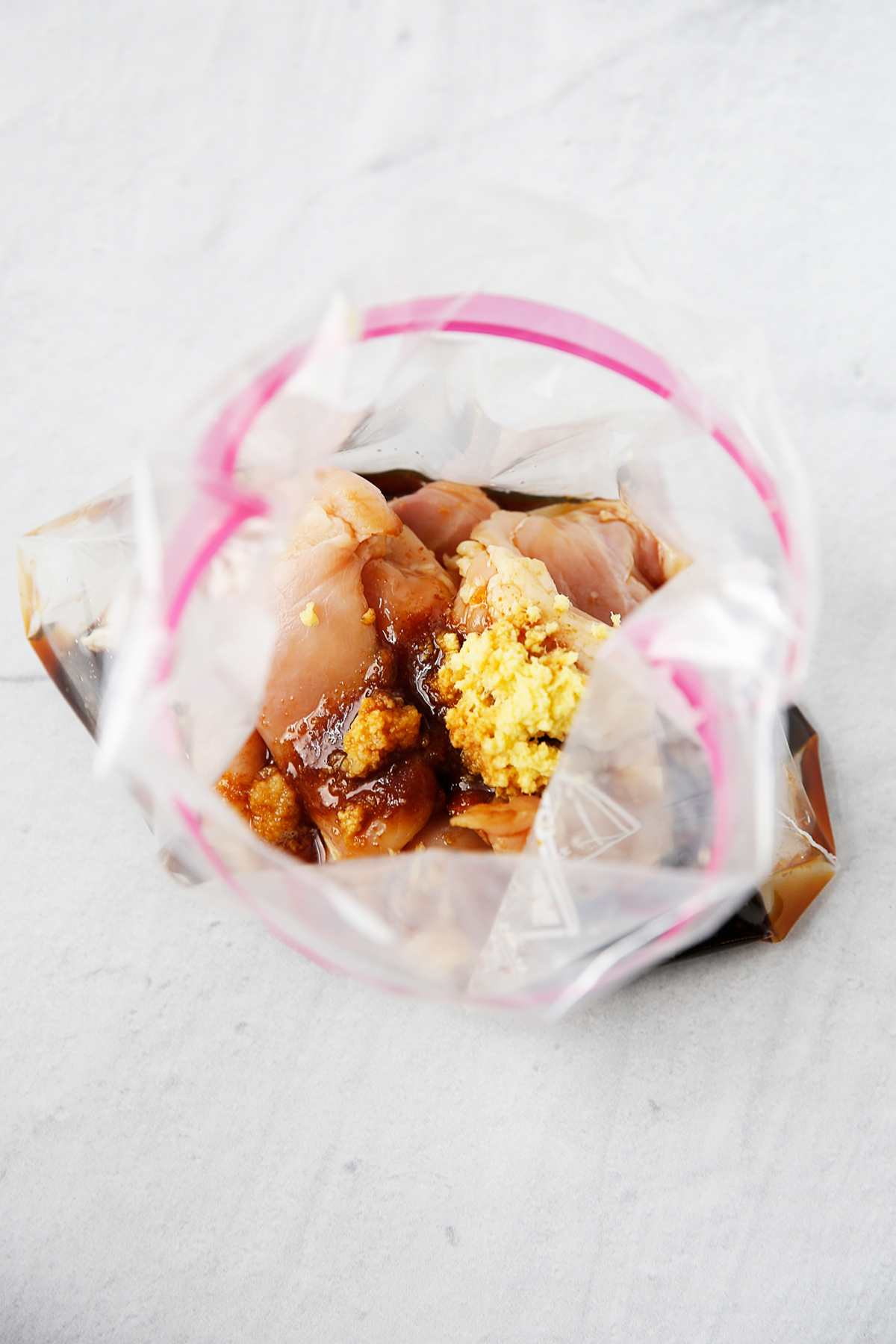 Ingredients for Instant Pot Teriyaki Chicken
Chicken Thighs (boneless and skinless)

Coconut Aminos: This is a gluten free soy sauce alternative.

Rice Wine Vinegar

Coconut Sugar 

Honey

Garlic

Fresh Finger

Arrowroot Starch
How to Prep This Ahead of Time
What we love about this dish is that you can prepare batches of this Chicken Teriyaki ahead of time and place in the freezer for the next time you need an easy dinner! This dinner meal prep is known as a freezer dump recipe. It's as easy as placing all the ingredients in a freezer bag and stashing it away until you are in need of a quick weeknight. Simply defrost in the refrigerator overnight and place everything in an Instant Pot to cook at dinnertime!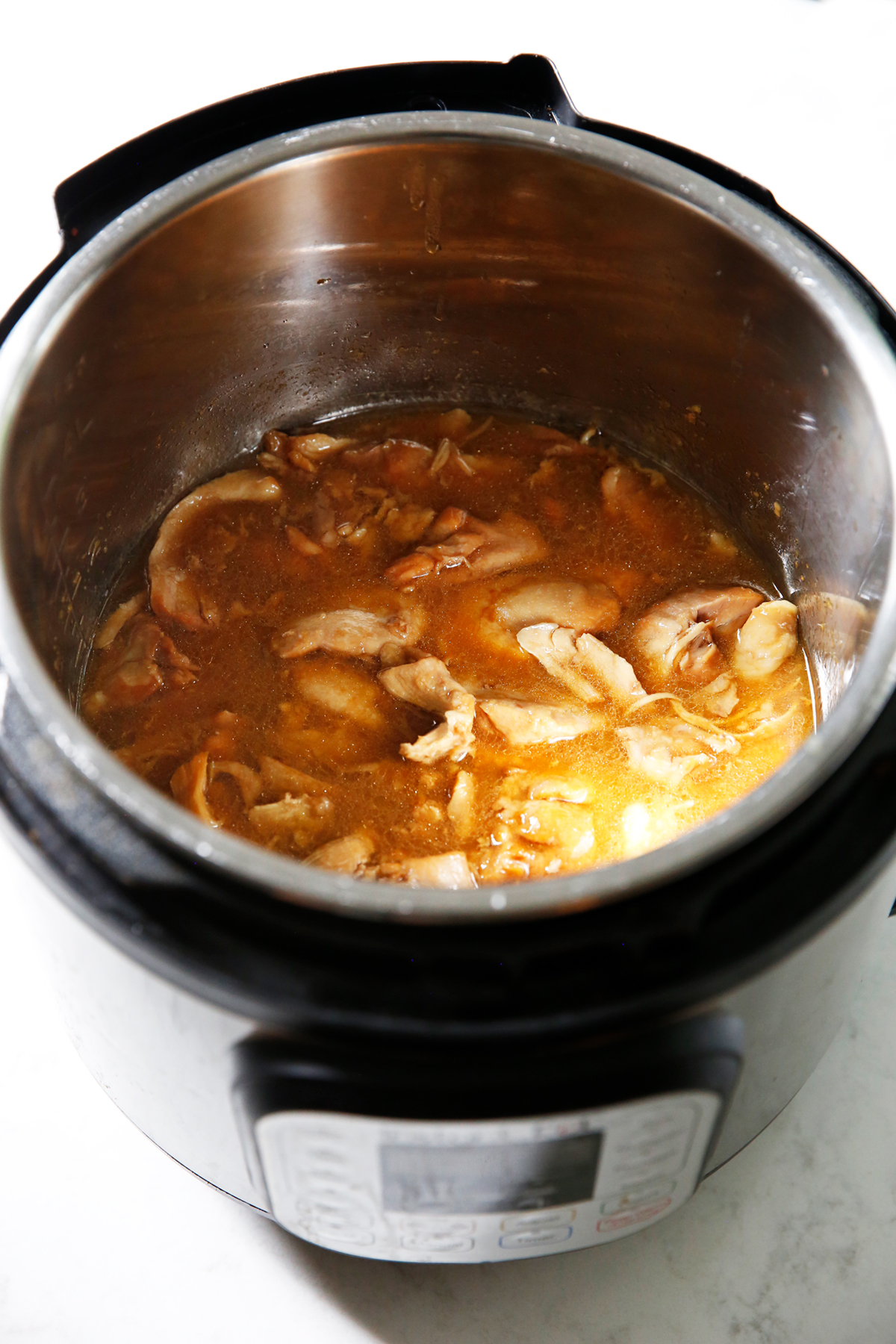 How to Make a Dump Freezer Dinner
So let's talk a little bit about the concept of a "dump" dinner. A dump dinner is recipe that doesn't really require too many steps in terms of preparation before it is cooked. Typically you just gather the ingredients, with minimal chopping, and dump them into the cooking equipment. Typically this is either a slow cooker, a stock pot or an Instant Pot. A Dump and Start meal refers to a meal that you just gather the ingredients, dump them in your pot and start cooking. A Freezer Dump Dinner is a meal that is gathered ahead of time and frozen in a bag. When you want to cook it, you defrost in the refrigerator overnight and then dump the meal in the cooking vessel when ready to cook!
For this recipe, it will work either way. Gather all off the ingredients for the Teriyaki Chicken and either prepare one (or more) batches ahead of time and freeze, or gather up all the ingredients and cook immediately in the Instant Pot or Slow Cooker.
How to Make it with Rice in the Instant Pot
Since this dish pairs beautifully with rice. To save yourself the time of preparing rice separately you can just cook it in the Instant Pot. This is known as 'Pot in Pot' cooking. The 'Pot in Pot' method of cooking allows food to cook in a separate bowl that's placed on a steam rack in the Instant Pot.  Steam generated from liquid below the steam rack is used to build pressure and cook the food. It's easy, you just need to put the container being used for PIP cooking on a rack, and not directly in the inner pot.
For this recipe, it calls for cooking the chicken for 9 minutes, which is the minimum needed to cook this dish. If you wanted to cook rice at the same time, you can increase the cooking time to 11 minutes, which will cook both the rice and the chicken at the same time. 
To Make Rice with the Chicken:
Place all of the ingredients in the Instant Pot as the Teriyaki Chicken recipe states.
Then, arrange a 2.5-inch trivet over the chicken and place a 7-inch oven-safe bowl on top. Add the equal portions of rice and water to the bowl, along with a pinch of salt. For this recipe, 1 cup of dry rice would be sufficient.
Then cook on Manual High Pressure for 11 minutes.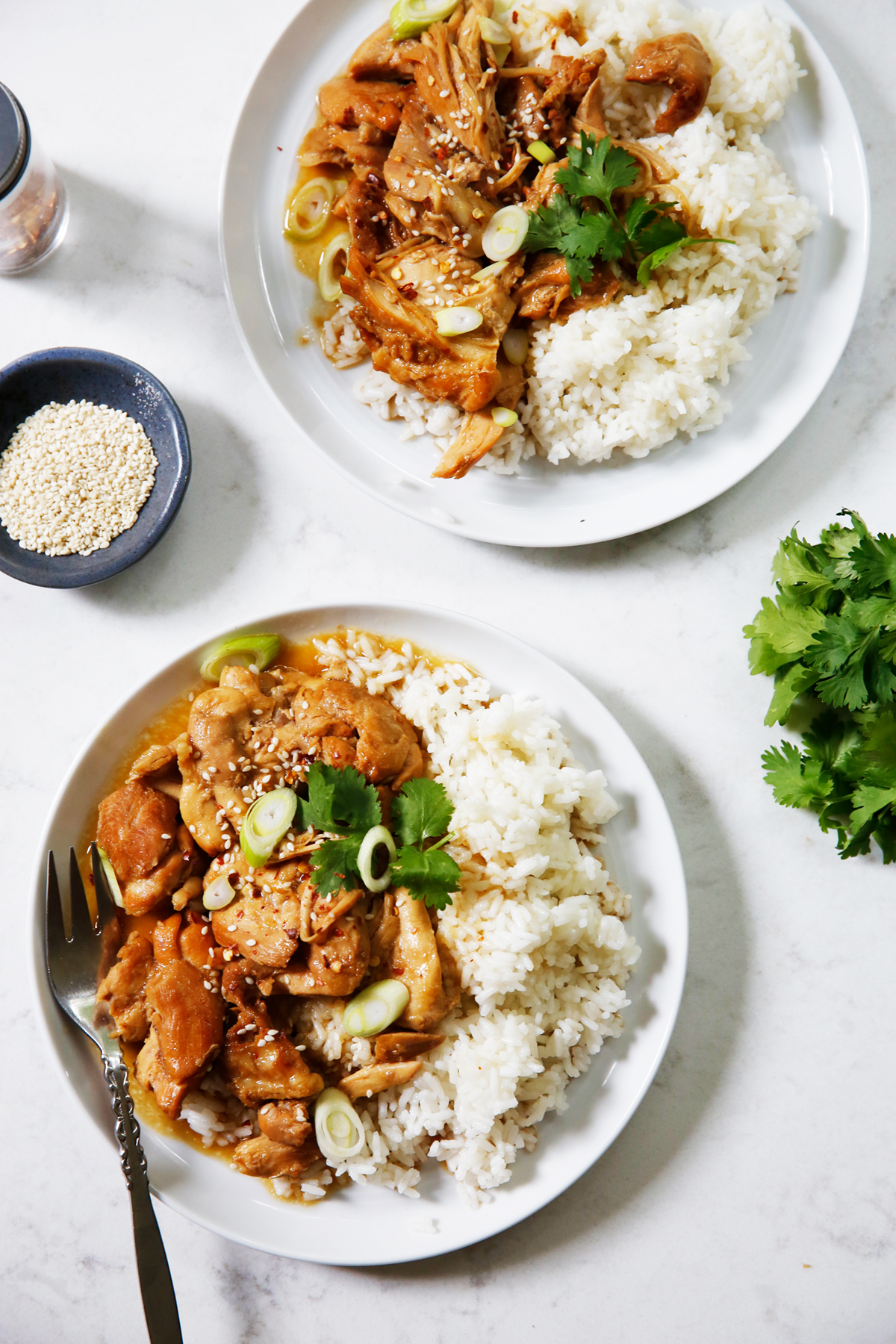 If you like this chicken recipe, check out these others:
If you like this Instant Pot Recipe, check out these others:
Instant Pot Chicken Teriyaki
Ingredients
Optional Garnish:
Directions
If preparing ahead and placing in the freezer: Gather your ingredients and place everything except the arrowroot and water, in a gallon sized freezer bag and seal tightly. Storage flat in the freezer. To defrost, place in the refrigerator the night before.

To cook: Combine all of the ingredients in a 6 or 8 quart

Instant Pot

. Set the pressure valve to sealing. Cook on high pressure for 9 minutes with a quick pressure release once finished. 

Make a slurry: whisk together the arrowroot with 2 tablespoons water. Press the saute function on the Instant Pot. Pour in half of the slurry mixture and mix together. If not thickened enough, add in the remaining slurry, until the sauce has reached your desired consistency. Shut off the saute function.

Serve hot with white rice or cauliflower rice. Garnish with sesame seeds, red pepper flakes and cilantro.
Recipe Notes
Want to make this even easier and cook some rice alongside the chicken? Check out the body of the post for information on how to do this.
To make this in the slow cooker:

Place all of the ingredients except the arrowroot and water in a slow cooker. Cook on high for 4-6 hours, or low for 6-8. 
20 minutes before the end of the cooking time, make a slurry by whisking together the arrowroot and the water. Pour in half of the slurry mixture and mix together with the sauce. Close the lid and let cook for 10 minutes. Check the sauce consistency. If it has not thickened enough add the remaining arrowroot mixture.
Loading nutrition data…
There may be affiliate links in this post! By clicking on them, or purchasing recommended items I may receive a small compensation, at no cost to you! However, I only recommend products I absolutely love and use in my own home! Thank you for supporting Lexi's Clean Kitchen when you shop! See my privacy policy for more information about this, the information we save, and more!
Source link
Amazon Products