Korean Beef Lettuce Wraps taste just as good as any restaurant! These healthy and easy are easy to make, tastes amazing, and work for almost any diet.
Jump to Recipe keyboard_arrow_down
298 CALORIES

11g CARBS

12g FAT

35g PROTEIN
6
Freestyle™ SmartPoints™ New!
(6 Old SmartPoints™)
(7 PointsPlus®)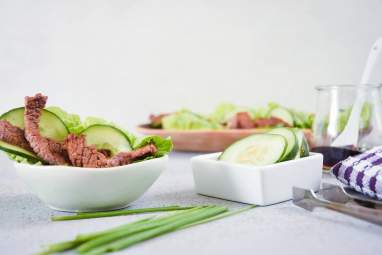 Korean Beef Lettuce Wraps Recipe
One of my all-time favorite recipes I've ever created on this blog is for these delicious Slow Cooker Korean Beef Tacos. I make them whenever I get the chance and they are often my go-to, make-ahead meal for dinner parties or other gatherings. However, sometimes I just don't have the foresight to get everything into the slow cooker ahead of time and that's how the inspiration for this recipe came to be.
Since lettuce wraps are one of my favorite dishes to eat, figuring out an easy way to make a quick weekday meal inspired by the slow cooker Korean beef just made sense. This marinade also works for chicken, pork, or tofu as well so you can mix up the protein to suit your needs.
If you do use tofu, remember to press it out ahead of time. If you don't have a tofu press, wrap the tofu in a few paper towels, and set it on a plate with something heavy on top (a cast-iron skillet, perhaps) to properly press and drain it. Otherwise, I find the tofu gets too soggy when cooking as it is already pretty saturated when you get it out of the container. Nobody wants soggy tofu. Trust me on this.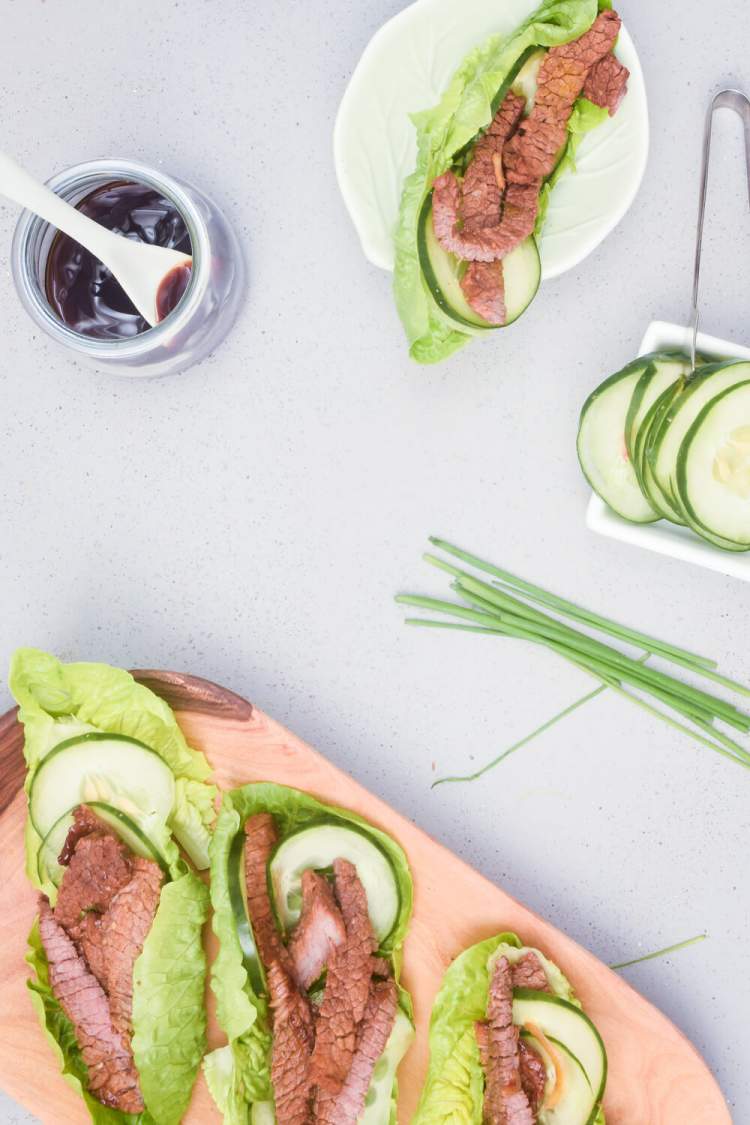 Ideas for Customizing Korean Beef Lettuce Wraps
Let your imagination run wild here! My favorite ways to customize these include:
Swapping out the beef for another protein like chicken, pork, or tofu.
Adding the ingredients to a bed of lettuce if you'd rather eat this with your fork instead of your fingers.
Add a little more crunch to your wrap — try shredded carrots or cabbage (or even Brussels sprouts) — either raw or saute them with your steak at the end to warm them up a little.
Add the ingredients and make your own burrito bowl — put some brown rice at the bottom of the bowl and layer away!
Try a corn or whole wheat tortilla instead of lettuce.
Dial in the spice by adding red pepper flakes to the marinade, jalapeno slices to the finished wrap, or hot sauce on top (or all three if you are really daring).
Make this a meal by cooking rice noodles or ramen noodles and adding the Korean beef ingredients on top.
How can I use leftover Korean Beef Lettuce Wraps?
You can simply reheat and eat, or you could:
Toss on top of leftover pasta for a cold Korean noodle salad.
Add the ingredients to a wrap, and press in a panini press or with another skillet to make a warm, toasty wrap.
A sandwich works here — add the Korean beef to a roll or crusty bread and then top with the veggies and some hot sauce. Is your mouth watering yet?
Make a salad with your favorite lettuce or shaved veggies, plus the pickled cucumbers, and maybe some edamame, corn, sprouts, cilantro, basil, or whatever favorite toppings you have on hand.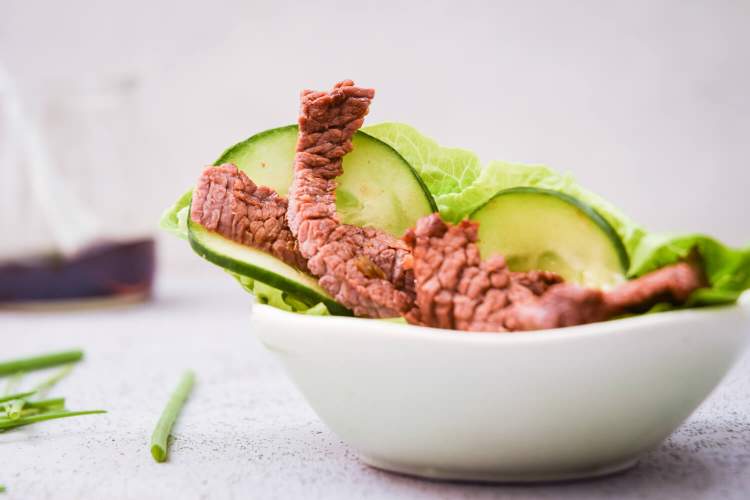 What makes these Korean Beef Lettuce Wraps healthy?
These are much better for you than any Korean beef you're going to get at a restaurant. Those dishes are loaded with unnecessary oils and fats. I think making this dish at home really lets all the ingredients shine through and doesn't leave you with that too-full, bloated feeling you get when you get this dish other places.
Flank steak is one of the more healthier cuts of beef because it has less calories and more protein than other cuts. It's super lean and so long as you slice and cook it right, it will taste nice and moist and not dry at all for a lean cut.
Cucumbers are filling due to their fiber and water content. Plus, they are very low in calories — you can snack on cucumbers all day (not that I'd recommend that). They also help fill your body's daily dose of magnesium and potassium.
Rice wine vinegar can improve your digestive health, is good for your liver, and has antibacterial properties. It can also give you energy, boost your immunity, and could help you lose weight due to its acidic properties.
Soy sauce contains phosphorus, iron, and manganese. Though it can be high in salt, it's lower in salt than table salt and there are many low-sodium varieties out there if you are watching your salt intake.
Orange juice is a great source of vitamins C and B1, folate, and potassium. Since fruit juice is also high in sugar, it's best to eat the whole fruit so you can get the benefits of eating the fibrous pulp too. But, this recipe only calls for a little OJ so don't worry, and enjoy the flavors and vitamin boost.
Brown sugar contains molasses, which, in turn, contains some calcium, iron, potassium, and magnesium. Sugar is still sugar though, and in this case it was used sparingly. Moderation, right?
Garlic has been long-heralded for its medicinal properties. It boosts the immune system, and contains manganese, fiber, selenium, vitamins C, B1, and B6, and some fiber.
Scallions are not only low in calories, but they are also delicious! They give your body much-needed fiber, calcium, iron and vitamins K, A, and C.
Sesame oil contains the good kind of fat that helps lower your cholesterol. It is also low in saturated fat, and it contains two powerful antioxidants.
Butter lettuce is low in salt content, and contains iron, calcium, and vitamin A. Plus, its fiber content will help you stay fuller, longer.
Source link