Easy Moo Shu Beef with cabbage is an easy stir fry dish that tastes just as good as Chinese takeout but is actually good for you.
Jump to Recipe keyboard_arrow_down
250 CALORIES

18g CARBS

7g FAT

27g PROTEIN
5
Freestyle™ SmartPoints™ New!
(5 Old SmartPoints™)
(6 PointsPlus®)
Have you ever stopped to think about the origins of certain foods we eat? For example, what is Moo Shu exactly? These are the things that keep me up at night. I thought maybe you'd also like to hear more on the etymology of "moo shu" but then realized you might not share the same strange brain as me, so I will let you off the hook. Curious? Read here.
I did come across some pretty crazy things though when looking up this traditional Chinese takeout dish and I just can't keep them to myself. First, mooshu (one word) can also refer to "any of the couch-dwelling computer gamers from Georgia." Just plain weird. It can also refer to a popular comedy show in Boston and Philly called the "Moo Shu Jew" show where people watch Jewish stand up comedians and eat Chinese food. Sounds fun. The Urban Dictionary refers to "mushu" as, "The most badass little red dragon ever from the Disney movies Mulan and Mulan 2" (among other, unprintable things). And finally, it is sometimes short for a misguided indie movie about two Chinese travelers. May just have to rent it.
But food wise? Moo shu refers to a dish typically made with pork but also sometimes made with beef, shrimp, tofu, or chicken. There are lots of variations and debate about how it is made, which we won't go into today. The version I am sharing uses hoisin (a Chinese barbecue sauce), paired with some ginger, garlic, and Asian chili paste which is then quickly stir-fried with beef and cabbage.
Call it what you will — this is dinner in under 15 minutes at its most delicious.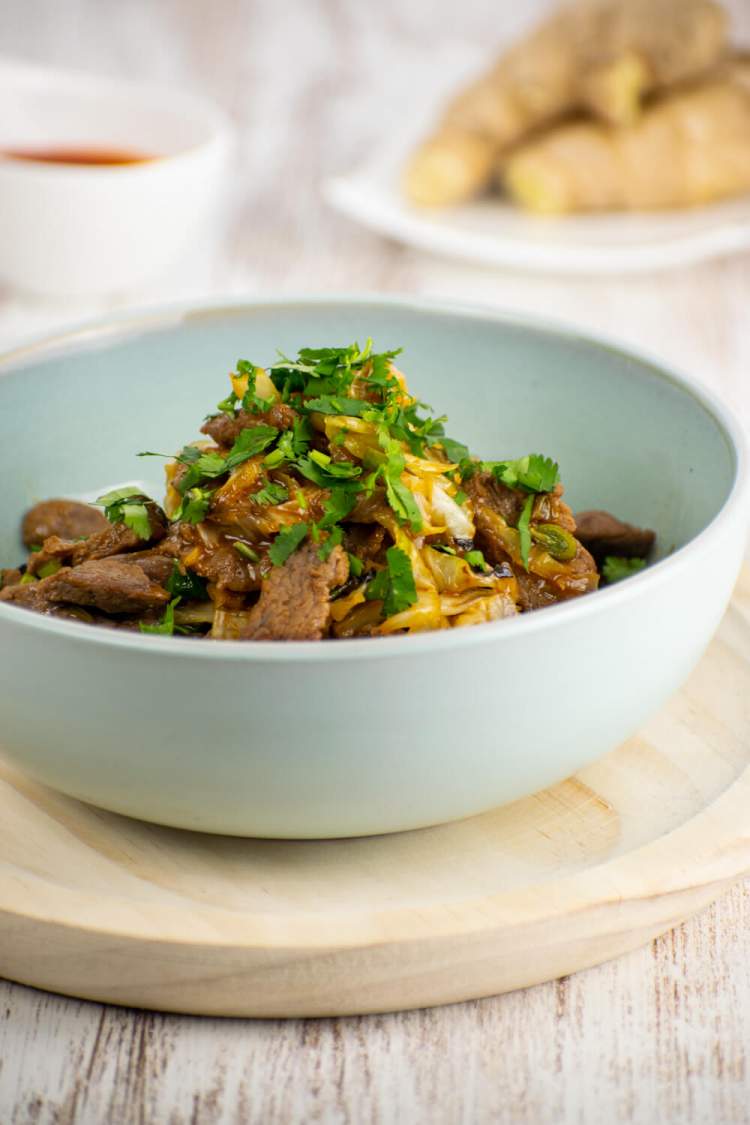 What Is Moo Shu Made Of?
Moo Shu is a traditionally northern Chinese dish made of pork, green onions, mushrooms, and scrambled eggs all stir fried up together. However, these ingredients are rolled up into small little pancakes and eaten more like rolls.
Since then, the dish has morphed (as they always do) into a stir-fry that is generally served over rice. And then, I, of course, morphed and tweaked it even further to give it a healthier spin in the sauce department, using hoisin, sesame, rice vinegar, and Sriracha for tons of flavor without a ton of calories and unhealthy oils.
I also bulked up the meal with additional veggies such as cabbage slaw and green onions. This both fills you up and provides additional healthy nutrients.
What Vegetables Go Well With Moo Shu Beef?
I chose to use a bagged cabbage slaw mix to save time when cooking this Moo Shu Beef, but there are plenty of other veggies you can incorporate:
Instead of pre-mixed cabbage slaw, cut your own cabbage. You can use a mixture of red and green and/or bok choy as well.
A broccoli slaw mixture will also work well in this dish, or combine the two slaws.
Add some diced broccoli and cauliflower to the moo shu for more crunch and flavor.
Riced cauliflower goes great in the moo shoo or you can use it instead of the rice to spoon the beef and veggies on top of.
Onions really bring out the flavors of this Asian dish and pair well with the garlic and ginger.
Shredded carrots will add a little bit of sweetness and crunch that you'll enjoy.
Water chestnuts and bamboo shoots are Asian must-haves and I'll add them when I have them on hand.
Mushrooms (shiitake or otherwise) add a nice earthy flavor and texture.
What Is Moo Shu Spice?
Just like this Moo Shu Beef recipe, the spices for the dish have changed throughout the years. They traditionally contain ginger, cinnamon and some kind of red pepper or red pepper chili sauce. You can also add oyster sauce and soy sauce if you like, but I tend to keep mine simple.
Side Dishes to Serve With Moo Shu Beef
This is a meal in and of itself if you play your cards right (and load up on the veggies) but these dishes are also quite tasty when paired with Moo Shu Beef:
A simple Cauliflower Rice goes great right inside or below this dish.
Have you tried Cabbage Rice yet? If not, what are you waiting for?
You can microwave a Spaghetti Squash in no time flat. The pasta-like consistency of the squash makes a great base for the Moo Shu Beef dish.
Try Zucchini Noodles if you'd like a low-carb pasta option for this Asian dish.
Rice (white or brown) makes an easy-peasy complementary side to almost any Asian dish. Use Minute rice or microwaveable rice to save time.
This recipe was originally published back in 2014 but was updated with new photos, info, and a video. Here is the original photo.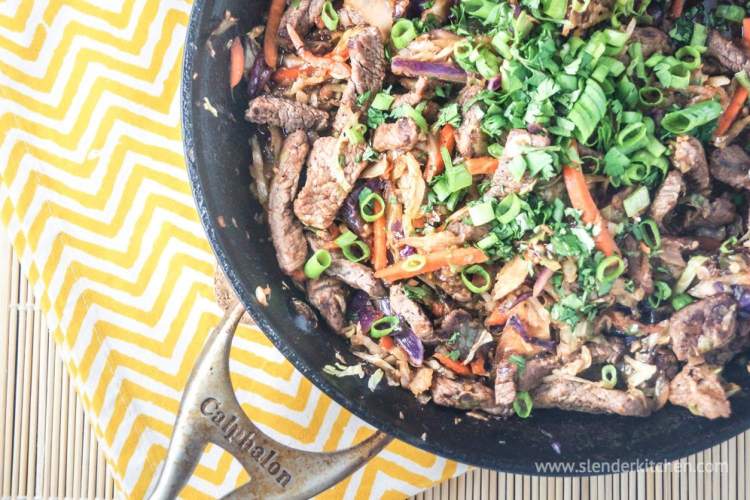 Source link
Amazon Products