Let us guess… you're into the teens of your Whole30, and you're sick of eggs. No, we're not mind readers…"egg-haustion" is a very common Whole30 concern. The good news is, it has an easy fix. Work some of these egg-free Whole30 breakfast recipes into your meal plan for next week, and watch as your frustration with eggs becomes a thing of the past.
Want even more egg-free Whole30 breakfast recipes? Check out our ongoing recipe roundup series.
Chorizo con Papas from Dash of Color and Spice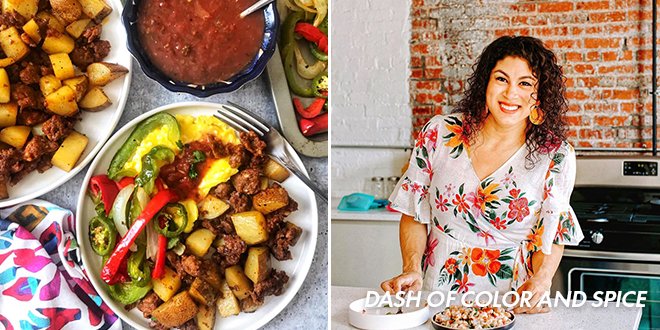 This recipe from Jessica of Dash of Color and Spice is gorgeous, flavorful and certain to shake you out of your eggy funk.
Ingredients
1 lb compliant chorizo
2 large or 3 small potatoes, cut into cubes
Olive oil
1 red bell pepper, sliced
1 green bell pepper, sliced
1 medium onion, sliced
1 jalapeño, sliced
Salt & pepper to taste
Instructions
PREHEAT oven to 400 degrees.
PLACE the potatoes on a lined baking sheet, drizzle with olive oil, and season with s&p.
ROAST potatoes for 20 minutes until tender.
ROAST the veggies while you prepare everything else.
HEAT skillet or pan on medium heat and add chorizo.
BREAK the chorizo apart and let it cook thoroughly, about 20 minutes.
DRAIN any extra fat from chorizo and add roasted potatoes.
STIR mixture lightly and let it cook for an additional 5-10 minutes.
Sausage Gravy from Real Food with Jessica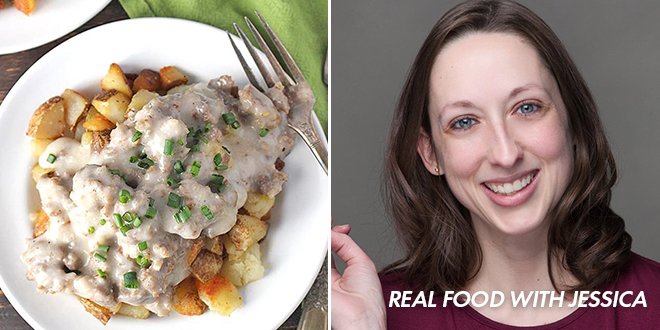 This dish is perfect for a hearty weekend brunch. Serve it with a fresh green salad or sauteed greens to make it a complete Whole30 meal.
Ingredients
1 pound Whole30 compliant breakfast sausage, like the breakfast sausage offered by ButcherBox
1 teaspoon dried sage
1 teaspoon fennel seed
3 tablespoons fat of choice if needed
1 tablespoon almond flour*
2 tablespoons tapioca flour*
2 1/2-3 cups unsweetened almond milk
*Or you can substitute 3 tablespoons of cassava flour
Instructions
BROWN breakfast sausage in a large skillet over medium heat. Add the sage and fennel while it's cooking. Once it's cooked, transfer it to a plate or bowl.
ADD some fat to the pan if there isn't already any left from the sausage. You'll want about 3 tablespoons total. You can use coconut oil, ghee, bacon grease, or whatever your preferred fat is.
STIR in the almond and tapioca flour and mix it well with the fat, still over medium heat. Stir in the milk and cook until sauce has thickened. Use a whisk if necessary.
MIX the sausage back in and serve immediately over potatoes.
Sweet Potato Skillet from Confessions of a Clean Foodie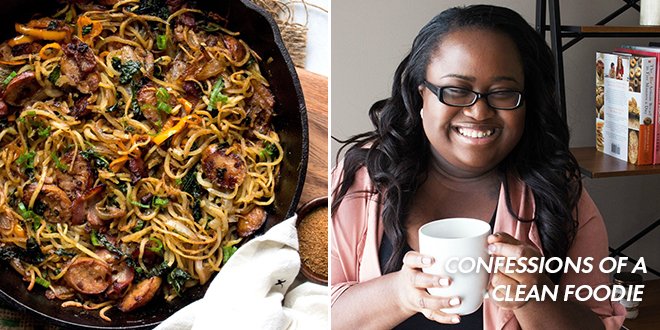 This delicious dish from Charlotte of Confessions of a Clean Foodie would be a great make-ahead breakfast meal. Prep it over the weekend, and simply reheat to enjoy for breakfast all week long.
Breakfast Salad from Lisa McLeod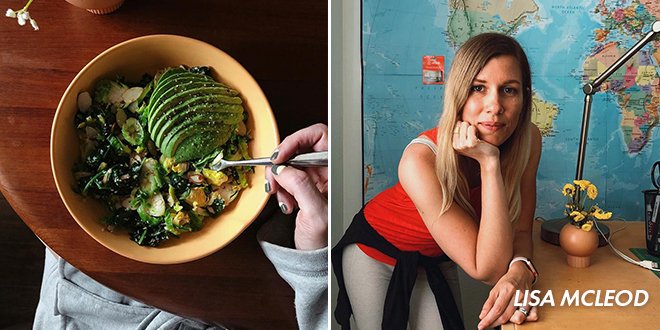 The perfect breakfast salad to serve alongside a heartier dish, like the Sausage Gravy and Potatoes from Real Food with Jessica, or the Garlic Herb and Apple Breakfast Sausages from Little Bits of Real Food.
Ingredients
Refined coconut oil
Shaved or chopped Brussels sprouts
Chopped kale
Ginger powder
Ground turmeric
Sliced almonds
Hemp hearts
Half of an avocado, sliced salt and pepper to taste
Instructions
HEAT skillet over medium and melt coconut oil. Add shaved Brussels and soften for a minute or two. Once Brussels are slightly cooked, add in all the other ingredients, except for the avocado.
STIR and sauté until all kale has wilted and spices have been mixed in thoroughly.
ADD veggie mix to your bowl, top with the sliced avocado, and serve alongside your protein of choice!
Stuffed Sweet Potatoes from The Wooden Skillet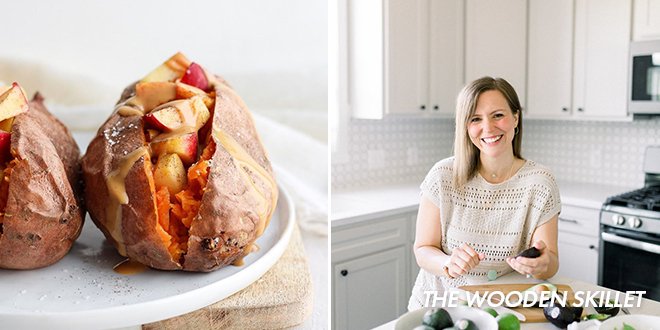 These Stuffed Sweet Potatoes are an extra-special dish to make when you have a little more time one morning. They would pair perfectly with the Sage Sausage Patties from Danielle Walker!
Ingredients
1 baked sweet potato
1 medium apple, cut into bite-sized pieces
1 Tablespoon ghee (or coconut oil)
1/2 – 1 Tablespoon ground cinnamon
Pinch of salt
2 Tablespoons Cinnamon Cashew Butter
Instructions
TAKE medium skillet and bring to medium-high heat. Add ghee and allow to melt.
ADD apples and move constantly around the pan, letting cook for 2-3 minutes.
ADD cinnamon and pinch of salt; stir to coat.
CUT open baked sweet potato lengthwise and stuff with apples.
DRIZZLE with cashew butter and sprinkle with any additional cinnamon, as desired.
EAT immediately or place in glass storage container to bring to work in the morning.
SERVE with breakfast sausage and half an avocado.
Sage Sausage with Cinnamon Apples from Danielle Walker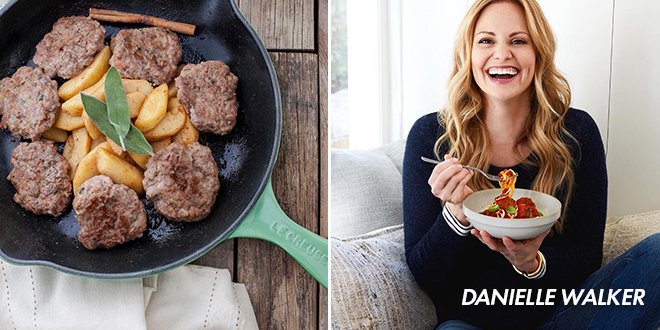 Sausages are a great egg-free Whole30 breakfast protein. Serve these sausage patties with or without the sauteed apples, and alongside your favorite veggies—a blended green soup would be perfect!
Ingredients
2 pounds ground pork
1 T fresh chopped sage
1 1/2 tsp coarse sea salt
1/2 tsp cracked black pepper
1/2 tsp nutmeg
1/4 tsp crushed red pepper
1/4 tsp marjoram
5 medium apples, cored, peeled, & sliced
1 tsp cinnamon
Instructions
HEAT a skillet over medium-high heat. Place the pork, sage, salt, pepper, nutmeg, red pepper, and marjoram in a bowl & combine well.
FORM the mixture into patties 2-inches wide and 1/2-inch thick. Working in batches, pan fry the sausage patties in the skillet until cooked through, about 2 to 3 minutes per side.
REMOVE the patties with tongs and drain on a plate lined with a paper towel. Leave the grease in the pan.
SAUTE the apples & cinnamon in the same skillet for 8 minutes, or until tender. Return the sausage to the skillet and reheat for 2 minutes.
Bacon Breakfast Skillet from Whole Kitchen Sink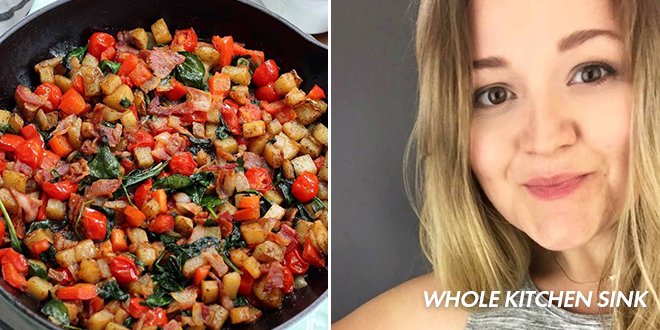 A classic Whole30 skillet meal, this is a great breakfast option, but would be just as satisfying for dinner. Serve with a sliced avocado for extra credit.
Ingredients
1 package no-sugar bacon ButcherBox offers a Whole30 compliant option
1 large white potato or 3 small/medium red potatoes, diced
1/2 white onion, diced
1 red pepper, diced
1 cup halved cherry tomatoes
2 large handfuls baby spinach
1 tablespoon fresh dill
1/2 tablespoon garlic powder
Salt and pepper to taste
Squeeze of 1/2 lemon
Instructions
In a large pan over medium heat, add bacon and let cook
REMOVE bacon from skillet, leaving bacon fat and add in potatoes.
Once potatoes start softening, ADD in onion, pepper, dill, salt and pepper. Cook 3 to 4 minutes until peppers are tender.
ADD bacon back in, stirring to combine. Add cherry tomatoes and spinach.
STIR and allow spinach to slightly wilt and tomatoes to soften, adding juice of 1/2 lemon into skillet while stirring
REMOVE from heat and serve!
Caramelized Pork Hash with Brussels Sprouts and Sweet Potato from I Heart Umami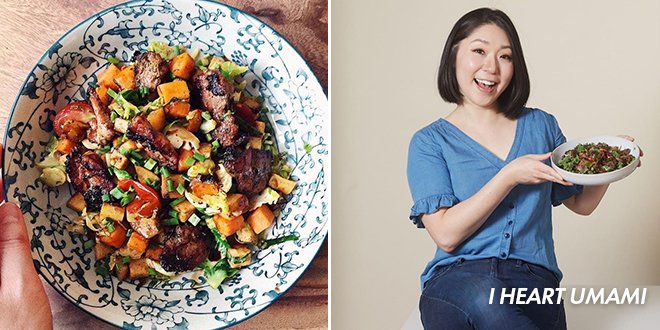 A great make-ahead option for a egg-free Whole30 breakfast that will allow you to have a filling and tasty breakfast without having to cook anything from scratch at 7 in the morning. ChihYu's I Heart Umami recipes are always satisfying.
Garlic Herb & Apple Breakfast Sausage from Little Bits of Real Food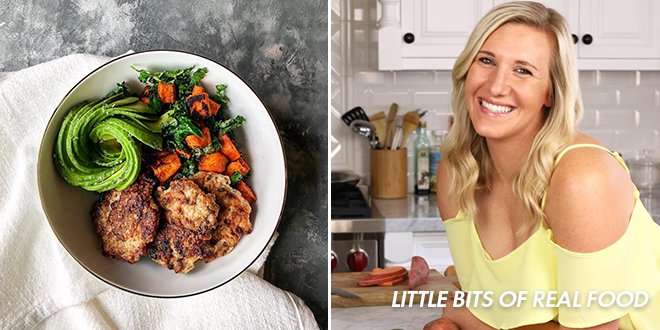 Pair this breakfast sausage from Kelsey of Little Bits of Real Food with your favorite roasted veggies.
Ingredients
1 pound ground turkey or chicken⠀⠀
1/2 teaspoon minced garlic⠀⠀
1/2 cup minced apples⠀⠀
1/4 teaspoon rubbed sage⠀⠀
2 teaspoons dried parsley⠀⠀
1 teaspoon salt⠀⠀
1/4 teaspoon pepper⠀⠀
Instructions
COMBINE ground turkey or chicken, minced garlic, apples, sage, parsley, salt and pepper in a medium sized bowl. Stir or mix with hands until fully combined.⠀⠀
BRING a pan over medium high heat and spray with oil spray or a little drizzle of oil. ⠀⠀
SCOOP chicken into small patties and press them down in the pan with the back of a spatula (if you put some oil on the back of the spatula it shouldn't stick!). ⠀⠀
COOK for about 2 1/2 -3 minutes per side.
This post includes affiliate links for ButcherBox, meaning we make a small commission from purchases made via our link. Thank you for supporting our Whole30 Approved partners.
Source link