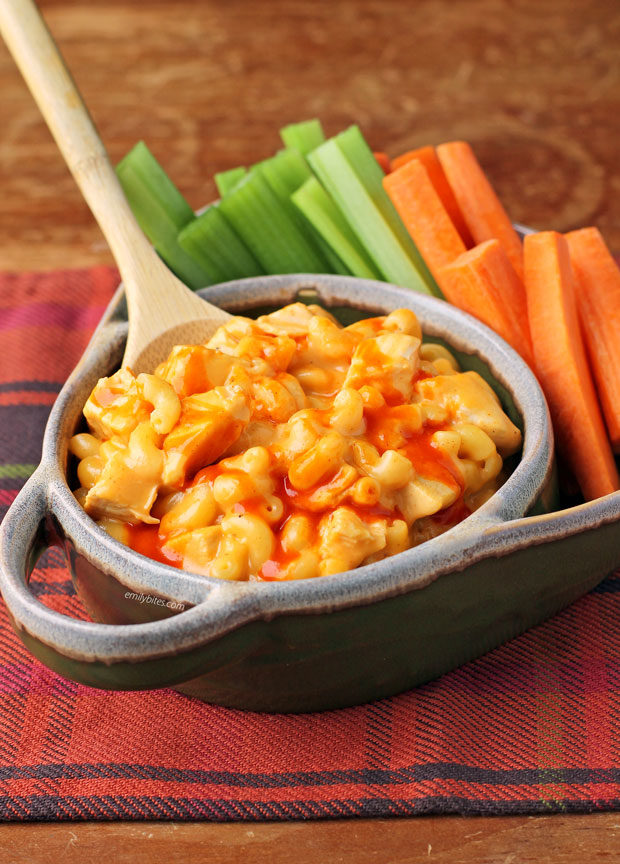 This One-Pot Buffalo Chicken Mac and Cheese is pure comfort food you'll want to make again and again. With a rich, creamy cheese sauce and spicy Buffalo chicken mixed in, this recipe marries two of my favorite flavors into one perfect pasta dish. Better yet, it all cooks in one pot so clean up is a breeze. I love one-pot meals! Ever since I first posted my Barbecue Mac and Cheese recipe, I've been planning to post a Buffalo chicken version and I'm pumped to share this one today! I love to serve this with a side of veggies, but you could also mix the veggies right into the pasta for a complete meal if you prefer. This recipe is perfect when you're craving cheese and pasta (so all the time?) and you'll feel good indulging because a cup is only 334 calories or 7 WW Freestyle SmartPoints!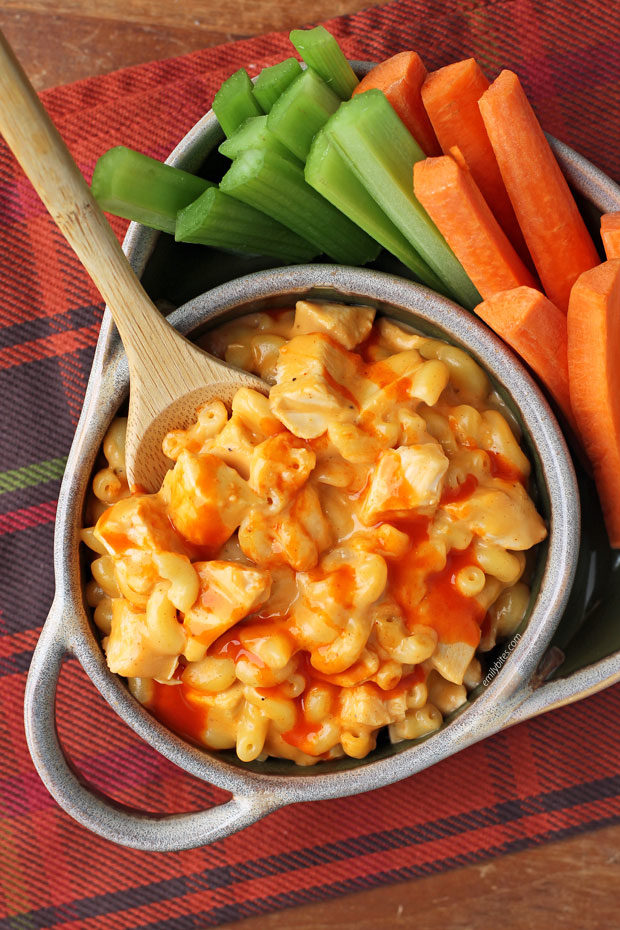 Looking for more lightened up pasta options? Check out the pasta section of my recipe index for favorites like Chicken Pot Pasta, One-Pot Barbecue Chicken Mac and Cheese, One-Pot Creamy Garlic Chicken Pasta, Bruschetta Chicken Pasta, Pasta with Chickpeas, Butternut Squash Pasta with Bacon, Beef Enchilada Pasta Skillet, Turkey Sloppy Joe Pasta, Italian Wedding Pasta, Sausage Ricotta Pasta, Lemon Chicken Orzo, Chicken Pesto Parmesan Pasta Skillet, Beef Stroganoff, Beefy American Goulash, Slow Cooker Kickin' Chicken Pasta, Beef and Sausage Manicotti, Pumpkin Alfredo Tortellini Skillet, Spinach and Artichoke Lasagna Roll Ups, Chicken Cordon Bleu Pasta Bake, Tomato Soup Mac & Cheese, Spaghetti Pie, Sausage Tortellini Skillet, Buffalo Chicken Lasagna Roll Ups, Chicken Parmesan Stuffed Shells, Spicy Sausage Pasta and many more!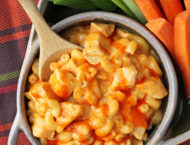 One-Pot Buffalo Chicken Mac and Cheese
Yield: 8 (1 cup) servings
Ingredients:
1 ½ lbs uncooked boneless, skinless chicken breasts
6 tablespoons Buffalo wing sauce (I use Frank's Red Hot Buffalo Wings sauce)
4 tablespoons light butter (I use Land O'Lakes)
¼ cup flour
½ teaspoon salt
¼ teaspoon black pepper
1 ½ cups skim milk
2 ½ cups water
10 oz uncooked elbow macaroni
6 oz 50% reduced fat sharp cheddar cheese, shredded (I use Cabot)
Directions:
*Place the chicken breasts in a Dutch oven or other large pot and cover with water to about 2 inches over the chicken. Bring the water to a boil over high heat and then reduce the heat to medium. Cook over medium heat for 15-20 minutes (depending on the thickness of your chicken breasts – mine are generally done at 15, so check one then) until chicken is cooked through. Remove the chicken breasts to a cutting board. Discard the water from the pot and rinse and wipe out the pot to use again. Chop the chicken into small, bite-size pieces and move to a mixing bowl. Add the Buffalo wing sauce and stir to coat. Set aside.
Melt the butter in the pot over medium heat. Whisk in the flour, salt and black pepper until combined with the butter and continue to stir for a minute. Slowly whisk in the milk a little at a time until combined and smooth. Add the water and whisk in to combine.
Increase the heat to med-high and stir occasionally until boiling. Reduce the heat to med-low and add the macaroni. Cook for 8 minutes, stirring regularly to prevent sticking.
Reduce the heat to low and stir in the shredded cheese until well combined. Add the chopped chicken with Buffalo sauce and stir until thoroughly combined. Cook for another few minutes until all ingredients are heated through and serve.
*If you already have cooked chicken breasts on hand you can skip this step and use a pound of cooked, chopped chicken. Place it in a bowl and mix it with the Buffalo wing sauce.
WW Freestyle SmartPoints:
7 per (1 cup) serving (SPs calculated using the recipe builder on weightwatchers.com)
Weight Watchers Points Plus:
8 per (1 cup) serving (PP calculated using a WW PointsPlus calculator and the nutrition info below)
Nutrition Information per (1 cup) serving:
334 calories, 31 g carbs, 3 g sugars, 9 g fat, 4 g saturated fat, 32 g protein, 2 g fiber (from myfitnesspal.com)
Source link