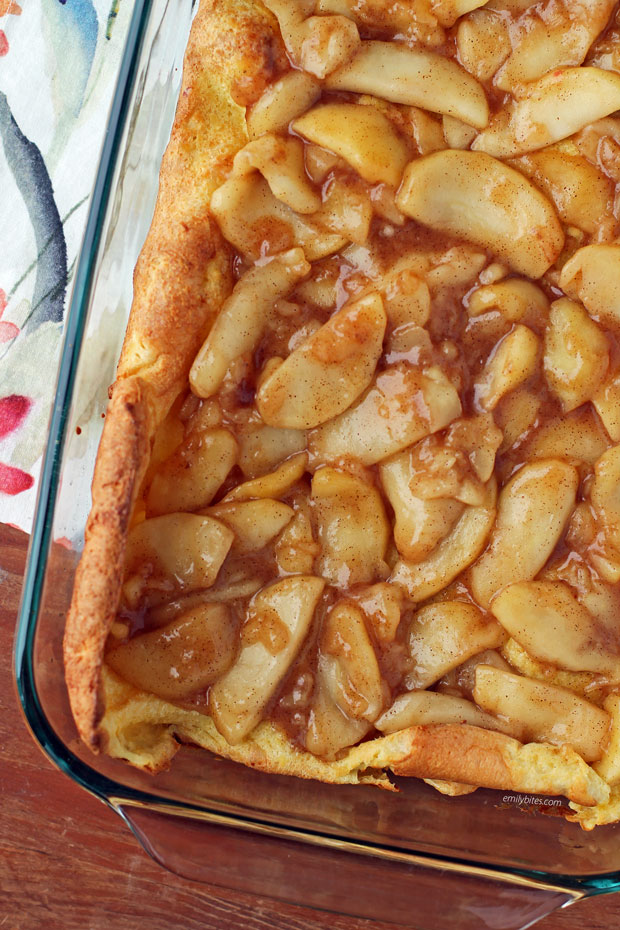 If you love sweet, decadent breakfasts and apple pie, then you are going to positively swoon over this Puff Pancake Bake with Warm Apple Topping. I'm obsessed! The whole thing comes together easily with minimal effort and the results are phenomenal. The oven-baked pancake couldn't be simpler and it forms a perfect, slightly crispy base for the gooey, sweet, apple pie-style topping. I would proudly serve this Puff Pancake Bake with Warm Apple Topping to guests or extended family at a holiday breakfast or brunch, but it's also a fun treat to make for yourself or your family for any old day. I can't get over how indulgent this tastes, but a serving is only 160 calories or just 4 Green, 3 Blue or 3 Purple myWW (Weight Watchers) SmartPoints per serving!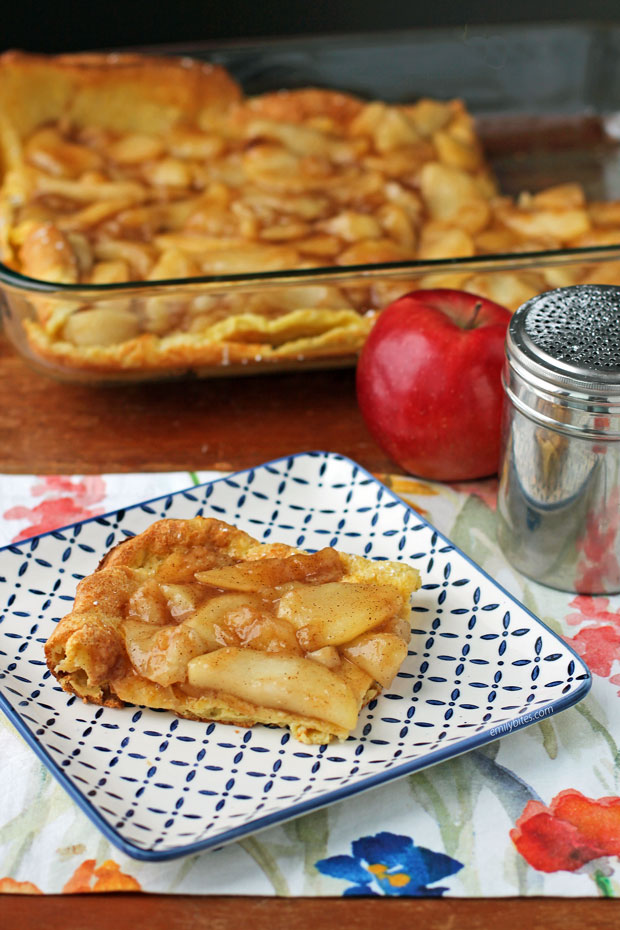 Looking for more tasty, lightened up breakfast recipes? Check out my Ultimate Tater Tot Breakfast Casserole, Banana Blueberry Muffins, Turkey Sausage Mini Frittatas, Crepes with Yogurt and Berries, Sausage and Pepper Egg Bake, Apple Cinnamon Muffins, Ham and Cheese Hash Brown Quiche, Berry French Toast Muffins, Sausage Apple Cheddar Frittata, Ham and Cheese Egg Cups, Apple Cinnamon Slow Cooker Oatmeal, Pear Gingerbread Baked Oatmeal Singles, Cheesy Cinnamon Baked Pears, Pumpkin Chocolate Chip Baked Oatmeal Singles, and many more in the Breakfast category of my recipe index!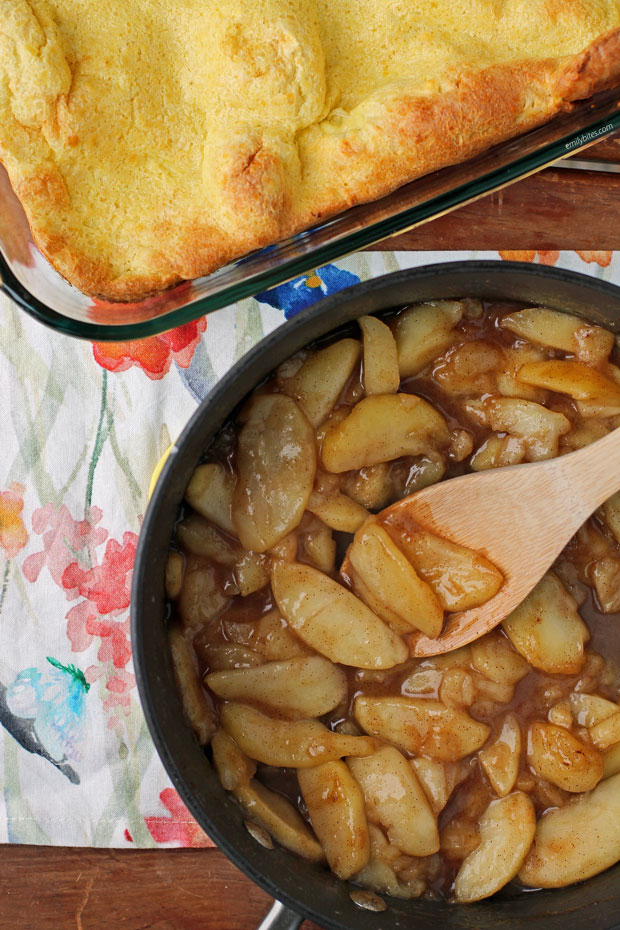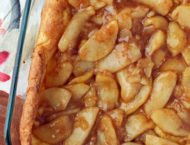 Puff Pancake Bake with Warm Apple Topping
Ingredients:
4 tablespoons light butter, divided (I use Land O'Lakes light stick butter)
4 large eggs
2/3 cup all-purpose flour
2/3 cup skim milk
¼ teaspoon table salt
4 medium apples, peeled and sliced
2 teaspoons cornstarch
1/3 cup water
2 tablespoons packed brown sugar
½ teaspoon cinnamon
½ teaspoon powdered sugar
Directions:
Preheat your oven to 400 degrees.
Slice two tablespoons of the butter and lay them in the bottom of a 9×13 baking dish. When the oven comes to temperature, place in the oven for 3-5 minutes until the butter is melted*. Move the dish around a bit so that the melted butter coats the bottom.
*While the butter is melting, whisk the eggs in a large mixing bowl until lightly beaten, Add the flour, milk and salt and whisk until smooth. When the buttered dish comes out of the oven and is coated, pour the batter into the hot dish and place it back into the oven to bake for 20-25 minutes until the pancake is puffed and golden.
When there's about 10-15 minutes left on the pancake, melt the remaining two tablespoons of butter in a saute pan over medium heat. Add the sliced apples and stir to coat with the butter. Cook uncovered, stirring occasionally for 4-5 minutes to soften the apples. In a small bowl, stir together the cornstarch and water until combined. Add this mixture to the apples along with the brown sugar and cinnamon. Stir until well combined. Cover the pan and reduce the heat to low. Simmer for 3-4 minutes until the apples are tender and the sauce is thickened.
When the pancake is finished baking, remove it from the oven and spoon the apples evenly over the top. Sprinkle with powdered sugar, slice into 8 pieces and serve.
MYWW SMARTPOINTS PER SERVING: (SP calculated using the recipe builder on weightwatchers.com)
Green: 4 SmartPoints/ Blue: 3 SmartPoints/ Purple: 3 SmartPoints
Weight Watchers Points Plus:
4 per serving (PP calculated using a Weight Watchers PointsPlus calculator and the nutrition info below)
Nutrition Information per serving:
160 calories, 23 g carbs, 12 g sugars, 6 g fat, 3 g saturated fat, 5 g protein, 2 g fiber (from myfitnesspal.com)
Source link