Healthy Slow Cooker Butter Chicken made in the crockpot comes out incredibly tender, packed with flavor, and just as good as your favorite take out version. Plus with just 3 Weight Watchers SmartPoints and under 300 calories, it's a meal you can have again and again,
I recently went to Chicago and ate the most amazing butter chicken, better known as Chicken Makhani, from a local takeout restaurant. I hardly ever eat this Indian dish since it is super high in calories but this version was so good, I couldn't resist. It convinced me that I had to come up with a way to make a lighter version at home. It has all the flavor of a traditional butter chicken, although a bit less rich since I used about a fourth of the butter typically called for in this type of recipe.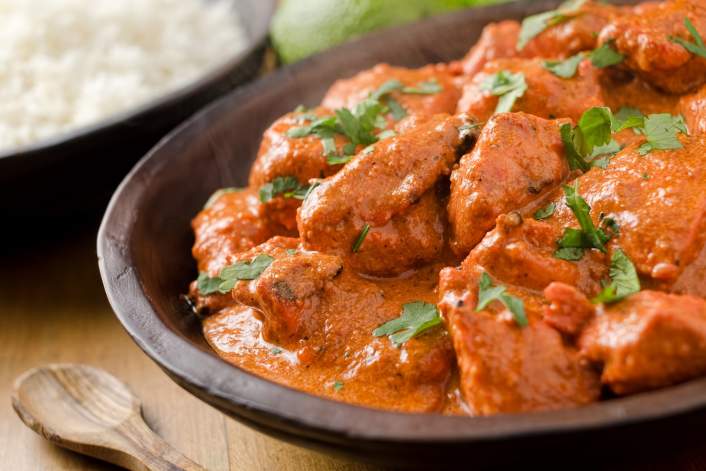 There are all kinds of options for serving this. Keep things light and healthy by serving it alongside some cauliflower rice or go a more traditional route and make some white basmati rice. Naan is always a good choice, but its important to watch the serving size. There is a frozen Naan at Trader Joe's that is really good and sometimes I can find a whole wheat version at my local grocery store. 
For a vegetarian version, use chickpeas instead of the chicken. You can also add chickpeas to the version with chicken for a heartier dish.
Play with the spice level to get it just where you like. Butter chicken traditionally isn't very spicy, but you can definitely kick things up with extra chili powder.
Garam masala varies greatly in terms of flavor and strength. You may need to add more to get that curry flavor to come through.
You can replace all the diary with a can of full fat or light coconut milk if you like.
(function(d, s, id) {
var js, fjs = d.getElementsByTagName(s)[0];
if (d.getElementById(id)) return;
js = d.createElement(s); js.id = id;
js.src = "http://connect.facebook.net/en_US/sdk.js#xfbml=1&version=v2.4&appId=125505754455470";
fjs.parentNode.insertBefore(js, fjs);
}(document, 'script', 'facebook-jssdk'));