These classic stuffed mushrooms are loaded with shallots, garlic, walnuts, breadcrumbs, and chopped mushroom stems. Sprinkle with Parmesan and pop them in the oven and you've got a great appetizer for the holidays.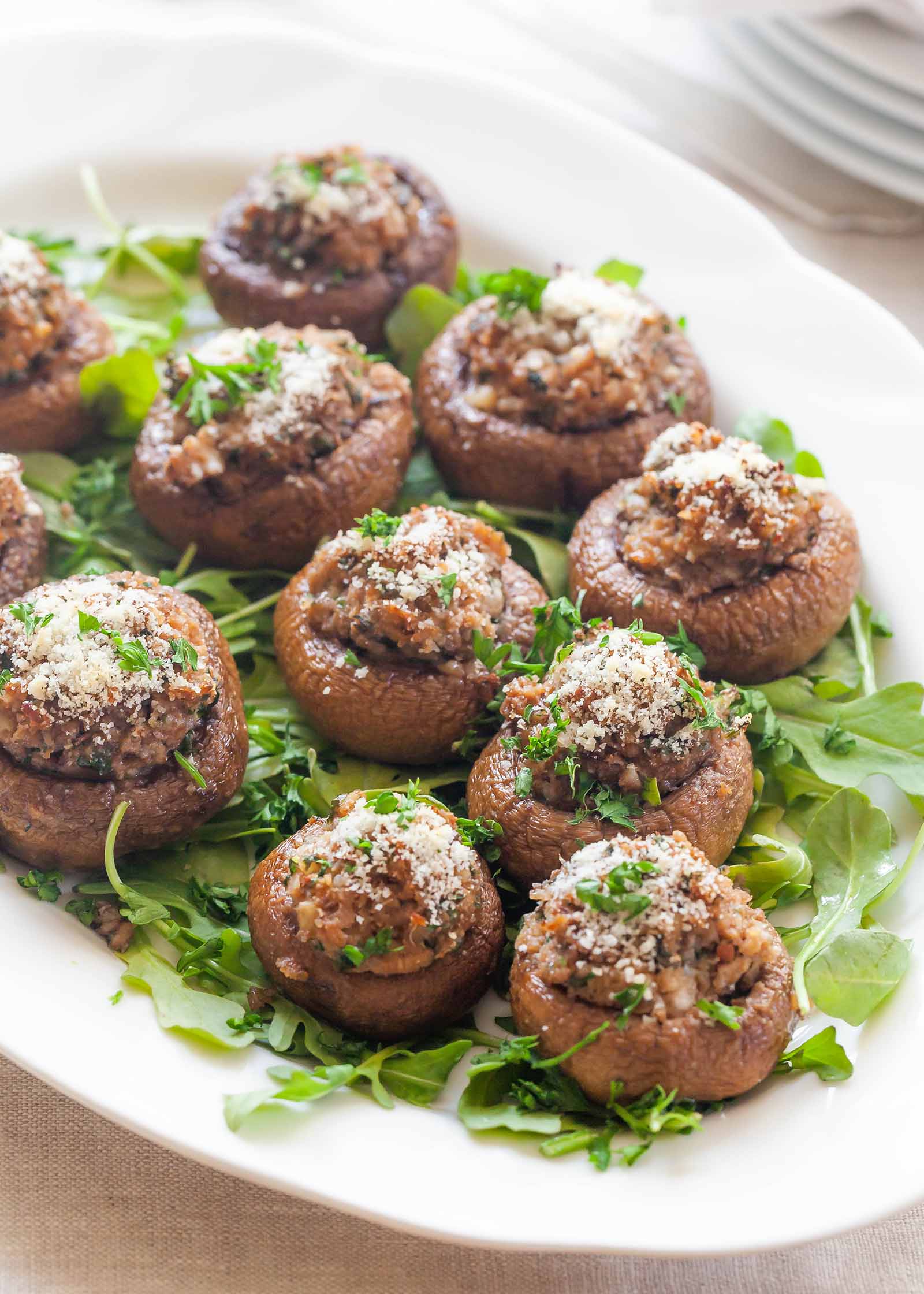 Photography Credit:
Sally Vargas
A good stuffed mushroom recipe should be in every home cook's collection. They're easy to make, they're great for parties, and the variations are endless!
The Best Mushrooms for Stuffing
Simple regular button mushrooms or the brown creminis are perfect for stuffing. Look for mushrooms with dry caps and gills (the feathery part underneath). Avoid mushrooms that seem slimy or have sunken brown spots.
To prep for stuffing, scrub the mushrooms well, then just snap out the stems. They'll come out easily; no need to use a knife.
Ingredients for stuffed mushrooms
This stuffed mushroom recipe is a classic. It is what you usually think of when you think of stuffed mushrooms—walnuts, herbs, garlic, chopped mushroom stems, breadcrumbs, and grated Parmesan.
There is a reason everyone loves this combination. These stuffed mushrooms are hard to stop eating!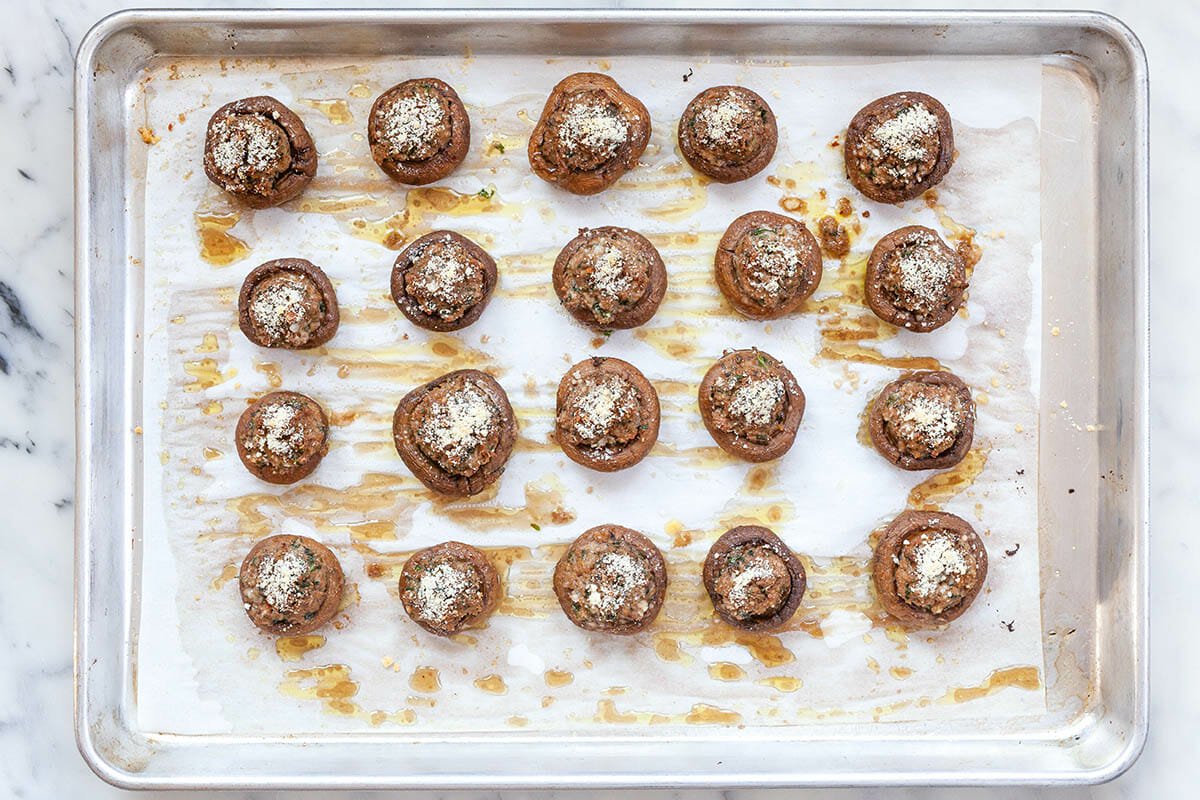 How to Make Stuffed Mushrooms
To make these stuffed mushrooms, first separate the stems from the mushroom caps, and chop them. Cook the chopped mushroom stems in butter with some shallots, garlic, and walnuts. Process with herbs and breadcrumbs and stuff the mushroom caps with that mixture.
Sprinkle with Parmesan and bake until the cheese starts to brown and the mushroom caps release some of their water.
Make Ahead Tips for Stuffed Mushrooms
You can prepare the filling and stuff the mushrooms (without baking them) for up to 24 hours ahead. Just cover and refrigerate them, and then cook them right before serving. Once cooked, stuffed mushrooms do not hold up well for long periods.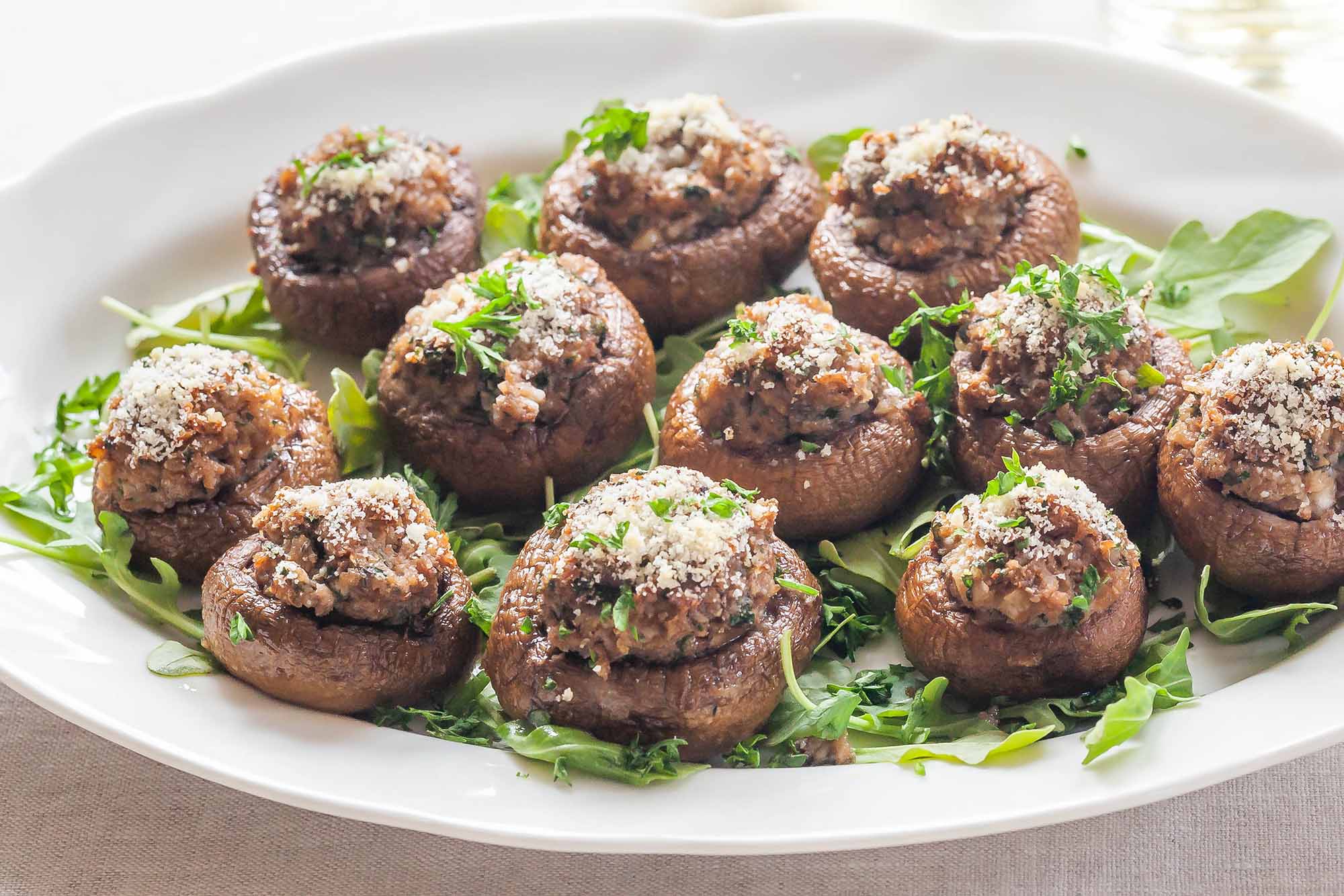 Suggestions and Substitutions for Stuffed Mushrooms
Looking for more stuffed mushroom ideas? We've received many suggestions for variations on this recipe from readers over the years. Here are a few favorites:
Sausage, cream cheese, chopped stems, Parmesan and garlic powder
Duck or goose pâté (fois gras) topped with a small piece of bacon
Cream cheese, spinach, and bacon
Creamy chicken and white wine with a touch of garlic and tarragon
Crab meat, cream cheese, and shredded Parmesan
Onion, green pepper, pepperoni, garlic, the mushroom stems, parsley, oregano, a few Ritz Crackers
Do you have a favorite stuffed mushroom recipe? If so, please tell us about it in the comments.
MORE WAYS TO LOVE MUSHROOMS
Updated December 4, 2019 : We spiffed up this post with some fresh photos and new tips. No changes to the original recipe. Enjoy!
Classic Stuffed Mushrooms Recipe
The recipe can easily be scaled up—doubled or tripled.
You can use either cremini or regular button mushrooms. Scrub the mushrooms well first, then just snap out the stems. They'll come out easily, no need to use a knife.
For parties, make the stuffing and have the mushrooms cleaned and stems removed ahead of time. But don't cook them until you want to serve: Once cooked, stuffed mushrooms do not hold up well for long periods. Bake some, serve and repeat.
Ingredients
18 to 24 button or cremini mushrooms, scrubbed clean, stems separated from the caps, stems finely chopped
1 tablespoon butter
2 small shallots, minced, about 2 tablespoons
1 large garlic clove, minced
2 tablespoons chopped walnuts
Salt
2 tablespoons chopped parsley
1 teaspoon Herbes de Provence or dried thyme
2 tablespoons breadcrumbs
2 tablespoons sherry or chicken stock
2 tablespoons extra virgin olive oil
2 tablespoons grated Parmesan cheese
Method
1 Preheat oven to 375°F (190°C).
2 Make filling: Heat 1 tablespoon butter in a small frying pan over medium-high heat. Sauté the chopped mushroom stems and the shallots for 4 to 5 minutes, stirring often. Add the garlic and walnuts and sprinkle with salt. Stir well and sauté 2 more minutes.
Turn off the heat and add the parsley, herbes de Provence and breadcrumbs. Pour the sherry into a food processor, then the rest of the stuffing. Pulse several times to get a fine mixture, almost a paste.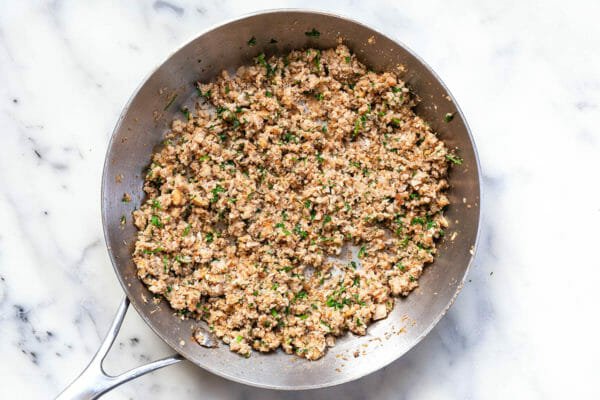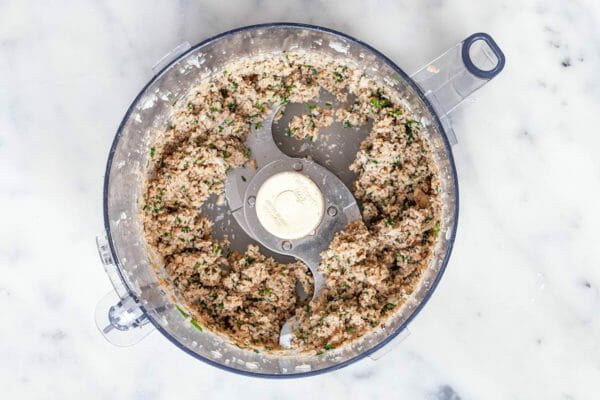 3 Stuff mushroom caps: Toss the mushroom caps with olive oil. Fill each mushroom with the stuffing, and place on a baking sheet. Sprinkle grated parmesan cheese over each mushroom.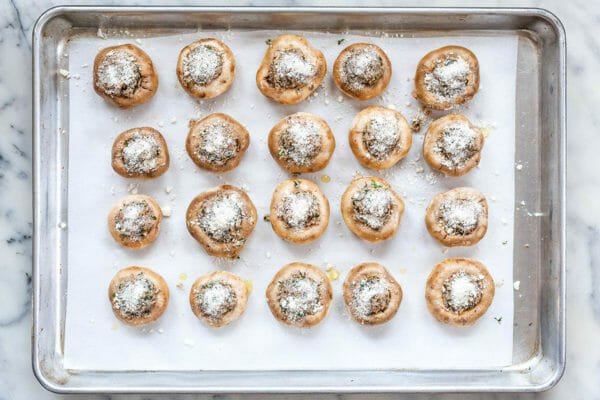 4 Bake: Bake for 10 to 20 minutes at 375°F (190°C), or until the cheese browns a little and a little water starts to pool at the base of each mushroom. Allow to cool for 5 minutes or so before serving.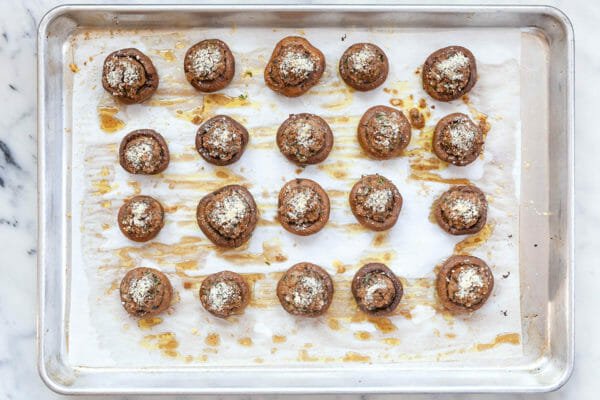 Hello! All photos and content are copyright protected. Please do not use our photos without prior written permission. Thank you!
Products We Love
This post may contain links to Amazon or other partners; your purchases via these links can benefit Simply Recipes.
Read more about our affiliate linking policy.