Fifteen minute Chicken Larb is the Thai dish that you need to make immediately! This easy to make, healthy dish is the perfect balance of salty, spicy, sour, and sweet.
Jump to Recipe keyboard_arrow_down
201 CALORIES

7g CARBS

6g FAT

29g PROTEIN
1
Freestyle™ SmartPoints™ New!
(5 Old SmartPoints™)
(5 PointsPlus®)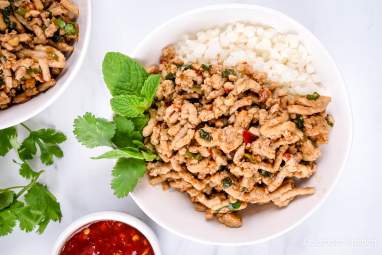 Thai Chicken Larb Recipe
If you love Thai food, you need to make this quick and easy Thai Chicken Larb! It's made with ground chicken, garlic, chili paste, soy sauce, fresh basil, and mint for a super flavorful dish you will love. And you don't want to miss these other delicious Thai recipes – Thai Basil Ground Beef Thai Chicken Skewers
If you haven't had larb before, it's time to run to the kitchen and make this quick and easy 15-minute recipe. It is packed with Southeast Asian flavor and seriously couldn't be easier to make.  Grab some lean ground chicken, add garlic and green onions, toss in some soy sauce and chili paste, and serve with fresh mint and basil. It's so good and we have been eating it weekly. 
If larb is a new dish for you, you aren't alone. I used to live right on the border of Thai Town in Los Angeles and during those years, I grew to absolutely love Thai food. One dish I absolutely fell in love with during that time was larb. Although I have to admit, it took me months to get brave enough to order it and break away from the traditional mainstays like Pad Thai. But I was so happy once I did.
Larb Gai, or Chicken Larb, is basically a salty, spicy, and slightly sweet ground meat dish. It is traditionally served as a "salad" with lettuce wraps and sticky rice. However, once you start making it, you will find millions of way to serve this dish. We love the traditional larb lettuce wraps, but I also serve it with rice, cauliflower rice, on big green salads, and even tossed with rice noodles for a Thai style pasta salad. It's delicious.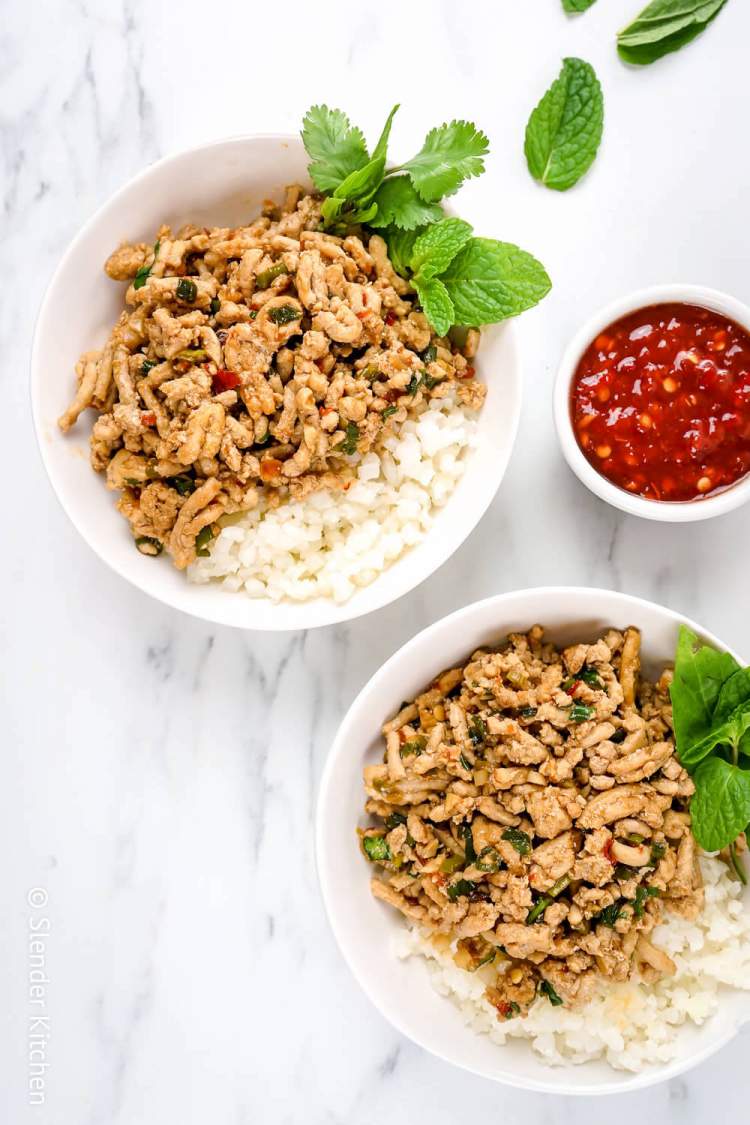 What is Chicken Larb?
Larb Gai is a dish that is traditionally made in both Thailand and Laos and essentially is a warm meat salad. It's normally made with ground chicken or pork that is flavored with garlic, lime juice, fish sauce, chili peppers, and palm sugar. It's meant to be spicy, salty, sour, and sweet all at the same time. It's a popular street food dish and can also be found on most Thai food restaurant menus. Normally it is served with sticky rice, lettuce, and fresh herbs like mint, basil, and/or cilantro.
This recipe for Chicken Larb contains all the same flavor elements but I switched out a few things to make it easier to make at home. First, I swapped in soy sauce for the fish sauce since it is something most people have at home already. I also use Asian chili paste instead of fresh Thai chilies or Thai chili powder since it is much easier to find. Lastly, I cut back on the sugar to keep things light and healthy. This dish traditionally wasn't made with much sugar but over the years many restaurants have taken the liberty to adds tons of extra. Honestly, it truly doesn't need it.
What does larb taste like?
Larb should be salty, spicy, sour, and slightly sweet. This is the holy grail when it comes to Thai cooking and this dish is no different. It has that classic Thai flavor combination you crave when you think about Thai food. It is also worth mentioning, that Larb should be spicy. Not knock you over spicy, but spicy. Feel free to adjust the amount of chili paste you use to make it a dish that works for your spice tolerance.
It's also a nice and light dish that is served with tons of fresh herbs for brightness. It is meant to be a salad style dish so you should also taste this freshness. 
How can I serve Chicken Larb?
Lettuce Wraps: Grab a head of butter lettuce and serve this wrapped up in lettuce leaves as a main dish or appetizer.  Serve it with plenty of fresh herbs, limes, and extra green onions on the side.
Sticky Rice: Traditionally this is served with Thai sticky rice on the side along with fresh lettuce. Fill the lettuce leaves with sticky rice, top with the larb, and enjoy.
Cauliflower rice: For a lower carb option, serve it on a bed of cauliflower rice or make cauliflower rice and larb lettuce wraps.
Cucumber salad: Make a quick cucumber salad with thinly sliced cucumber, red onions, and rice vinegar. If you like things extra spicy, add some jalapenos. The basic recipe is 1 cup thinly sliced cucumber, 1/4 cup thinly sliced red onion, and 2-3 tbsp of rice vinegar. 
Thai salad: Turn this into a nice Thai salad by adding Romaine, cucumbers, red onion, fresh herbs, and bean sprouts. For some sweetness, consider adding some green papaya or mango.
Recipe Ideas for Chicken Larb 
Swap in new protein: Feel free to switch out the protein and try other ground meats. Traditionally it is made with either ground chicken like in this recipe, or ground pork. However, you could also use ground turkey or beef. 
Add veggies: Although it isn't traditional, feel free to add some veggies to the mix. Kale and spinach both work really well as do things like broccoli, cabbage, sugar snap peas, or mushrooms.
Fish sauce: Traditional larb is always made with fish sauce. For a more authentic flavor, add a few splashes of fish sauce to your dish to bring out a more Thai flavor. 
Kid friendly: If you are making this for kids who don't like things spicy, just serve the chili sauce on the side. It's easy to add on top and then you have a meal everyone can enjoy.
Lower sodium and gluten free: Swap in coconut aminos for the soy sauce for a lower sodium version that is also gluten free and Whole30 friendly.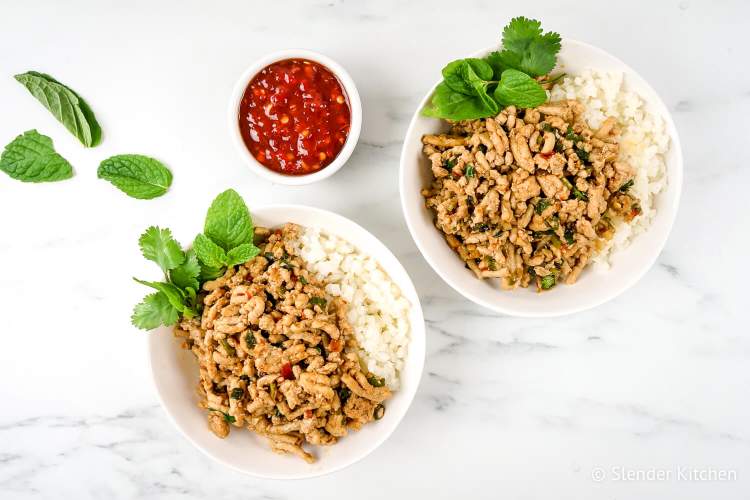 Is larb served hot or cold?
Traditionally larb is served hot immediately after it is cooked. However, over the years, some restaurants have begun to serve it cold or room temperature since it is a salad style dish served with fresh lettuce and herbs.
Source link