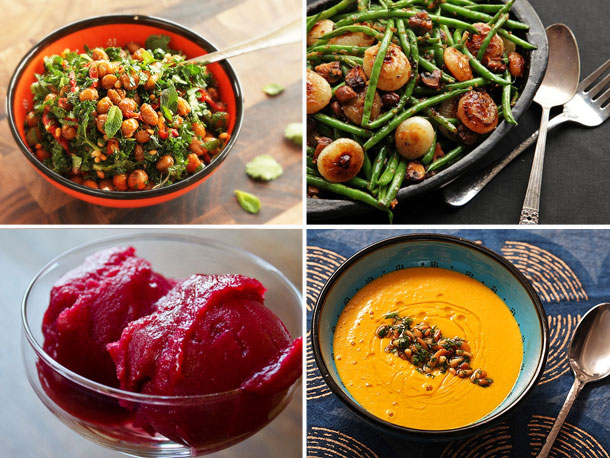 A vegetarian Thanksgiving? Piece of cake. I don't care much for turkey, and my favorite stuffing has no sausage in it, and I have little need for bacon in my Brussels sprouts. Actually, due to collective turkey paranoia, more than a few Thanksgivings of mine have been incidentally vegetarian. It's been great.
Oh, you're vegan, you say? And you want a great Thanksgiving of your own? It's okay, we got you.
Yes, a Thanksgiving without dairy and eggs means you miss out on buttery mashed potatoes and custardy pumpkin pie. Creamy green bean casserole and crusty potato gratin aren't in the cards. But skipping out on dairy doesn't mean skimping on the comforting, carb-y dishes Thanksgiving does best. Actually, it means you get to focus on bolder flavors brimming with spice, and explore a spectrum of textures wider than the usual seven kinds of creamy. Give this menu a peek and tell me you're not strapping on the fat pants by the end of it.
Spicy Carrot and Ginger Soup With Harissa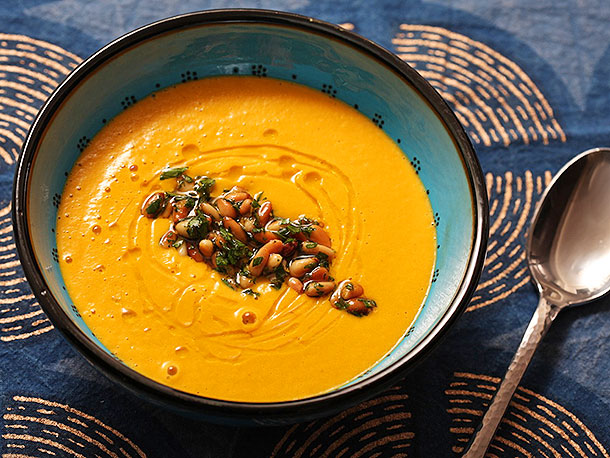 I start my Thanksgiving meals with a good creamy soup, but a cream-less vegetable soup works just as well. When you simmer and blend carrots in vegetable stock, you get a purée so creamy, it doesn't need dairy. This number adds some spice, with ginger, coriander, and harissa paste, to kick-start appetites for the main meal. And best of all: The soup can be made ahead and frozen, then defrosted just before dinner starts.
Spicy Carrot and Ginger Soup With Harissa Recipe »
Vegan Wellington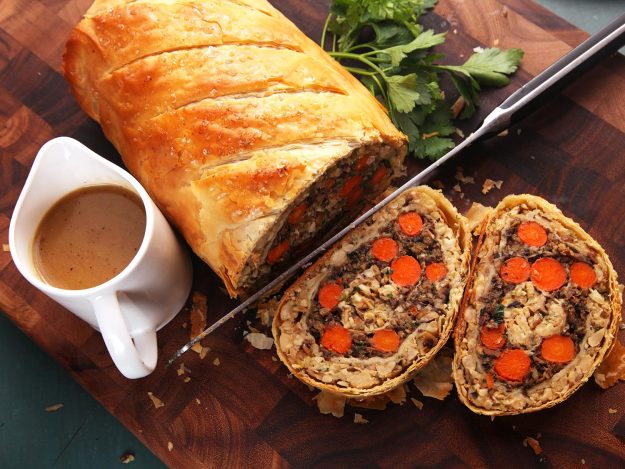 Thanksgiving is a meal of sides, but it still needs some kind of centerpiece. The traditional vegan option here is a loaf of Tofurkey, still creased from its plastic packaging, with all the texture and flavor of a rubber band. Hey, I love chewy seitan and tempeh when done right, but that pre-packaged "roast" ain't cutting it.
Instead, consider this deeply savory vegan take on beef Wellington, made with roast carrots, mushroom bacon (yes), cashews, and beans, all layered and wrapped in layers of crackly phyllo. Okay, it's a serious project—one that needs plenty of advance planning—but if you're not gonna haul out the showstoppers, the shut up, Uncle Carl, vegan food can be awesome dishes, on Thanksgiving, then when will you?
Vegan Wellington Recipe »
The Best Vegan Stuffing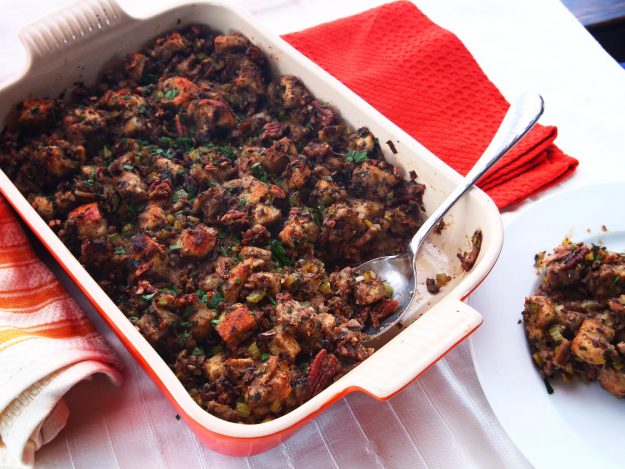 Panzanella, a crusty bread salad featuring toasted croutons soaked in good olive oil, is one of the best things to do with a stale loaf of bread. This we know. Now, meet the casserole version: a stuffing (okay, dressing) of bread enriched with vegetable broth and olive oil instead of turkey stock, butter, and eggs. It's a little lighter than the typical meaty stuffing, which means you can eat more of it, and nubs of cooked-down mushrooms and sage leaves deliver amazing bursts of meaty flavor that imitate—dare I say, improve on?—the sausage in typical stuffing, while the toasted pecans mixed in add serious crunch.
The Best Vegan Stuffing Recipe »
Fried Brussels Sprouts With Shallots, Honey, and Balsamic Vinegar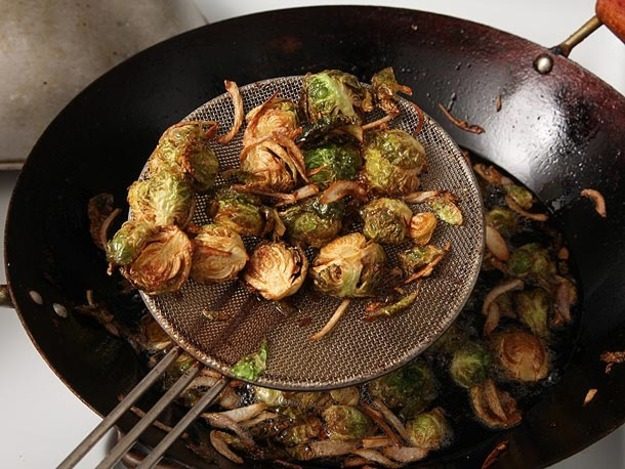 If you're skipping turkey and mashed potatoes, you have some caloric leeway to play with, and also some room to show off. So: Fry your Brussels sprouts! It's the fastest, tastiest, and most foolproof way to get crisp, nearly burnt leaves with tender, creamy centers, and you can cook up a whole mess all at once while freeing up your oven for other tasks.
You could stop with plain sprouts, salted as soon as they leave the fryer, but they'll be even better if you fry up some shallots alongside them and toss them with honey, balsamic vinegar, and parsley. (Agave nectar works great if you don't eat honey.) Now you have a sweet-and-sour heap of vegetables full of burnished, browned flavors, all with just a couple of minutes of active cooking time.
Fried Brussels Sprouts With Shallots, Honey, and Balsamic Vinegar Recipe »
The Sweetest Roast Sweet Potatoes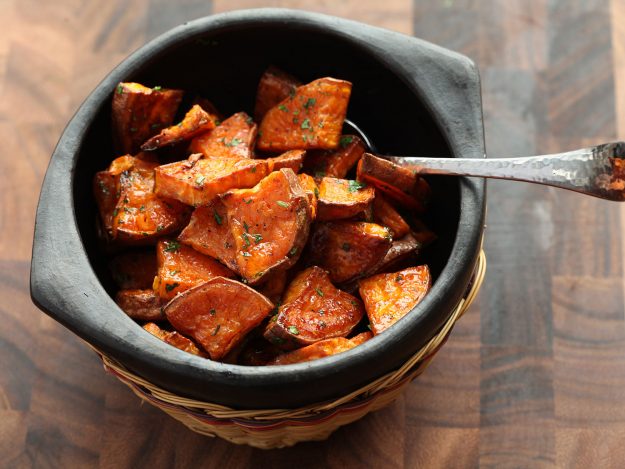 The sweetest sweet potatoes don't need extra sugar. There's plenty of sugar in that spud already, and, by par-cooking the sweets at between 135 and 170°F, you activate an enzyme that converts the potatoes' starches into maltose. Once you do so, you can then roast the potatoes to an exceptional crispness, helping them stay crackly long after other sweets turn limp.
The Sweetest Roast Sweet Potatoes Recipe »
Sautéed Green Beans With Mushrooms and Caramelized Cipollini Onions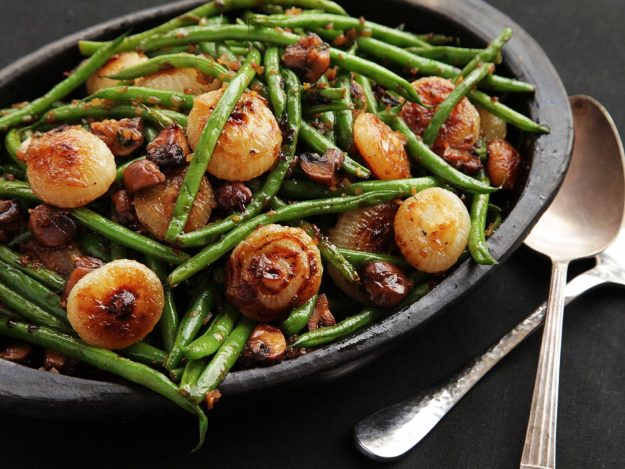 Green bean casserole is often creamy to the point of being gluey. If you actually want to taste the green beans, onions, and mushrooms that the dish is supposedly all about, here's a fresher way to do so: Caramelize cipollini onions until they turn soft and candy-like. Brown mushrooms until they turn into firm, meaty nubs. And blanch and sauté green beans until they're just tender. Then mix all the parts together for a dish that has all the elements of a green bean casserole, but with more concentrated flavors.
Sautéed Green Beans With Mushrooms and Caramelized Cipollini Onions Recipe »
Roasted-Chickpea and Kale Salad With Sun-Dried Tomato Vinaigrette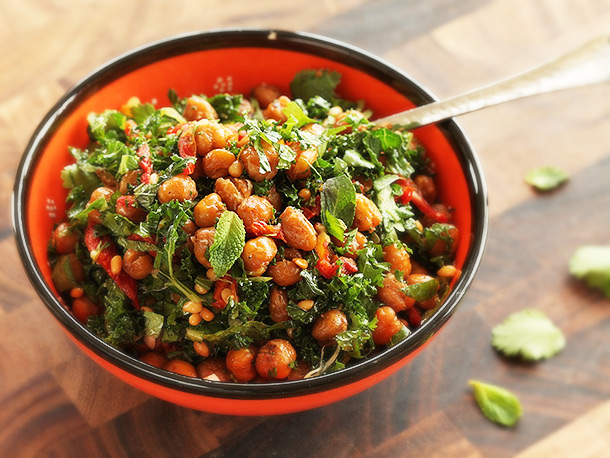 This is no rabbit food: It has chickpeas rolled in cumin and paprika, then roasted until dense, crackly, and crispy. A dressing with tangy-sweet sun-dried tomatoes, a blast of hot sauce, and cooling cilantro and mint. Okay, there's kale, too. You're hosting a vegan Thanksgiving, and people are going to expect kale. This is how you prove that a) kale is awesome, and b) kale salads aren't just for trendy restaurants.
Roasted-Chickpea and Kale Salad With Sun-Dried Tomato Vinaigrette Recipe »
Cranberry-Pomegranate Sauce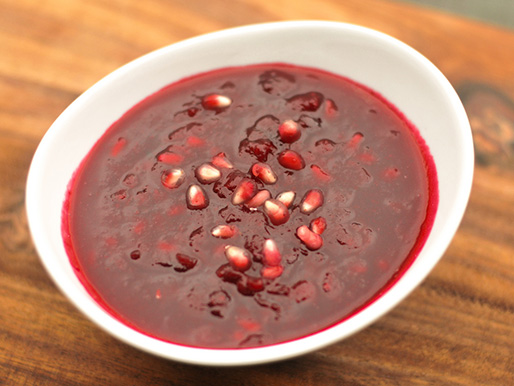 I'm usually a traditionalist when it comes to cranberry sauce. Cranberries, sugar, orange peel—that's all for me. But this menu is building a kind of sweet-and-sour flavor profile, and there should be a cranberry sauce to round that profile out. This here sauce is straightforward but fascinating. Brown sugar adds caramel depth and a molasses twang. Pomegranate juice draws out cranberries' astringency and acidity all the more. And jewel-like pomegranate seeds, stirred in at the very end, have a juicy pop that cooked cranberries lack. This sauce doesn't rely on a syrupy soda of sweet spices for depth: It's fresh, interesting, and somehow even more cranberry-ish than the original.
Cranberry-Pomegranate Sauce Recipe »
A Palate Cleanser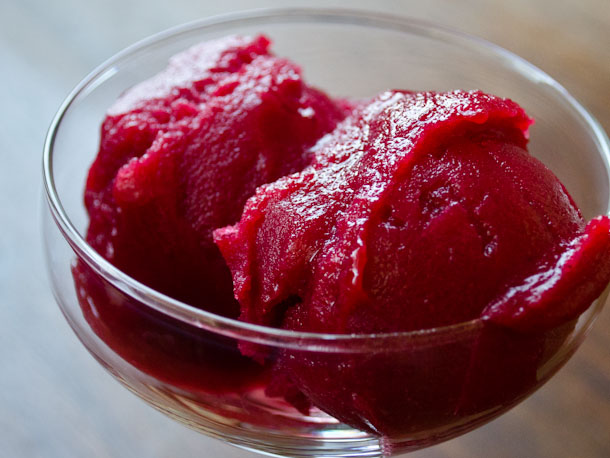 It's a smart move on Thanksgiving to serve a palate cleanser in between the main meal and dessert course. This intermediary pause lengthens the evening and slows down the feeding frenzy—don't you hate it when you've spent all day cooking, only for your guests to devour everything in half an hour?
Let people retire to the drawing room and lie down on the couch for a reprieve. Then serve them scoops of this tart, sweet, and aromatic cranberry sorbet, turned lipstick-red by a slurp of Lillet Rouge, the lesser-known but more autumn-friendly aperitif cousin to Lillet Blanc. The wine's bittersweet botanical qualities add a clean, herbal finish to the cranberries—especially nice for a palate cleanser.
A Palate Cleanser Recipe »
Apple Cider Doughnuts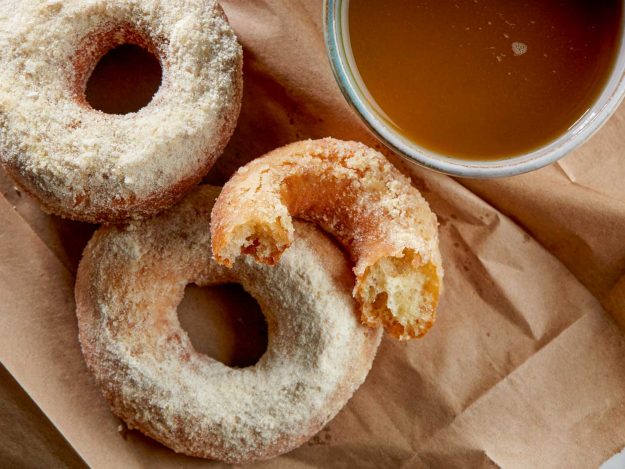 Is serving doughnuts for Thanksgiving a departure from tradition? Perhaps, but you won't catch anyone complaining. These gently spiced, yeast-raised doughnuts call on two sources of apple flavor. Apple cider is mixed into the dough, and powdered freeze-dried apple is mixed into the sugar topping each doughnut is finished with. The cooked doughnuts are crisp and light, with loads of apple flavor packed into every bite.
Apple Cider Doughnuts Recipe »
Apple Pie, With a Vegan Touch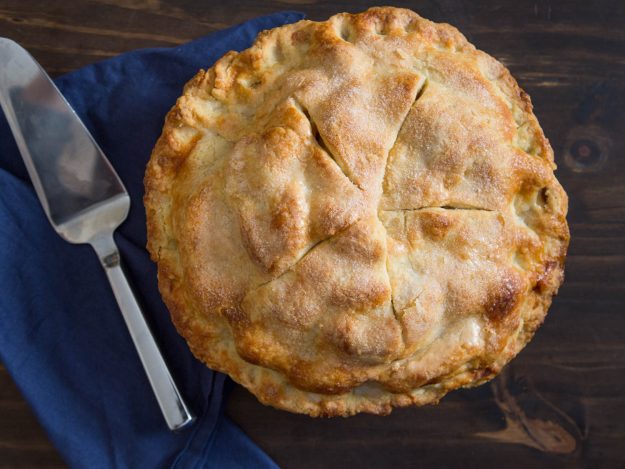 Pumpkin and pecan pies are custard pies—not the most vegan-friendly. But, with a handy dairy-free pie crust, apple pie is the star of your vegan Thanksgiving dessert spread. Fortunately, Kenji's easy pie dough recipe works every bit as well with shortening as with butter—it's just as easy to work with and produces beautiful flakes. So skip the egg wash, whizz up a batch, chop your apples, and get to baking!
Apple Pie, With a Vegan Touch Recipe »
All products linked here have been independently selected by our editors. We may earn a commission on purchases, as described in our affiliate policy.