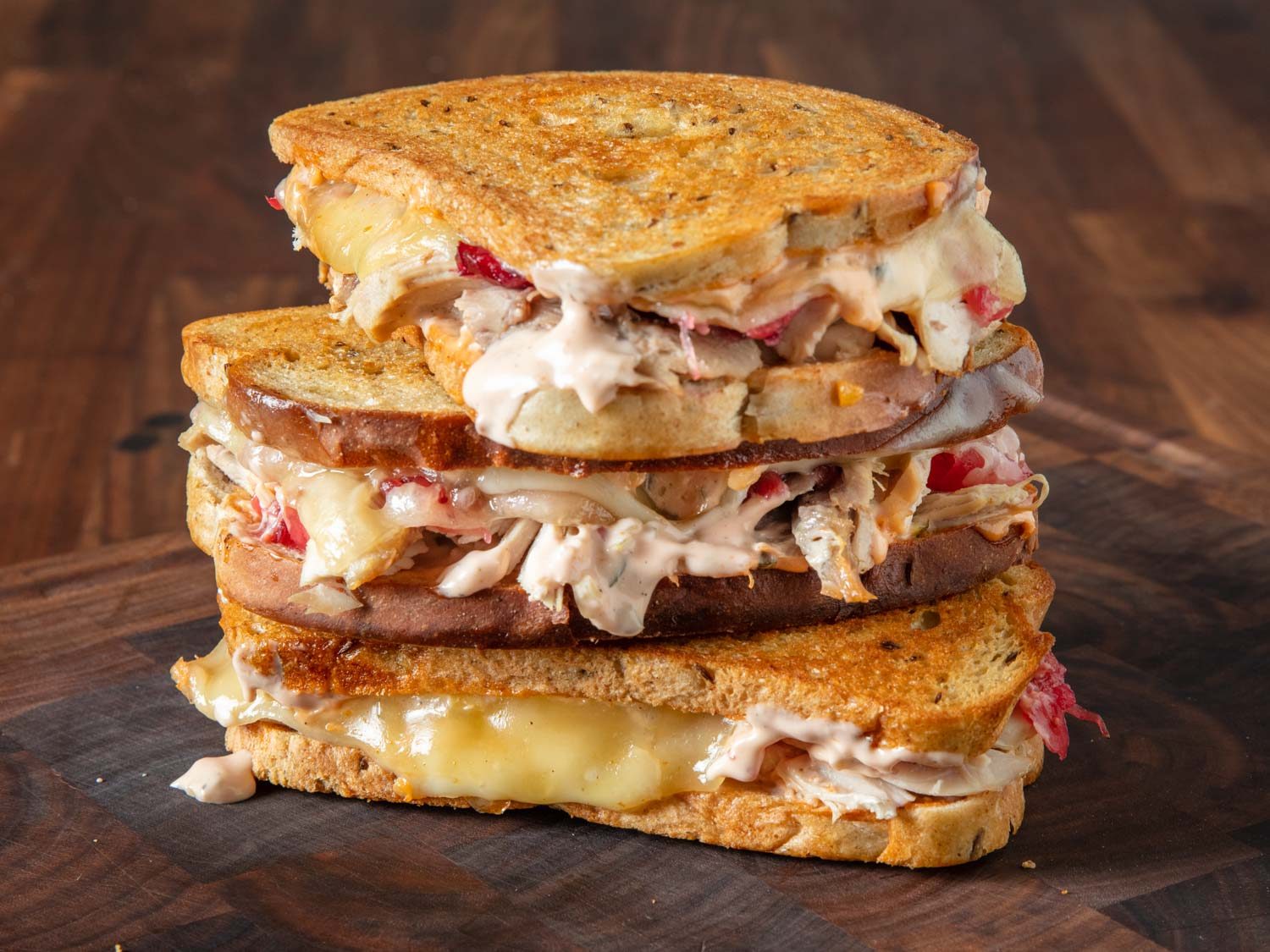 I am not the biggest fan of serving or eating roast turkey for Thanksgiving dinner, and I much prefer cooking other birds that not only can more easily fit in my New York City–sized fridge and oven but also pack more flavor, like duck or even chicken. Or if dinner guests aren't in a fowl mood, I will gladly cook a slow-roasted pork shoulder, tri-tip beef roast, or even a city ham instead. But while I won't necessarily miss the bird, I do miss having zipper-lock bags full of leftover turkey in the fridge for making sandwiches the next day.
Even though we love to breathe new life into leftovers with dishes like hot and numbing Sichuan-style turkey salad or turkey chintan ramen, turkey sandwiches are magical, and it would be a crime not to pile up some of your holiday bird between two slices of bread for lunch on Black Friday. Most people have a signature leftover sandwich that they wait all year to bust out, but just in case you want to switch things up, here's an easy leftover Thanksgiving turkey Reuben to try out.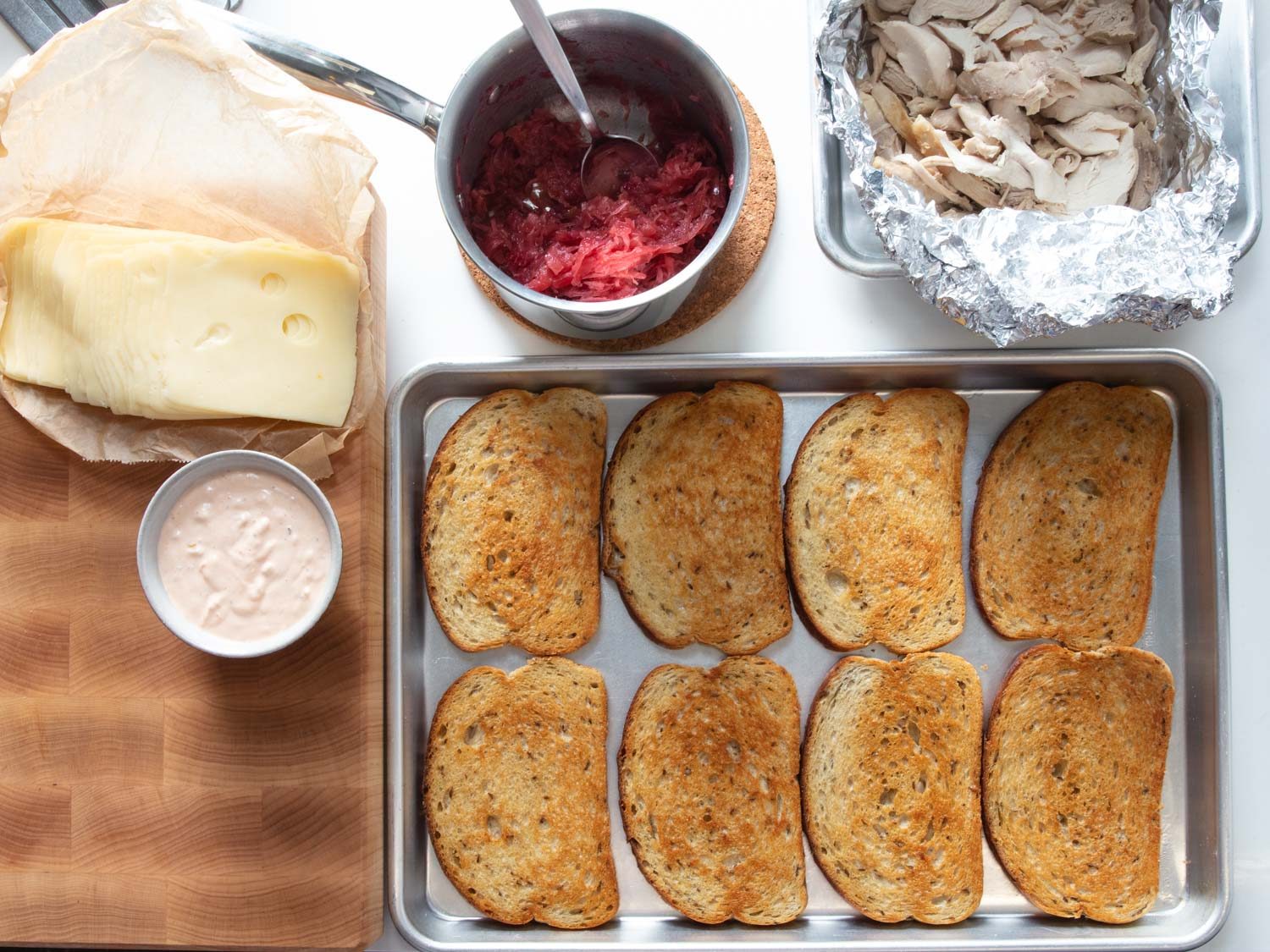 Now, before we even get into it, I just want to make it clear that I'm not going to get dragged into a semantic argument about whether a sandwich that doesn't involve corned beef can be called a Reuben. Some people might want to call this sandwich a Rachel, but along with subbing turkey for corned beef, a Rachel swaps in coleslaw for kraut, and that's not what I'm doing here.
Making coleslaw the day after Thanksgiving is not in the spirit of leftover sandwiches; digging out that jar of sauerkraut from the back of the fridge is. And after a heavy holiday meal, I'd rather go with the fermented funk of kraut than with the creamy slaw. If you really didn't get in enough family squabbling on Thursday night, feel free to argue about what to call this sandwich with your nearest and dearest. It is rich, full-bodied, and beautiful, so let's just call it Reubenesque.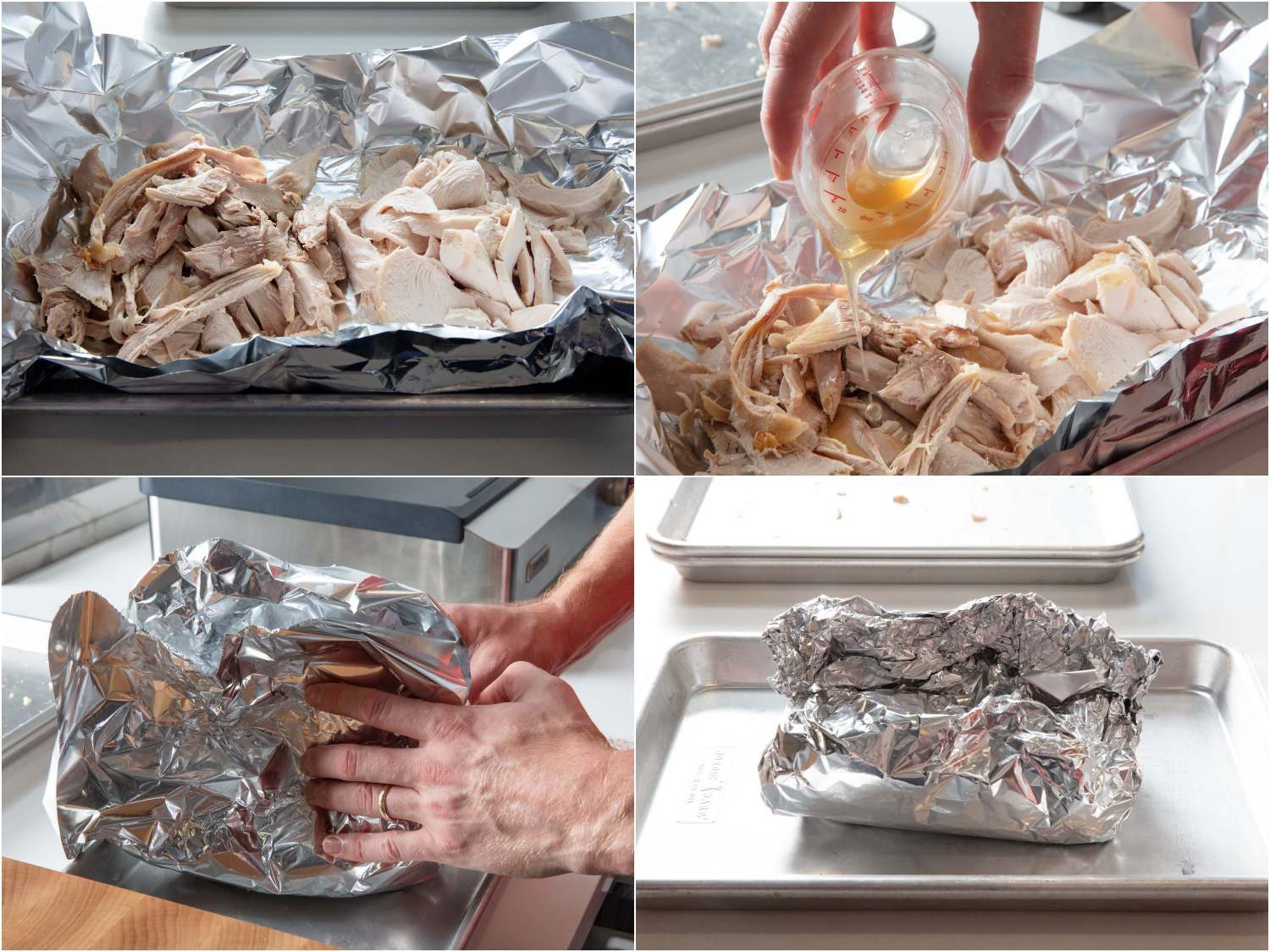 To give this sandwich the full Thanksgiving leftovers treatment, I start by reheating pieces of pulled or sliced turkey in the oven in a little foil packet with a touch of turkey or chicken stock to moisten the meat, which let's be honest, is usually on the dry side. Heating the sandwich ingredients is a trick that Daniel uses in his classic Reuben recipe, which ensures that the cheese melts quickly when the sandwiches are assembled.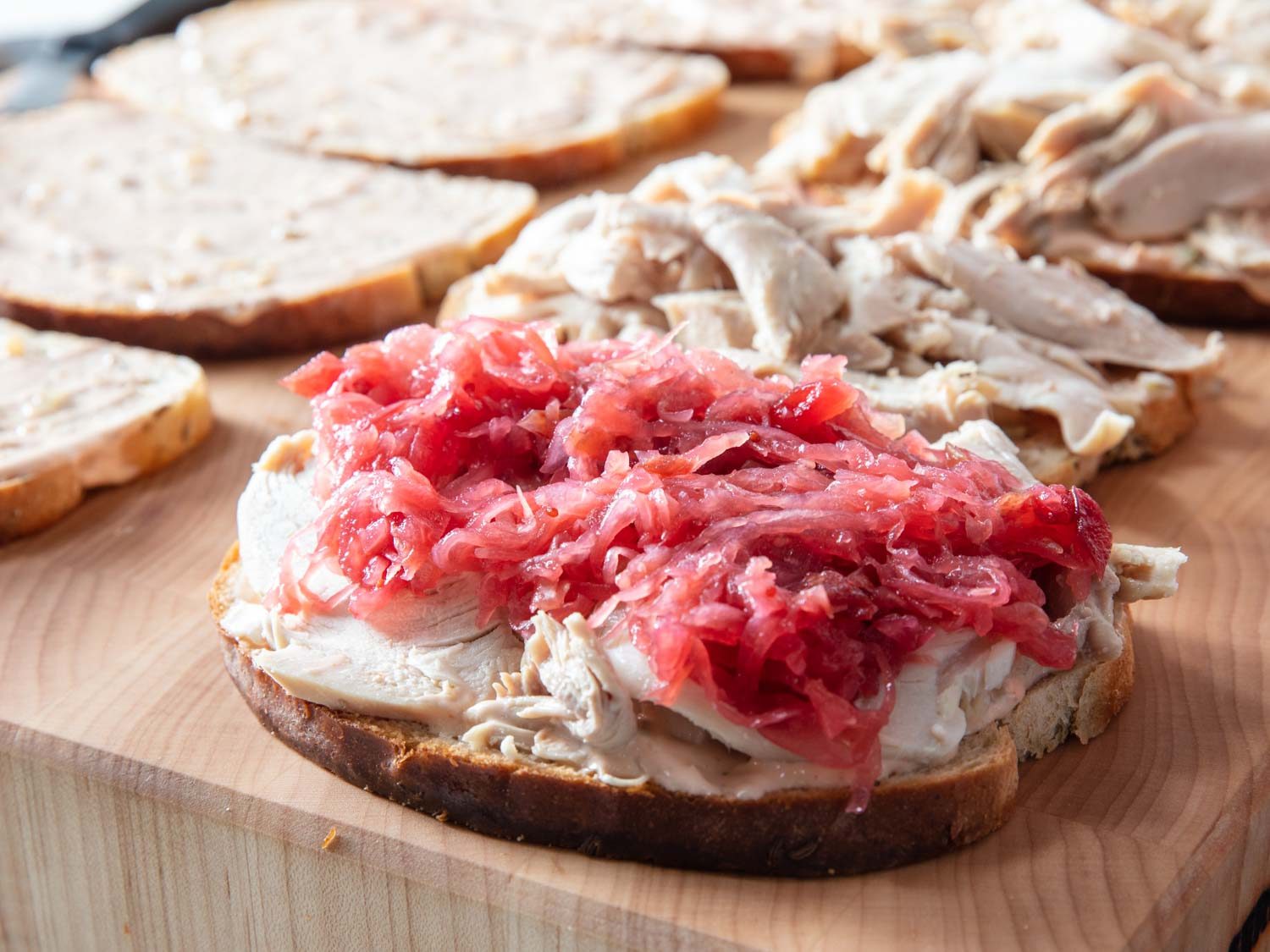 I heat up the sauerkraut with some leftover cranberry sauce; the sweet and tart fruit complements the tang of the kraut without overwhelming it.
And for the final bit of Thanksgiving-leftovers flair, I stir some rich turkey gravy into the Russian dressing for the sandwiches. I love adding meaty, savory depth to dishes in the form of condiments (don't worry, I am not here to give another bootleg TED Talk on the importance of XO sauce, even though XO Russian dressing would be a power move). When you have flavor powerhouses like gravy kicking around in your fridge, you should put them to good use.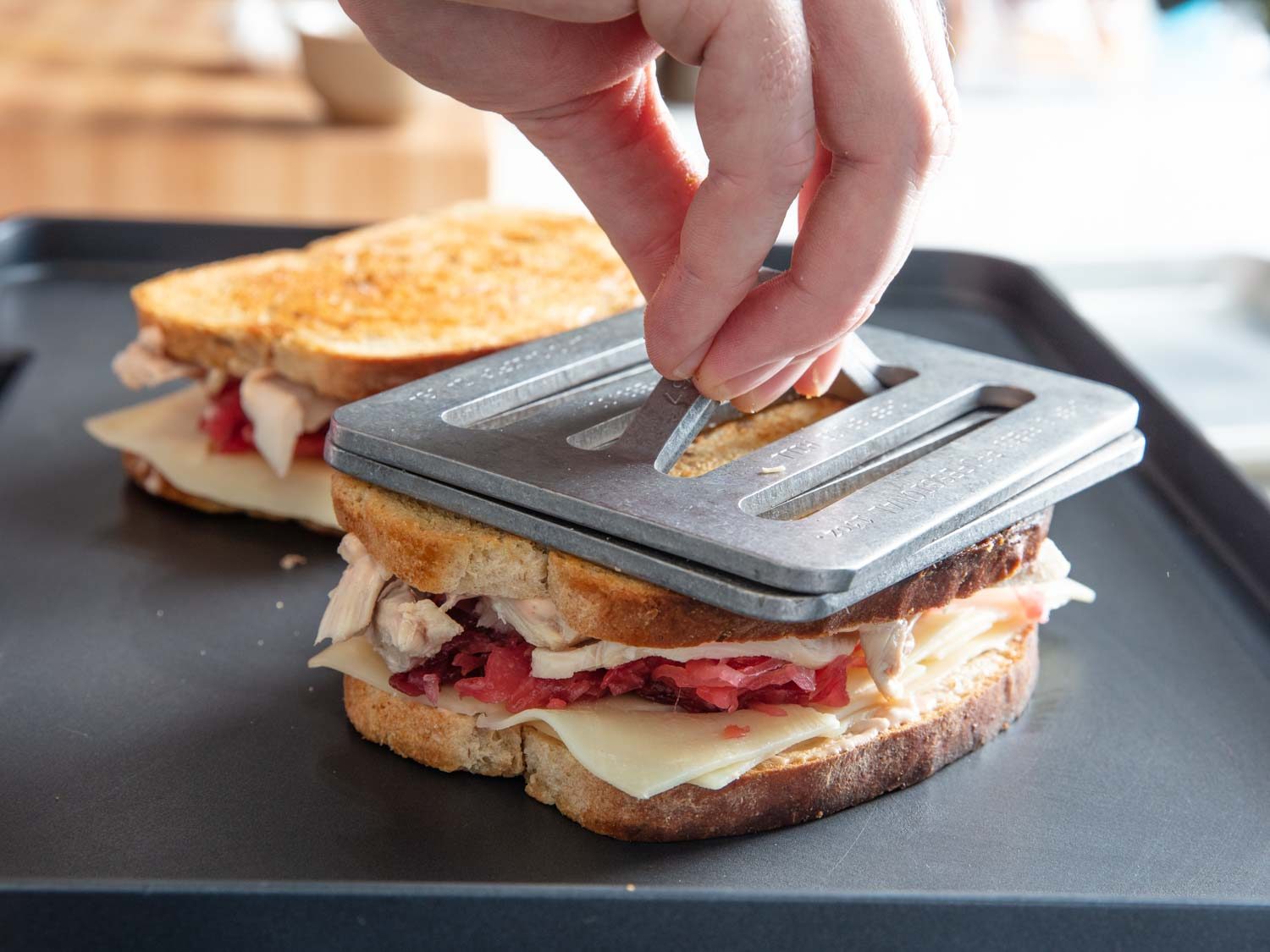 To assemble the sandwiches, follow Daniel's advice and start by buttering up and toasting slices of rye bread on one side.
I leave it up to you whether to finish the sandwiches in batches in a skillet, on an electric griddle, or on a baking sheet in the oven. Whichever way you choose, slather the untoasted sides of rye with the gravy-spiked Russian dressing, before layering on the turkey, cranberry-kraut, and Swiss cheese.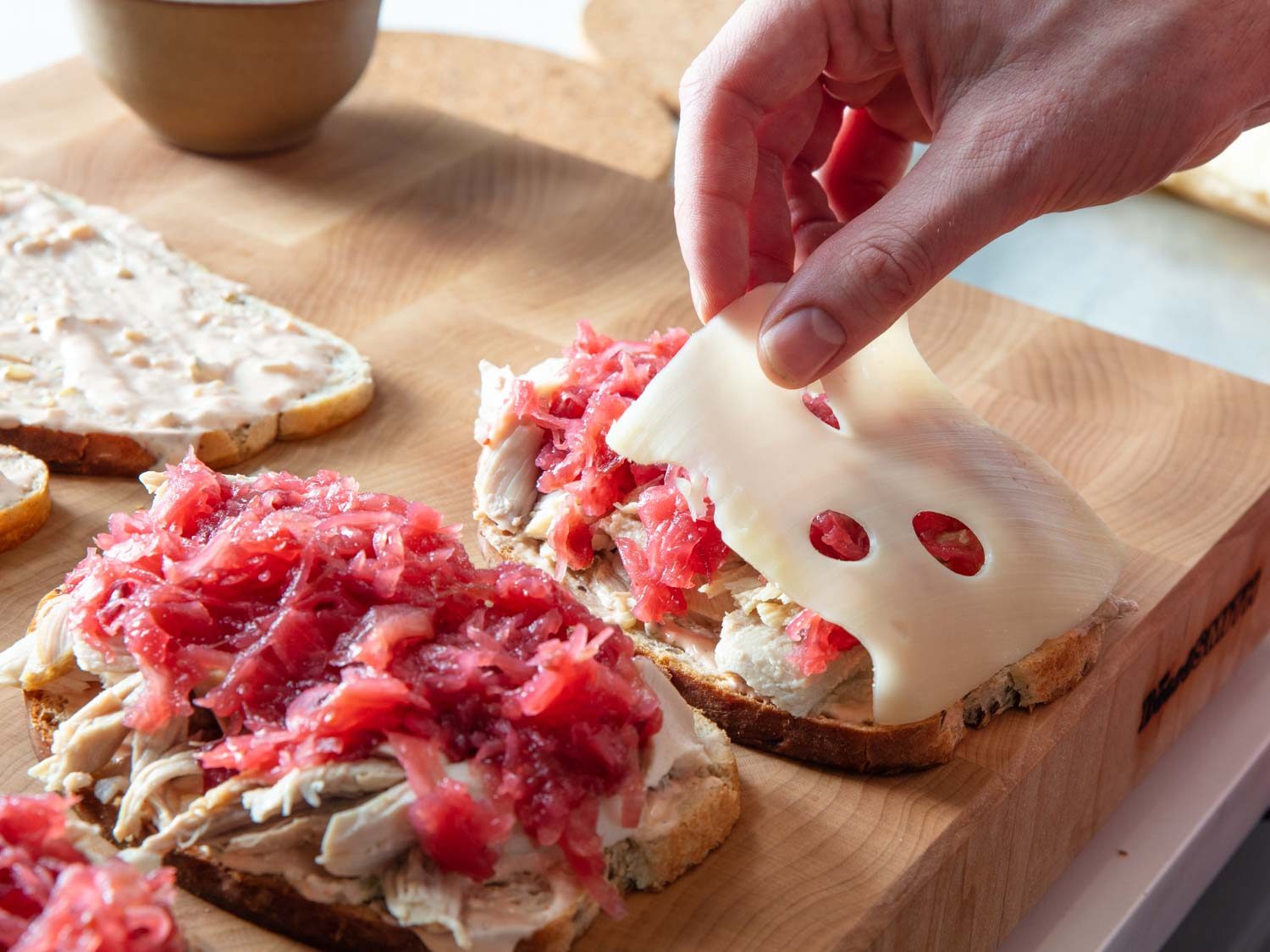 If you are using a skillet or griddle, start sandwich construction with a slice of cheese on each piece of bread. If you are going with the oven method, hold off on the cheese for the four slices of bread that are getting the turkey and kraut, and lay the cheese on top, so it will melt evenly when you pop the bread in the oven.
For griddling, I like to press and weigh the sandwiches down with a Chef's Press to promote even browning on the bread and quick melting for the Swiss cheese.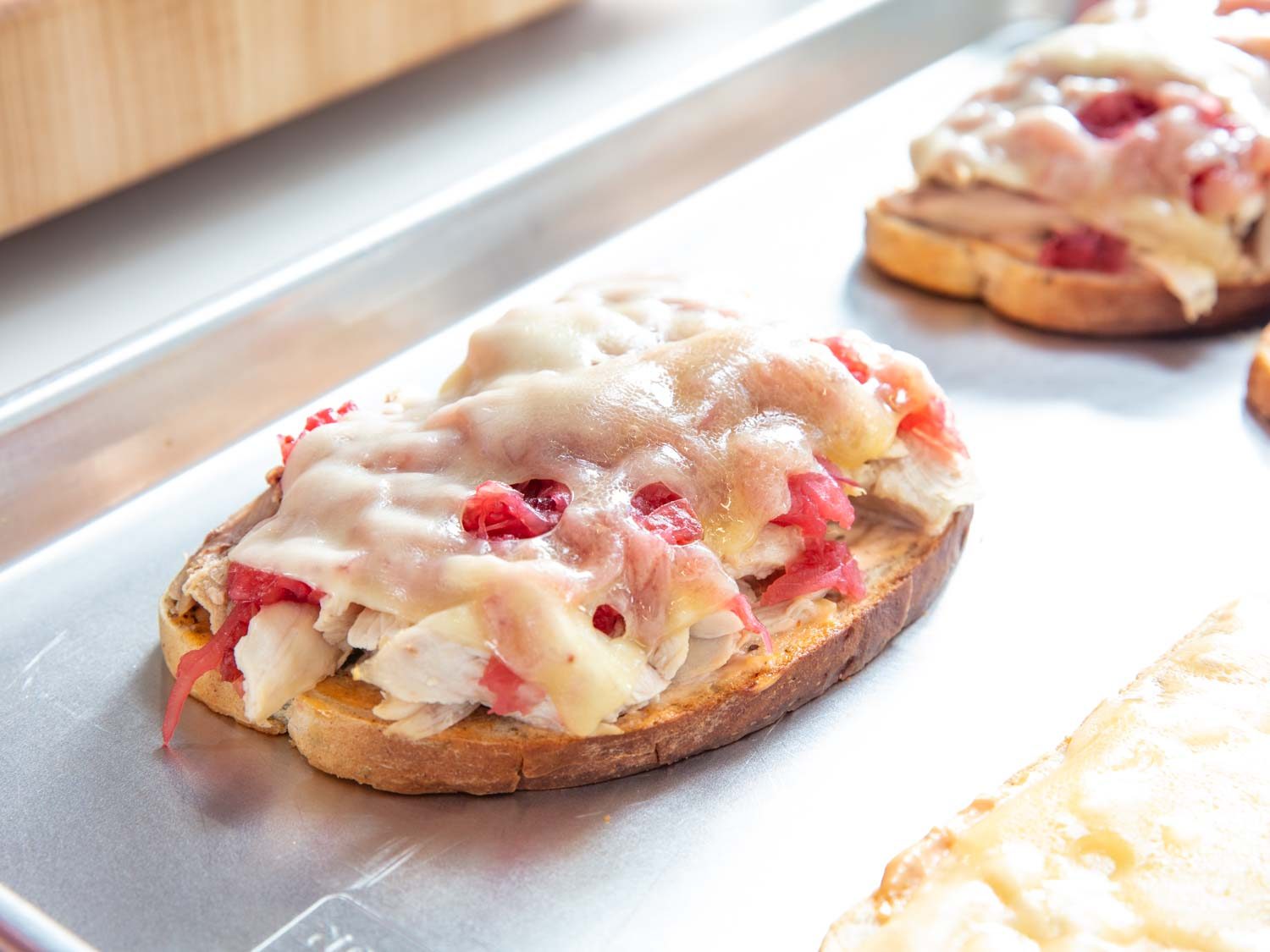 Once the cheese is gooey and ready to go, close up your sandwiches (if you went with the oven method), slice them in half, and serve them up. Fair warning: there won't be any leftovers left over, so make sure to set aside a Reuben for yourself before they all get gobbled up.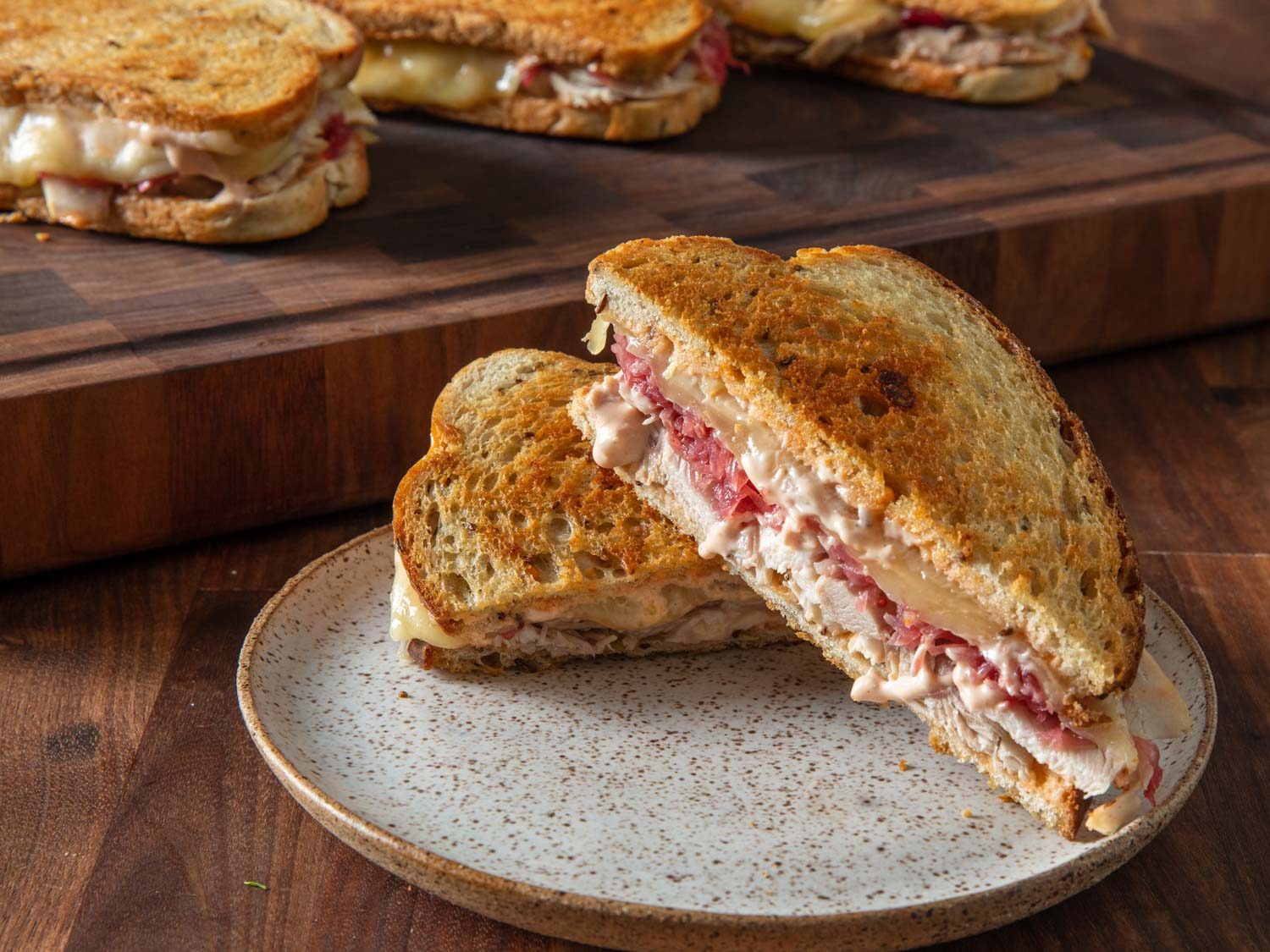 All products linked here have been independently selected by our editors. We may earn a commission on purchases, as described in our affiliate policy.
Source link
Amazon Products