Vegetarian Tortilla Soup is a delicious, healthy soup that will keep you full for hours. Easy to make and freezes great.
Jump to Recipe keyboard_arrow_down
312 CALORIES

55g CARBS

8g FAT

13g PROTEIN
4
Freestyle™ SmartPoints™ New!
(8 Old SmartPoints™)
(8 PointsPlus®)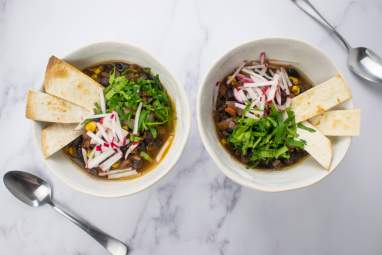 Vegetarian Tortilla Soup Recipe
This meatless tortilla soup is packed with black beans, hominy, corn, and a spicy tomato based broth for an amazing meal. Soup lovers will also love this taco soup and chicken tortilla soup.
Did you know that it's good for not only you but the planet to incorporate more vegetarian meals into your diet? It's true. There are tons of health benefits to cutting meat out of your meals (it's good for your heart, and decreases your risk of diabetes) and also eating more plant foods can cut down on greenhouse gases created from livestock and the packing plants that process the meat.
I'm not saying you should go vegetarian or vegan right now (though it's okay if you do) but it's good to try a mix of meal plans and having a meatless Monday (or any day of the week) can significantly impact your health and the health of the planet.
That being said, I am always on the lookout for vegetarian meals that taste good and don't make you feel like you're missing out on the meat. For me though, they need to be well-rounded recipes. They need to have a protein source and lots of vegetables. This is a healthy eating blog, after all. And besides, Doritos are vegetarian but I wouldn't suggest them for a meatless meal.
This Vegetarian Tortilla Soup checks all the boxes — flavorful, filling, contains a source of plant protein (hominy and beans), and plenty of vegetables to make this soup a favorite. It's especially great on cold days when I want to warm up or after a weekend of maybe a little too much indulgence. It kind of "rights" my overdoing it and sets me back on the path of healthy eating.
I love the deep, rich tomato flavors, the spices, and of course all the toppings in this soup. Who doesn't like loading up their meal with crunchy tortillas strips, cheese, cilantro, lime juice, and maybe some avocado or sour cream? Although this soup is inspired by a tortilla soup, it also has a bit of that traditional pozole texture with the addition of the hominy. It's the perfect meatless meal.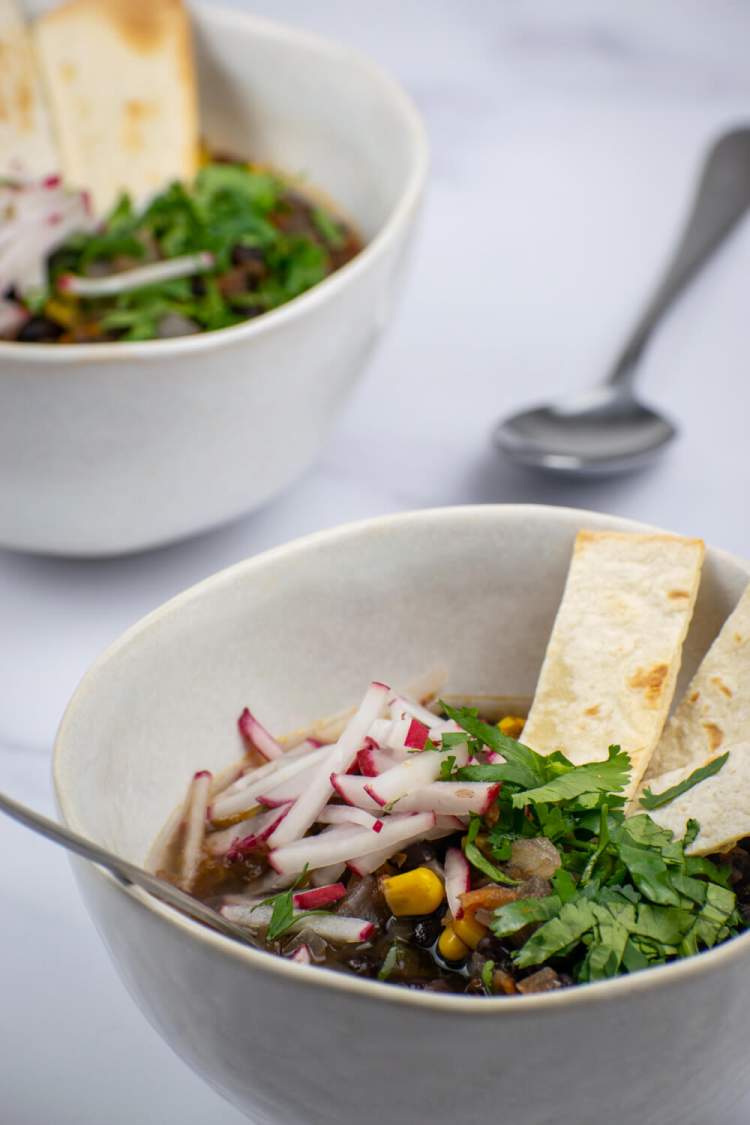 Side Dishes to Serve with Vegetarian Tortilla Soup
This is a meal in and of itself. If you add enough toppings it will fill you up even more. But, there are some great, healthy sides that work well with this soup too.
I have, on occasion, added rice to this soup, instead of, or in addition to the hominy. I'd cook it separately and add it in the bottom of your bowl before ladling the soup in. If you cook the rice in the soup it tends to soak up all the broth and make the soup more like a stew. It also gets soggy when reheated. Cauliflower or brown rice would work well in this dish too. For even faster rice, consider making minute rice or one of those rice singles you can find right next to the rice in the grocery store. Pop it into the microwave according to the directions and then add it to your soup.
A simple side salad or slaw goes great with soup as well. Try this Healthy Kale Caesar Salad, Spicy Cabbage and Corn Slaw, or Celery Ranch Slaw
Roasted broccoli, cauliflower, asparagus, or green beans make a hearty soup side.
Make a side of rice and beans (together or separate) with a little chili powder and a sprinkle of cilantro.
A cheese quesadilla on a corn, whole wheat, or low-carb tortilla is another good option — like a Mexican soup and grilled cheese combo.
Make Mexican street corn or grilled corn on the cob for a food fiesta.
A baked sweet potato makes a wonderful, low-carb side to make your meal well-rounded.
What Is Pozole?
I mentioned above that this soup is sort of like a traditional pozole. Pozole is a Mexican soup usually served at special occasions (because it typically takes quite a long time to make). Pozole is made with hominy, pork (sometimes chicken is substituted), and a combination of Southwestern spices. It's often served with toppings such as avocado, a squeeze of lime juice, and radishes.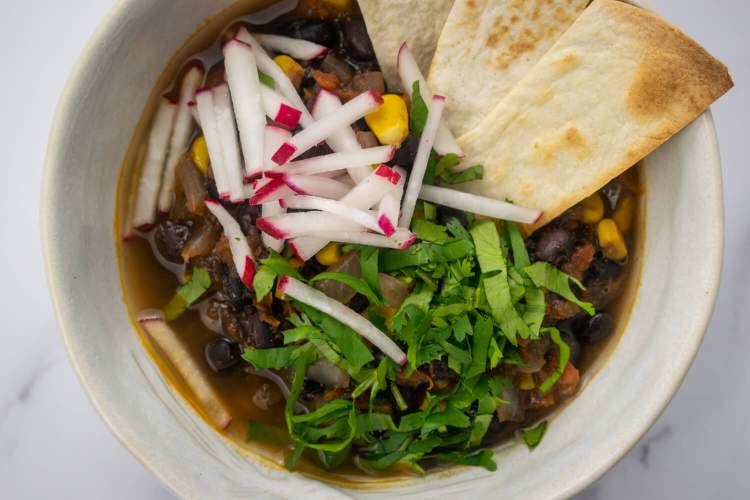 What Is Hominy?
Hominy is corn that is processed with the germ removed. It looks like a bigger, puffier version of corn and has a meatier texture. Hominy comes dried or canned. If you buy it canned, remember to drain and rinse it before putting right in your soup. If you can't find hominy, you can substitute corn.
What Toppings Can I Use for This Vegetarian Tortilla Soup?
Thinly sliced radishes, diced avocado, and lime juice make great toppings. I have also added a dollop of sour cream or Greek yogurt, Monterey jack or cheddar cheese, sliced black olives, jalapeno slices, cilantro, and tortilla strips. I'm also sure to add in a nice dash of my favorite hot sauce as well. Tabasco brand Chipotle sauce goes great in this soup.
Amazon Products