Roasted Sweet Potato Soup is a Whole30 Friendsgiving recipe from The Whole30 Friends & Family. It's a fantastic first course to kick off your Friendsgiving (or Thanksgiving) meal. And, it's just one of the 150 recipes and 22 menus for everyday social occasions included in The Whole30 Friends & Family. Each menu was carefully created to help you confidently host your friends & family—for BBQs, holidays, and even Oscar night—while sticking to your Whole30 commitment.
Looking for a Whole30 Thanksgiving resource? Click here.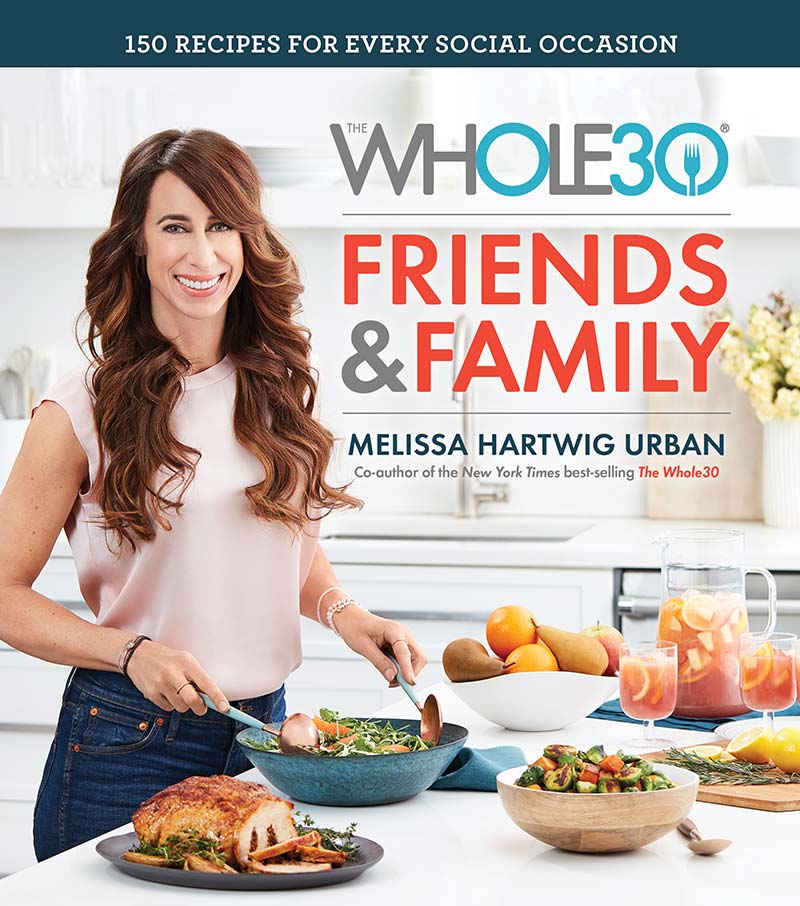 THE WHOLE30 FRIENDS & FAMILY
150 Recipes for Every Social Occasion
With four Whole30 cookbooks and thousands of free recipes, it's never been easier to make Whole30 meals at home, but navigating social gatherings can still feel daunting.
You can honor your health commitments while enjoying time with family and friends, and this book shows you exactly how. The Whole30 Friends & Family is packed with recipes for all of life's special moments, from birthdays to baby showers, barbecues to brunches. All of the recipes are Whole30 compliant, designed to mix and match to create the perfect menu whether you're hosting or contributing a dish as a guest. And in true Whole30 style, the recipes are creative, colorful, and so flavorful that your guests will never miss the added sugar.
The Whole30 Friends & Family will show you how to navigate gatherings, provide tips and tricks to make every social situation a success, and offer full menus for special occasions like dinner parties, date night, and Friendsgiving. These fun, creative meals will make social gatherings a breeze and let you effortlessly share your Whole30 experience with those you love.
DETAILS
Purchase: Amazon, B&N, Indie Bound, Powell's, BAM, Hudson, Indigo, Amazon.ca, iBooks, Google Play
Try this Whole30 Friendsgiving Recipe: Roasted Sweet Potato Soup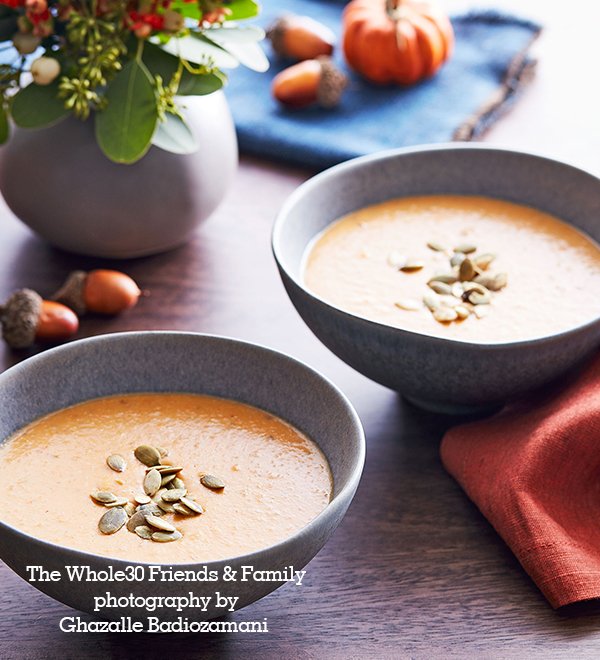 PREP: 20 MINUTES | BAKE: 20 MINUTES | COOK: 5 MINUTES | TOTAL: 45 MINUTES
Ingredients
1 1/2 pounds sweet potatoes, peeled and cut into ½ -inch pieces
1 medium yellow onion, coarsely chopped
2 medium carrots, peeled and cut into 1-inch pieces
4 tablespoons extra-virgin olive oil
1 teaspoon coarse salt
1/2 teaspoon black pepper
2 teaspoons cumin seeds, crushed
3 cloves garlic, minced
1 piece (2 inches) fresh ginger, peeled and chopped
1 jalapeño, seeded and chopped
4 cups Whole30-compliant chicken broth
1 (14-ounce) can Whole30-compliant coconut milk
2 tablespoons fresh lemon juice
1 teaspoon ground coriander
1/4 cup toasted pepitas
Instructions
PREHEAT the oven to 450°F.
LINE a large rimmed baking pan with parchment paper. Combine the sweet potatoes , onion, and carrots in a large bowl. Drizzle with 3 tablespoons of the olive oil; toss to coat. Sprinkle with the salt, pepper, and cumin seeds; toss to combine.
TRANSFER to the baking pan. Bake for 20 to 25 minutes, until tender and beginning to brown.
HEAT the remaining olive oil in a large pot over medium heat. Add the garlic, ginger, and jalapeño; cook for 1 minute. Stir in the broth, coconut milk, lemon juice, and coriander; bring to a boil. Carefully add the roasted vegetables. Remove from the heat.
USE an immersion blender to blend the soup in the pot. (Or let the soup cool briefly, then care-fully transfer to a blender in batches. Cover and pulse a few times, then blend until smooth.)
TOP each serving with some pepitas.