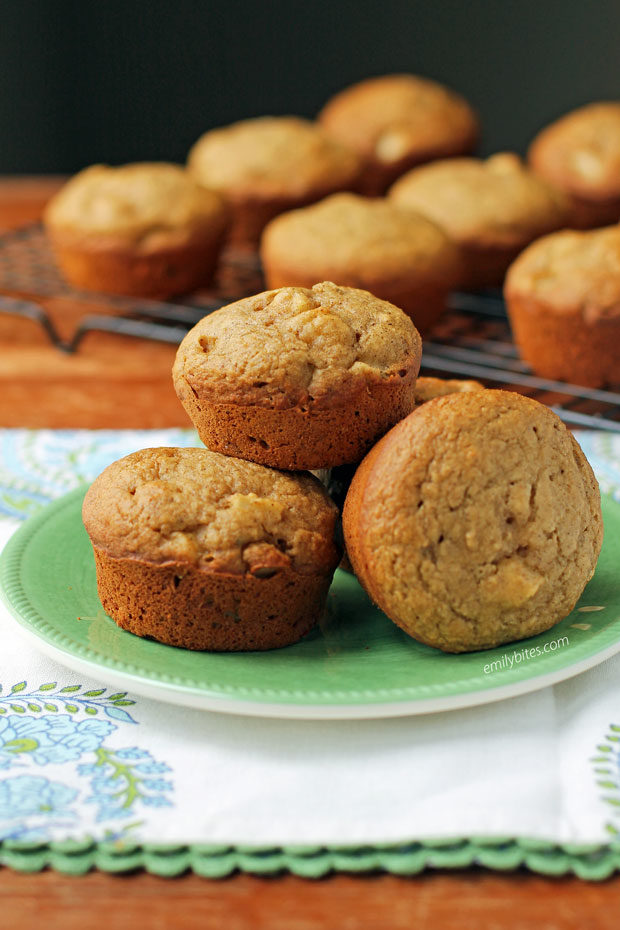 These easy Apple Cinnamon Muffins are sure to make your kitchen smell incredible and your taste buds jump for joy. They're also super simple to make and use common ingredients you may even have in your pantry and refrigerator. Ever since falling in love with my Banana Blueberry Muffins, I have wanted to make another variety, and apple cinnamon is one of my favorite flavor combinations. Now that it's September, fall is on the horizon and it seemed like the perfect time to post this recipe! These Apple Cinnamon Muffins include dramatically less sugar than most traditional muffins, but they still taste perfectly sweet. Fluffy and moist, with juicy apples throughout, these muffins are so comforting and satisfying when you're craving baked goods. I love serving these for breakfast or brunch, they pair beautifully with eggs and fruit or bacon. They also make a great snack! Each muffin is just 117 calories or 4 WW Freestyle SmartPoints – what a bargain!
Looking for more sweet or savory lightened up breakfast recipes? Check out my Banana Blueberry Muffins, Sausage and Pepper Egg Bake, Ultimate Tater Tot Breakfast Casserole, Turkey Sausage Mini Frittatas, Apple Cinnamon Pancakes, Triple Berry Yogurt Bowl, Banana Bread, Sausage Apple Cheddar Frittata, Berry French Toast Muffins, Ham and Cheese Egg Cups, Orange Cranberry Baked Oatmeal Singles, Pear Gingerbread Baked Oatmeal Singles, Apple Streusel French Toast Muffins, Ham and Cheese Hash Brown Quiche, Pumpkin Chocolate Baked Oatmeal Singles, and many more in the Breakfast section of my recipe index!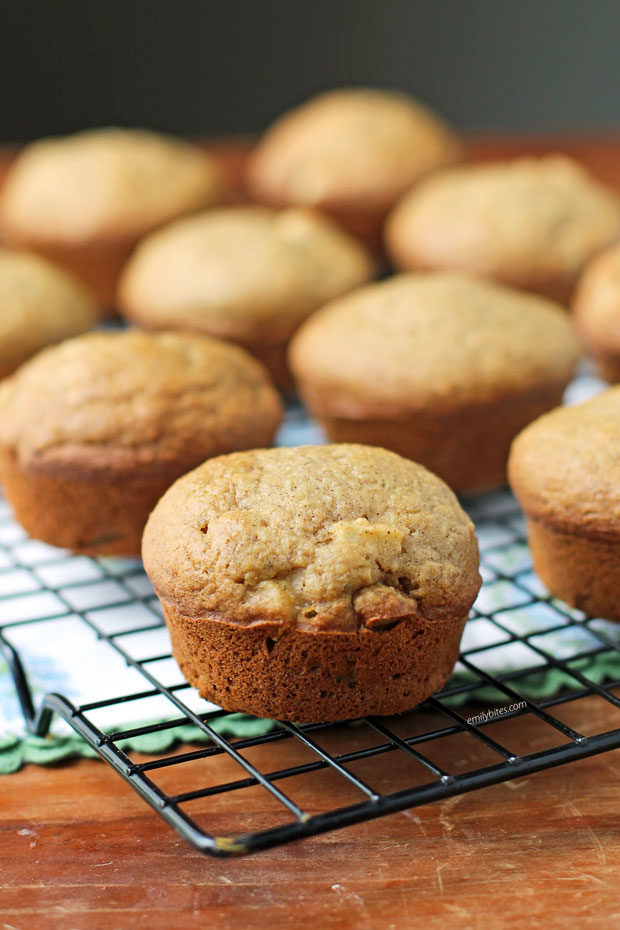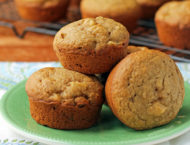 Apple Cinnamon Muffins
Ingredients:
1 cup unsweetened applesauce
1 large egg
1/3 cup white sugar
1 teaspoon vanilla extract
5 tablespoons light butter, melted (I use Land O'Lakes)
1 cup peeled and chopped apples
1 ½ cups all purpose flour
1 teaspoon baking soda
1 teaspoon baking powder
1 teaspoon ground cinnamon
½ teaspoon salt
Directions:
Preheat the oven to 375. Mist 12 cups in a muffin tin with cooking spray.
Combine the applesauce, egg, sugar and vanilla in a large mixing bowl and stir together with a fork until thoroughly mixed. Pour in the melted butter and stir until combined. Add the chopped apples and stir to mix in.
In a separate bowl, stir together the flour, baking soda, baking powder, cinnamon and salt. Add the dry ingredients to the applesauce mixture and stir together until combined into a batter.
Spoon the batter evenly between the prepared muffin cups. Bake for 18-20 minutes until the muffins are baked through and a toothpick inserted into the middle comes out clean.
WW Freestyle SmartPoints:
4 per muffin (SP calculated using the recipe builder on weightwatchers.com)
Weight Watchers Points Plus:
3 per muffin (P+ calculated using the recipe builder on weightwatchers.com)
Nutrition Information per muffin:
117 calories, 20 g carbs, 8 g sugars, 3 g fat, 2 g saturated fat, 2 g protein, 1 g fiber (from myfitnesspal.com)
Source link