Cucumber, Avocado, and Tomato Salad with lime juice, cumin, salt, and pepper couldn't be a more delicious combination and one that you will make over and over again.
Jump to Recipe keyboard_arrow_down
97 CALORIES

12g CARBS

6g FAT

3g PROTEIN
3
Freestyle™ SmartPoints™ New!
(3 Old SmartPoints™)
(3 PointsPlus®)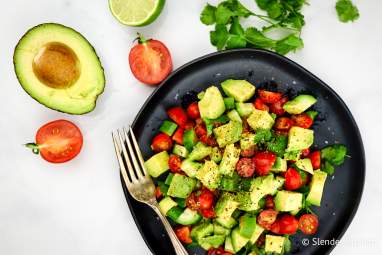 Cucumber, Avocado, and Tomato Salad Recipe
Cucumber and avocado salad with tomatoes and a delicious lime dressing is a simple salad that will quickly become a favorite. Add some Grilled Basil Lime Chicken or Blackened Shrimp right on top or on the side for the perfect warm weather meal.
It's weird how much I love this simple salad, but something about it just works. Crunchy cucumbers, tangy tomatoes, and creamy avocado make a dreamy combination with cilantro, lime juice, olive oil, cumin, salt, and pepper. I usually serve this as a side dish with tacos or other Mexican dishes. I love it with something a bit spicy.
Recipe Ideas for Avocado and Cucumber Salad
For some added protein and fiber, add some beans. Try black beans, chickpeas, or cannellini beans.
This is amazing with some cheese. Mexican queso fresco is my favorite option but it is also great with feta, goat cheese, or fresh mozzarella.
For some added color, add some fresh or canned corn. Roasted or grilled corn cut off the cob is also amazing.
If you don't like cilantro, you can make these with fresh basil, parsley, or a mix of fresh herbs. Dill is another great option for this salad. Try pairing it will lemon instead of lime.
If red onion is something you love, add some diced red onion. Marinate it in some lime juice beforehand for a milder flavor. 
For extra greens, serve this over a bed of arugula, butter lettuce, or spinach.
If you love spice, add in some chopped fresh jalapenos or red pepper flakes.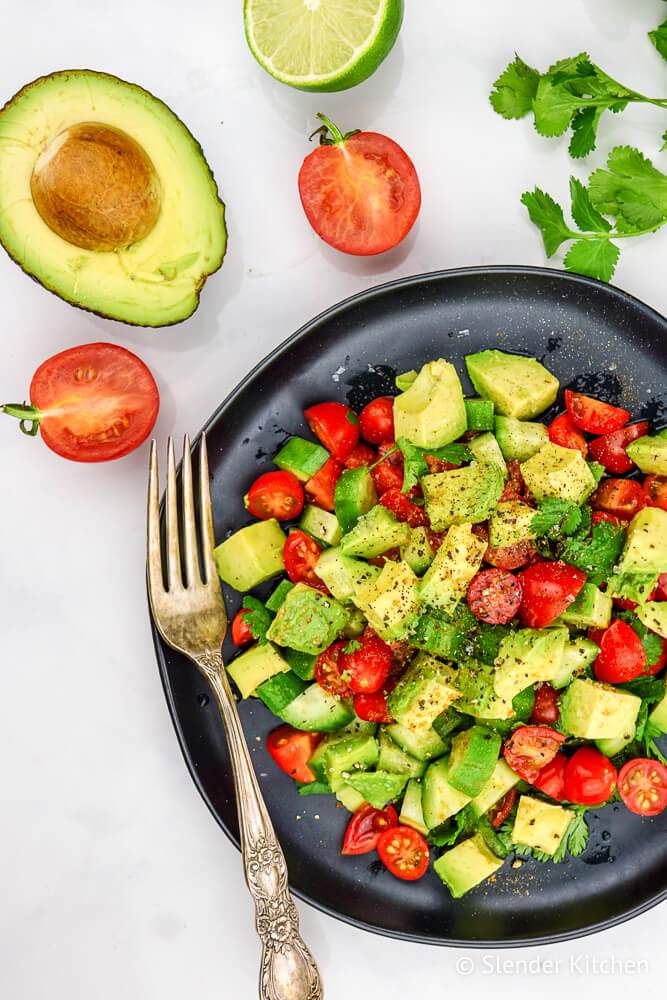 What are the best cucumbers for avocado salad?
Generally speaking, when it comes to salad, I like to use English cucumbers or Persian cucumbers. These cucumbers both have thin skin and small seeds, which makes them perfect for salads since they don't need to be peeled. They also tend to have an added crunch that can sometimes be missing in traditional cucumbers. However, any cucumber will work.
How to pick an avocado?
Sometimes it can be tricky to pick out a ripe avocado and there is nothing more disappointing than opening up an avocado to find the inside is brown. To start, look for an avocado that is darker green in color. Then when you pick it up, squeeze it very gently. It should feel slightly soft to the touch but not mushy. 
If you need to ripen an avocado more quickly, try placing it in a paper bag with a banana or apple. This will speed up the ripening process. Check it after 1-2 days to see if it has ripened. The time it takes will depend on how ripe the avocado was to start with. Green avocados generally take 4-5 days on their own but only 2-3 days using this method.
How to keep an avocado from browning?
Although there is no surefire way to prevent an avocado from browning, you can slow down the process. In this, the lime juice and olive oil will help to keep the avocado bright and green. However, I wouldn't recommend making it too far in advance since the avocado will begin to brown after about one hour. 
If you are storing leftover avocado, make sure to sprinkle it with lemon or lime juice. Then wrap it tightly in plastic wrap, with the plastic wrap right against the flesh of the avocado. 
Can I make avocado and cucumber salad in advance?
This salad is best served immediately after preparing it so that the avocado doesn't brown and the cucumber stays nice and crunchy. If you need to prep it in advance, I recommend making the dressing and chopping all the veggies, except for the avocado. Then when you are ready to eat, cut the avocado and add it to your other veggies. Then toss with dressing.
Source link
Amazon Products