This post is brought to you by the wonderful folks at Lentils.org but all opinions are 100% mine.
When I think about underrated ingredients, one of the first things that always pops up is lentils. Aside from the occasional lentil soup and maybe a lentil curry, most of the time we are never thinking about incorporating lentils into our meals but they are a powerhouse when it comes to nutrition, affordability, and versatility. More importantly, they are really tasty and terrific at absorbing flavor, which makes them an ideal candidate for all kinds of yummy recipes.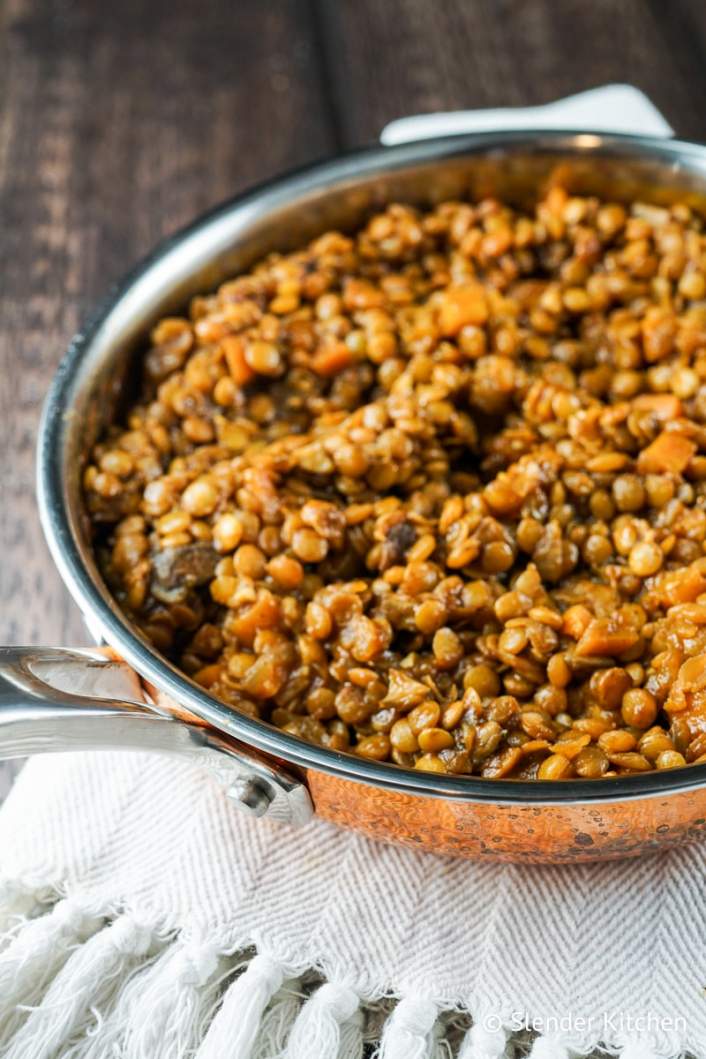 That's why today, I am coming at you with one delicious recipe for barbecue lentils and three easy ways to turn these yummy lentils into a quick weeknight meal! And guys, these lentils are truly something special. They are so so good. In fact, last weekend we had friends over for football and I replaced the traditional pulled pork with these tasty barbecue lentils. After some intial skepticism, everyone was headed back for seconds, building barbecue lentil tacos and sandwiches like they were going out of style. It's the perfect, healthy football food and also doubles as a simple, easy weeknight meal.
Now before we dig into the recipe, let's talk about lentils and why they are truly one of my favorite ingredients. Like I said before, lentils are a powerhouse when it comes to nutrition. Not only are they a plant based source of protein, they are packed with fiber and contain iron, floate, and potassium. And with just 115 calories per 1/2 cup serving, they are a healthy choice to make meatless entrees, side dishes, salads, and even breakfast dishes. Plus they are really easy to prepare. Unlike many other beans and legumes, they don't require any pre-soaking. Just give them a quick rinse and in less than 30 minutes they are ready to eat.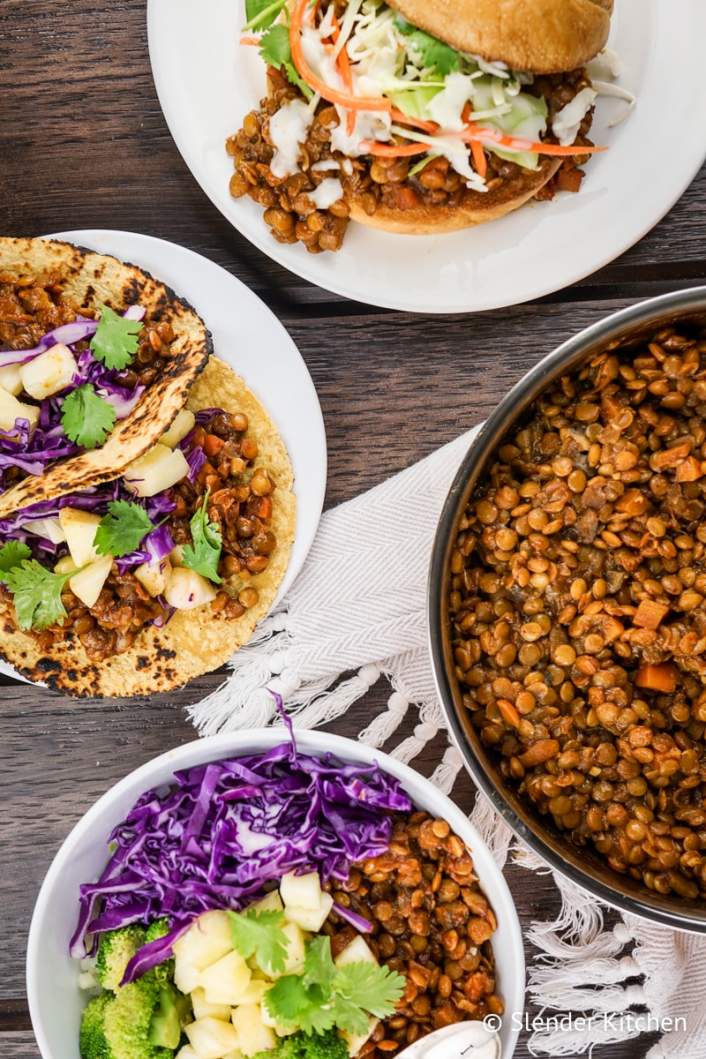 Now let's get into this recipe because it really is one you will want to make as soon as possible. It starts with a combination of onions, mushrooms, carrots, and garlic all cooked with paprika, cumin, and chili powder for some spice. Once everything softens, it's time to add the lentils. While almost any lentil would work for this recipe, I opted to use green lentils since they are easy to find and super affordable, only about $1-2 per pound. These are cooked in a combination of vegetable broth and barbecue sauce. Adding the barbecue sauce directly to the cooking liquid ensures the lentils get plenty of sweet and smoky flavors. Then all you need is about 25 minutes and dinner is ready. Stir in some extra barbecue sauce to make sure the are sticky, sweet, and smoky. Dinner is ready!
Now the hard part is just deciding how to serve them. There are so many ways you can serve these easy Barbecue Lentils. I am going to share three of my favorite ways plus some ideas for meal prep.
Option 1: BBQ Lentil Tacos with Pineapple
I am always up for a delicious taco and these barbecue lentil tacos are a tasty vegetarian taco that won't disappoint. Just heat up some corn tortillas, add a generous helping of barbecue lentils, and top with fresh pineapple, red cabbage, and cilantro. If you like heat, squirt some Sriracha on top or throw 1-2 chipotle peppers in the mix while you are cooking the lentils.
Option 2: BBQ Ranch Lentil Sandwiches
We are huge fans of traditional barbecue pulled meat sandwiches and this BBQ Lentil version can compete with any traditional version. Toast up your favorite roll, stuff in the barbecue lentils, and top with coleslaw, cilantro, and ranch dressing. It is the perfect vegetarian barbecue sandwich.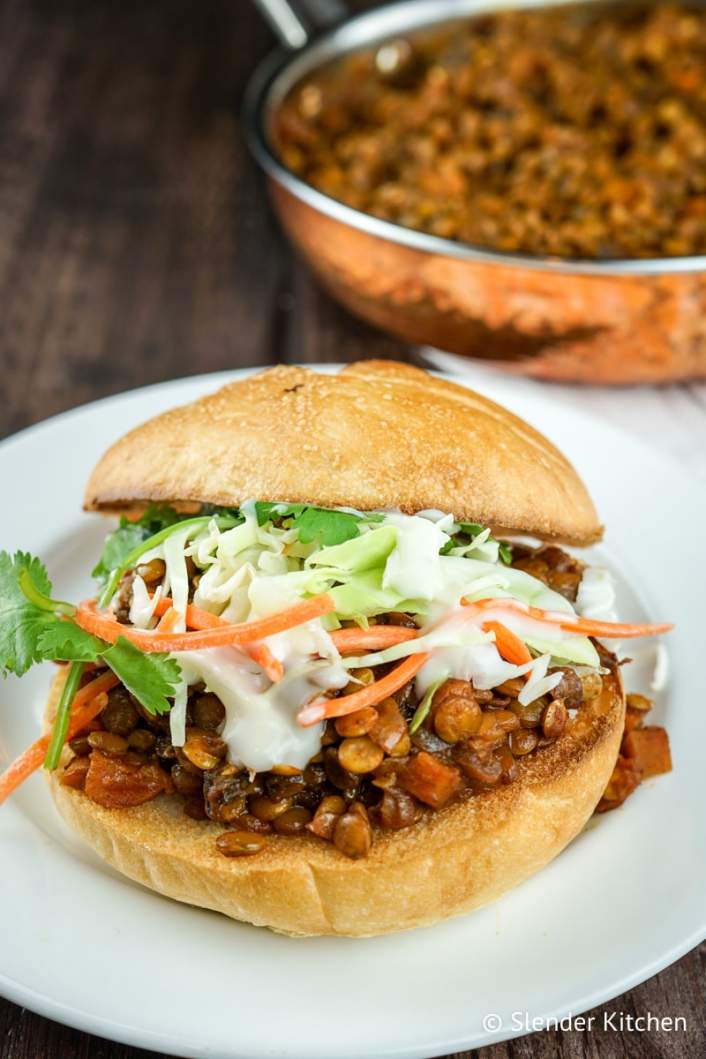 Option 3: BBQ Lentil Grain Bowls
Rice and grain bowls are one of my go-to options for quick and easy meals since you can create your own combinations with your favorite grains, veggies, and proteins. For this version, choose your favorite grain, rice, or cauliflower rice. Then top it with plenty of barbecue lentils, veggies of your choice, cabbage for some crunch, and pineapple for sweetness. Top with a creamy goat cheese, avocado, Sriracha, or a creamy dressing.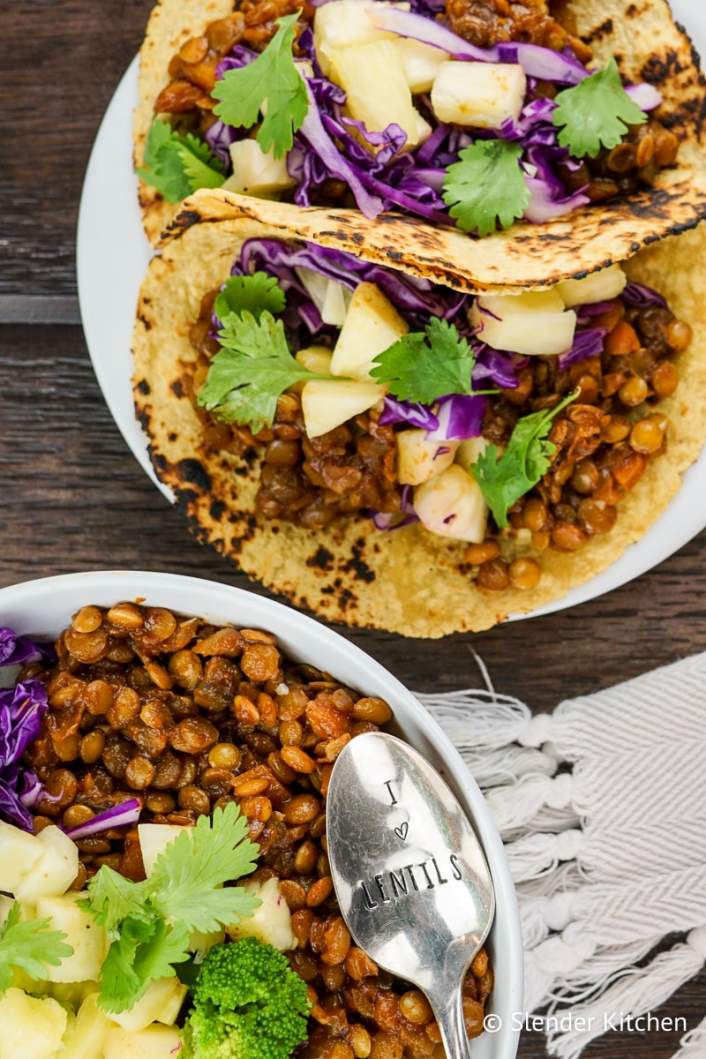 Meal Prep Ideas: If you want to get ahead with meal prep, these Barbecue Lentils are a great option since they can be used in so many different ways. In addition to the ideas above, you can also use these to stuff a baked sweet potato, top a big green salad, grill with cheese and veggies for a quesadilla, or toss in a wrap with greens for a quick sandwich. And since cooked lentils can be stored in the fridge for a week or freezer for up to 3 months, don't be scared to make a double or triple batch and store in indivdual servings for future quick and easy meals.
Looking for more delicious lentil recipes ideas? Visit our friends at Lentils.org for tons of delicious lentil recipes and ideas – including ideas for breakfast, baked goods, and even dessert!