No Bake Peanut Butter Banana Oat Bars make a hearty breakfast or snack filled with good for you ingredients. Made with a combination of oats, flaxseed, chia, coconut, peanut butter, and banana, these bars come together in minutes without any baking.
Last week was crazier than normal for us and I couldn't have been happier that we had these no bake oatmeal bars in the fridge for moments we were all starving and there was no time for cooking. Having these at arms length literally prevented more than one hangry meltdown and kept everyone fueled and full. What's funny is that I can't even really tell you what made last week so busy. It was just one of those weeks when it seemed like there weren't enough minutes in the day and every day we were rushing around to get things. By Friday I couldn't have been happier it was the weekend and we finally had a moment to breathe. Plus it was clearly time to whip up another batch of these tasty bars.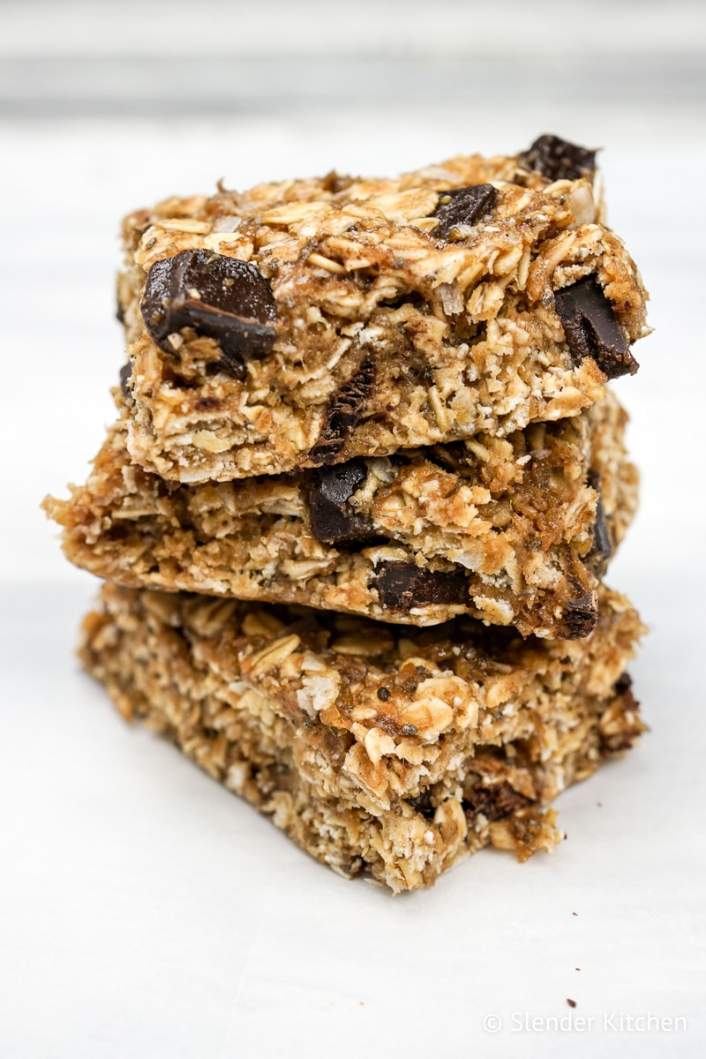 Now when it comes to these bars, there is almost nothing I love more than the combination of peanut butter, banana, and chocolate. As a kid I loved eating peanut butter and banana sandwiches and I still make peanut butter banana toast pretty regularly as an adult. The only difference is now I usually add a healthy dose of flaxseed seeds and chia seeds to make things a little healthier. Plus I drizzle some chocolate on top because it's too hard to resist. I do the same thing to my oatmeal many mornings and those inspired these easy no bake peanut butter oatmeal bars.
They really couldn't be easier to make and with the current heat wave in Los Angeles, I love the fact that I don't have to turn on the oven. Everything starts with a delicious combination of mashed bananas, peanut butter, maple syrup (the real kind!), and cinnamon. You can swap in any nut butter you like or use reduced fat peanut butter to lower the calories. Then rolled oats, flaxseed meal, shredded coconut, and chia seeds are added to this mixture creating a nutrient packed combination packed with fiber, protein, healthy fats, vitamins, and minerals. And since chocolate makes everything taste better, I threw some of that in as well. You can use any type of chocolate you like although I recommend dark chocolate chunks since the bitterness of the dark chocolate is so good with the sweet banana. Finally everything takes a trip to the fridge where the bars firm up and all the flavors combine.
Here are some tips for making these No Bake Peanut Butter Banana Oat Bars:
Any type of nut butter can be used to make these bars. Almond butter or cashew butter both are delicious and for a lower calorie option you can use reduced fat peanut butter.
If you need these bars to be gluten free, make sure to choose gluten free oats since some oats do contain small amounts of gluten,
If you want to add more crunch, add some chopped nuts to the mixture as well. Almonds, pecans, cashews, and walnuts are work and add a delicious crunch to the bars.
The texture of these bars is like a soft granola bar. Since they have fresh banana, make sure to store them in the fridge after making them.
These are a great homemade option instead of a packaged energy bar or granola bar. Not only are they full of good-for-you ingredients, they do not contain any preservatives or strange ingredients. You can always add some protein powder as well if you want to up the protein content of the bars.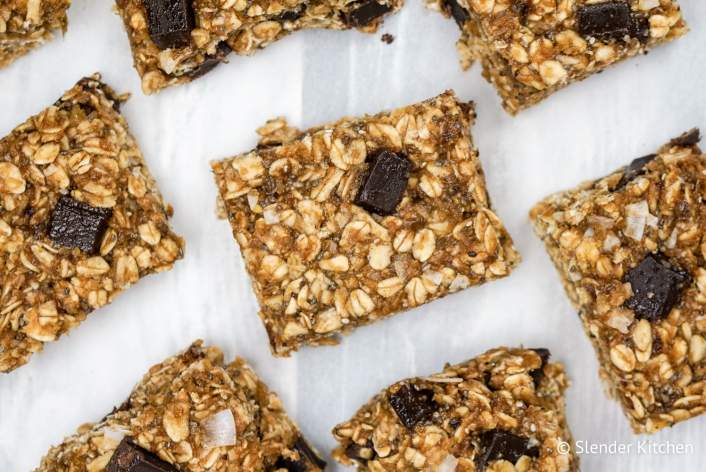 Looking for more healthy oatmeal bars?
Here are some of the products and tools I used when cooking these oat bars.
Maple syrup: It's important to use real deal maple syrup when making this recipe. Not only is it better for you, it also has a sweeter flavor with more maple and will ensure you don't need any extra sweetener. Usually I buy mine at Costco but this is a great option as well.
Chia seeds: Usually I find the best deals on chia seeds in the bulk bins at the grocery store or online. Generally if you can find them for less than $5/pound, it's a pretty good deal. Plus they last forever.
Flaxseed meal: For this recipe I used golden flaxseed meal since that is what I had on hand at home. The golden flaxseed tends to be a little sweeter and nuttier in flavor, which makes it better for bars and baking in my opinion. However either golden or the darker normal flaxseed will work.
(function(d, s, id) {
var js, fjs = d.getElementsByTagName(s)[0];
if (d.getElementById(id)) return;
js = d.createElement(s); js.id = id;
js.src = "http://connect.facebook.net/en_US/sdk.js#xfbml=1&version=v2.4&appId=125505754455470";
fjs.parentNode.insertBefore(js, fjs);
}(document, 'script', 'facebook-jssdk'));