Easy Grilled Vegetables can be found on our plates pretty much all year long, but especially during summer months when we spend all our time outside. This simple recipe can be made with any combination of veggies and comes together in about 15 minutes.
I am always shocked when I meet someone who hasn't tried cooking veggies on the grill since in my humble opinion, it is hands down one of the best ways to make any vegetable. It is also my favorite way to change someone's mind about a veggie they don't think they like. This happened to me last summer when my Dad shrugged in disapproval at the bundles of asparagus I brought home to go with dinner. He adamantly claimed that asparagus just weren't his thing. That was until I threw them on the grill with some olive oil, balsamic vinegar, salt, and pepper. He went back for a second helping and requested them again a few nights later. I am telling you. Grilled veggies are where its at.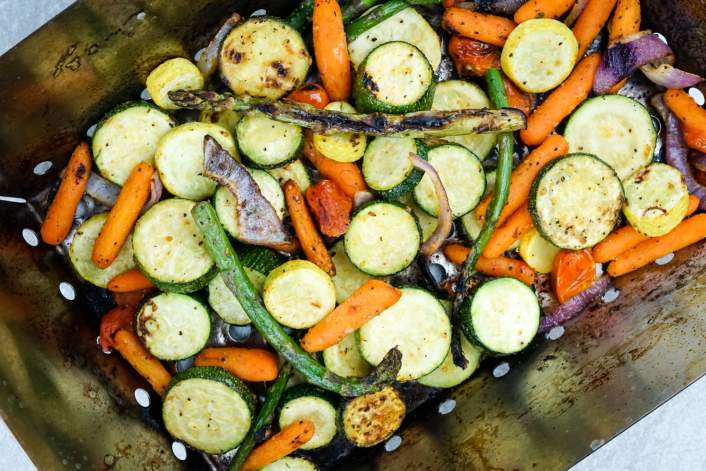 Now when it comes to this recipe, think about it more as a guide than a specific recipe. You can change out the vegetables for whatever you have on hand or looks great at the market. You can also add in whatever spices or herbs you have to mix up the flavor combination and you can always finish with citrus, fresh herbs, a drizzle of vinegar, or a sprinkling of your favorite cheese. You can also cook it as the recipe indicates in a grill basket or opt to cook them directly on the grill. The benefit of a grill basket is that you don't lose any veggies but both methods work great.
Here are some things to keep in mind when making these Easy Grilled Vegetables:
Remember that this recipe is more of a how to grill vegetables than a straight up recipe. Mix it up with all your favorite veggies, spices, and herbs to create delicious grilled veggies for all your summer meals.
In my opinion, grilled veggies make great leftovers for salads, wraps, and quesadillas. I also make a double batch so I can munch on them during the week.
You can grill your vegetables either in a grill basket or directly on the grill. I prefer a basket since it means you won't lose any veggies through the grates of the grill but they come out delicious directly on the grill as well. Just make sure slice them into larger pieces for easier flipping.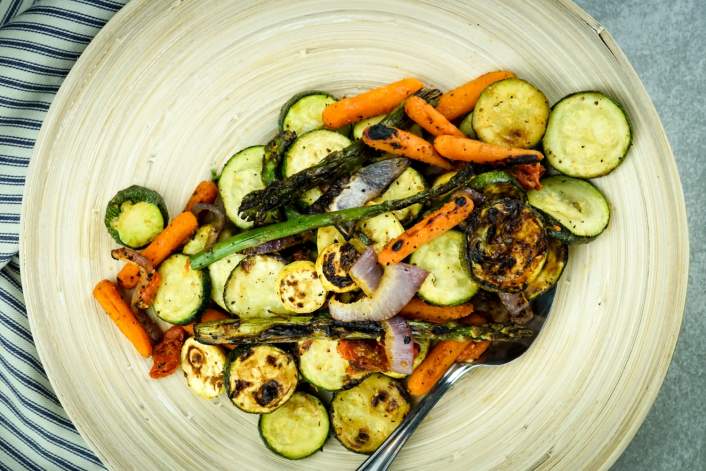 Looking for more grilled vegetable recipes?
Here are some of the tools I used to cook this recipe:
Grill basket: As I mentioned, I love using a grill basket for cooking vegetables and smaller items on the grill since it means you don't lose anything through the grates of the grill. This is one I have at home and it works great. It's nonstick and has held up after tons of use.
High quality balsamic vinegar: Since the balsamic vinegar is one of the main flavors in this recipe, it's really important to choose a high quality one that will pack in the flavor and bring the right amount of sweetness and tartness. This doesn't mean you have to spend a fortune though. Personally I usually buy the Whole Foods 365 Aged Balsamic Vinegar and also enjoy this one and this one.