Healthy Fried Rice tastes just as good as your favorite take-out version but so much healthier! Using cooked brown rice, eggs, green onions, cabbage, carrots, and a simple soy sauce mixture you make delicious healthy fried rice at home in less than 10 minutes.
This isn't my first rodeo with fried rice. We have a bit of a storied past, meaning most times I make it, it turns into a weird, usually soggy, mess. Luckily I have persistence and keep coming back for more and this time I finally figured it out. Here's the deal with cooking fried rice.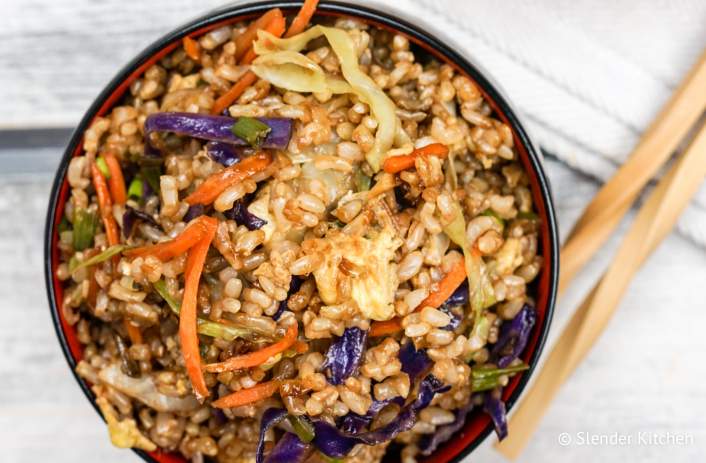 First, the rice needs to be cold and ideally one day old. When rice cools it lets out some of the excess moisture which makes it better for frying. The soggy rice of my past was caused by cooking the rice and then immediately using it to make the fried rice. Secondly, don't be scared to get your pan really hot. Fried rice should be cooked quickly and constantly stirred to avoid burning. Finally, cook your eggs first. Even though you've seen people put the eggs in with the veggies and rice and somehow still get delicious fried egg pieces, it likely won't happen for you. You will probably end up with soggy, eggy rice like I have in the past. And that is the secret to delicious fried rice. Add in whatever veggies you like and if you really want an authentic flavor, consider adding in a few dashes of fish sauce.
Some notes about preparing this Healthy Fried Rice:
Make sure your rice is cooked and either cold or room temperatrue if you seek a crispy fried rice. Using warm rice adds more moisture to the dish and makes it much more difficult to get a nice, cripsy finish on the rice.
Since I am always trying to use whole grains, I opted for brown rice in the recipe. However you can use traditional white rice as well if you prefer. Other grains will also work. I have made this dish with quinoa, farro, and barley with great results. It will also work for cauliflower rice if you want a lower carb option.
If you don't have time to cook and cool your rice, consider using a precooked rice from the freezer section of your grocery store. Cook it for less time than suggested so that it just cooked through and not hot.
When it comes to veggies, you can add almost anything. Many fried rice recipes contains peas, so feel free to toss those in as well. To keep things quick and easy, I usually just use a bag of preshredded coleslaw mix.
Want to sweeten things up? Adding some fresh pineapple is delicious in this recipe. It adds a really nice layer of sweetness to the recipe.
You can add any type of protein to this dish, just make sure it is precooked. Chicken, diced pork, shrimp, and tofu all work great.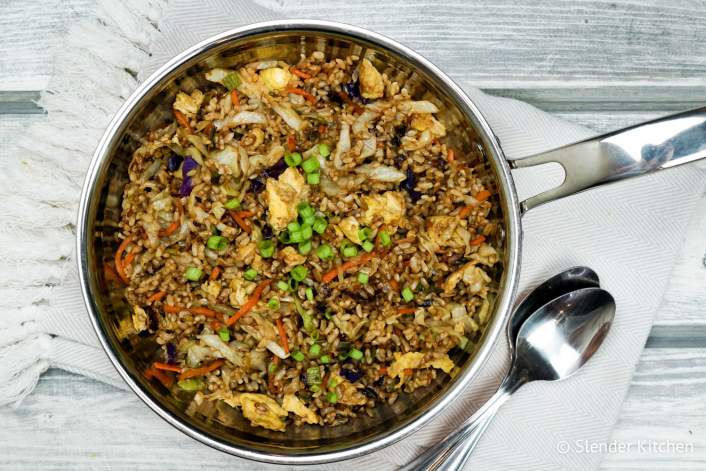 Looking for more healthy Asian recipes?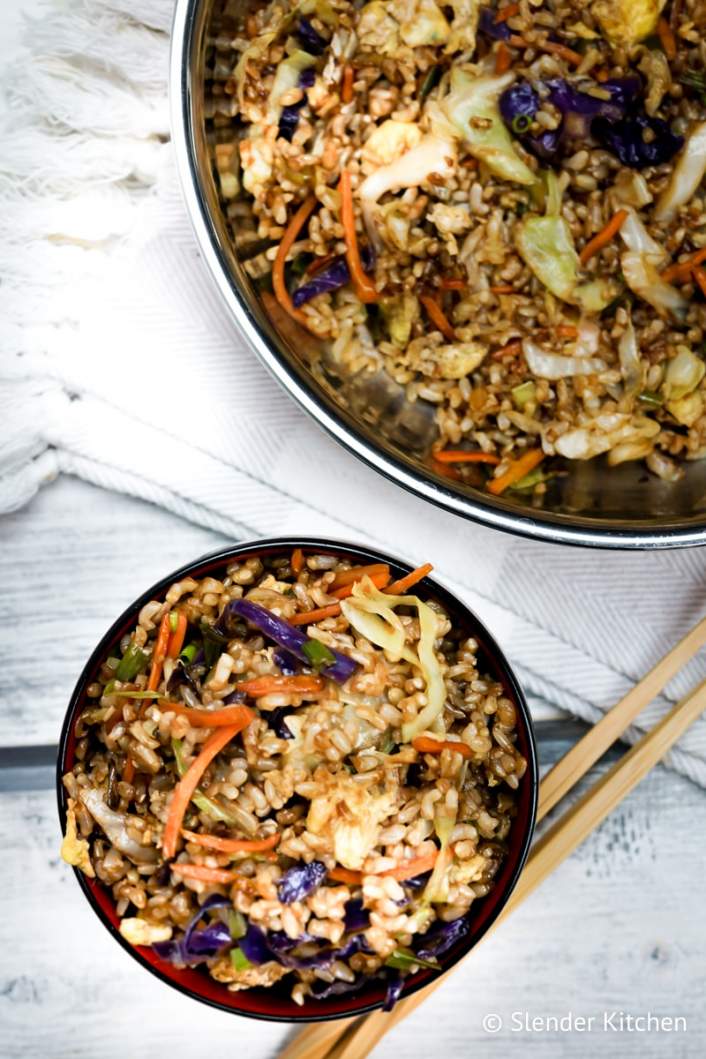 Here are some of the products and tools I used in creating this recipe:
Skillet: I am in love with this pan that I use to prepare this dish but you could use any heavy bottomed pan or cast iron. A wok would also work great for this recipe.
Low sodium soy sauce or coconut aminos: When it comes to soy sauce, I always opt for low sodium soy sauce and many times use coconut aminos instead which have lower sodium and are gluten free.
(function(d, s, id) {
var js, fjs = d.getElementsByTagName(s)[0];
if (d.getElementById(id)) return;
js = d.createElement(s); js.id = id;
js.src = "http://connect.facebook.net/en_US/sdk.js#xfbml=1&version=v2.4&appId=125505754455470";
fjs.parentNode.insertBefore(js, fjs);
}(document, 'script', 'facebook-jssdk'));