Healthy Slow Cooker Lasagna Soup is all the deliciousness that is lasagna but in an easy to make, hearty soup that's made in the crockpot. It's so much easier than traditional lasagna and is the perfect comfort food.
I love everything about lasagna except all the work it takes to make. It isn't that I don't love spending time in the kitchen, because as a food blogger, it's something I absolutely love. But for some reason all the tasks that go into making a delicious lasagna – browning the meat, boiling the noodles, creating all the layers – just feels like too much lately. Perhaps it's all the holiday cooking that happens this time of year or maybe I just have a mental block when it comes to lasagna.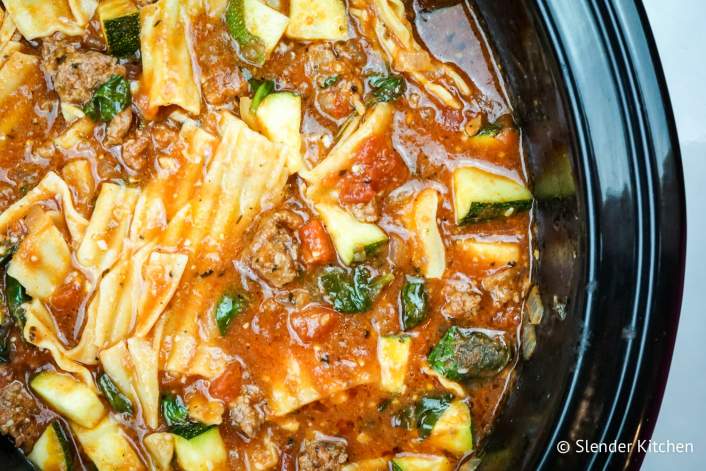 Either way this past week when I found myself really craving lasagna, I turned to the wonders of the internet to see what easier ideas were out there and when I saw slow cooker lasagna soup, I knew that was the one. Not only does it use one of my favorite kitchen tools, the slow cooker, it's really couldn't be easier to make. The most time consuming step is browning the meat, which takes less than 10 minutes. From there it is basically a matter of dumping everything in the slow cooker. That's it. Plus this version is actually pretty light and healthy, not something you often find in lasagna.
Now to get the true lasagna feeling, you are going to want to top this soup with some cheese! Unfortunately for me, I am the only one in the family who likes ricotta so we normally just top ours with shredded mozzarella. If you like ricotta, I highly recommend mixing together some ricotta and fresh basil and using that as your cheesy topping. Another delicious option is topping the entire bowl of soup with a slice of mozzarella cheese and throwing it under the broiler to crisp up like a French onion soup. Delish.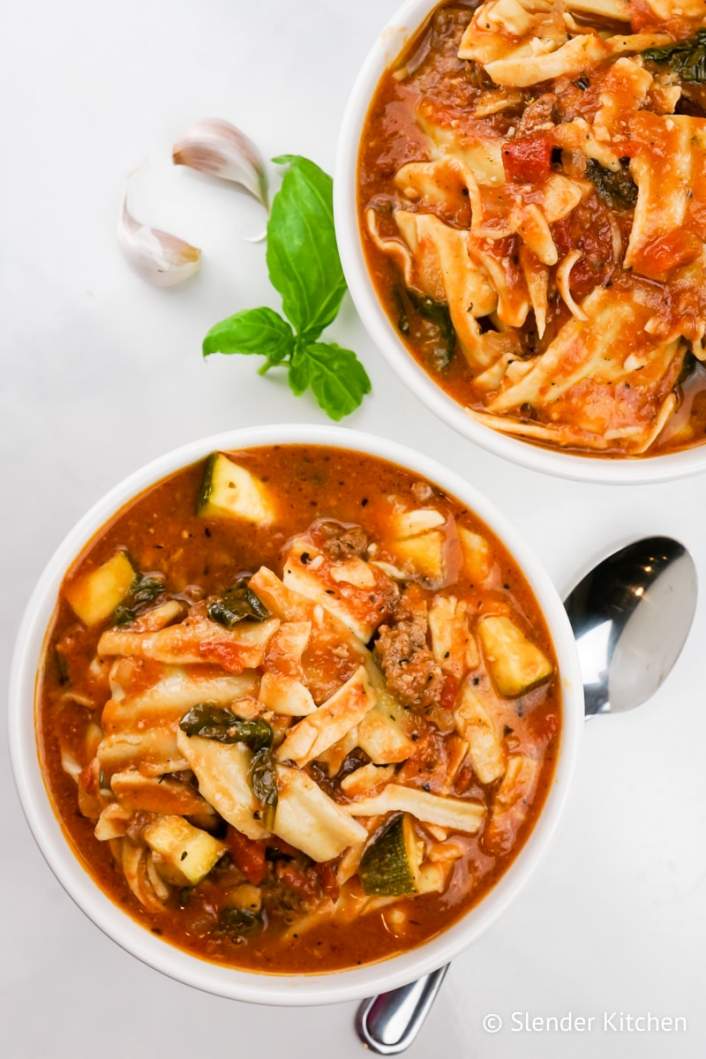 Tips for Making this Slow Cooker Lasagna
The marinara sauce is going to create a lot of the flavor in the broth of this soup so make sure to choose one that you would be happy eating on its own. Ideally look for one that doesn't have added sugar. If you opt for plain canned tomato sauce instead, make sure to add some extra seasoning to the soup.
Normally we use ground beef in our lasagna but you could use ground chicken, turkey, or lean turkey sausage. The turkey sausage adds even more flavor to the soup and it's one of my favorite options.
When it comes to veggies, the options are pretty open. Zucchini and spinach are the two I use the most often, but you can mix it up to include whatever veggies you like.
To get the true lasagna feel, you are going to want to top this soup with some cheese. You can either go with a simple shredded mozzarella or for a more traditional flavor combination, use ricotta. I like to add some fresh basil to the ricotta and then top each bowl with a nice spoonful. Not only does it look beautiful, it really brings out the lasagna factor.
This soup freezes well but you will want to cool it down as quickly as possible so the noodles don't overcook. If you intend to freeze all the soup, I would actually undercook the noodles since they will continue to cook in the hot broth.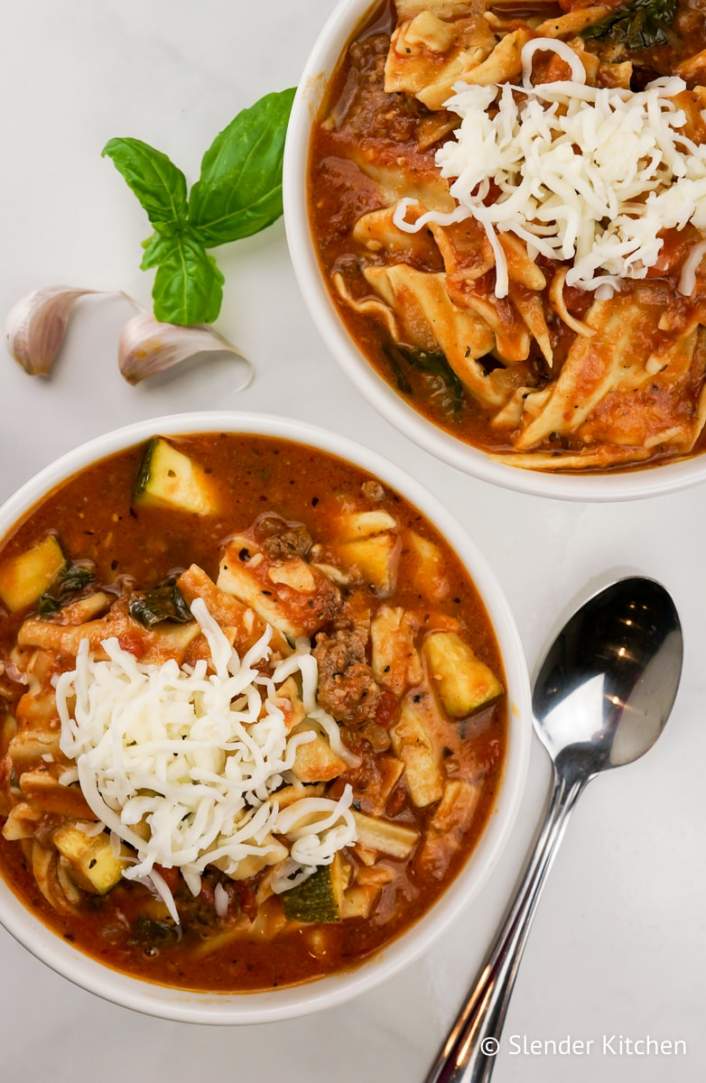 Looking for more healthy lasagna recipes?
Here are some of the products I used when making this recipe.
Slow Cooker: There are so many different slow cookers on the market but I personally use this one that allows me to brown, sear, or saute in the same pan. Plus I find the cooking temperature to be really even and consistent.
(function(d, s, id) {
var js, fjs = d.getElementsByTagName(s)[0];
if (d.getElementById(id)) return;
js = d.createElement(s); js.id = id;
js.src = "http://connect.facebook.net/en_US/sdk.js#xfbml=1&version=v2.4&appId=125505754455470";
fjs.parentNode.insertBefore(js, fjs);
}(document, 'script', 'facebook-jssdk'));