Microwave Veggie Chips that are ready in five minutes and so much better for you than traditional store bought chips. Make them with all your favorite veggies and seasoning combinations!
I couldn't be more excited to share this recipe, or perhaps it's more of a kitchen hack, with you today! It's been life changing for me this week. I mean what is better than freshly cooked potato chips and these ones are guilt free. Let's be real. I have eaten these at least once a day for the past week and I don't see myself stopping any time soon. So many seasoning options, so many dipping options, it's the best way to eat your veggies.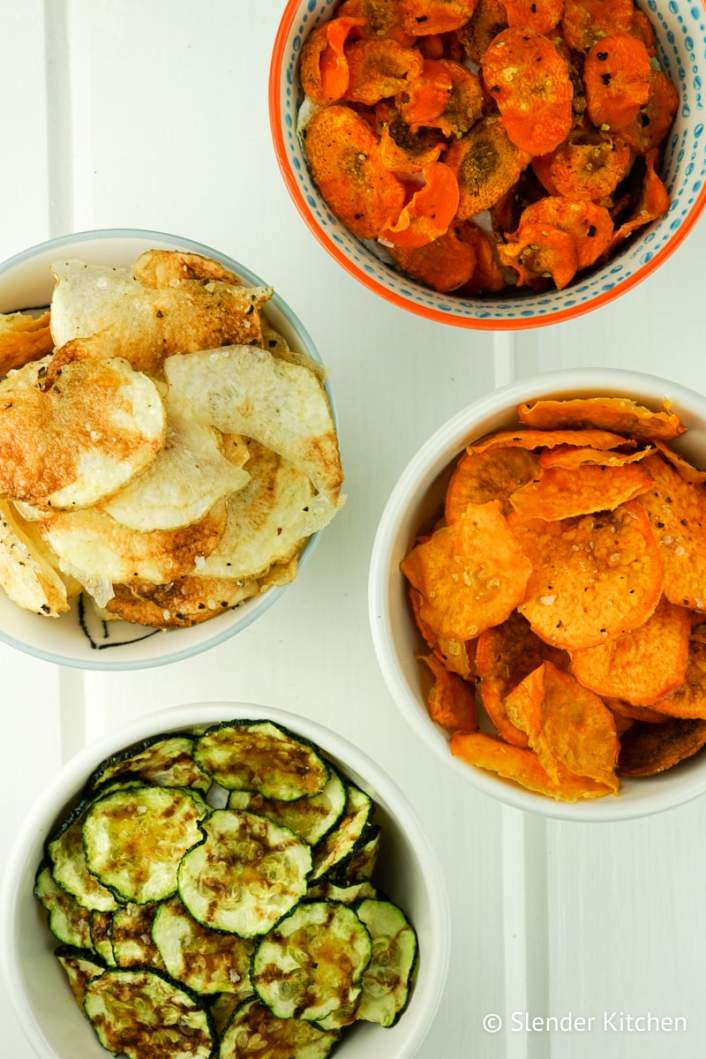 Before we get into the how for these microwave veggie chips, let me share a bit about where this all started. Growing up, about once a summer, my sister and I would drive a few towns away to buy German Fries. Now these were'n't just any fries, they were freshly fried potato chips doused in an obscene amount of salt and vinegar. They were the ultimate salty snack. Fast forward a few years later and my husband and I started taking regular trips to Mexico where I once again fell in love with freshly cooked, street style, potato chips. I still regularly dream about the ones we had in Oaxaca doused in lime juice, salt, and hot sauce. They put store bought chips to shame. But as you can imagine, none of these options are very healthy and they are geographically impossible most of the time.
That brings me to last week when I had a seriously craving for these chips and looked to the internet for a solution. And that's when I came across these microwave potato and veggie chips. It seemed to good to be true, but after some experimentation, the results were seriously delicious. Plus I couldn't believe how much healthier they were compared to store bought chips. All you need is your favorite veggie, cooking spray or olive oil, your seasoning of choice, and a microwave. So easy and so very good.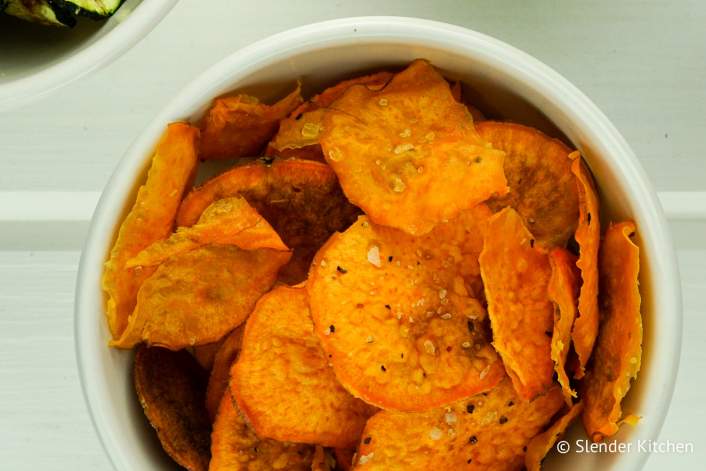 A few notes and tips for making these Microwave Veggie Chips:
Depending on your diet and preferences, you can coat your chips in either cooking spray or oil. You will get a crunchy, crispy chip either way.
When it comes to veggies, starchy vegetables are going to come out the most cripsy. Think potatoes, sweet potatoes, carrots, or squash. Softer veggies like zucchini, summer squash, and eggplant will work and taste delicious but won't come out quite as crispy. One way to increase the crunch factor with softer veggies is to salt them before hand. Lay them out on a paper towel and sprinkle with salt. Then let them sit for 15-20 minutes. This will draw out some of the liquid and make for a crispier chip. Also it's important to note that these chips will brown a bit more and it's important to make sure they don't burn.
Since all microwaves are different, it will take a little experimenting in the beginning to find the perfect cooking time for your particular microwave. You basically want to cook them long enough that they get nice and crispy but not so long that they burn. Just keep an eye on them while they are cooking and you will see when they start to brown. It's quick.
Seasoning! There are so many amazing seasoning options for these chips. I love the classic combination of salt and pepper but it's also fun to get creative. I love putting cinnamon on sweet potato and carrot chips. Cumin, curry powder, rosemary, ranch powder, cajun spice, lemon pepper, thyme, red pepper flakes, garlic powder, onion powder, and truffle salt are all delicious.
Dips: It's also a great idea to use these for dipping. I love using these chips with hummus, salsa, and yogurt based dips. And I have been known to dip the sweet potato chips in almond butter. They are also delicious doused with vinegar, hot sauce, or lime juice.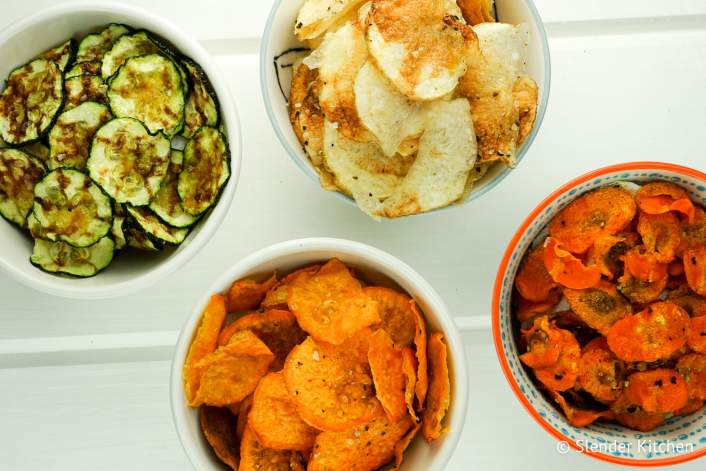 Looking for more healthy snack recipes?
Here are some of the products I used to create this recipe:
A mandoline can be helpful when you are trying to make really thin slices. I have an expensive one and inexpensive one and actually find I reach for the inexpensive one more often whenever I need to nice thin slices.