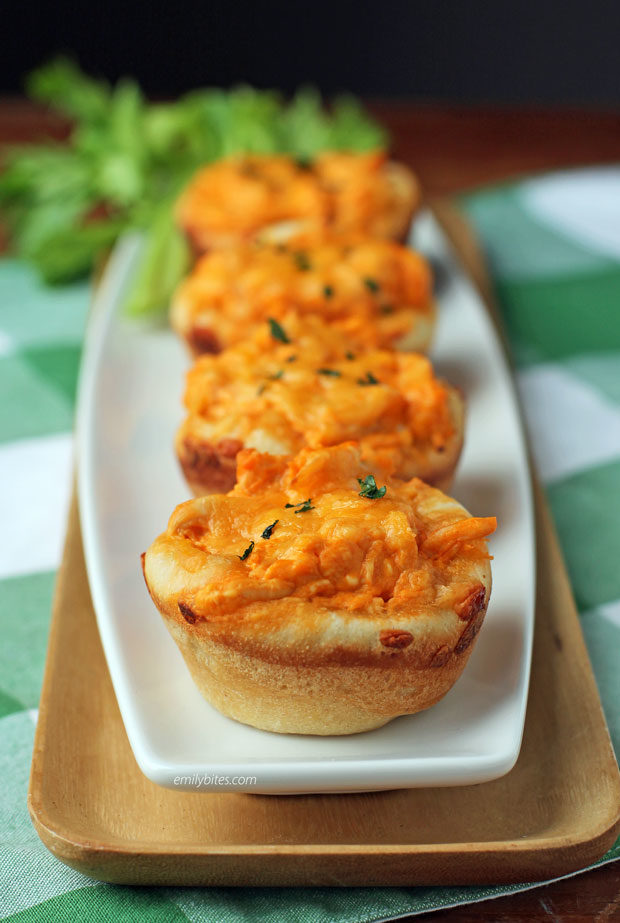 These easy 6-ingredient Mini Buffalo Chicken Dip Bread Bowls are spicy, cheesy, crusty and fun to eat! When WW (formerly Weight Watchers) recently updated their program to the new myWW plans, I was tasked with going back through all my posted recipes to update the points. While it was a tedious task, I honestly came across recipes I'd almost forgotten about! I guess that's what happens when you'd been blogging for 9 years now. Anyway, one of the recipes I had forgotten were these Mini Spinach Dip Bread Bowls, and as soon as I saw them I thought "aha! I need to do another twist on these, STAT!" I am a Buffalo girl, so being true to my roots I immediately knew that filling French bread cups with buffalo chicken dip was the best idea.
Now that I've made them I can confirm that these Mini Buffalo Chicken Dip Bread Bowls are everything I hoped they'd be. A crusty, fluffy French bread exterior, filled with spicy, creamy, cheesy Buffalo chicken dip! These mini bowls are perfect to eat as a meal or to serve as hearty finger food at a party, while watching the game, or chatting at book club. Not only are they tasty, but each one is just 122 calories or 4 myWW SmartPoints on the Green, Blue or Purple plans!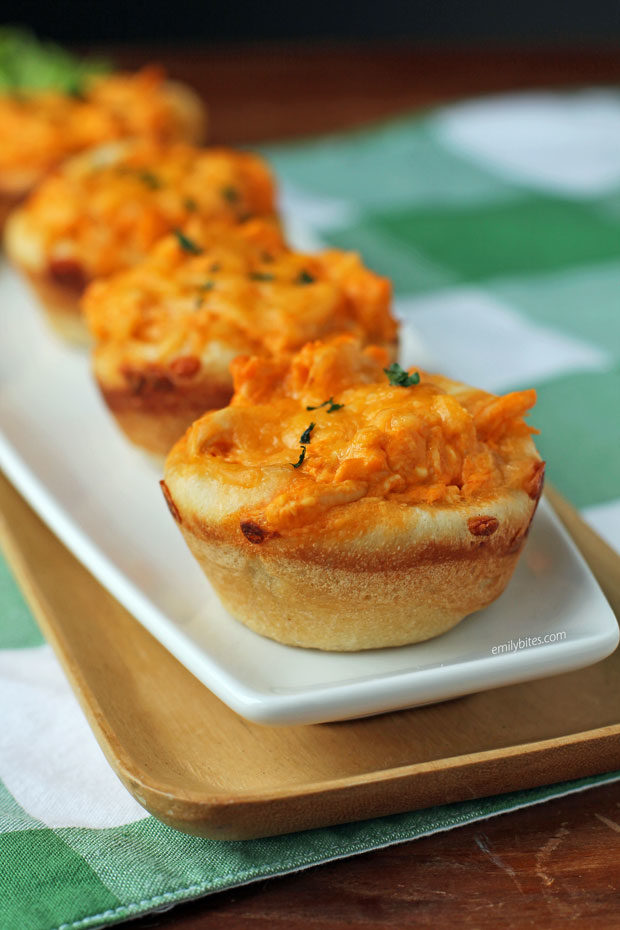 Looking for more tasty, lightened up ways to get your Buffalo chicken fix? Check out my One-Pot Buffalo Chicken Mac and Cheese, Buffalo Chicken Dip, Buffalo Chicken Egg Rolls, Buffalo Deviled Eggs, Buffalo Cauliflower Wings, Cheesy Buffalo Chicken Chickpea Bake, Buffalo Chicken Stuffed Sweet Potatoes, Buffalo Chicken Braid, Buffalo Chicken Tacos, Buffalo Chicken Soup, Cheesy Buffalo Chicken Potato Bake, Buffalo Chicken Taquitos, Buffalo Chicken Pasta Salad, Buffalo Chicken Quinoa Bake, Buffalo Wing Hummus, and many more in the Buffalo Flavor category of my recipe index!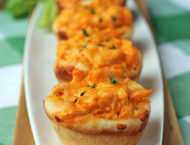 Mini Buffalo Chicken Dip Bread Bowls
Ingredients:
3 oz 1/3 less fat cream cheese, softened to room temperature
3 oz cooked, shredded boneless skinless chicken breast
2 tablespoons light blue cheese dressing (I used Marzetti light chunky blue cheese dressing)
3-4 tablespoons Frank's Red Hot original cayenne pepper sauce (I use 4 tablespoons and it's zippy)
1 (11 oz) tube of Pillsbury Crusty French Bread dough
1 oz 50% reduced fat sharp cheddar cheese (I use Cabot)
Directions:
Preheat your oven to 350 degrees. Lightly mist a 12 cup standard-sized muffin tin with cooking spray.
Combine the cream cheese, shredded chicken, blue cheese dressing and hot sauce in a mixing bowl and stir until well combined.
Remove the roll of bread dough from the package and place it on a cutting board. Use a sharp knife to cut it into 10 equal-sized rounds (around an inch thick). Use your fingers to press each round into a 3" circle and then press the dough circle into the bottom of a muffin tin well and up the sides to form a bowl shape. Evenly distribute the dip from step two amongst the dough cups and sprinkle the shredded cheddar cheese over the tops. *There will be two empty muffin tin wells, as this recipe makes 10*
Place into the oven and bake for 15-18 minutes until the edges of the bread cups start to turn golden. Allow to cook for a few minutes before removing from the tin.
MYWW SMARTPOINTS PER (1 piece) SERVING: (SP calculated using the recipe builder on weightwatchers.com)
Green: 4 SmartPoints/ Blue: 4 SmartPoints/ Purple: 4 SmartPoints
Weight Watchers Points Plus:
3 per (1 piece) serving (PP calculated using a Weight Watchers PointsPlus calculator and the nutrition info below)
Nutrition Information per (1 piece) serving:
122 calories, 15 g carbs, 2 g sugars, 4 g fat, 2 g saturated fat, 6 g protein, 0 g fiber (from myfitnesspal.com)
Source link
Amazon Products