Repeat after me: "Chow-DAH!"
That's the way it should be said if you are anywhere in the vicinity of New England, which is the birthplace of this wonderful clam stew. The word "chowder" is thought to have been derived from "chaudière," an old French term for cauldron, or a big cooking pot.
What Goes Into Clam Chowder?
Traditionally, chowder is made with salt pork, onions, potatoes, milk or cream, butter, and fish like cod or haddock, or clams. Many of the older recipes add some wine (Madeira) as well.
There's a wonderful website I recommend called The New England Chowder Compendium which showcases a collection of historical chowder recipes dating back to the 1700s. Chowder is one of those things that is made in many different ways, and pretty much everyone thinks their way is best. It's worth noting that the variations of this stew go back hundreds of years!

Clam Chowder with Corn
On one of my many visits to New England, we sampled clam chowders at practically every stop. The best chowder we had was in a little coffee shop in Concord, Massachusetts. The soup was creamy, but not overly so (some clam chowders can be such cream bombs), thickened a little with flour but not too much, and had tasty chunks of salt pork, along with chopped clams and lots of corn.
I loved it! Corn isn't usually included in clam chowder, but believe me, it's fabulous.
The recipe that follows below is my take on this clam chowder, with plenty of suggestions for substitutions. Even my father, who insists he doesn't like clam chowder, loved this soup. Consider the recipe a guideline, and play with it to your liking.
What Kind of Clams to Use for Chowder
Clam chowder is best made with fresh clams (quahogs or cherrystones), but if you don't have access to fresh clams, you can use clam juice and canned chopped clams.
If using canned clams, skip steps 1 and 2 of the recipe, and use 16 ounces of clam juice, and 1 1/2 to 2 cups of chopped clams, saving the liquid from the cans to add to the clam juice.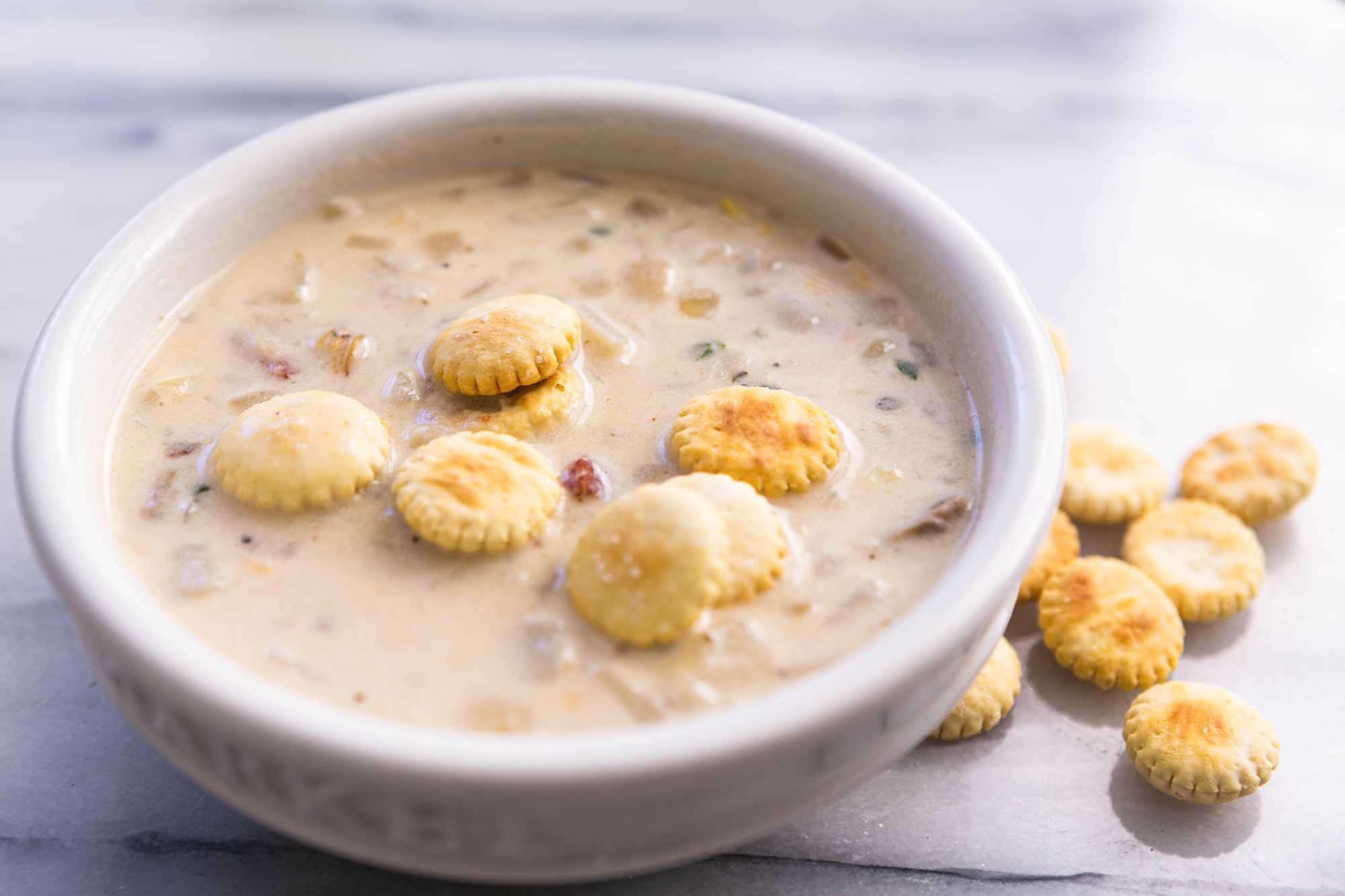 What Can I Substitute for Salt Pork?
Salt pork is traditionally used in chowder; it's like salty slab bacon that hasn't been smoked. You can easily substitute it with pancetta or bacon. If you don't use salt pork, you may need to add more salt to the soup. If you use bacon, you'll add a smoky note to the soup.
How to Thicken Clam Chowder
In this recipe I am using a scant one tablespoon of flour to help thicken the soup. Some people prefer their chowder to have a thinner soup base, if that's you, please feel free to leave out the flour. If you would like your soup to be more thick, add more butter and an equal amount of flour in step 5, up to 1/4 of a cup.
How do you like your clam chowder? Please let us know in the comments.
Storing Clam Chowder
Eat your clam chowder within a 1 to 3 days — seafood doesn't last as long! We do not recommend freezing this soup.
More Great Chowder Recipes!
Updated November 26, 2019 : We spiffed up this post to make it sparkle! No changes to the original recipe.
Clam Chowder with Corn Recipe
This recipe uses fresh clams. If you don't have access to fresh clams, you can use clam juice and canned chopped clams. In that case, skip steps 1 and 2 and use 16 oz of clam juice, and 1 1/2 to 2 cups of chopped clams, saving the liquid from the cans to add to the clam juice.
Salt pork is traditional; it's like slab bacon that hasn't been smoked. You can substitute with pancetta or bacon, though bacon will give the soup a smoky flavor. If you don't use salt pork, you may need to add more salt to the soup.
The flour is a thickener. If you are cooking gluten-free or want a thinner consistency to your soup, leave it out. If you want a thicker soup, add more fat and an equal amount of flour, up to 1/4 of a cup.
Ingredients
About 6 pounds of quahog or cherrystone clams
1 tablespoon unsalted butter or extra virgin olive oil
4 ounces salt pork, cubed (or chopped bacon or pancetta, cubed)
2 cups chopped onion
1 tablespoon all-purpose flour (less or more, depending on how thick you want the soup)
1 cup dry white wine, like a Sauvignon Blanc (or 2 tablespoons white or cider vinegar, or lemon juice)
2 pounds potatoes (russets or Yukon gold), peeled and diced
1 to 2 cups water
1 bay leaf
2 sprigs thyme
1/2 teaspoon freshly ground black pepper
1 teaspoon Old Bay seasoning (or paprika with a dash of cayenne)
1 1/2 cups corn (frozen is fine)
1 cup heavy whipping cream
2 tablespoons chopped fresh parsley
Method
1 Clean and prep clams: Rinse and scrub the clams to remove any dirt. Place clams in a bowl, cover with cold, well salted water and refrigerate for 30 minutes to an hour. This will allow the clams to expel some of their grit into the water. Discard any broken clams or clams that are open and do not close when you touch them.
2 Steam the clams: Place the clams in a large pot and add about a half inch of water to the pot. Cover the pot and bring the water to a boil. Let the clams steam until they all open up, 5 to 10 minutes. The steaming water may foam up a bit; just watch so it doesn't overflow.
Use a slotted spoon to remove the clams from the pot to a bowl. Strain the remaining clam steaming liquid through a fine mesh sieve to catch any grit, and reserve. You should have 2 to 3 cups of clam liquid.
Separate the clams from the clam shells. Discard the shells. Roughly chop the cooked clams. You should have 1 1/2 to 2 cups of chopped clams.
3 Brown the salt pork: Place the salt pork and butter or oil in the bottom of a large, thick-bottomed pot. Heat on medium and brown the salt pork. (Note that if you are using salt pork that is mostly fat, you won't need any additional fat from butter or oil, but you might want to put a little water in the pan to help render the fat from the salt pork.)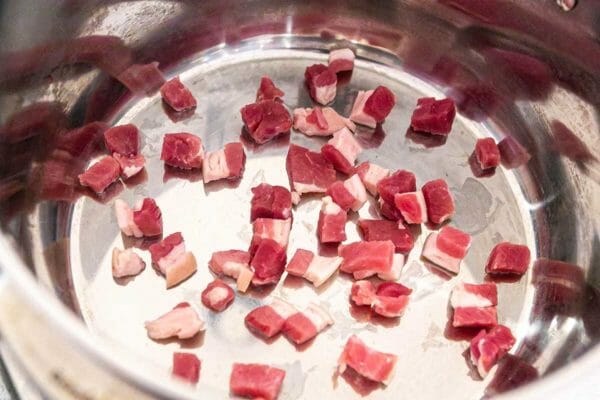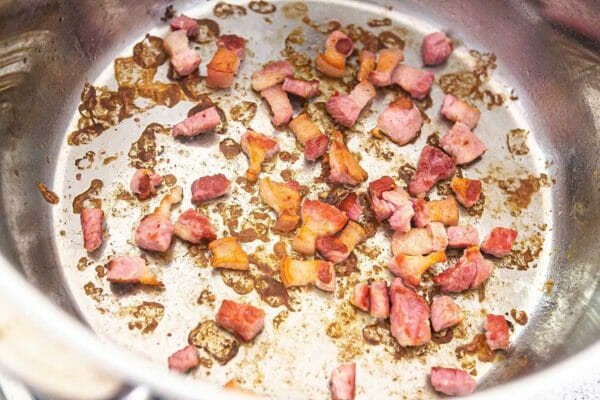 4 Add onion: Add the chopped onion to the pan, and cook, stirring occasionally, until the onions are translucent, about 5 minutes.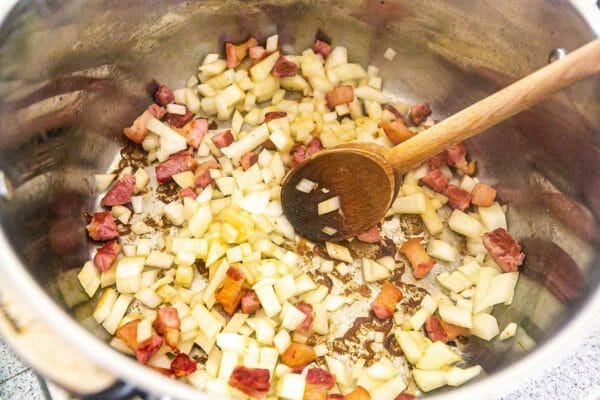 5 Add flour, let cook, then add wine: Sprinkle flour over the onions and stir until everything is coated with the flour. Let the flour cook for a minute or two. Slowly add the white wine to the pot, stirring after each addition.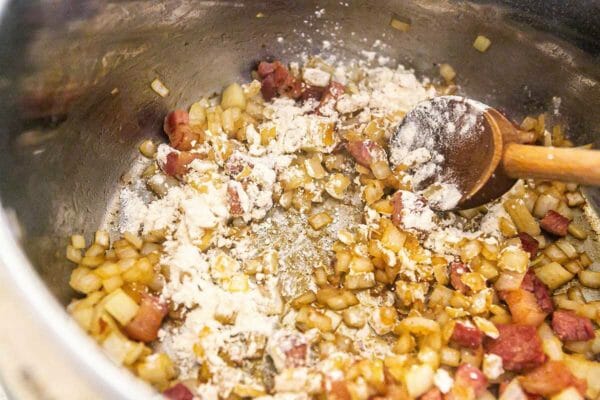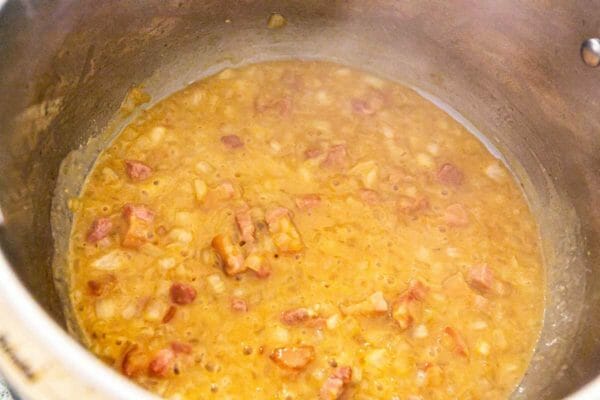 6 Add potatoes, clam steaming liquid, spices: Add potatoes to the pot. Add 2 to 3 cups of the strained clam steaming liquid and a cup of water. The liquid should cover the potatoes. If not, add a little more water or clam cooking liquid.
Add the bay leaf, thyme, black pepper, and Old Bay. Heat to a boil and reduce to a simmer.
Cover and cook for 10 minutes, then add the corn (if using) and cook for 5 minutes more, or until the potatoes are cooked through.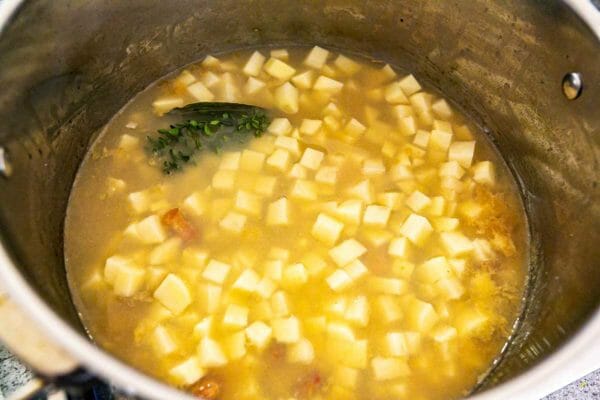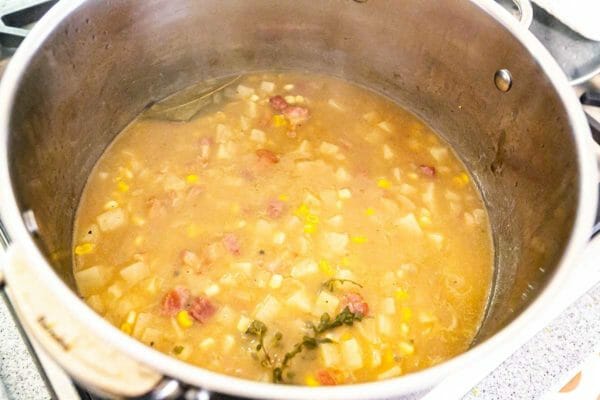 7 Heat cream: While the potatoes are cooking, heat a cup of cream in a small saucepan until steamy.
8 Add clams, stir in cream: When the potatoes are tender, add the chopped clams and turn off the heat under the soup. Slowly stir in the heated cream. Adjust seasonings. Stir in the fresh parsley.
Note that if you simmer the soup after the cream has been added, the soup may curdle. This is why we turn off the heat before adding the hot cream.
Serve with oyster crackers or rustic bread.
Hello! All photos and content are copyright protected. Please do not use our photos without prior written permission. Thank you!
Source link