1 Make the crispy parmesan breadcrumbs: Melt butter in a medium skillet over medium heat. In a small bowl, toss together breadcrumbs, parmesan, and red pepper flakes to avoid any huge parmesan clumps. Pour into skillet and stir to coat with butter. Cook for 3-4 minutes, tossing occasionally, until browned. Set aside until ready to eat.
2 Cook the pasta in salted water: Fill a large pot with water and set it over medium-high heat. Add a tablespoon of kosher salt (or 2 teaspoons table salt) per quart of water. The water should taste seasoned, but not seawater-salty. It's important to get the salt level right in the water because we will be using it to finish the dish.
When the water is boiling, add the pasta and stir it rapidly to separate the pasta, since orecchiette has a tendency to stick together. Cook until al dente, probably 9-11 minutes. Scoop out a cup of the pasta water (don't forget!), then drain and rinse the pasta to stop the cooking.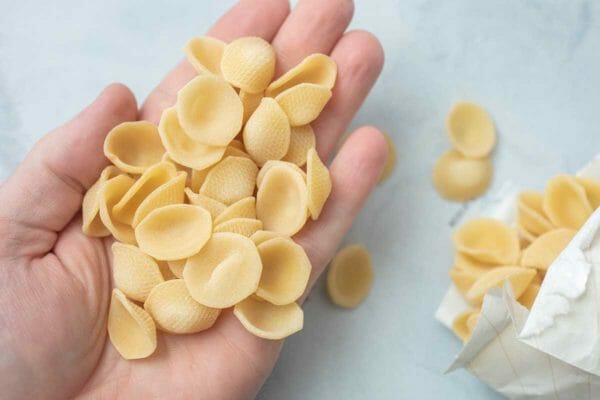 3 Cook the sausage: While the pasta cooks, add the Italian sausage in small chunks to a large skillet over medium heat. Cook, letting the sausage render out fat, for 6-7 minutes, stirring occasionally, until the sausage is cooked through.
At this point, there should be enough fat from the sausage in the skillet, but if your skillet is very dry, add a drizzle of olive oil before the next ingredients go in.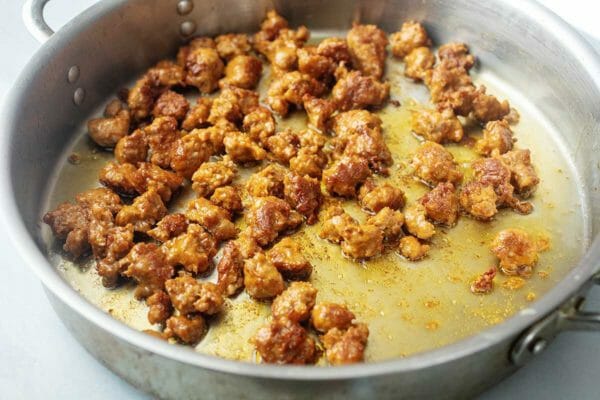 4 Add kale, shallot, and garlic: Add the chopped kale, shallot, and garlic to the skillet. Stir to combine and cook for 2-3 minutes until kale is wilted.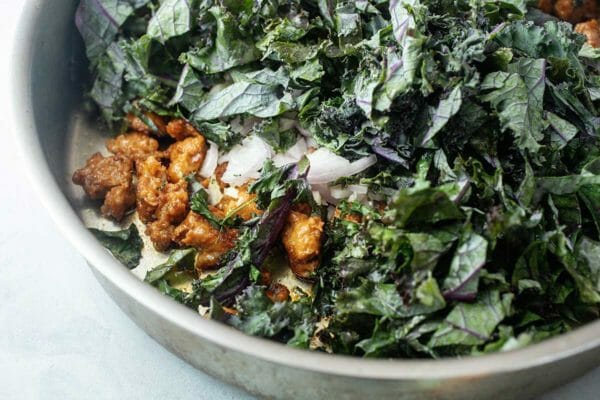 5 Add cooked orecchiette and pasta water: Add the cooked orecchiette, 1/2 cup pasta water, and lemon juice to the skillet. Toss to combine and heat until the pasta water thickens to form a light sauce. If the pasta seems dry, add more pasta water.
Serve pasta in shallow bowls garnished with crispy breadcrumb topper.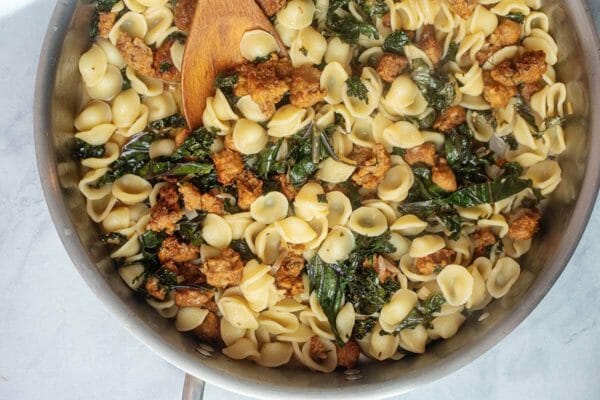 Store leftovers in the fridge for 5-6 days. Reheat in the microwave with a splash of water or over the stove in a skillet on medium-high heat.
Source link