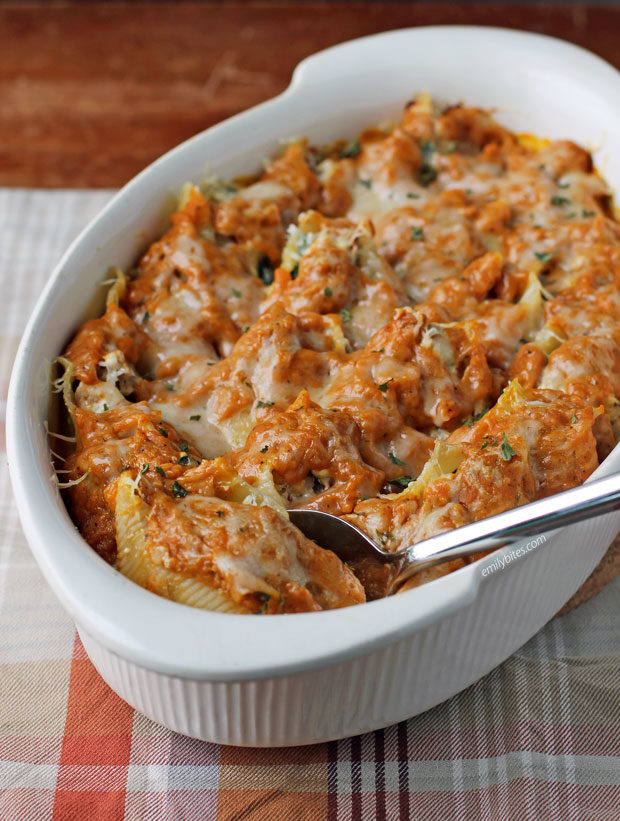 These Pumpkin and Sausage Stuffed Shells are full of savory fall flavors and make for a super satisfying comfort food meal. "Tis the season for pumpkin recipes, and though I love it in sweet desserts and breakfasts, I adore it in savory dishes like this one. The natural sweetness of the pumpkin pairs beautifully with spicy homemade turkey sausage and nutty, sharp Parmesan cheese. Did you notice I said homemade turkey sausage? Don't worry, I promise that part is easy and only takes a couple minutes. You can transform lean ground turkey breast into a super flavorful sausage just by mixing in a few dried seasonings! I love doing this because you get the full flavor of sausage for far less calories or WW Freestyle Smartpoints than using traditional sausage. I find these Pumpkin and Sausage Stuffed Shells to be super filling, and who doesn't love a hearty, satisfying pasta dish for fall? Better yet, a (3 stuffed shells) serving is just 275 calories or 5 WW Freestyle SmartPoints!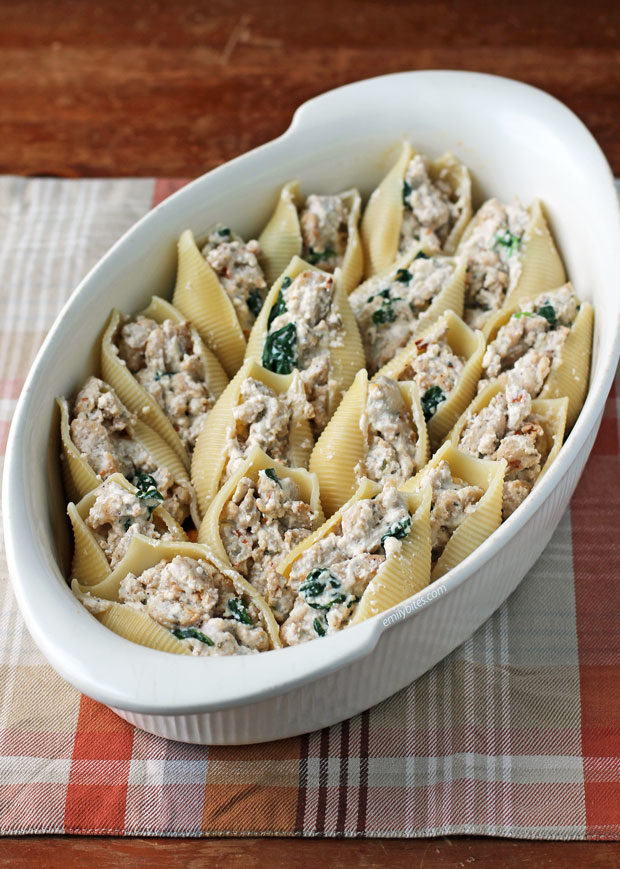 I'll be upfront with you, this is not a quick, 30-minute weeknight meal. You have to cook the pasta, the meat, and the sauce separately, and while you can do a lot of that simultaneously and none of the steps are difficult, it does take a bit of time. Stuffing the shells also takes some time, and then the whole dish bakes together for 30 minutes. I would suggest leaving yourself around an hour of prep time before putting these in the oven. You may not need quite that long, or you may need a bit more (everyone works at their own pace), but either way, I just want to give you a head's up since many of my recipes prep much more quickly. I think the finished product is worth it though!
Looking for more tasty, lightened-up pasta dishes like these Pumpkin and Sausage Stuffed Shells? Check out my One-Pot Barbecue Chicken Mac and Cheese, Butternut Squash Pasta with Bacon, Chicken Pot Pasta, Beef Enchilada Pasta Skillet, One-Pot Creamy Garlic Chicken Pasta, Bruschetta Chicken Pasta, One-Pot Mediterranean Chicken with Orzo, Pasta with Chickpeas, Turkey Sloppy Joe Pasta, Sausage Ricotta Pasta, Beef Stroganoff, Beefy American Goulash, Chicken Parmesan Stuffed Shells, Spinach and Artichoke Lasagna Roll-Ups, Pumpkin Alfredo Tortellini Skillet, Spicy Sausage Pasta, and many more in the Pasta section of my recipe index!
Pumpkin and Sausage Stuffed Shells
Yield: 6 (3 stuffed shells each) servings
Ingredients:
18 jumbo pasta shells
1 lb uncooked 99% lean ground turkey
1 teaspoon minced garlic
1 teaspoon dried parsley
1 teaspoon Italian seasoning
1 teaspoons salt, divided
½ teaspoon black pepper, divided
½ teaspoon dried minced onions (some spice brands call them chopped onions)
¼ teaspoon fennel seed
¼ teaspoon paprika
¼ teaspoon crushed red pepper flakes
2 cups fresh spinach leaves
1 cup fat free ricotta cheese
¾ cup reduced sodium fat free chicken broth
1/2 cup skim milk
1 ½ cup canned pumpkin puree
¼ teaspoon dried marjoram
¼ teaspoon dried rubbed sage
2 oz Parmesan cheese, finely shredded, divided
Directions:
Cook the pasta shells according to package instructions*. Drain and rinse shells and allow them to cool before handling.
*While the water is boiling for the pasta, combine the ground turkey, garlic, parsley, Italian seasoning, ¾ teaspoon of the salt, ¼ teaspoon of the black pepper, the minced onions, fennel seed, paprika, and crushed red pepper flakes in a mixing bowl. Mush together with a fork or your hands until thoroughly combined. While the pasta is cooking, mist a large skillet with cooking spray and bring over medium heat. Add the seasoned ground turkey to the heated pan and cook, breaking up the meat into bite-sized pieces and stirring occasionally until the meat is cooked. Add the spinach to the pan and stir. Cook for another 2 minutes or so until the spinach is wilted. Remove from heat and stir in the ricotta cheese until well combined.
Pour the broth and milk into a small saucepan and bring over medium heat. Cook until you start to see the first signs of bubbling and then add the pumpkin and reduce the heat to low. Whisk the pumpkin into the liquid until it absorbs and the sauce becomes creamy. Add the remaining ¼ teaspoon salt, ¼ teaspoon black pepper, marjoram, sage, and 1 ounce of the shredded parmesan. Stir together until the parmesan is melted into the sauce.
Pre-heat the oven to 350. Spread about ½ cup of the pumpkin sauce across the bottom of a 2 quart casserole dish (such as a 7×11) and set aside. Make sure the pasta shells are cool enough to handle, then use a spoon to stuff them full of the turkey/ricotta filling. Lay the stuffed shells in a single layer in the prepared casserole dish, open side facing up. Pour the remainder of the pumpkin sauce over the top of the stuffed shells to coat evenly. Sprinkle the remaining ounce of shredded Parmesan over the top. Place the dish in the preheated oven and bake for 30 minutes.
Weight Watchers SmartPoints:
5 per (3 shells) serving (SP calculated using the recipe builder on weightwatchers.com)
Weight Watchers Points Plus:
7 per (3 shells) serving (PP calculated using a Weight Watchers PointsPlus calculator and the nutrition information below)
Nutrition Information per (3 shells) serving:
275 calories, 32 g carbs, 6 g sugars, 4 g fat, 2 g saturated fat, 30 g protein, 4 g fiber (from myfitnesspal.com)
Source link
Amazon Products