Pumpkin Pie Oatmeal that's cooked quickly in the microwave or on the stove-top brings all the flavor of a delicious pumpkin pie filling in a healthy, filling bowl of oatmeal that's perfect to start any morning.
As I shared last week, I have never part someone who looks forward to pumpkin spice season all year long, but lately I am becoming more of a pumpkin person than I ever expected. And this is coming from someone who thought pumpkin pie was the absolute worst excuse for a pie until about three years ago. Now I love a good slice of pumpkin pie of a cold day, but it definitely took some time and convincing.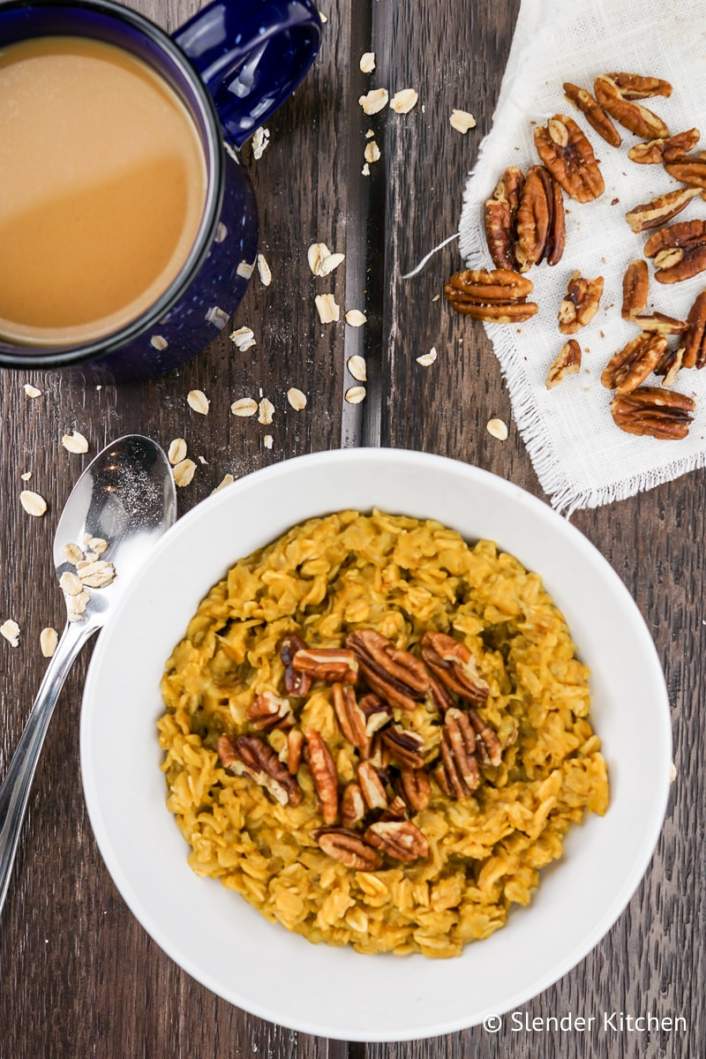 That brings me to today and my shock that I have been eating this pumpkin pie oatmeal on repeat the past few weeks. It couldn't be easier to make and I am able to get it on the table in under 5 minutes most mornings. It starts with a mashed banana for natural sweetness and then combines canned pumpkin puree, oats, almond milk, pumpkin pie spice, and a touch of maple syrup. Truth be told it doesn't really need the maple syrup with the banana, but I love a hint of maple on these oats so I add it. All of that is cooked together in the microwave or on the stove-top and the end result is a rich, creamy pumpkin oatmeal that you will love.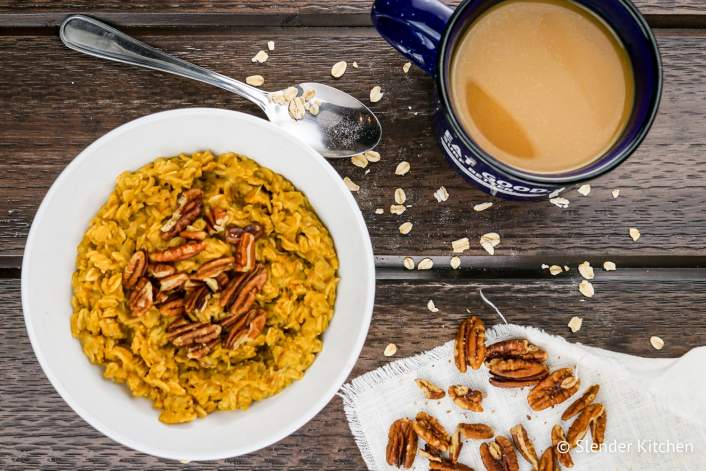 Now when making this Pumpkin Pie Oatmeal, you can make lots of adjustments to make it perfect for you:
If you don't like bananas, you can replace the banana with an extra 1/2 cup of pumpkin puree or unsweetened applesauce. Just note that you may need to add some extra maple syrup or sweetener depending on how sweet you like your oats.
To boost the nutritional punch, consider adding things like ground flaxseeds, chia seeds, maca powder, hemp seeds, cacao powder, nut butters, or protein powder.
Some people don't love the cloves and allspice in pumpkin pie spice. Instead you can just cinnamon or a combination of cinnamon and nutmeg.
This oatmeal freezes really well so you may want to consider making a large batch and then freezing it for quick breakfasts. Here's a good tutorial on freezing your morning oats.
Looking for more pumpkin recipes?
Here are some of the products I used in this recipe:
If you are looking at this recipe and it's a time of year it's hard to find pumpkin puree, look online, where you can purchase it year round and usually at a very competitive price.
(function(d, s, id) {
var js, fjs = d.getElementsByTagName(s)[0];
if (d.getElementById(id)) return;
js = d.createElement(s); js.id = id;
js.src = "http://connect.facebook.net/en_US/sdk.js#xfbml=1&version=v2.4&appId=125505754455470";
fjs.parentNode.insertBefore(js, fjs);
}(document, 'script', 'facebook-jssdk'));


Source link