Slow Cooker Mediterranean Chicken cooks low and slow in the crockpot to create an amazing dish packed with moist chicken thighs, olives, red peppers, onion, Italian spices, capers, and plenty of flavor.
I forget how much I love olives some times. I think it all started with my Mom who loved eating toast with cream cheese and those little mini green pimento olives. We would steal bites as kids and I remember thinking it was equally delicious and disgusting. I couldn't really decide if it was something I liked. Fast forward and now I will happily eat just about any type of olive. I love the salty brine and bite of a really good olive as much as I love the aforementioned jarred green olives with cream cheese. Go figure.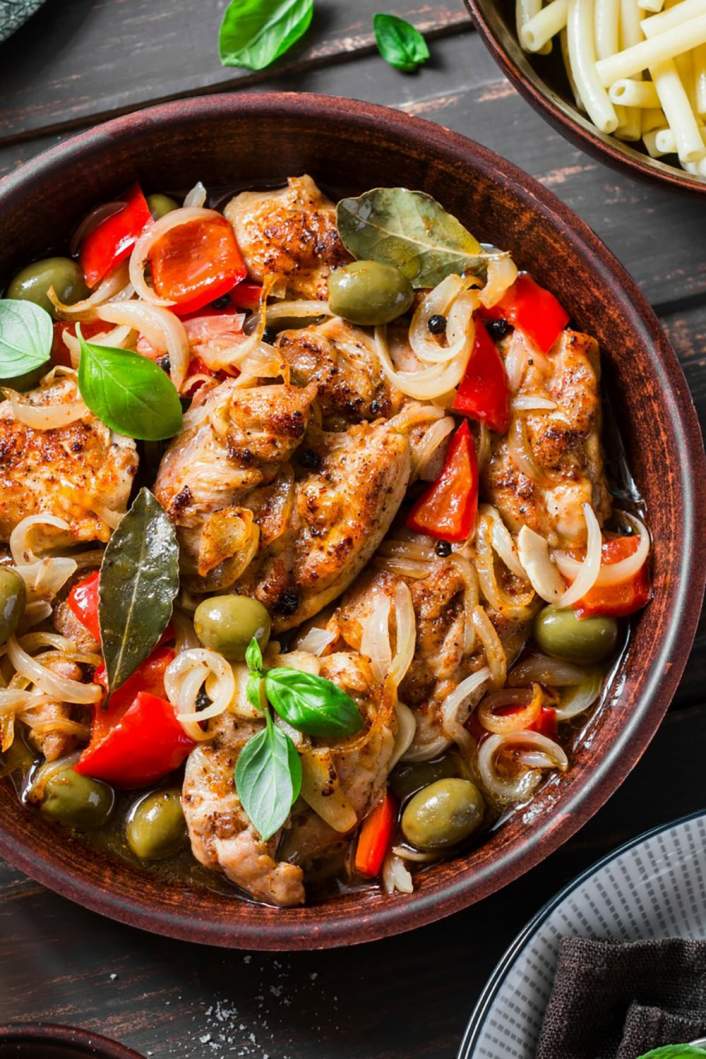 So lately when I was looking for recipe inspiration, I saw a jar of my favorite Castelvetrano olives and knew they had to be a part of dinner. Naturally I began to think of Mediterranean dishes and flavors since they are a natural fit for olives – red peppers, lemon, capers, onion, thyme, rosemary, you get the idea. And from there it was easy to build a simple, yet insanely tasty, slow cooker recipe with all these flavors. The slow cooker is the perfect vehicle since it allows everything to cook together and develop an intense, complex flavor and it means you can throw everything in and walk away. Love that.
When you are making this Slow Cooker Mediterranean Chicken, keep the following things in mind.
Although I made this with chicken thighs since they stay nice and tender, you can also make this recipe with chicken breasts (skinless, bone-in for a more flavor), skinless chicken drumsticks, or even a pork tenderloin or trimmed pork shoulder.
While the slow cooker is the easiest option in my opinion, this is definitely a recipe that can be made stove-top or even in the oven. For a stove-top version, using a Dutch oven or heavy bottomed pan, add the chicken and let it brown on each side. Remove it and saute the onions and garlic. Then add the remaining ingredients and let everything cook for about 45 minutes on a simmer until the chicken is fork tender. For an oven option, add everything to a glass baking dish and cover with foil. Cook it at 375 degrees for 25-30 minutes until the chicken is cooked through, removing the foil during the last five minutes of cooking so the chicken can brown.
When it comes red peppers for this dish, you have two options. For a more savory option, use roasted red peppers. For a sweeter option, use the jarred peppadew or sweet cherry peppers.
Olives are an important part of this dish and add a lot of flavor, so make sure to choose an olive that you would happily eat on its own. While I love green Castelvetrano olives, you could use Kalamata olives, black olives, or really any good tasting olive.
Looking for more healthy slow cooker chicken recipes?
Here are some of the products I used when making this recipe.
Slow Cooker: There are so many different slow cookers on the market but I personally use this one that allows me to brown, sear, or saute in the same pan. Plus I find the cooking temperature to be really even and consistent.
Olives: As I mentioned, my favorite olives for this recipe are green Castelvetrano olives. Usually I buy mine from the olive bar a our local grocery store or order them online, which is usually more affordable.
Peppers: As I mentioned you can use roasted red peppers or sweeter peppadew peppers for this recipe. Both turn out delicious. Fresh peppers will also work but the flavor won't be as intense since they haven't been roasted beforehand. If you like heat, you could also use the spicy peppadew peppers for this recipe.
(function(d, s, id) {
var js, fjs = d.getElementsByTagName(s)[0];
if (d.getElementById(id)) return;
js = d.createElement(s); js.id = id;
js.src = "http://connect.facebook.net/en_US/sdk.js#xfbml=1&version=v2.4&appId=125505754455470";
fjs.parentNode.insertBefore(js, fjs);
}(document, 'script', 'facebook-jssdk'));