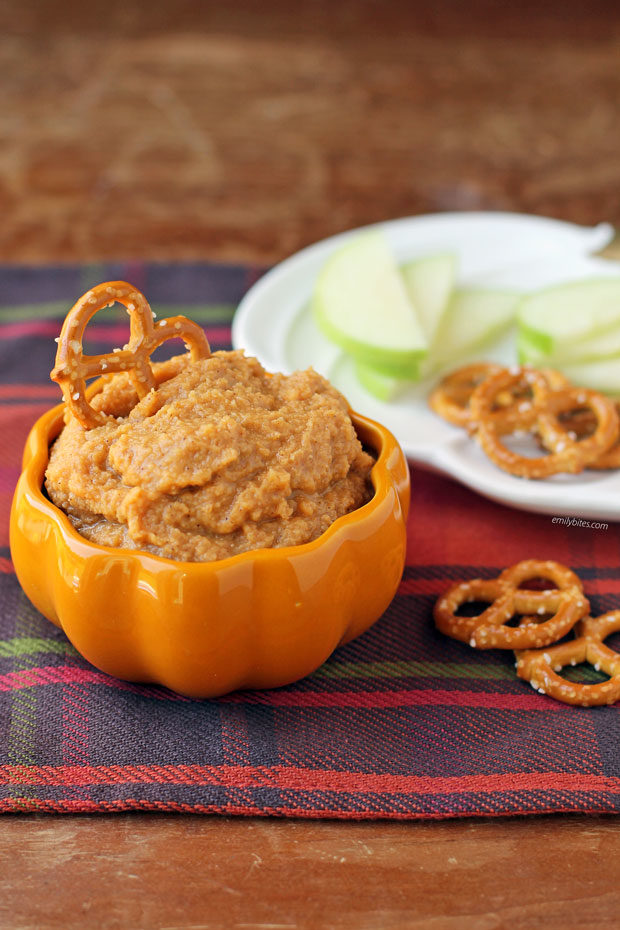 I am so excited to share this easy, delicious Pumpkin Spice Hummus with you today! It takes just a few minutes to make, but it's bursting with decadent, sweet pumpkin spice flavor. It's so addicting! If you're new to dessert hummus flavors, you're in for a treat! I love my recipe for Chocolate Hummus, but this new Pumpkin Spice Hummus is perfect for fall. I love quick and easy recipes like this, all you do is toss 7 ingredients into a food processor and in a few minutes you're ready to eat! This autumn hummus pairs perfectly with apples, pears, or pretzels for a sweet & salty combo. It's also great as a spread on toast or an English muffin, or even in a grilled cheese sandwich to give it a sweet seasonal twist. Perfect for a snack or to serve at a party and just 112 calories or 2 WW Freestyle SmartPoints for a generous ¼ cup (which just means a serving is a little more than ¼ cup)!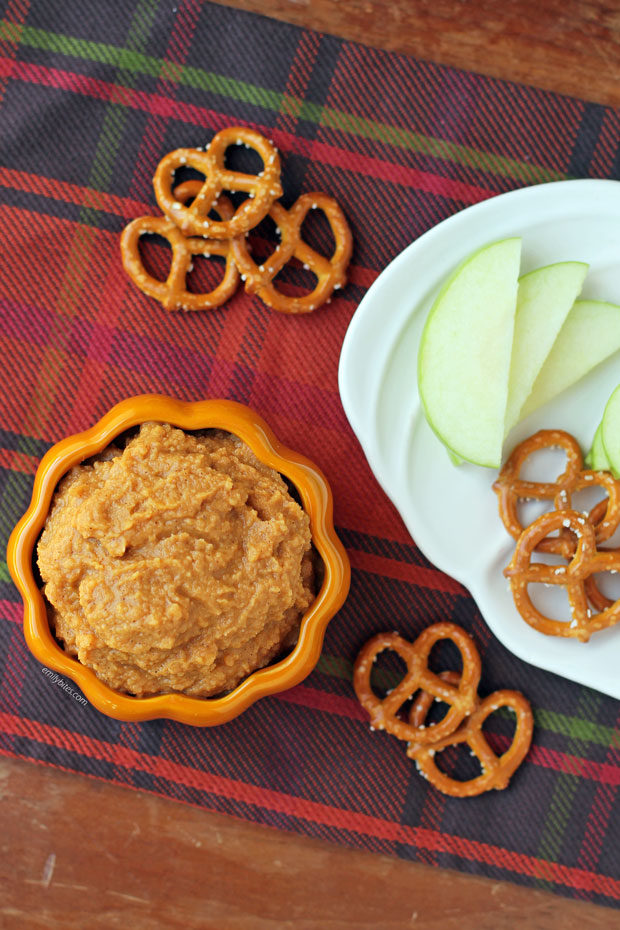 Looking for more tasty, lightened up dip recipes like my Pumpkin Spice Hummus? Check out my Chocolate Hummus, 7 Layer Dip, Cheesecake Fruit Dip, Buffalo Chicken Dip, Ranch Hummus, Pepperoni Pizza Dip, Cannoli Dip, Chili Cheese Dip, BLT Dip, Greek Layer Dip, Creamy Dill Dip, Spinach and Artichoke Dip, Hot and Cheesy Bean Dip, Caprese Dip, Chocolate Fruit Dip and more in the Dips section of my recipe index!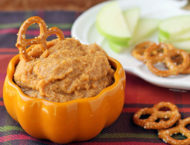 Pumpkin Spice Hummus
Yield: 6 (generous 1/4 cup) servings
Ingredients:
1 (15 oz) can chickpeas (also called garbanzo beans), drained and rinsed
1/3 cup + 1 tablespoon canned pumpkin
2 tablespoons plain nonfat Greek yogurt
3 tablespoons honey
3/4 teaspoon pumpkin spice
½ teaspoon vanilla extract
¼ teaspoon salt
Directions:
Place all the ingredients in your food processor and turn it on. Process for 2-4 minutes or until smooth. You may want to stop it halfway through and scrape the sides of the processor bowl down with a spatula just to make sure everything gets processed smoothly. Refrigerate leftovers.
Weight Watchers WW Freestyle SmartPoints:
2 per (generous ¼ cup) serving (SP calculated using the recipe builder on weightwatchers.com)
Weight Watchers Points Plus:
3 per (generous ¼ cup) serving (PP calculated using a Weight Watchers brand PointsPlus calculator and the nutrition information below)
Nutrition Information per (generous ¼ cup) serving:
112 calories, 22 g carbs, 11 g sugars, 1 g fat, 0 g saturated fat, 4 g protein, 4 g fiber (from myfitnesspal.com)