This year, the #SeptemberWhole30 starts on Monday, 9/2 … that's Labor Day! This isn't unusual, over the last few years we've started our group Whole30s on either Labor Day or New Years Day, two days that typically involve some kind of big gathering.
We want you to feel completely supported during your #SeptemberWhole30, so we rounded up ten delicious and festive recipes from our Whole30 Recipes feed that will be perfect for sharing with your friends and family at the Labor Day cookout or picnic.
Want even more Whole30 party menus? Melissa Urban's upcoming cookbook, The Whole30 Friends & Family, includes 22 menus and 150 recipes for everyday social events like Game Night, Date Night and Baby Showers! Click here to learn more about The Whole30 Friends & Family.
SHARE | Shrimp Ceviche from Dash of Color and Spice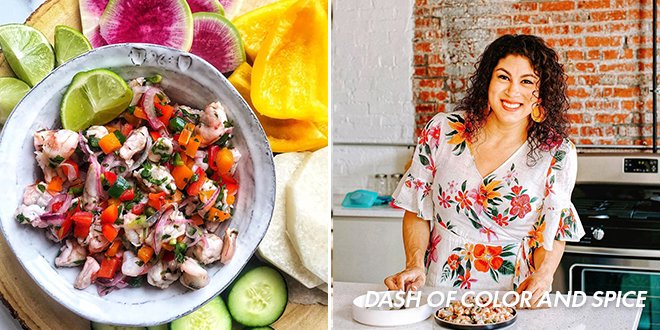 Ingredients
32 1 lb peeled and deveined shrimp, chopped (or use 1 lb of a mild white fish such as cod or halibut)
1 large jalapeño, minced
1 bell pepper, chopped
1/2 small red onion, chopped or thinly sliced
1/4 to 1/2 cup cilantro, chopped (I used 1/2)
3 large limes, or 5 small limes
1 medium tomato, chopped (I did not use one)
1/2 tsp salt, (adjust to taste)
Instructions
PLACE all ingredients, except lime, in a bowl and mix.
JUICE the limes and add the juice to mixture and throughly combine. Let the Ceviche "cook" in the lime juice for at least 2 hours, preferably overnight. Add salt to taste, if needed.
SERVE with watermelon radish rounds, cucumber rounds, bell pepper slices or jicama "tostadas" (sliced jicama rounds).
DRIZZLE with your favorite compliant hot sauce for an extra kick.
If you don't feel comfortable with the idea of your seafood "cooking" in the lime juice then you can easily blanch it before combing everything. Simply boil about 3-4 cups of water, add a little salt, dump the shrimp or fish in the boiling water for just a minute or two to get the cooking process started, and place in an ice water bath to stop the cooking process so you don't have boiled, rubbery seafood!
SHARE | Sweet Potato Hummus with Crudite from Primal Gourmet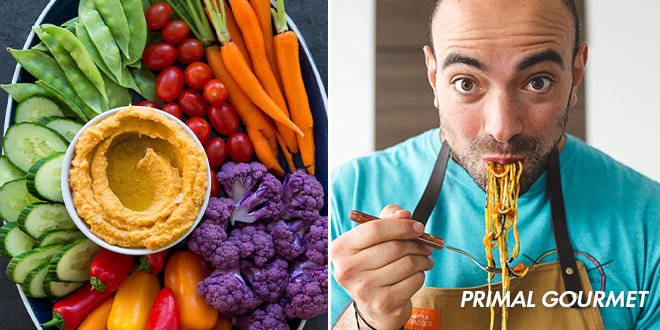 Ingredients
2 large sweet potatoes
5 tbsp tahini (100% pure sesame paste)
2 cloves garlic – finely minced
2 tbsp lemon juice
1 tsp salt
1⁄2 cup water
Raw veggie slices of your choice, like carrot sticks, mini peppers, cherry tomatoes, cucumber slices, snap peas, caulflower "trees," or whatever suits you.
Instructions
ADD 1 cup water to Instant Pot.
PLACE sweet potatoes on steamer insert and cover with lid. Set valve to 'Sealing' position and cook on high pressure for 20min. Depressurize manually. Note: cooking time will vary depending on thickness of potatoes. If center is still firm, cook under high pressure for an additional 5 minutes at a time
TRANSFER sweet potatoes to a tray and slice in half. Let cool completely.
ADD sweet potato, tahini, garlic, lemon juice and salt to a high powered blender or food processor. PULSE to combine then set speed to low. With the blender running, slowly pour in the water.
BLEND until smooth and creamy. Taste for seasoning and adjust salt or lemon juice as required
SERVE as a dip for your favorite vegetables and compliant deli meats.
SIDE DISH | Pesto Roasted Potato Salad with Bacon from Paleo Running Momma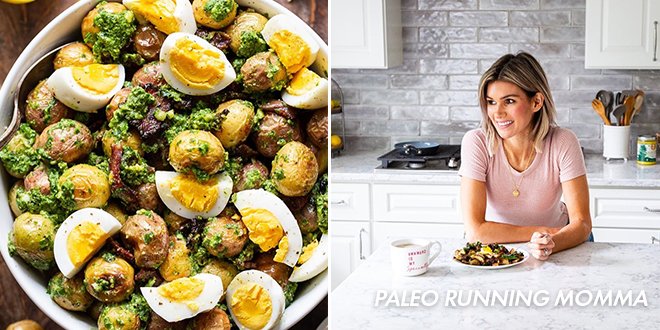 Ingredients
2 1/2 lbs small baby potatoes
1 Tbsp avocado oil or olive oil
Sea salt and black pepper
6 slices bacon, sugar free for Whole30
3 cups basil leaves OR a mix of basil and other greens
1/3 cup pine nuts
3 cloves garlic
2 Tbsp nutritional yeast (for flavor)
2 1/2 Tbsp fresh lemon juice
1/3 cup avocado oil, or olive oil
Sea salt and black pepper, to taste
4-5 eggs, hard boiled
Instructions
PREHEAT your oven to 425°F. Toss the potatoes with oil, salt, and pepper and spread out on a large baking sheet.
ROAST in the preheated oven for 20–25 minutes or until tender, remove from oven and allow to cool on the baking sheet.
COOK the bacon. Heat a large skillet over medium high heat and cook bacon until crisp, remove and drain on paper towels.
PREPARE the pesto. Add the basil and other greens, if using, the pine nuts, garlic, yeast, lemon juice, and oil to a high speed blender or food processor and pulse until not quite smooth. You can make it chunkier or smoother based on your preference.
TOSS the cooled potatoes in a large bowl with as pesto as desired (the remaining can be saved for another use), then crumble the bacon and toss to coat. Slice or chop the eggs and drizzle with more pesto or olive oil, and sprinkle with sea salt and pepper. Serve at room temperature. Store leftovers covered in the refrigerator for up to 3 days. Enjoy!
SIDE DISH | Cobb Salad from No Crumbs Left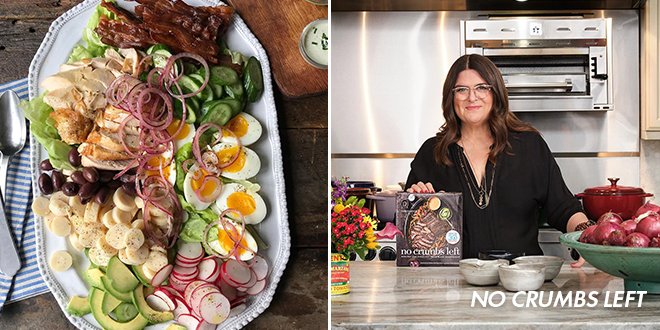 Ingredients
1 sizzling roasted chicken breast, bone-in and skin-on
Extra Virgin Olive Oil
Salt and Pepper
3 Jammy eggs
4 pieces crispy compliant bacon
Greens (use your favorites)
1 cup sliced hearts of palm
1 handful thinly sliced radishes
1 cucumber, thinly sliced
½ an avocado, sliced
Handful Marinated Red Onions and oil (recipe on a previous post)
Whole30 Compliant Ranch, or any of your favorite Magic Elixir Dressings
Instructions
PREHEAT oven to 375F. Generously rub the chicken breast with olive oil, salt and pepper.
COOK in the oven for 35 minutes, or until golden.
MAKE the Jammy eggs.
MAKE the bacon.
PREPARE all the vegetables for the salad.
This is the fun part: PUT it all together. Start with your greens, the place the vegetables, eggs, bacon and chicken around the platter beautifully.
TOP with Marinated Red Onions and the oil and serve with dressings on the side.
SIDE DISH | Crispy Roasted Potato Wedges from All the Healthy Things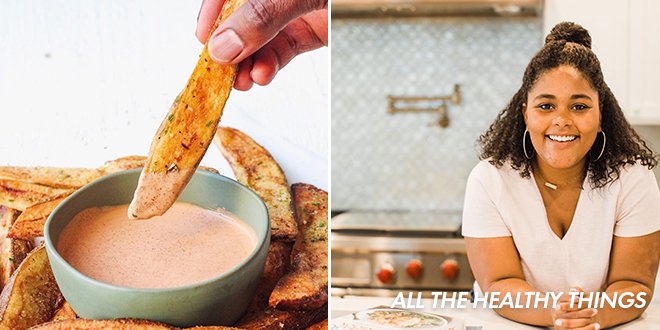 Ingredients
for the Potato Wedges:⠀
2 large russet potatoes⠀
3 tbsp avocado oil⠀
1 tsp garlic powder⠀
1 tsp of sea salt or Trader Joes Onion Salt (plus more to taste)⠀
⠀⠀⠀
for the Chipotle-Lime Aioli:⠀
1/2 cup Whole30 compliant mayonnaise
1 1/2 tsp chipotle powder⠀
3/4 tsp garlic⠀
1/2 tsp paprika⠀
1 tsp salt⠀
juice of one lime⠀
Instructions
PREHEAT your oven to 425 degrees.⠀
SLICE the potatoes into wedges. ⠀
TOSS the potatoes in the avocado oil until well coated and then place them on a baking sheet lined with parchment paper. ⠀
ROAST the potatoes 15-20 minutes on each side or until golden brown.⠀
REMOVE the potatoes from the sheet pan and place them in a large mixing bowl. Toss them in the sea salt and garlic powder until well coated. ⠀
ADD the chipotle-lime aioli ingredients to a small bowl and mix until well combined. Enjoy the potatoes with the aioli!⠀
Entree | BBQ Chicken with Romesco Sauce from The Scott Gooding Project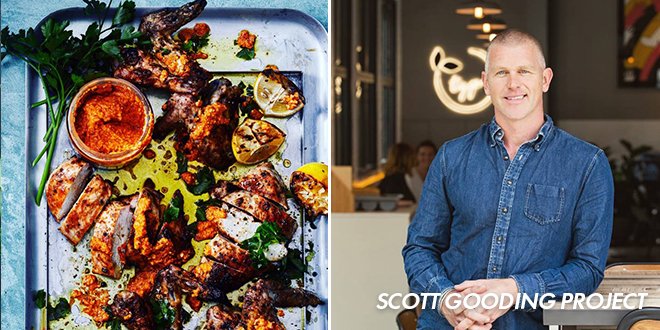 Ingredients
2 organic chicken breasts
4 organic chicken wings
2 tbs olive oil
1 lemon – juiced
sea salt
black pepper
¼ bunch fresh parsley
4 tbs romesco sauce
for the romesco sauce
1-2 large roasted capsicum (compliant or home made)
2 garlic cloves – peeled
200g macadamias
2 tbs tomato puree (compliant)
2 tsp sweet paprika
2 tbs red wine vinegar
½ tsp chilli flakes
¼ cup olive oil
sea salt
black pepper
Instructions
REMOVE your chicken from the fridge at least 30 minutes before cooking
Pre heat you BBQ on high
COAT the chicken with olive oil and season
PLACE on the BBQ and cook for 12-15 mins (depending on size) turning half way through cooking
REMOVE from the heat and cover in foil and allow to rest for 5 mins
SLICE the chicken breast across the fibers, drizzle with lemon juice and season
SERVE with the romesco sauce and fresh parsley
to make the romesco sauce
THROW all the ingredients (with the exception of olive oil) in a blender or food processor
BLITZ for 20 secs or so
Continue to blitz or pulse as you slowly add the oil
Once it's at the desired consistency remove from the jug and transfer to airtight container
ENTREE | Brisket Sliders from Whole Food for 7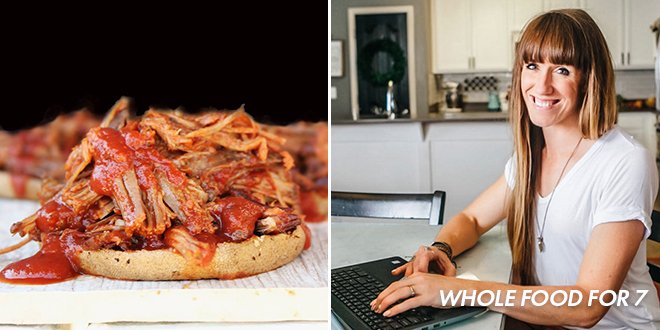 Ingredients
4-4 1/2 lbs beef brisket
1/2 teaspoon celery salt
1/2 teaspoon onion salt
1/2 teaspoon garlic salt
1/2 a bottle of compliant liquid smoke (I use Wrights)
11/2 teaspoon salt
1/4 teaspoon pepper
11/2 teaspoon compliant coconut aminos
1-1 1/2 cup compliant BBQ sauce (homemade or brand like The New Primal )
2 large potatoes, cut into ¼ inch disks
Olive oil to toss
Instructions
PLACE beef in a roasting pan. Pour liquid smoke over the meat. Sprinkle celery, onion, and garlic salt over the meat. Marinate overnight, covered in the fridge. When ready to cook, remove from fridge and sprinkle with regular salt, pepper, and coconut aminos.
COVER with foil and bake at 275 for 7 hours. Meat is done when it is fall apart tender.
DRAIN off all liquid, shred the meat, remove excess fat, and pour BBQ sauce on meat, using enough to coat all the meat. BAKE again uncovered at 325 for 20 minutes.
SERVE drizzled with additional BBQ sauce as desired.
For the Potato Slider "Buns"
TOSS potato disks with oil to coat.
LAY in a single layer on a baking sheet covered in parchment, sprinkling with salt.
BAKE at 425 for 40 minutes, flipping once halfway through. Sliders are done with outside is browned and inside is tender.
Entree | Salmon Skewers from The Wonky Spatula
Ingredients
2 Large salmon darns
Handful of asparagus spears, sliced in half
1 tsp coconut oil, melted
2 tbsp lemon juice
Pinch of garlic annuals
1/4 tsp hot chilli powder
2 tsp dried coriander leaf
Pinch of coarse salt & black pepper
Instructions
PREHEAT your grill/broiler to high.
In a small bowl COMBINE the coconut oil, lemon juice, herbs, salt & pepper.
SLICE the Salmon into bit sized chunks and add to the bowl.
COAT the salmon in the marinade and prepare the asparagus.
PLACE the salmon & asparagus on spears and lay them out on a wire rack.
PLACE under the grill/broiler for 6-8 minutes until cooked to your liking.
SERVE & Enjoy!
Beverage | Watermelon Sprizter from Simon Hall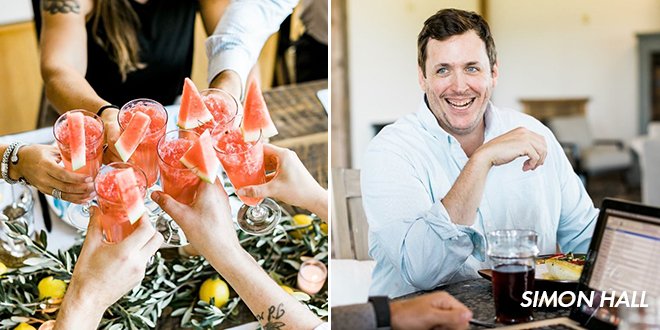 Ingredients
1 watermelon, diced small
Your favorite flavor of sparkling water
Fresh mint, lime or watermelon slice to garnish (optional)
Instructions
SMASH the diced watermelon until juiced. Feel free to leave some small chunks!
POUR into your favorite cocktail glass, fill only to about halfway and top with your watermelon cubes and juice.
ADD your choice of garnish.
Beverage | Nettle Tea Mojito from Food by Mars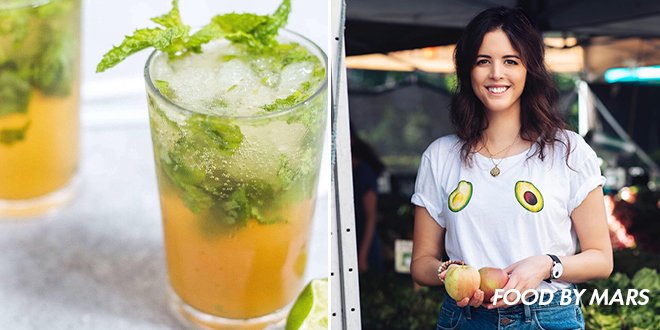 Ingredients
1 lime
1/2 cup hot water
2 Nettle Tea Bags (or tea of your choice)
1 cup crushed ice
1/2 cup sparkling water or cold water
1/2 cup fresh mint leaves (plus more for garnish)
Instructions
BREW tea all together with the 1/2 cup hot water and 2 tea bags in a cup according to directions on the package (approx. 5 mins)
SPLIT tea in half, pouring in each glass
SQUEEZE half a lime in each glass and stir
TEAR mint leaves up by hand a bit to release some of the oils and divide evenly among the glasses, muddle with a spoon in the bottom of the glass.
ADD your crushed ice, followed by your sparkling or cold water to fill to the top with.
GARNISH with whole mint leaves and serve!