Sausage Rolls are a must-have for potlucks, Game Day parties, and holiday gatherings. Made with pizza dough and fresh sausages, they're like grown-up pigs in a blanket!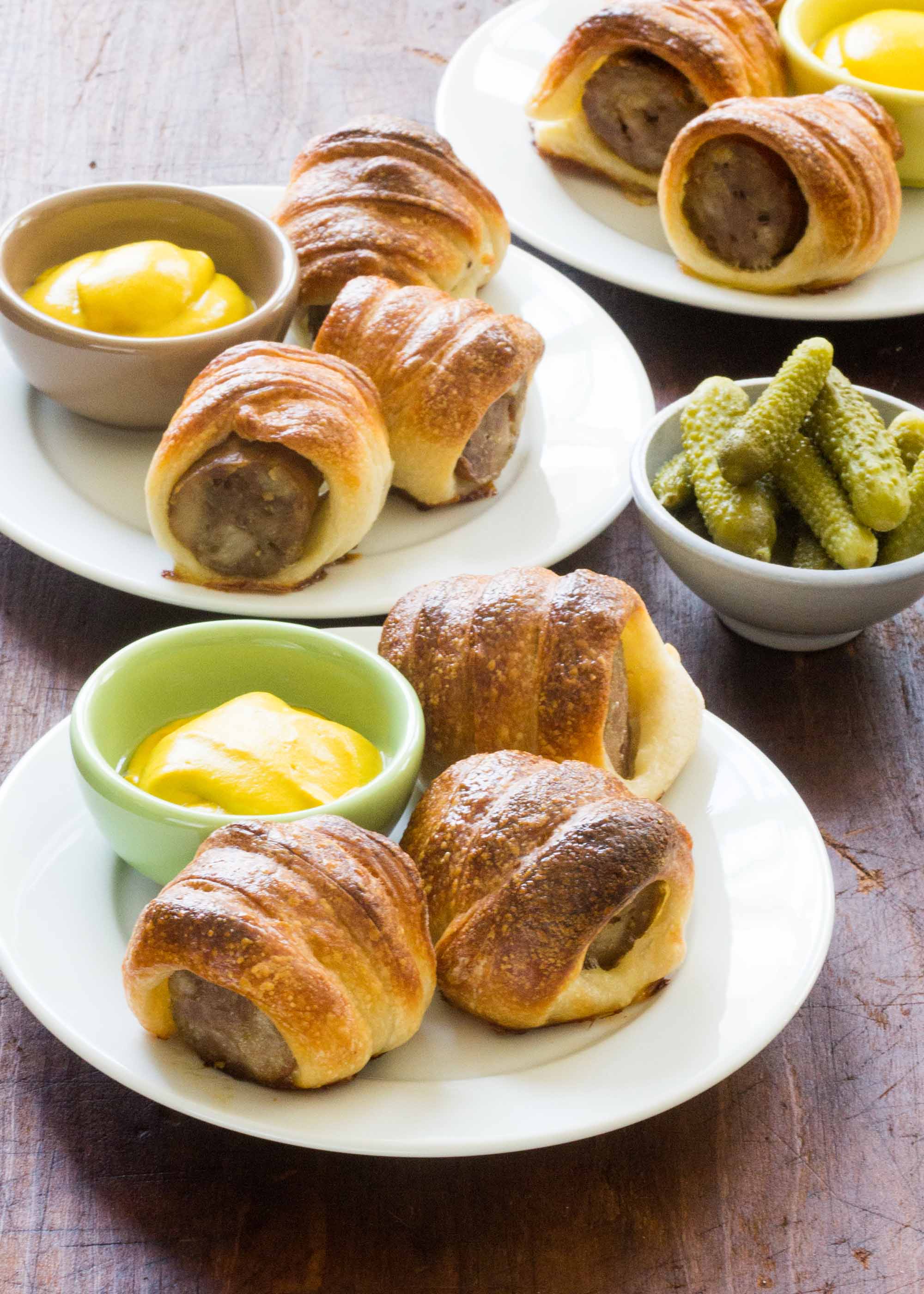 Photography Credit:
Sheryl Julian
When I had a houseful of teenagers to feed, I often made this version of pigs in a blanket: fresh sausages wrapped in dough from my local pizzeria, baked until golden and crusty. The kids loved them and when my parents joined us for dinner, they did, too.
You have to have one recipe that is practically as easy as ordering pizza, after all. This is mine.

What Kind of Dough to Use for Sausage Rolls
Most neighborhood pizza restaurants are happy to sell you freshly made dough, so ask for a ball along with your pizza the next time you're there. You can also look for balls of dough in the refrigerated sections at the grocery store, or if you have time, make your own.
If you're smart, send one of the teens with a driver's license out to buy the sausages and dough. That will really cut your work in half.
How to Make Sausage Rolls
Keep the dough in the fridge until you are ready to use it—cold dough rolls and cuts more easily than warm dough for this recipe.
To make the sausage rolls, roll out the dough and cut it into strips. One by one, wrap the strips around the sausages, tucking the last bit under the packet so it doesn't unravel. The sausage links go into the dough fully cooked.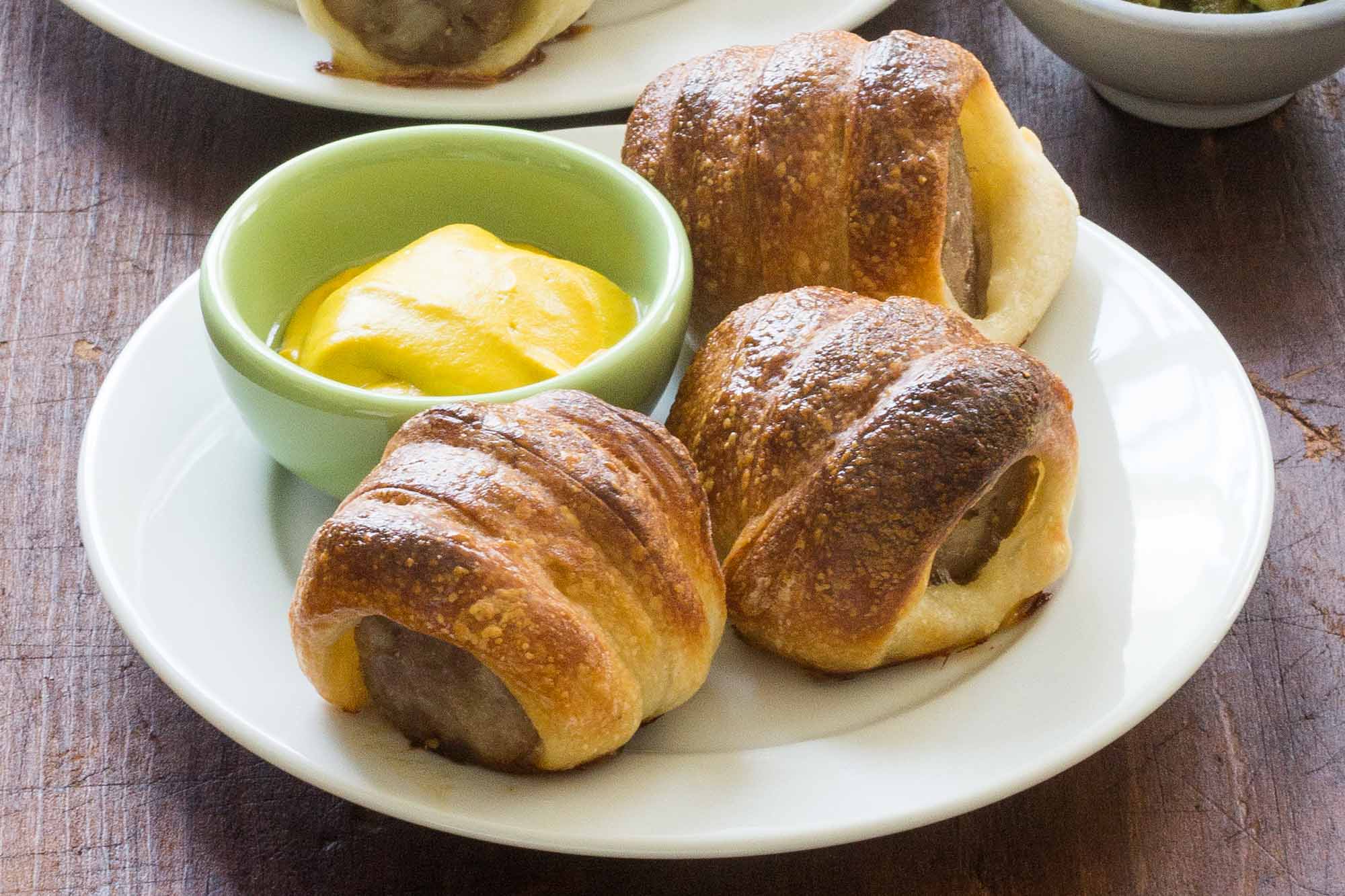 Make it a Meal
The rolls cook quickly, but there's just enough time to toss together a salad to go alongside. Call them sausage rolls or pigs in a blanket, either way they're a fun weeknight meal.
They're also absolutely perfect for a potluck party or Game Day buffet. You'll need some pickles to serve alongside and yellow or brown ballpark-style mustard for dipping. I can tell you from personal experience that Dijon mustard doesn't fly with most teens— grown-ups will probably like it, though!
Make-Ahead Tips for Sausage Rolls
You can make and cut the sausage links in advance, but I recommend using the dough the same day you buy it so it doesn't over-proof.
Storing and Freezing Sausage Rolls
If you decide not to make the sausage rolls right away (or if you want to plan ahead for dinner emergencies), then pat the dough out on a foil-lined baking sheet, cover it securely, and freeze. The day you want to make the sausage rolls, place the frozen dough in the fridge to thaw for a few hours, or place on the counter at room temperature if you need it more quickly.
MORE SNACKS FOR GAME DAY OR ANY DAY
Updated November 17, 2019 : We spiffed up this post to make it sparkle! No changes to the original recipe.
Sausage Rolls Recipe
Ingredients
1 1/4 pounds fresh pork sausage links (about 4 normal-sized sausages)
1 tablespoon canola oil
1 pound cold pizza dough, homemade or store-bought
1 large egg
1 tablespoon water
1/8 teaspoon salt
Yellow or brown mustard, to serve
Pickles, to serve
Method
1 Broil the sausages: Turn on the broiler and place an oven rack 6 inches below. With a paring knife, prick the sausages all over. Place them on a broiler pan or in an oven-safe skillet and rub all over with oil. Rub a little olive oil on the pan beneath each sausage, too.
Slide the pan under the broiler and cook for 4 minutes per a side, or until the sausages are cooked through (about 8 minutes total).
Let the sausages cool on a plate lined with paper towels. Cut the sausages into 16 even pieces (each sausage pieces will be roughly 1 1/2 to 2-inches long).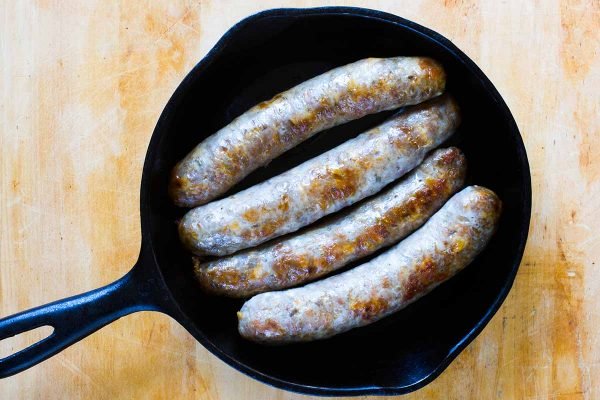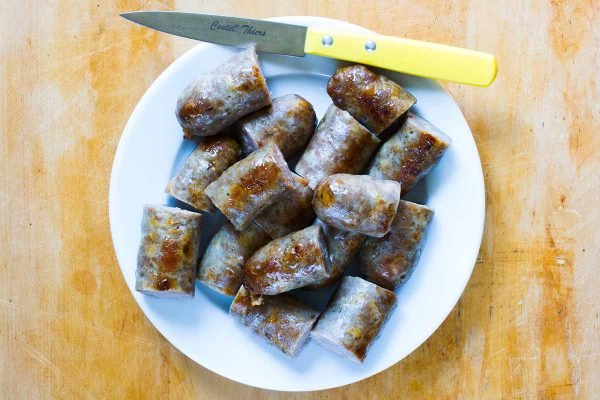 2 Heat the oven at 425°F.
3 Roll out the dough: Remove the dough from the fridge and transfer it to a lightly floured surface. Pat it down into a disk to deflate it, then use a rolling pin to roll it into a 9×12-inch rectangle.
Cut 16 strips horizontally. Aim for 1/4-inch wide strips, but since this is a yeasted dough, it will spring back somewhat as you cut it. You may have a little dough left over at the end, but you'll likely end up using most it.
(Brush any extra strips with butter and garlic, and fold into garlic knots! Bake them alongside the sausage rolls until puffed and golden.)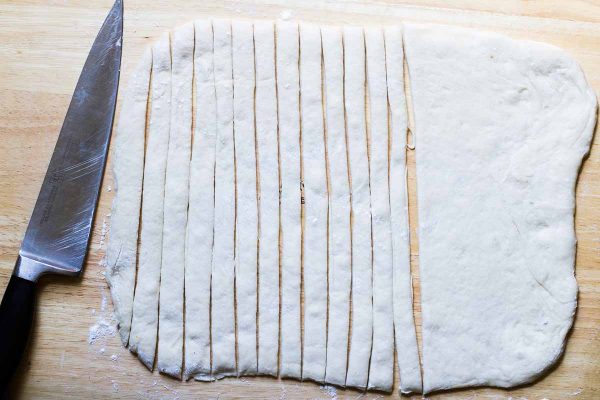 4 Wrap the sausages: Line a rimmed baking sheet with parchment paper. Hold a piece of sausage in your hand and wrap a strip of dough around each one from top to bottom. Tuck the last piece under the roll and set it on the baking sheet. Continue until all the sausages are rolled.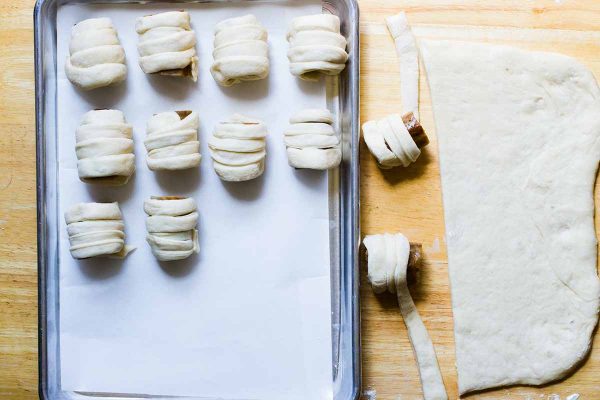 5 Bake the rolls: In a bowl, whisk the egg, water, and salt. Brush the egg over the tops and sides of all the rolls. Bake for 25 minutes, rotating the pan halfway through. When done, the rolls  should be a deep golden-brown on the top and sides.
Remove from the oven to cool 5 minutes. Serve with mustard and pickles.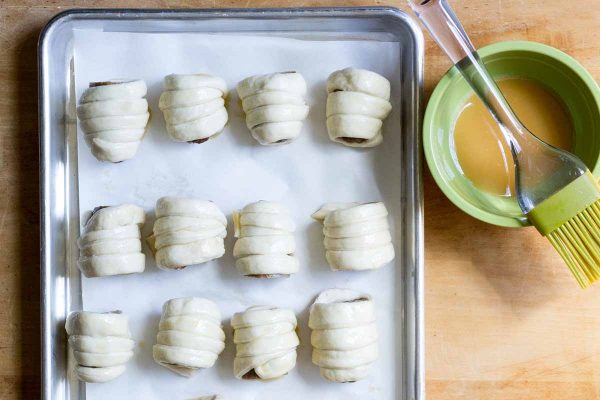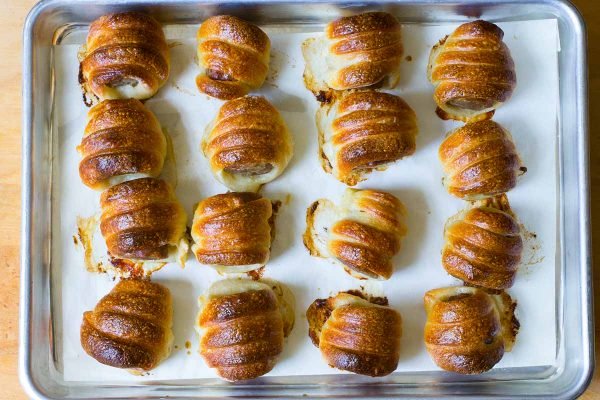 Hello! All photos and content are copyright protected. Please do not use our photos without prior written permission. Thank you!
This post may contain links to Amazon or other partners; your purchases via these links can benefit Simply Recipes.
Read more about our affiliate linking policy.
Source link