My blog is a good place to come for holiday dessert recipes, but if you're new to gluten-free and aren't quite ready to dive into trying new recipes or if you already have a million things on your to-do list this time of year (don't we all!) then maybe you just want to purchase a pre-made dessert instead. There is absolutely no shame in that! Place it on a nice serving platter and your guests will be none the wiser. You go ahead and lay claim to that delicious baked good you're serving … I won't tell a soul.
If you want some delicious recommendations for gluten-free holiday desserts, here are my top three, in no particular order: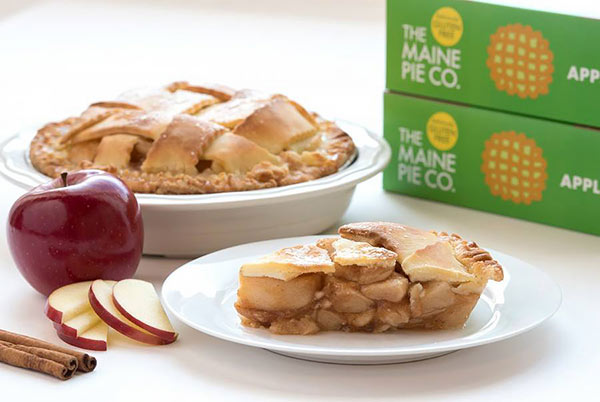 The Maine Pie Co. Pies
Let's start with the ever-so-popular pies! In my house, it's not Thanksgiving unless there's pie. Sure, I can offer other desserts, but there must be pie, too. The Maine Pie Co. offers all the holiday classics – apple, pecan, and pumpkin, plus blueberry, apple cranberry nut, and more. Plus, they have pie shells if you are, in fact, planning on making your own pie. All of their pies come frozen and you simply bake them from there. That means you get the wonderful smells of freshly baked pie wafting through your home without the mess of rolling out dough and mixing up ingredients. All of their desserts are certified gluten-free, giving you ease of mind when choosing what to order.
If you order on their website, please note that they ship out Monday through Wednesday, so make sure you get your order in before 11 a.m. Wednesday, otherwise your order will not ship out until the following Monday. Products arrive in 1-2 days. You can also use their store locator to find a pie near you.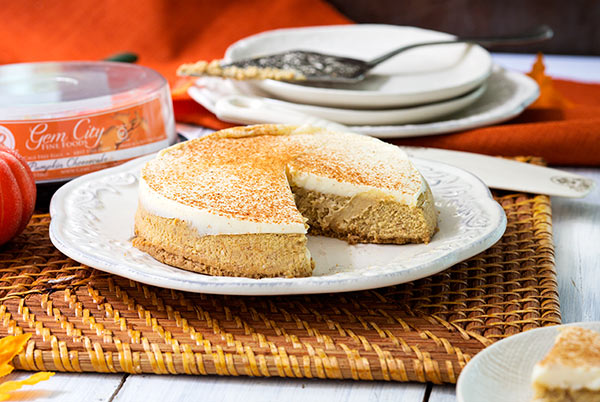 Gem City Cheesecakes
Not every family is a pie family, and those who are, still might like some variety on their dessert table. Cakes are a wonderful addition to a holiday dessert spread, and Gem City's cheesecakes are perfect for this occasion. They're dressed up and decadent – everything you want in a holiday treat. Their pumpkin cheesecake (shown here) is my first choice for the season, but Gem City also offers a triple berry streusel cheesecake that is excellent, as well as small sampler sized cheesecakes, which would be great for a holiday cocktail party so people can have small bites of a dessert. They also have a fabulous chocolate peppermint torte, which I probably wouldn't serve at Thanksgiving but would definitely do so at Christmastime! All of their products are certified gluten-free and are also nut-free, use clean ingredients like cage-free eggs, and they also offer vegan options.
If you order online, please note that they only ship out on Mondays. They're available in stores like Whole Foods, Natural Grocers, Bristol Farms, Good Earth, and other independent grocers.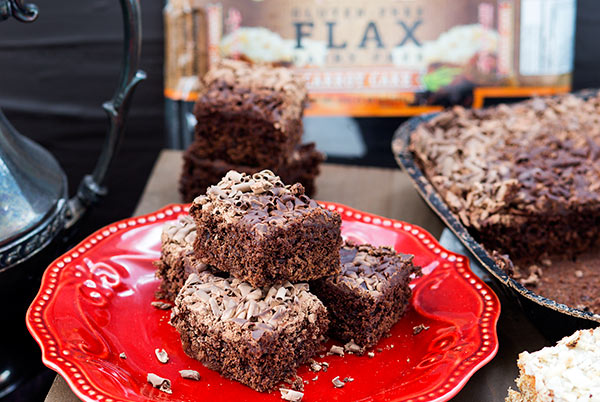 Flax4Life Cakes
Last but certainly not least is Flax4Life's delicious cakes. They offer a carrot cake and chocolate cake. I know, I don't think of carrot cake around Thanksgiving either, but I bet it would be a welcome change from some of the typical fall flavors – especially for guests who visit multiple family homes on this holiday. The real star, however, is their chocolate cake. I don't care what holiday it is or what time of year, chocolate is always a winner. What's great about this cake is that it tastes rich and decadent – and it is – but it also has the cool bonus of containing 650 mg of omega-3 per serving! Yes, it still contains sugar, and yes, it is still dessert, so no one will feel deprived of that sweet treat, but they get the added benefit of a bit of nutrition to go along with it. It's also dairy-free and nut-free, making it perfect for mixed-diet households.
If you order online, please note that they only ship out Monday through Wednesday, so make sure you order before 11 a.m. PST Wednesday, otherwise it will be shipped the following Monday. You can also use their store locator to find Flax4Life products near you.
Source link