Whip this BBQ Chicken Pizza up any night of the week. I guarantee it will be on your table faster than if you called for take-out. This BBQ Chicken Pizza recipe is a classic, using either store-bought or homemade ingredients. 

Easy BBQ Chicken Pizza Recipe
Is there anything better than a classic BBQ Chicken Pizza hot out of the oven? Between the ridiculously easy gluten-free pizza crust, the homemade bbq sauce, bbq chicken, and that cheddar and onion melty goodness? This recipe is going to be on repeat. While we (obviously) have recipes for each of the components to make up this BBQ Chicken Pizza, we also know that you can just as easily buy some of them store-bought for an easy weeknight dinner.
Here is what you need to make it:

Let's Talk About the Best Gluten-Free Homemade Pizza Crust
If you haven't tried my Gluten-Free Pizza Crust before, you have been missing out. It has been made and loved by so many of you! I have to admit, it's a favorite of mine too. This crust comes together quickly, in 1-bowl, and in under 10 minutes. No kneading, proofing, or fussing is required! This pizza crust uses a blend of coconut flour, tapioca flour, and ground flaxseed. It's light and chewy and is a crowd-pleaser. It's easy to make ANY night of the week and perfect for any topping you'd like! We obviously recommend you use this crust because it's so delicious and so simple! But it's easy to use a store-bought one if you need it. Follow the packaging instructions for baking for that if you do use store-bought.
How to Make Homemade BBQ Chicken Pizza
Start with the crust! If using my homemade pizza dough you can make the crust and bake it immediately. But it must be baked up prior to putting on the pizza toppings.

Next top the parbaked pizza with the toppings. We have suggested amounts, but go ahead and make the pizza to your liking. Just make sure not to overload it because too many toppings won't bake up properly.

Finally, bake it all off! If you want ultra crispy and melty cheese, stick it under your broiler.

Garnish the pizza with an extra drizzle of bbq sauce and cilantro and serve immediately.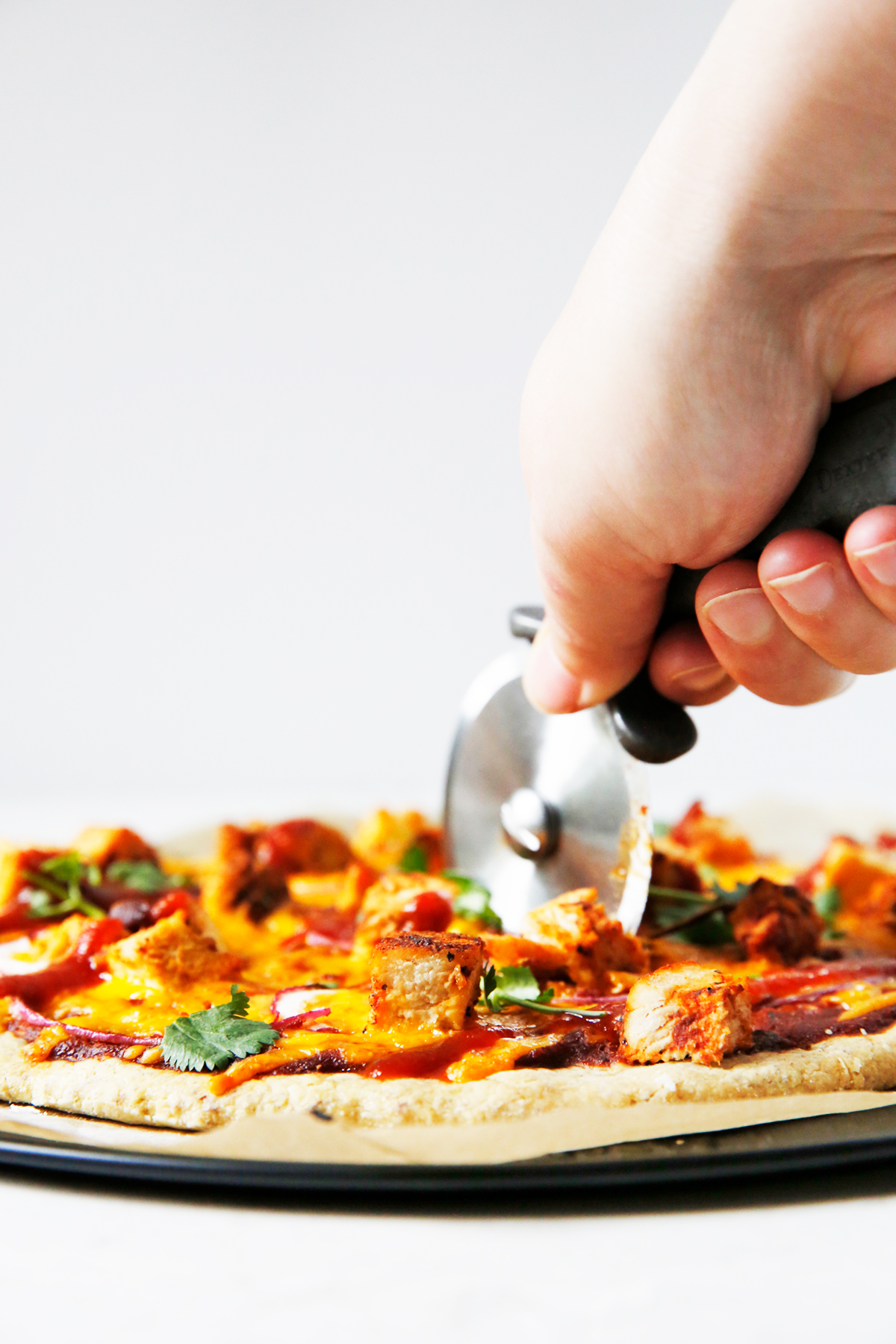 Easy Swaps
We love homemade as much as possible, so we went ahead and gave you recipes for the Gluten-Free Pizza Crust, the BBQ Sauce and BBQ Chicken. However, if you are using this recipe as more of a guide, go ahead and grab whatever you need store-bought. There are a lot of cleaner alternatives out there for homemade products now, especially when it comes to pizza crust and bbq sauce. If you didn't want to make the BBQ chicken, go ahead and pick up a rotisserie chicken and use that here. Just toss it in a little BBQ sauce before putting on the pizza so it won't dry out in the oven.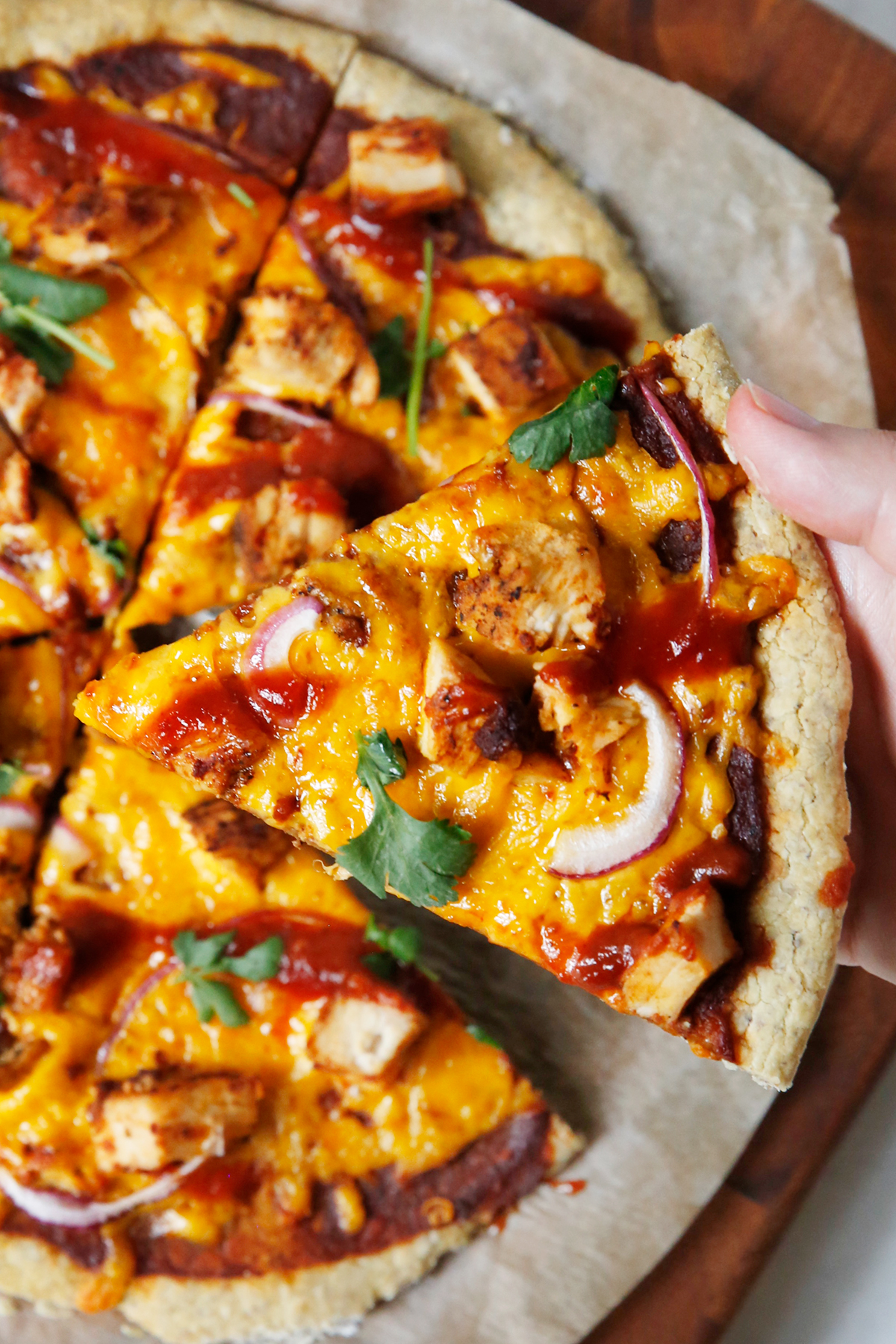 If you like this pizza recipe, check out these others:
Directions
Preheat oven to 350ºF.

Make pizza dough, and parbake according to these instructions (or whatever the package instructions state if store-bought).

Spread bbq sauce over the pizza. Top with cheese, bbq chicken, and red onion. Bake in the preheated oven for 7-10 minutes, or until cheese is melted the desired amount.

Top pizza with extra bbq sauce and cilantro leaves. Serve immediately.