This easy Crockpot Corn Chowder made with roasted corn, red peppers, and a hint of spice from poblano peppers is perfect for a chilly night.
Jump to Recipe keyboard_arrow_down
179 CALORIES

33g CARBS

4g FAT

7g PROTEIN
6 Green
2 Blue
2 Purple
MyWW® SmartPoints™ New!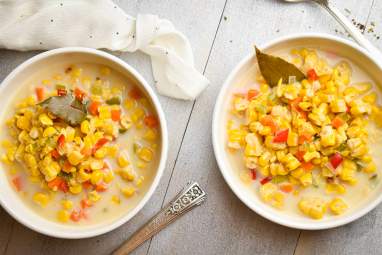 Slow Cooker Roasted Corn Chowder Recipe
Corn chowder is one of my most favorite soups ever, but in the winter months when corn isn't readily available it can be hard to make one with lots of flavor. But, it's kinda hard for me to get in the mood for a hot bowl of soup when the temperature is in the 70s and 80s. I'd rather be eating something fresh off the grill with a light drink in my hand.
So, what's a girl to do when the seasons don't match up to her cravings? Figure out a work-around of course! I recently learned a "cheat" for having that freshly grilled corn taste without the actual grilling part. You can roast fresh, canned, or defrosted corn right in the oven for a great way to develop flavor and adds sweetness to off-season corn. Win!
As if that roasted corn trick wasn't awesome enough, this soup also includes a bunch of roasted corn, veggies, a touch of spice from poblanos, and vegetable broth. You'll cook it low and slow to develop deep flavors in your crockpot.
Then, at the very last hour of cooking, you'll add the "chowder" creaminess by blending half of the soup and then adding skim milk and a touch of cream. The resulting soup is rich, creamy, and delicious. Oh and you're going to want to go ahead and make a big batch since it freezes great.

What makes this Slow Cooker Corn Chowder healthy?
Why is this so healthy? Allow me to break it down for you:
Corn is chock full of vitamin B, zinc, magnesium, iron, copper and manganese. It also contains the antioxidants lutein and zeaxanthin, which have been shown to promote eye health. There is also a lot of fiber and very few calories and almost no fat in corn.
Vegetable broth is a tasty way to get even more vitamins and minerals into your diet. Plus, this broth can give your immune system a boost while it hydrates you. There are lots of antioxidants, anti-inflammatories, an phytochemicals in the broth of vegetables too.
Onions are tasty, and also great for you. They are low in calories and high in nutrients such as calcium, iron, folate, phosphorus, potassium, magnesium, and antioxidants too.
Garlic is another delicious, edible bulb that adds so much flavor to your food without adding anything else in the way of calories or fat. It's also known to have beneficial antioxidant and anti-inflammatory properties as well as to be anti-bacterial.
Carrots contain a good amount of beta carotene, you know that vitamin that your mom was always saying was good for your eyes? Well, it's true — carrots are wonderful for your eye health. They can also help keep a sweet tooth away with their mild sweetness or can be a substitute for chips or pretzels when you really crave something crunchy.
Celery is known for its abundance of vitamins and minerals. Celery also rates low on the glycemic index and contains vitamins A, K, and C .
is rich in vitamins and minerals with a low glycemic index. You'll enjoy vitamins A, K, and C, plus minerals like potassium and folate when you eat celery. It's also low in sodium. Plus, it's low on the glycemic index, meaning it has a slow, steady effect on your blood sugar.
Red bell peppers contain more than 200 percent of the amount of vitamin C that you're supposed to get every day. They are also a great antioxidant, and that vitamin C helps with iron absorption as well. Red peppers also contain vitamins B6, C, and A and folate.
Poblano peppers, just like bell peppers, contain antioxidants and boosts your immunity system with the vitamins they contain. They have also been shown to help you lose weight like other spicy foods by releasing capsaicin into your body. This mineral has been shown to speed up your metabolism and suppress your appetite. Plus, they taste so good!
Bay leaves are a good source of vitamins C and A. They also include potassium, iron, calcium, and magnesium in their tiny little leaves. You can even drink them in a tea to help aid in digestion.
Nonfat milk and half-and-half are good lower-calorie and lower-fat protein sources than full fat milk.
How do you roast corn?
You can do this 3 ways.
If you have whole cobs, roast them in a 350 degree oven in the husks for 30 minutes by placing them directly on the oven rack. Cut the kernels from the cob.
For kernels (either canned or defrosted), dry them with a towel or paper towel. Then place them on a baking sheet covered with foil. Roast in a 350 degree oven for 15-20 minutes until browned.
You can also brown them in a skillet.
For a short cut, look for frozen roasted corn – Trader Joe's has a great one.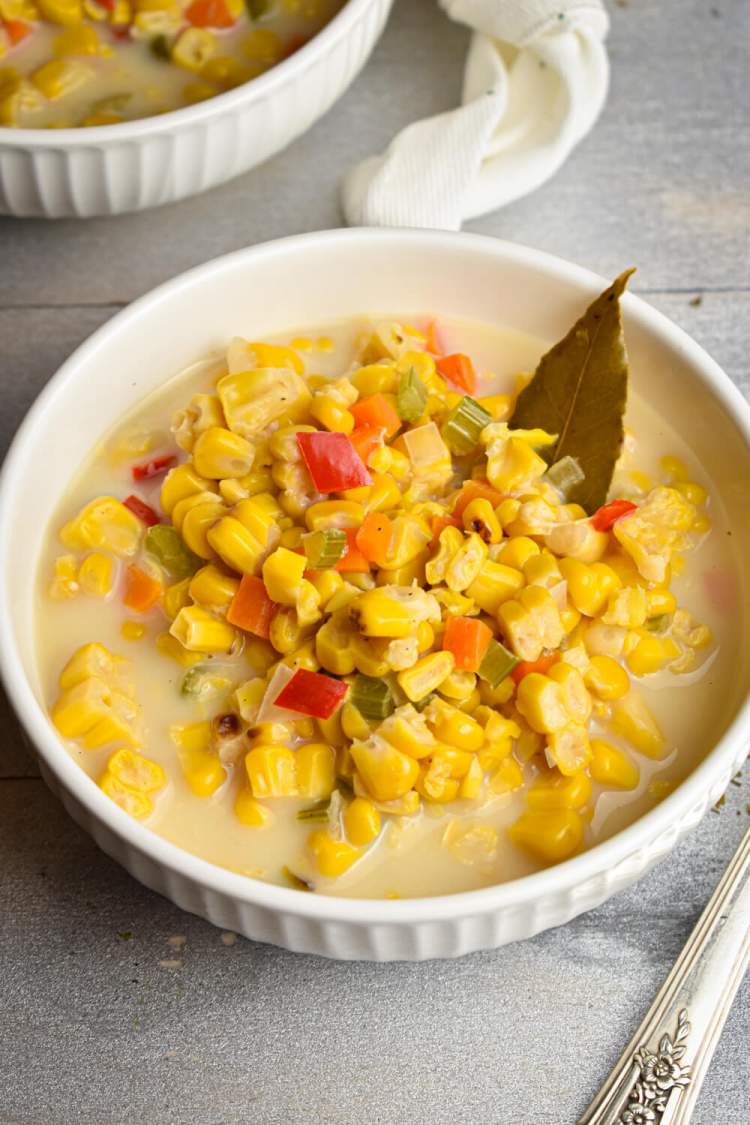 Can you freeze corn chowder?
Corn chowder lasts in the fridge for 4-5 days and can be frozen for up to 3 months. The only important thing to remember is that it needs to be reheated slowly on the stovetop. Stir frequently while reheating. This will prevent the soup from curdling, which is something that can happen to chowder when its frozen.
Source link