Thanksgiving stuffing with toasted cornbread, sausage, and sage is a great gluten-free side dish for Thanksgiving. Plus, you can make it ahead!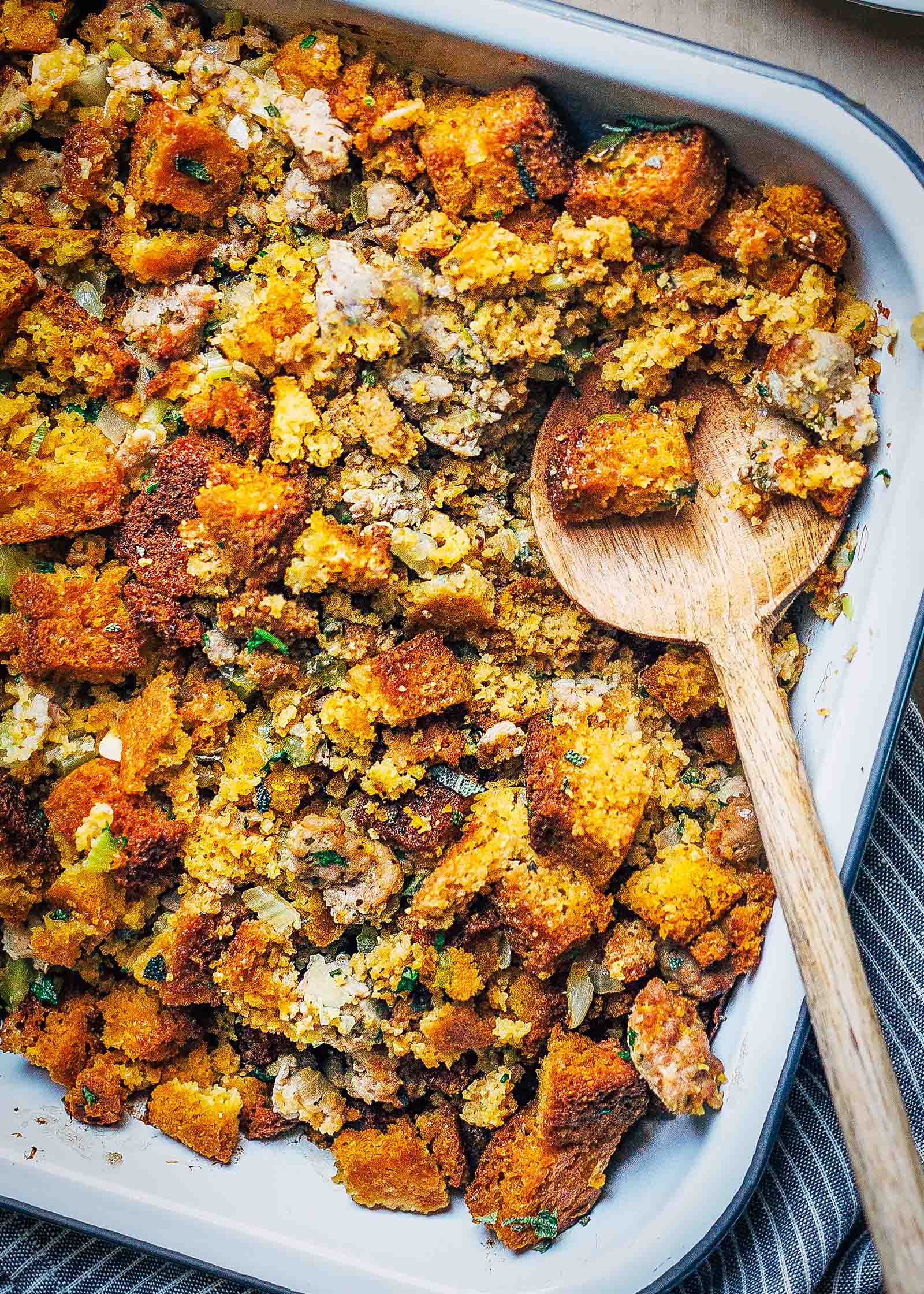 Photography Credit:
Elizabeth Stark
Simple swaps can give old favorites new life, don't you think? This stuffing recipe opts for cornbread!
In this Thanksgiving stuffing recipe, I swapped traditional cubes of rustic white bread for toasted cornbread to make a stuffing that feels fresh without straying too far from the familiar (and beloved).
WHY USE CORNBREAD IN STUFFING?
Cornbread lends a faint sweetness to the stuffing and a distinctive toothsome texture, while flavors like browned sausage and fresh sage strike familiar flavor notes. Cornbread stuffing is also an excellent option for those who need to eat gluten-free.
This stuffing ends up closer to a classic Thanksgiving bread stuffing than a true Southern-style cornbread stuffing, but with flavors and ingredients that everyone can enjoy.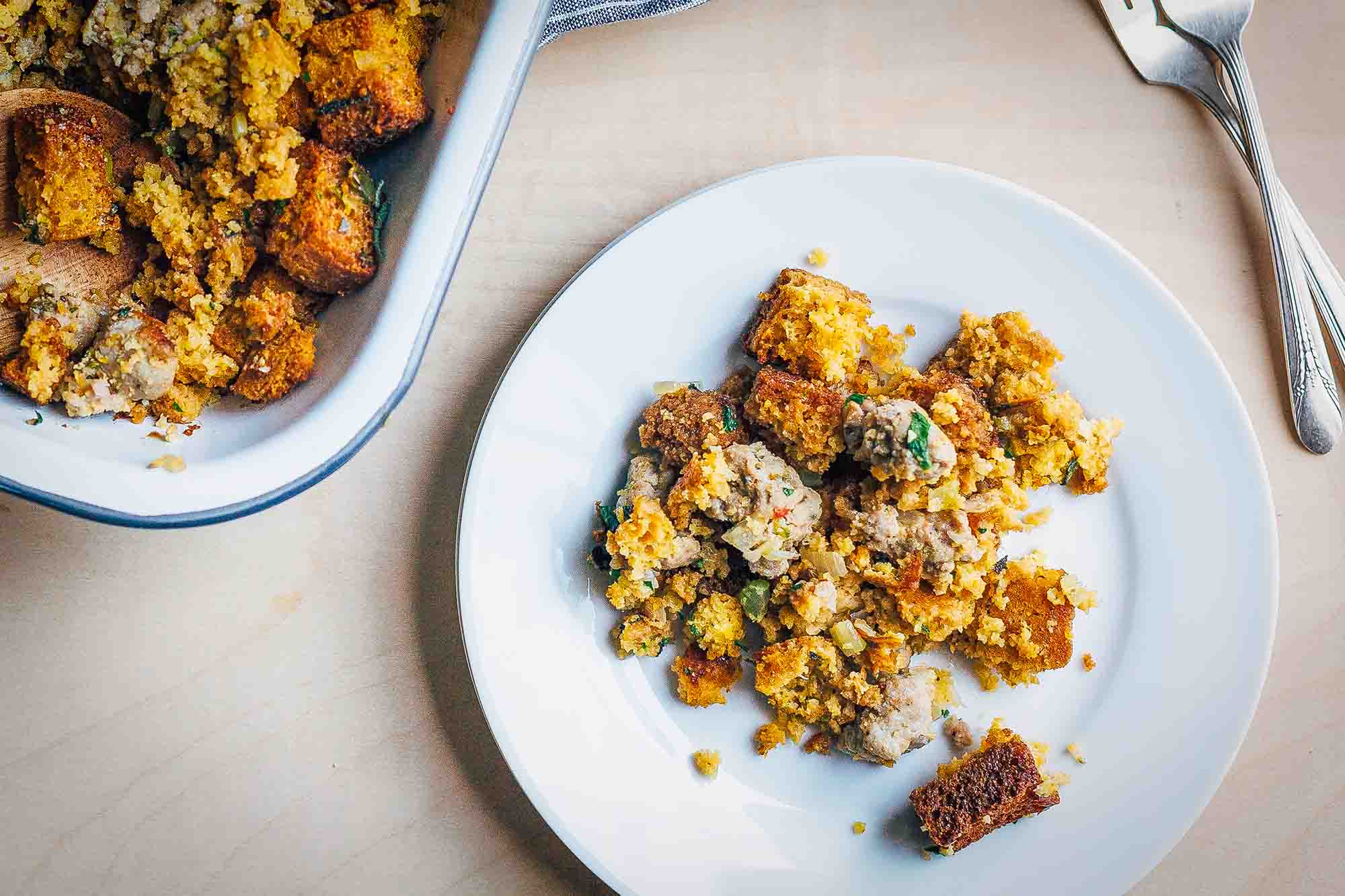 How to Make Cornbread Stuffing—Gluten Free!
To make cornbread stuffing, you'll first need to make cornbread. I used Elise's classic Southern cornbread recipe from here on Simply Recipes.
Her cornbread recipe has a gluten-free version and a version that uses some flour. I found that the all-cornmeal (gluten-free) cornbread was more crumbly and, likewise, made a more crumbly stuffing. Cornbread made with some all-purpose flour held its shape better in the stuffing, giving me larger pieces of cornbread in each bite.
Both cornbread recipes work fine in this recipe, so pick the one that works best for you. Either way, you'll end up with a delicious stuffing.
Make-Ahead Suggestions
You can make the cornbread for this recipe up to three days ahead, wrap it in plastic, and store it on the counter. You can also make it well in advance and freeze it until needed; thaw before using.
The stuffing can also be assembled up to a day in advance and then baked just before serving.
HERE ARE MORE OPTIONS FOR THANKSGIVING STUFFING!
Updated November 13, 2019 : We spiffed up this post to make it sparkle! No changes to the original recipe.
Sausage, Sage, and Cornbread Stuffing Recipe
The cornbread can be prepared several days ahead.
The prepared stuffing can also be prepared the day ahead and kept refrigerated.
Ingredients
1 recipe Southern cornbread, prepared and cooled (follow the gluten-free option, if needed)
1 teaspoon canola oil (or other neutral, heat tolerant cooking oil)
1 1/2 pounds sweet or mild Italian sausage (4 to 6 links), casings removed and broken into bite-sized pieces
5 tablespoons unsalted butter, divided
1 medium yellow onion, diced
4 celery ribs, diced
2 cloves garlic, minced
3 tablespoons chopped fresh sage leaves
3 tablespoons chopped fresh parsley leaves
2 cups low-sodium chicken stock
4 large eggs, lightly beaten
Method
1 Toast the cornbread cubes: Preheat oven to 350°F. Cut the cornbread into 1/2-inch cubes; you should have about 8 cups. Spread them on a large rimmed baking sheet. Toast the cubes in oven for 10 minutes, flip, and toast 10 minutes more or until cubes look toasted and golden (about 20 minutes total). Let the cubes cool slightly, and then place in a large mixing bowl.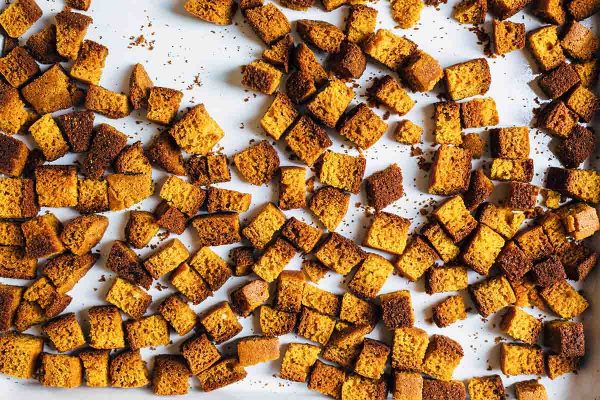 2 Turn oven heat up to 375°F. Butter a 9 x 13-inch baking dish with 1 tablespoon butter. Set aside.
3 Brown the sausage: Set a large, deep-sided skillet over medium-high heat. Add the canola oil and then sausage. Use a spoon to break sausage into smaller hunks as it cooks. Cook until the sausage nicely browned on all sides, 7 to 10 minutes. Transfer the sausage to a bowl and pour off pork fat.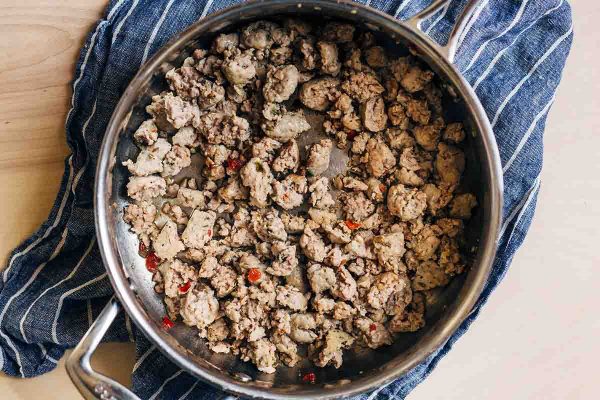 4 Cook the onions and celery: Turn the heat to medium and add 4 tablespoons butter. Add onions, celery, and a pinch of salt. Cook 7 minutes or until very tender and fragrant. Add garlic and cook 1 minute more.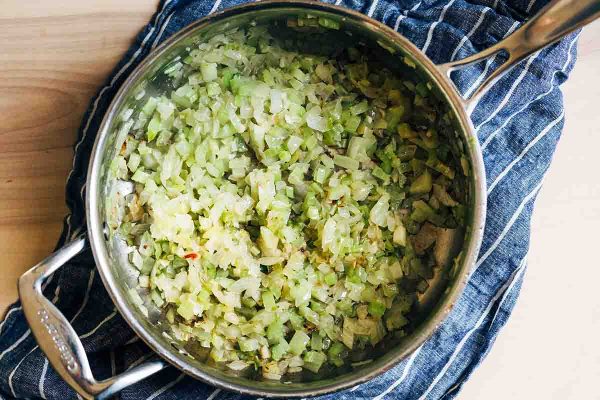 5 Combine the stuffing ingredients: Spoon the onion mixture over the toasted cornbread. Fold in browned sausage, herbs, and stock. Taste and add salt as needed. Finally, fold in the eggs and mix until well combined. Some of the cornbread will crumble, which is fine.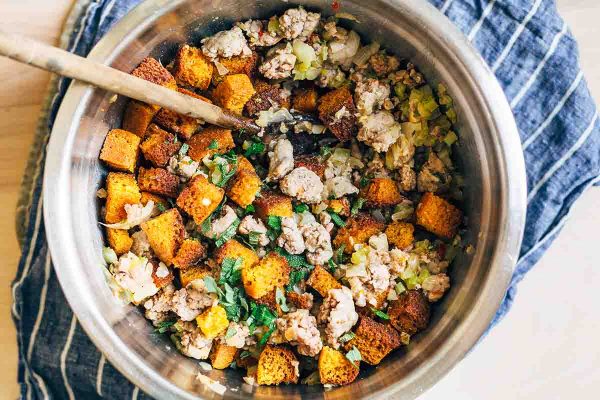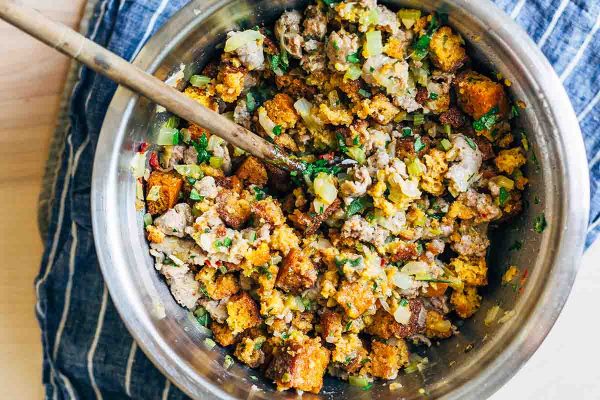 6 Spoon stuffing into buttered baking dish. At this point, stuffing can be covered and refrigerated for 1 day.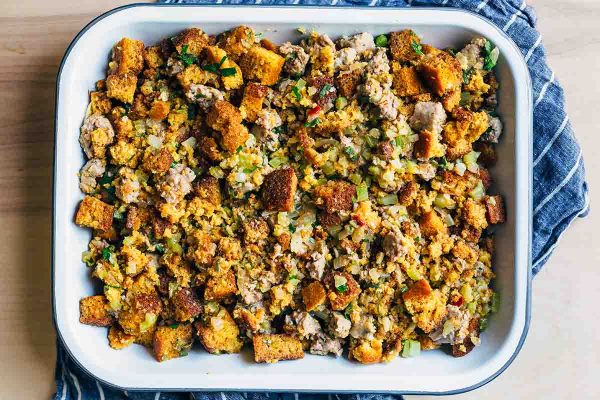 7 Bake the stuffing: When ready, bake stuffing until piping hot and golden brown on top, 35 to 45 minutes. If the stuffing begins to brown too much on top during bake time, cover loosely with foil. Serve hot.
Hello! All photos and content are copyright protected. Please do not use our photos without prior written permission. Thank you!
This post may contain links to Amazon or other partners; your purchases via these links can benefit Simply Recipes.
Read more about our affiliate linking policy.