A pie is a pie if it has a crust and filling, correct? So, why isn't a cheesecake called a cheesepie? Is it because the crust stops at the base and doesn't usually go up the sides? Because that doesn't stop pizza from being referred to as a pizza pie! These are questions I heard in the office recently and although I didn't feel the need to find out the answers, I did feel the need to bake some pie. It is, after all, pie season. And just like the two sides of a debate about cheesecake (is it a pie or is it a cake?), this pie has two sides – sweet and spicy.
The sweet in this Sweet & Spicy Chocolate Nut Pie comes from Wholesome Organic Sugar and Light Corn Syrup. The spicy comes from ancho chili or chili powder. The result? A delicious contrast of flavors that is a nice change of pace from the traditional pies served this time of year.
Stay tuned for a couple more pies this month!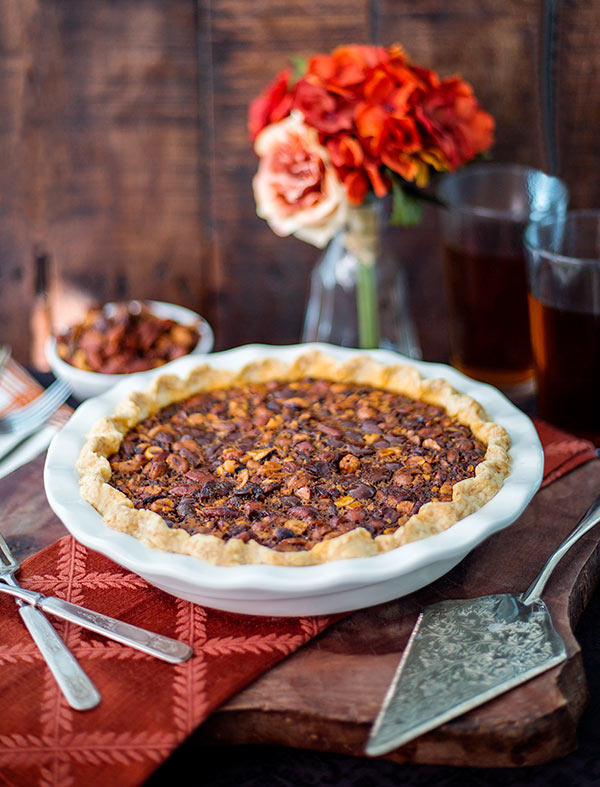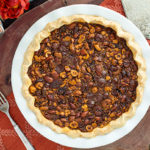 Course:

Dessert
Cuisine:

American
Servings: 8 servings
Calories: 632 kcal
Author: Carol Kicinski
Lightly grease a 9-inch pie pan. Roll out the pie crust and line the pan. Cut off any overhang and crimp the edges.

In a large mixing bowl, lightly beat the eggs. Add the sugar, corn syrup, vanilla, butter, chili powder, and salt. Whisk well. Stir in the nuts and chocolate chips. Pour into the pie crust and refrigerate the pie for 30 minutes.

Preheat the oven to 375 degrees. Place the pie pan on a rimmed baking sheet and place on the bottom shelf of the oven. Bake for 50 minutes or until the filling is set. Place the pan on a cooling rack to cool.

Pie can be served at room temperature or cold.
Nutrition Facts
Sweet & Spicy Chocolate Nut Pie
Amount Per Serving
Calories 632
Calories from Fat 306
% Daily Value*
Total Fat 34g
52%
Saturated Fat 11g
55%
Cholesterol 69mg
23%
Sodium 321mg
13%
Potassium 401mg
11%
Total Carbohydrates 73g
24%
Dietary Fiber 4g
16%
Sugars 47g
Protein 11g
22%
Vitamin A
5%
Vitamin C
0.2%
Calcium
11.1%
Iron
14.9%
* Percent Daily Values are based on a 2000 calorie diet.
The views and opinions expressed on this blog are purely the blog owner's. This blog accepts free manufacturers' samples and forms of cash advertising, sponsorship, paid insertions or other forms of compensation. Affiliate links may be included in this post.
Disclaimer: All nutrition facts on Simply Gluten Free are meant only as a guide and may differ depending on product brands used or ingredient substitutions. Some errors may occur, so you are encouraged to confirm the recipe's ingredient and nutrition suitability for your own diet.
Have you tried this recipe? Give it a star rating and let us know your thoughts in the Ratings & Reviews section below.
Source link