These Three Ingredient Banana and Egg Pancakes are a staple in our house. I make them almost every week and love that I can quickly choose to make them Paleo with coconut flour or go more traditional with a whole wheat or all purpose flour. They are quick, easy, and super tasty.
When I wake up feeling tired, grouchy, or unmotivated, I like to start my day off with a meal that is likely to improve my mood. And for me, pancakes almost always do the trick.  There is something about the process of making them and then sitting down to smother them in fruit, syrup, or melted nut butter.  However since there isn't always time for complex pancake recipe, these three ingredient banana pancakes can be the perfect solution.  Made with just bananas, eggs, and your choice of flour you can make them from start to finish in under 10 minutes.  I like to top mine with melted almond butter and fresh blueberries.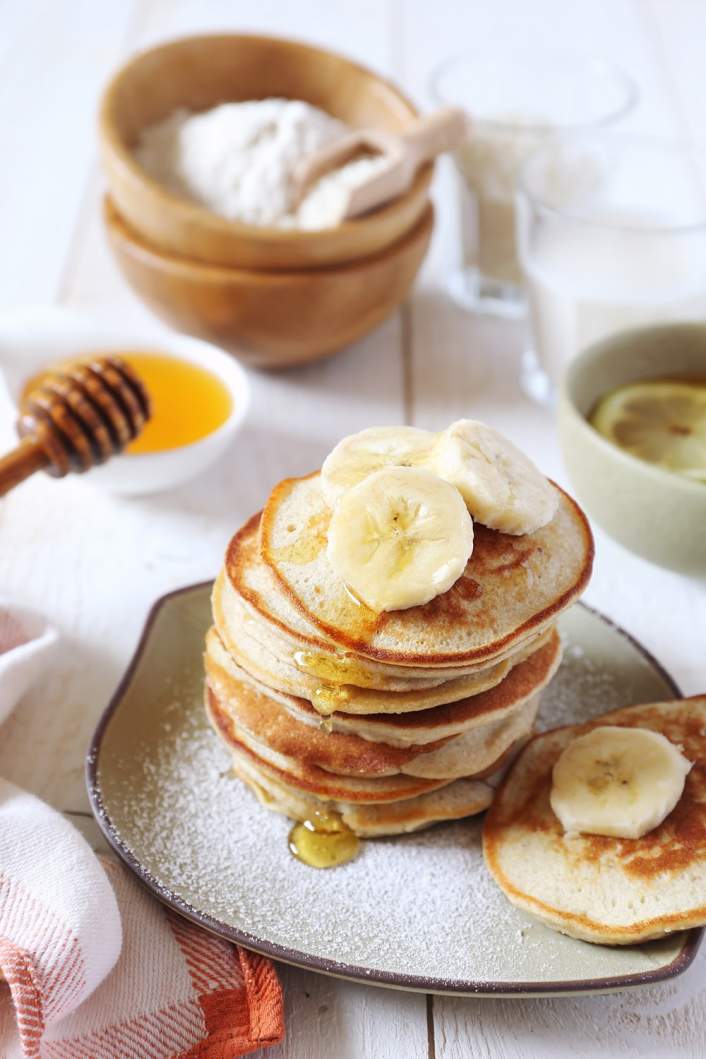 How to Make these Three Ingredient Banana and Egg Pancakes Your Own, Including a Paleo Option
If you are Paleo or gluten free, these pancakes can be made with coconut flour or almond flour. A store bought Paleo flour, like this one, will also work.
Although I call these three ingredient pancakes, I usually add some cinnamon and vanilla extract to my pancakes as well. It adds a nice flavor to the pancakes.
To up the protein in the pancakes, add some nut butter to the batter. You can also mix in some sliced almonds.
These pancakes come out relatively thin so I don't like to add fruit to the actual batter. Instead serve it on top of the pancakes.
If you don't like banana, these pancakes can also be made with canned pumpkin or butternut squash.
Looking for more healthy pancake recipes?
Here are some of the products and tools I used in this recipe:
Coconut flour: Since coconut flour can be expensive in the grocery store, I usually buy it in bulk on Amazon. This is the brand I usually buy since it is organic, non GMO, and under $3 per pound.
For years I burnt almost every pancakes I made until I bought these nonstick pans from All Clad. I love them! Seriously.
This post originally appeared in 2013 but has been updated with new photos and additional recipes tips and tricks.
(function(d, s, id) {
var js, fjs = d.getElementsByTagName(s)[0];
if (d.getElementById(id)) return;
js = d.createElement(s); js.id = id;
js.src = "http://connect.facebook.net/en_US/sdk.js#xfbml=1&version=v2.4&appId=125505754455470";
fjs.parentNode.insertBefore(js, fjs);
}(document, 'script', 'facebook-jssdk'));